Marco Cheli was born in Siena in the end of seventies. His passion for photography grew up slowly through years spent working as graphic designer and he starts using a reflex with the desire of tell stories.
"Fortza Pàris" portrays the dream of becoming a jockey of the Palio of Siena. "The Palio is as hard as bread with seven crusts", so said Salvatore Ladu, aka "Cianchino". A jockey born in Bono and winner of 7 Palio races, he is the idol of a generation of Sardinians who were ready to bite into that bread, fully aware that the harder it was, the greater the glory would be the day that they too would ride in the Piazza del Campo. [Official Website][Printed Edition][Digital Edition]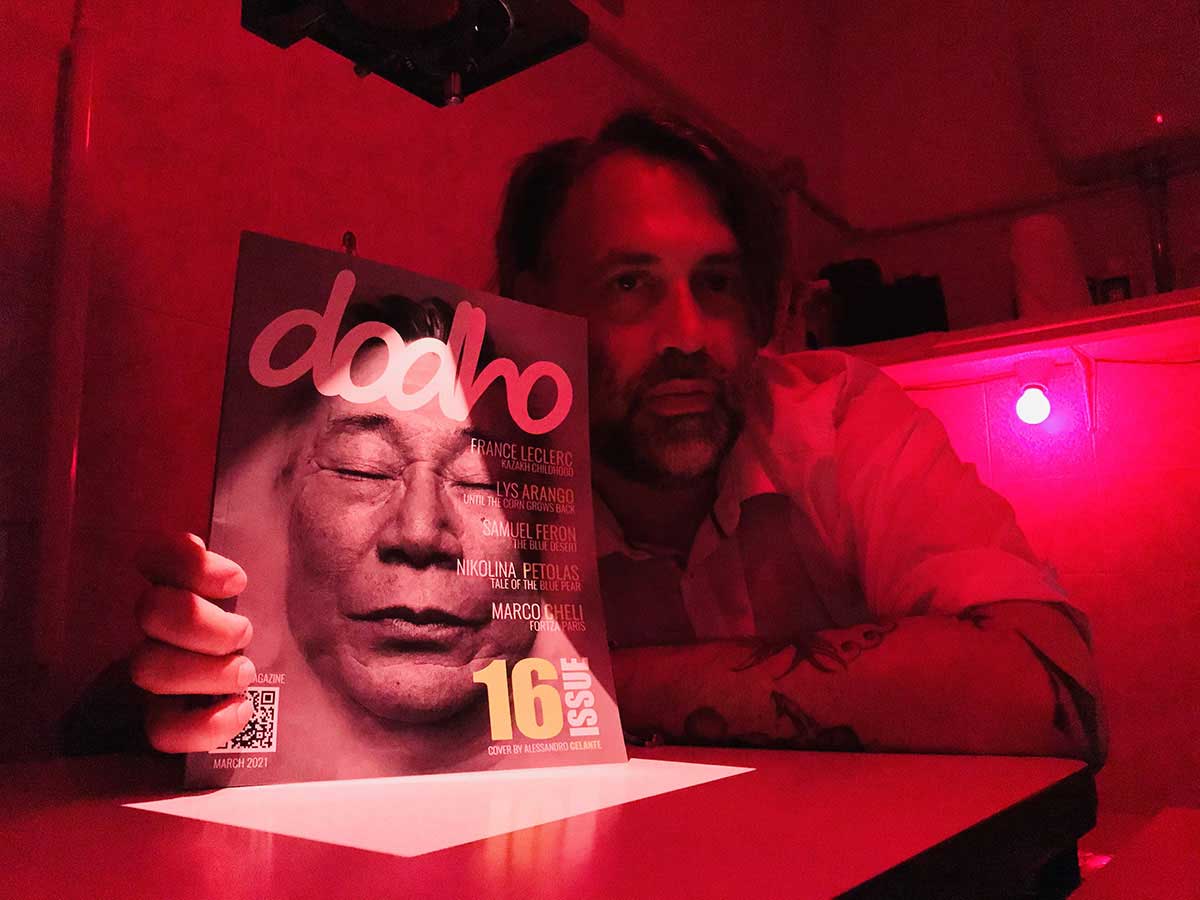 Tell us about yourself. Who is Marco Cheli and what is he all about? Did you discover photography, or did it find you? What was it that captivated you from the beginning? In short, what does photography mean to you?
I am a graphic designer, even though my education prepared me for the world of accountancy. It was thanks to graphic design that I discovered photography, but perhaps instead it discovered me. For years I handled, selected, framed, and created layouts for professional photographs, until I began to ask myself how and why such photos came to be. What struck me immediately was the narrative potential this medium had and so I decided that I would try and tell stories with it. I think that photography has considerable influence in our society today, especially when we use it conscientiously or as a means to contribute to fields such as anthropology or sociology.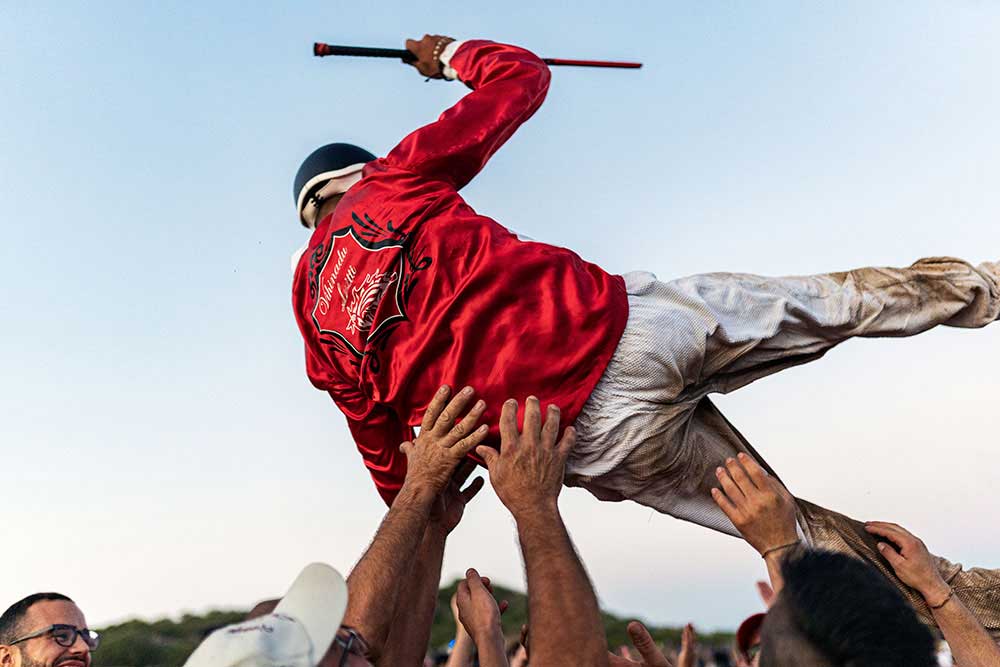 You are, in addition to being a photographer, a graphic designer. If you had to choose between these two fields, in which direction would you lean? How do these disciplines complement each other in your work?
At the moment, graphic design pays the bills. It's a job, but a wonderful job in which you can excel if you have the passion and aptitude for it. However, it is not an outlet for one's artistic abilities. A good graphic designer is one who follows the client's specifications, translating them into effective messages for a target audience. If the finished product leaves room for interpretation, then it's not a job well done. Photography, however, is a world I can lose myself in, one that is all my own where I can express myself without having to comply with clients' requirements or adhere to briefs. I'm pursuing both paths concurrently, although I realize that my experience as a graphic designer greatly influences the composition of each shot because I'm always searching for patterns and balance. When light and contrast allow, I see the frame as a graphic layout and even visualize blocks of text in empty spaces. I am enamoured of the Cartier-Bresson theory, but the decisive moment must be contextualized within an aesthetically pleasing setting.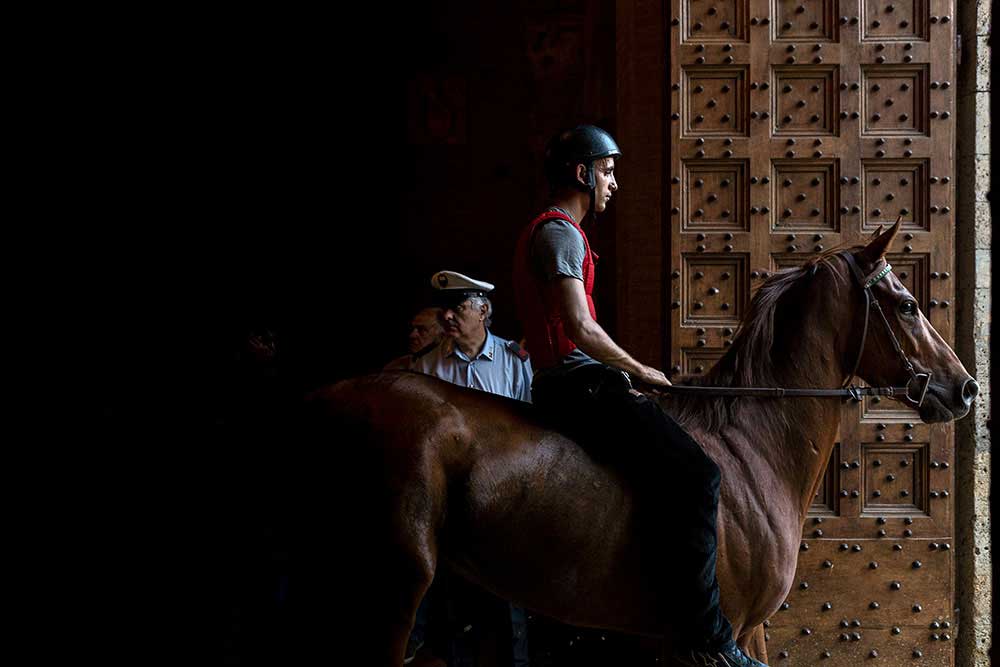 "Fortza Pàris" describes the professional life of five young people who try to join the ranks of the best riders of the Palio di Siena. What inspired you to undertake this project? Why did you want to tell the story? Tell us a bit about your experience.
I'm Italian; I was born in Siena and have lived here for all of my 42 years. The Palio is a fundamental part of my culture and way of life. For some time I've been unhappy with the way that our world has been represented. I realized that what was being transmitted was only a small part of what the Palio really is, and those images were often stereotypical or obsolete. The Palio of Siena is not just a horserace, nor is it simply a historical reenactment. It is the culture of a people, it is tradition, it is a microcosm that has continued uninterrupted for centuries. I simply changed the point of view so that I could convey it in a way that no one else had done before. It was relatively easy because I was working in a world I know incredibly well and so had no problems getting certain doors to open.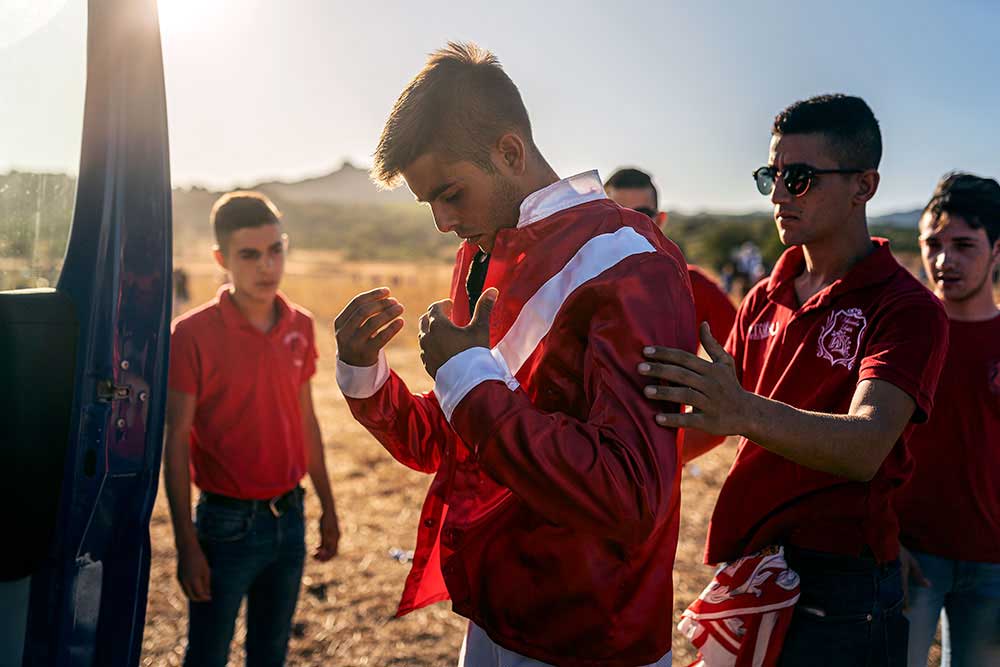 As you already know, one of our favourite photographs of "Fortza Pàris" is that of the young rider lifted up after his victory. This image transmits passion, commitment, hard work; it is a portrayal of triumph. What do you hope that people will take away from this project?
Funnily enough, the photo you're referring to isn't one of my favourites, and during the first editing phase it was relegated to the "no" pile. The credit must go to Loredana De Pace, my photo consultant, who as soon as she took on the project breathed new life into it, giving form to all that you see, appreciating images to which I had, wrongly, granted little importance. Putting myself in the hands of a professional was certainly the right choice because it allowed me to improve the quality of the project in a way that I would have been incapable of otherwise. It takes humility to understand that we can't do everything on our own and that we may lack certain skills; having someone to collaborate with is essential.
I met Loredana during a portfolio viewing. I singled her out of a number of possible mentors because she immediately responded well to my work. I was struck by her approach; she was respectful, decisive, and, above all, professional. We were on the same page from the start. It was she who encouraged me to present my work to Parallelozero (www.parallelozero.com), the agency which is now promoting "Fortza Pàris". This is how I have chosen to publicize the project, even to those who view the Palio of Siena as merely a historical performance. The reality, as you can see, is that it contains a world that has been preserved for centuries.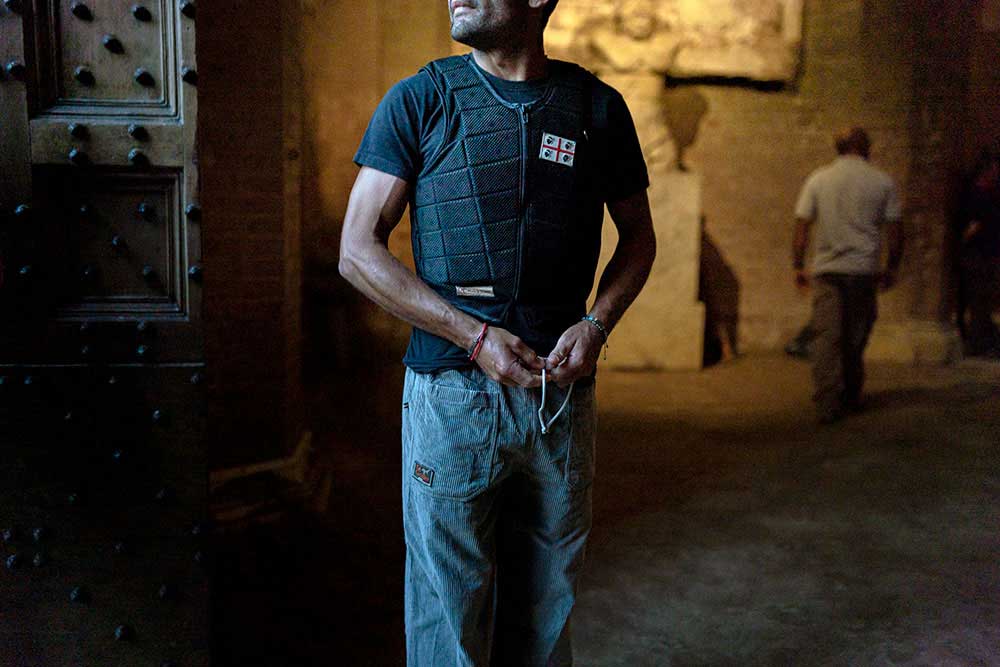 You are a person who has travelled to different countries to take pictures. Why this desire to communicate what you think is important? Would you say that it is more important to improvise or to plan to capture a specific moment?
Travel photography was really the first step into the world of photography. I just combined my two passions – travel and my SLR. Now when I go anywhere it's unthinkable that I should do so without my equipment. I don't travel just to take photos, but the two do go hand in hand. Indeed, my travel stories are not proper projects with a particular focus, but rather unpretentious chronicles with an aesthetic focus.
Improvising will only get you so far, unless you are extremely lucky. You need to be ready to capture the moment, but you can only do this if you know what you're looking for. When I plan a trip I spend a lot of time studying the customs and cultural aspects of the country I will be a guest in, even if I'll only be there for a short while. Conducting yourself well and being respectful are always paramount. I also really enjoy connecting with my subjects. I would never take someone's portrait without having first exchanged a few words with them, and even when I gain access to a particular location or situation, I never do so in a furtive manner.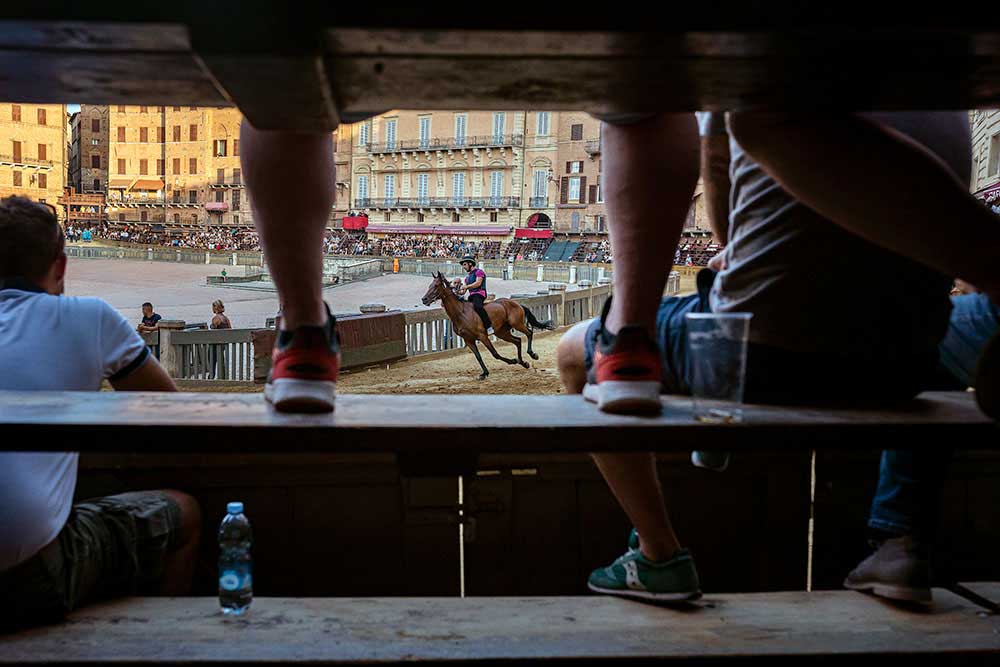 How do you know when you've got a good photo? In your opinion, what ingredients does a photograph need to transmit emotion and communicate with the viewer?
A good photo is one that makes you want to see what happens next.
What was the strangest thing that ever happened to you while taking a photo? And what was the most poignant?
I was in Warsaw on the day commemorating the Ghetto Uprising. I saw an elderly gentleman accompanied by his son walking along the street, and I noticed his red armband. I approached to say hello and to ask him what it symbolized (even though I already knew); this was of course an excuse to take his portrait. He was one of the last surviving members of the revolt, he told me with tears in his eyes, and after ten minutes it was he who asked me to take his photograph!
What equipment do you usually use? What do you normally carry in your backpack?
I do everything with my Sony Alpha and 35mm camera. I adore this lens because it forces me to move, to enter right into the scene, and, most importantly, use my head.
Digital technology has brought along with it an obsessive pursuit of image quality. I know I'm not as technically proficient as some because I have never been as interested in megapixels, filters, or shutter speed. A photograph must evoke an emotion and I prefer an imperfect image taken thoughtfully to one that is technically perfect but devoid of content.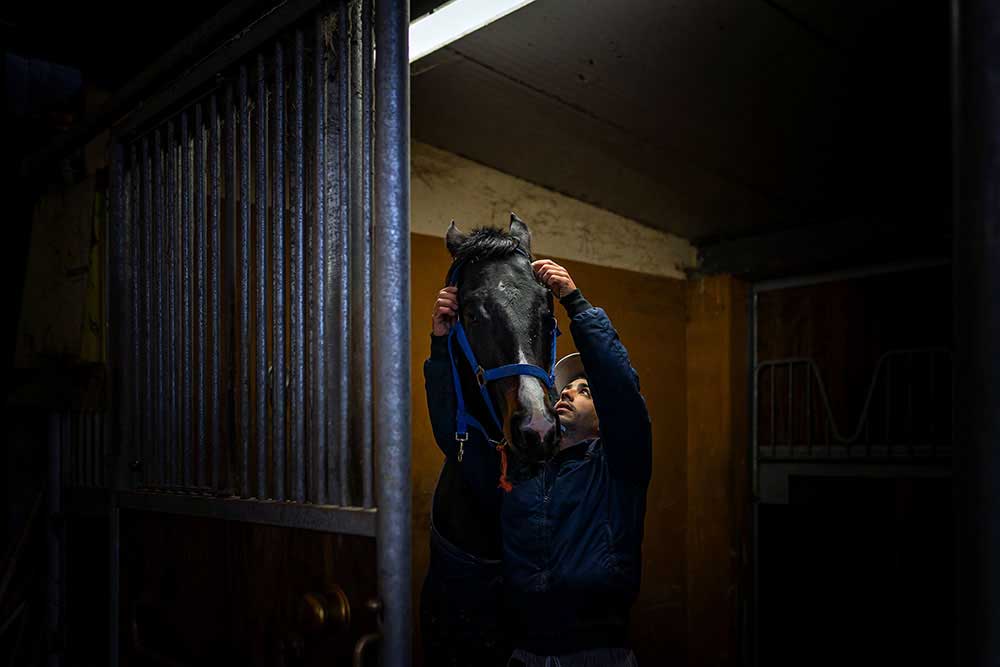 Marco, what do you think of the current situation, the ubiquity of photography and the difficulties professionals have in making a living? How does social media impact the work of photographers? Do you think these platforms are harmful, or can they be a vehicle to make a name for yourself?
I think professional photography is going through a transitional phase. It's following painting, in that people once painted for decorative purposes or were commissioned for portraiture, but with the arrival of photography, painting became a means for expressing oneself. Here the same thing is happening. Photography is now an art form in all respects, and as you know, it's difficult to make a living as an artist, especially when the competition is as stiff as it is today. Things have only intensified with the advent of digital photography, where everything is much easier, faster, and less costly, leading to a decline in the quality of work. I'm discovering this in my professional field as well, that of graphic design, where what I see as the essential processes related to typography and printing are being bypassed. Over time I've also learned to limit my use of social media. I only go on Facebook to follow groups I'm interested in, but I'm giving up on Instagram because it has become, in my opinion, no more than a photo popularity contest, judged by people who have no expertise in the medium.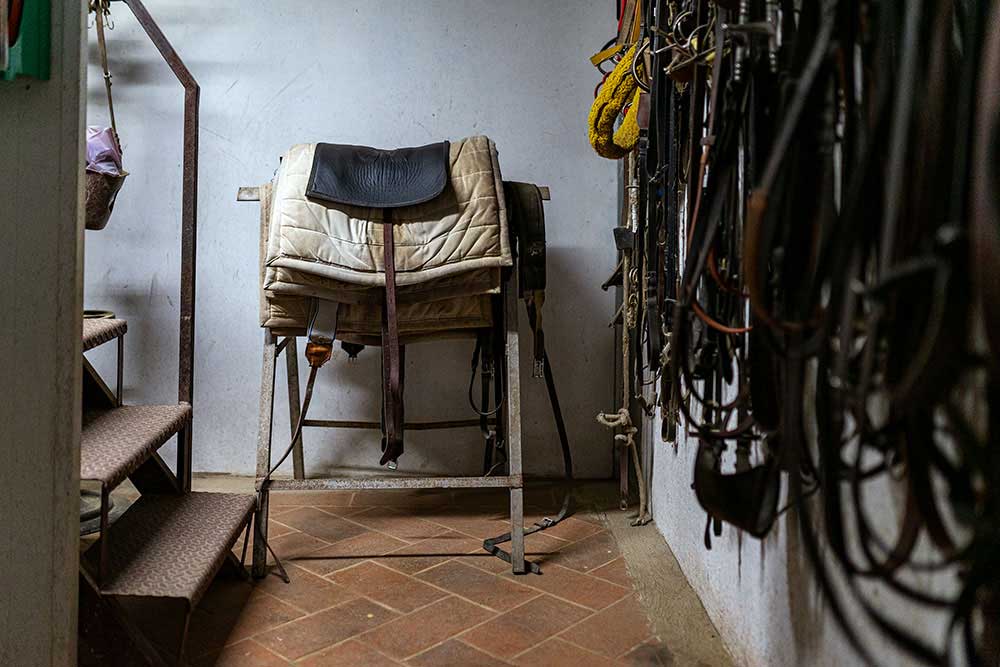 Marco, what are your plans for the future?
My future projects involve taking a step back in time. I have recently embraced analogue photography and I've been experimenting with a completely different way of shooting. I've also realized the importance of the darkroom process, which allows you to produce a tangible and unique piece. I think I'm on the right path to enhancing my personal and, dare I say, artistic style in my photojournalism projects.
For now I do see reportage as the way to go. I have a great desire to communicate visually and am constantly looking for interesting stories to relate via images that make an impact not only for their content but also for their aesthetic value.
Finally, the obligatory question: what do you think of our magazine?
I think that Dodho provides a fantastic opportunity for those who want to be recognized by an informed public and by their peers. Seeing my work in the pages of Dodho, well, it is the most exciting thing that has ever happened to me, and I have photography to thank for it.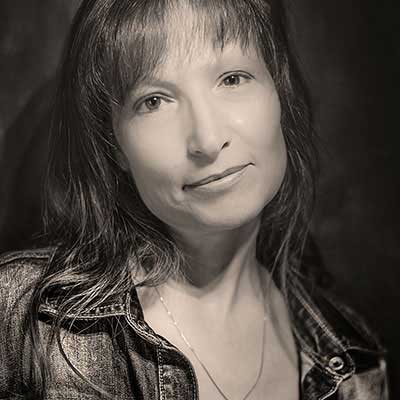 Since 2016 she is director of marketing and responsible for content. She began her career at an early age in the world of image and design. Involved in the constant pursuit of talent she is responsible for the Dodho Magazine success.With a gift and experience more than proven in her field, she maintains relations with the best agencies and publishers to promote the photographers careers published in Dodho, responsible to some extent of the rapid success that Dodho Magazine has had in the world photography industry.