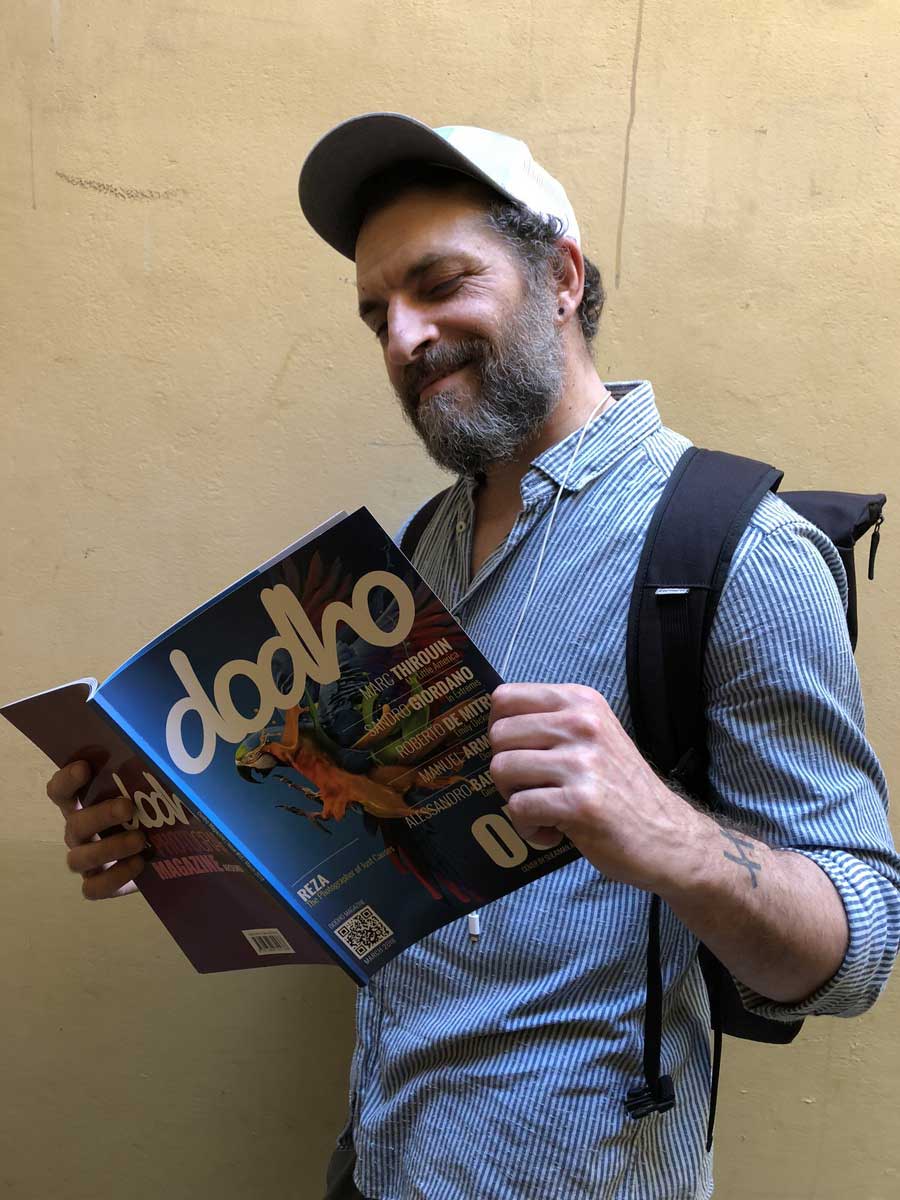 I already have a good opinion of Dodho Magazine for the web, but I have to say that the printed version is really really beautiful. It is a very elegant magazine and always full of good contents.
---
CONCEPT
CREATIVE & CONCEPTUAL PHOTOGRAPHY
It explores the mission of orbiter "Rosetta," which set out in 2004 to investigate a comet named 67P. Rosetta reached the comet 10 years later, in 2014, and sent back detailed information about the comet before ending its mission by hitting the comet's surface in a controlled maneuver.
This series is about recognizing yourself in the soul. I appeal to virgins and goddesses of different cultures as a bridge to represent spirituality through femininity.
The series In Vacuo is a result of my ongoing study of mundane objects, their evocative potential and architectural affordances. In "In Vacuo" I worked with spare parts of household appliances.
What's hidden behind appearances, behind clothes or even behind that skin? It's the skin as an envelope, an interface that made me wonder and naturally brought me to the psychoanalytic concept of «Moi–Peau».
Robots that serve and protect or destroy; monsters that emerge from the sea; aliens that arrive from faraway solar systems; superheroes that fight crime and unimaginable evils; wizards that orchestrate fellowships; heroes and villains that clash in galaxies far, far, far away
Inspired by the Caravaggio's dramatic 'chiaroscuro' style of light and shadow,  was based on "a whole set of techniques that are the basis of photography", I tried to recreate the feel of classic still lifes in my  pictures.
---
SHOT
PORTRAIT & FASHION PHOTOGRAPHY
First of all, Tatsiana's works in the direction of artistic portrait photography. In the author's works, there are a lot of features of magical realism, such as directions in literature and art that was born in the 1920s and developed by the 1940s.
For Daniel Murtagh, the essence of a good portrait is 'Presence' , the experience of a person not merely seen, but felt . "I like to compare it to the experience in music , a certain combination of sounds expresses the intent of the composer"
Leah and Chloe are Identical twins, born in 2005.  Born 3 months premature, weighing just 2lb 4oz. The girls have grown into strong independent young ladies. They love school, with Maths, P.E and Drama being their favourite subjects. 
Wet Plate Collodion is a historic photographic process that was pioneered and used in the In the mid to late 1800's by an English photographer called Frederick Scott Archer.
I have no problems to say that since three years I am attending a mental health center, as patient, where every week I meet wonderful people. They are patients too. And they are teaching me to observe the world around me in different way.
The dream for a portraitist. An image worth more than long speeches, I decided to show this human diversity by photographing anonymous people who could be our neighbors, the shopkeeper we go to every day
---
DNA
INTERVIEWS WITH PHOTOGRAPHERS & INSIDERS
---
CITY
URBAN & STREET PHOTOGRAPHY
I've been shooting Street Photography since I started photography. I always believed in Street Photography as a powerful tool for growth which concealed many secrets in a simple walk. To me, Street photography is not only a genre but delicate visual poetry.
Street photography can be fascinating. I think it's because we are naturally nosy. We want to stare, to absorb the details and imagine the facts. In real time, on the street, we only get a glimpse of passing strangers.
In this series "New York" Christopher confronts the use of color which is quite a departure from all of his previous works which are in black and white, in fact, he is well known as the creator of the all black and white fine art photography.
Design is the first signal of human intention. Architectural design is a prime example of tangible and intangible connections between matter and spirit. The title of the series is a reference to Arthur Koestler's seminal book and his concept of holons
In 2008 he spent 6 months working in a restaurant then in a library. He was saving money to buy his first Leica camera. These photos are from the following 2 years of making photography on the streets of a few French cities including Paris, Toulouse and his hometown Lille.
But the Georgia, uniquely situated on the map of world between Asia and Europe, has undergone many changes in recent years and is now in a period of strong growth, especially as regards tourism.
---
STORY
JOURNALISM & DOCUMENTARY PHOTOGRAPHY
Air rescuers of the 15th Stormo are a special and exclusive Italian Air Force unit: just a little over 200 have been trained in the last 50 years. The department is operative 24/7, with intervention times ranging between 30 and 120 minutes.
Rohingya people, one of the persecuted minorities in the world, recently become victim of ethnic cleansing mayhem led by Myanmar's armed forces from last several decades.
The Neamţ monastery, which has its roots to the 12th century, is regarded as the Jerusalem of the Romanian Orthodox Church. Driven by Esteban the great in the 15th century, the monastery precinct dedicated to the Ascension of Christ
2018 marks the 20t h anniversary of the signing of Northern Ireland's peace accord which is referred to by some as the Belfast Agreement, and by others as the Good Friday Agreement . It also marks the commencement of Britain's exit from the European Union,with Northern Ireland providing Britain with its only land border into the rest of Europe.
This is a country in Eastern Europe, located between Romania to the west and Ukraine to the north, east and south. It declared its independence with the same borders as the former Soviet Socialist Republic of Moldova in 1991, as part of the dissolution of the Soviet Union.
"how was your day?" collects scenes from kindergarten life of children. With this project I show parents what their kids do when they aren't around. I tried to create imaginary space for parents to observe kids and their daily life in an unmonitorred space the kindergarten is.
From the Ottoman Empire until today, Turkey is a country that hosts the many different cultures. One of them, perhaps the lesser known, is the Afro-Turks. Since the 19th century, Black Turks or Afro-Turks, who came to the Ottoman Empire through slave trade, for work or for military service
Two decades after Nelson Mandela was elected, and after the much lauded peace and reconciliation process, racial tension in South Africa is still a major issue. Many believe that the country has become more divided as the economy
---
WORLD
LANDSCAPE & WILDLIFE PHOTOGRAPHY
I traveled in Scoresby Sound in Eastern Greenland and then took a second trip to Eqi Glacier in Western Greenland a few weeks later. There were some plants and lichens that existed in both places. 
Eqi is unique in that as it is forced downhill and around a curve from the Greenland Ice Sheet, it's layers are turned vertically. This causes the glacier to sheer when it reaches the bay in a near constant manner, into very small fragments rather than icebergs.
Saskia Boelsums is a Dutch photographer and her Netherlandish heritage clearly shines through her work.
All of the photographs of landscapes or still life uncover the connection with the 17th century masters of the genre. The dark tones, baroque-like contrasts and clarity of the detail is stunning, as Boelsums' photographs balance between the real and surreal.
The Seychelles is an archipelago of 115 islands in the Indian Ocean, off East Africa. Located on Indian Ocean, the natural beauty of its numerous beaches are beyond imagination. There is a saying that Adam and Eve were sent to The Seychelles.
Le Corbier is a village planned in 1938 but built in December 1967. It is is an alpine winter sports resort situated in France, in the département of the Savoy. The concept of this village is to protect the safety of pedestrians and skiers
To make this portfolio I had the idea to show the inside of blossoms before they open all her petals and pistil. For this idea I´m looking for corresponding flower buds.  After testing a lot of flowerbuds in the springtime and summer and experiments to show there inside in a really manner
---
BEST STORIES
THE BEST STORIES AND PHOTOGRAPHERS
This series is about recognizing yourself in the soul. I appeal to virgins and goddesses of different cultures as a bridge to represent spirituality through femininity.
---
PHOTO NEWS
THE LATEST PHOTOGRAPHY NEWS
---
THE DARKROOM
ARTICLES & OPINION
What is a romantic photographer? The romantic photographer is a visual alchemist, an organic perceiver. Someone, who projects his inner being: emotions and experiences outward, through the lens, in search of resonance and congruence in his subject matter
Alfred Stieglitz was a revolutionary who, at some point, got the society of his time to change the perception of photography to make it what it is today. Alfred Stieglitz was born on January 1, 1864, in Hoboken, New Jersey State.
Jacob Riis photographed his masterpiece, seventeen photographs published in 1890 under the title "How the Other Half Lives." The book discovers the wild social inequalities existing in the city