YOUR MOMENT IS NOW! DO NOT MISS THIS OPPORTUNITY AN LAUNCH YOUR CAREER! THIS IS THE TIME TO MAKE DECISIONS. ARE YOU READY!
DEADLINE  |   FEBRUARY 14, 2018
WE ARE LOOKING FOR THE TOP 6 PHOTOGRAPHERS TO BE PRESENTED WORLDWIDE
BEGIN TO CREATE YOUR CIRCUMSTANCES FOR SUCCESS, TAKE A FIRST STEP AND TAKE IT TODAY.
In this edition of Dodho Magazine we will discover and exhibit the best photographers and works of the moment. We are selecting the 6 photographers that will be presented worldwide in this new printed edition of Dodho Magazine.
Your work deserves a broader audience, and this is your opportunity for your images to be seen and valued by the best professionals in the photography industry around the world. Your work will be presented at world level exclusively to the professionals of the photography industry.

The print edition of Dodho Magazine is the only publication with exclusively professional character and genuine spirit of promotion. Initially designed as a solid and powerful tool for the dissemination of new talents, it has become after the enormous acceptance by the industry in a publication of reference for the selection and discovery of huge photographers with delicious projects and fantastic stories to show the world. The print edition of Dodho Magazine will take your personal brand to the highest level of world photography, from Barcelona to New York, from Tokyo to Dubai, from Los Angeles to Sydney, the best gallery directors, photo editors, festival directors, Commissioners and agents will have your work in your hands through our exclusive publication. Your personal brand and your images will go around the world in record time.
THOSE WHO WANT SUCCESS IN THEIR PROFESSION ARE MANY, BUT FEW THOSE WHO DECIDE TO GO FOR IT.
Come on board with us and transform your goals into reality, nine, eight, seven, six, four, three, two, one, zero…… Take of and launch definitively your career.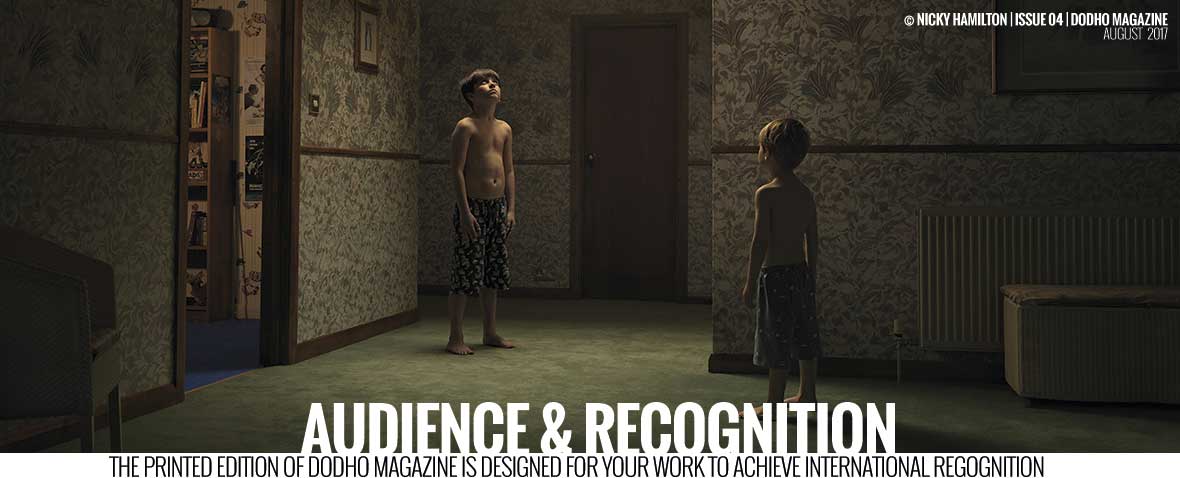 TO WHOM THIS CALL IS DIRECTED?
All professional and amateur photographers who have something to show to the world or wish to disseminate their work in a definitive way can present their portfolios and images from any part of the world. We accept any style and photographic interpretation with the only requirement of having a unique and personal approach. From photojournalism, street photography, artistic, portrait, nude, landscape, nature, fauna, architecture, fashion, urban or documentary photography.
The printed edition of Dodho Magazine is designed for your work to achieve international recognition. We are dedicated to putting the spotlight on talented photographers and new projects by launching or expanding their careers in a definitive and effective way in the photographic industry. All portfolios presented are considered by our jury without the author's data, this means that our judges do not know the photographer name and its origin until the end of the selection process. In this way we guarantee that the selection process takes place in the most transparent and democratic way possible.
All the portfolios and photographs received in the two modalities Cover and Magazine are valued through four decisive elements. Technical factors, composition factors, emotional factors and style factors. After the presentation period ends, the finalist works, and portfolios will be reviewed again, for the final selection of the photographers presented in the new edition. The jury's decision will be communicated during the second half of February to all the selected photographers.
The published photographers will have to send their images or portfolios in high resolution and sign the publication authorization of their works in the shortest time possible given the so tight schedule of edition, publication and diffusion we have.

AND BEST OF ALL, A SELECT AND GRATEFULL AUDIENCE WILL GIVE YOU THE GENUINE RECOGNITION YOUR PHOTOGRAPHS DESERVE THRONG THE HAND OF DODHO MAGAZINE
An international judging panel composed of directors of  International Centre of Photography (USA), The Empty Quarter (United Arab Emirates), Erdmann Gallery (South Africa), Red Stamp Art Gallery (Holland), Klompching Gallery (USA), In Focus Gallery (Germany), Galerie Du Canon (France), Coco Communications (Singapore), Galerie Thierry Bigaignon (France), Catherine Edelman (USA), Black Eye Gallery (Australia) and the management team of Dodho Magazine will select the works and photographers to be presented in this new edition. We accept all genres, always and exclusively in the field of photography.
DOWNLOAD THE NEW EDITION 05 FREE OF CHARGE
As a sign of gratitude for the trust placed in Dodho Magazine, all participants will receive a code together with an email confirming their participation, so they can download the new digital version of this 05 edition in March. We are sure you will love it.