The Best British Photographers published in Dodho Magazine. The great stories by Sophie Ebrard, Zuzu Valla, Alva Bernadine, Ellie Davies and Daniel Ali. 
Zuzu Valla ; The atmosphere of a moment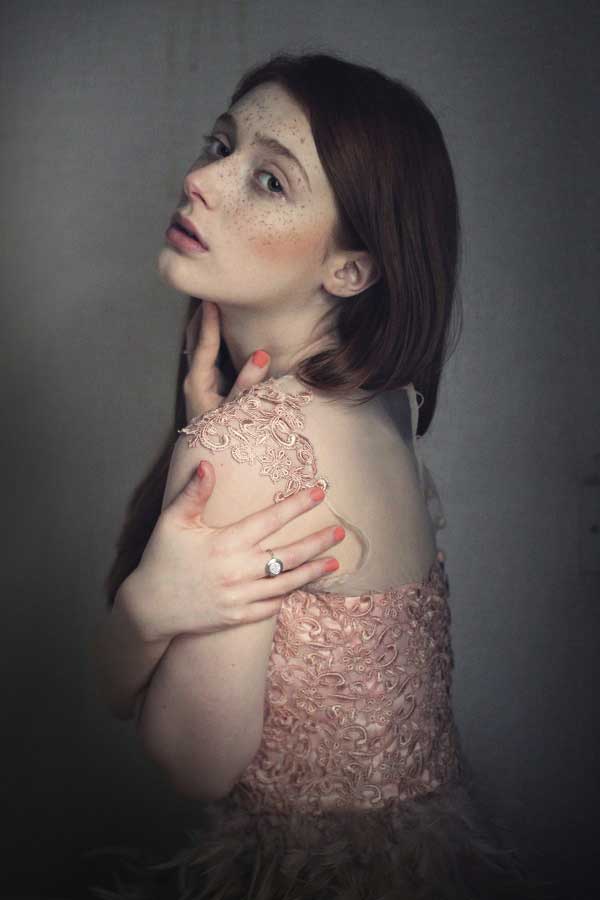 My grandfather was a keen amateur photographer, shooting in black and white, and growing up I always enjoyed his pictures, without knowing it would one day become my passion. My grandmother also created colour paintings from his photos, which I helped her with as a child. Yet despite this early introduction to photography, I thought of it as something where I admired other people's work, never thinking that one day l would follow in my grandparents' footsteps. More…..
When I have had such men before my camera my whole soul has endeavored to do its duty towards them in recording faithfully the greatness of the inner as well as the features of the outer man. The photograph thus taken has been almost the embodiment of a prayer.
Julia Margaret Cameron (British Photographer)
The Butterfly Collector by Alva Bernadine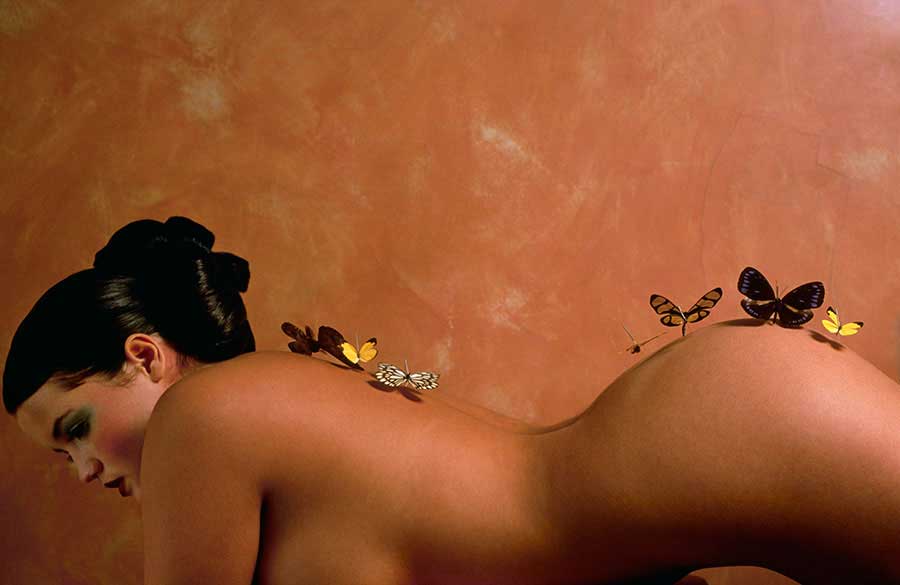 Alva Bernadine – I had the idea of pinning butterflies to a model. I had some framed butterflies I had owned for some years that I was willing to sacrifice. On my first try the model pierced herself with piercing needles and we attached the butterflies to them. The only problem was that because of the nature of the needles the butterflies lay flat on the skin. That did not work for me. I then came up with the idea of using acupuncture needles. i have had acupuncture myself several times but had never applied any myself but i bought some on ebay with the intention of taking a stab at it, literally, on a model. I mentioned it to my neighbour, and she told me she had just qualified in acupuncture and she would help me. While tidying I saw clear plastic address label on an envelope and it occurred to me there and then that I could use such labels for the Latin names of the butterflies that collections generally have. I sourced both the butterflies and the labels on eBay. More….
Between the trees by Ellie Davies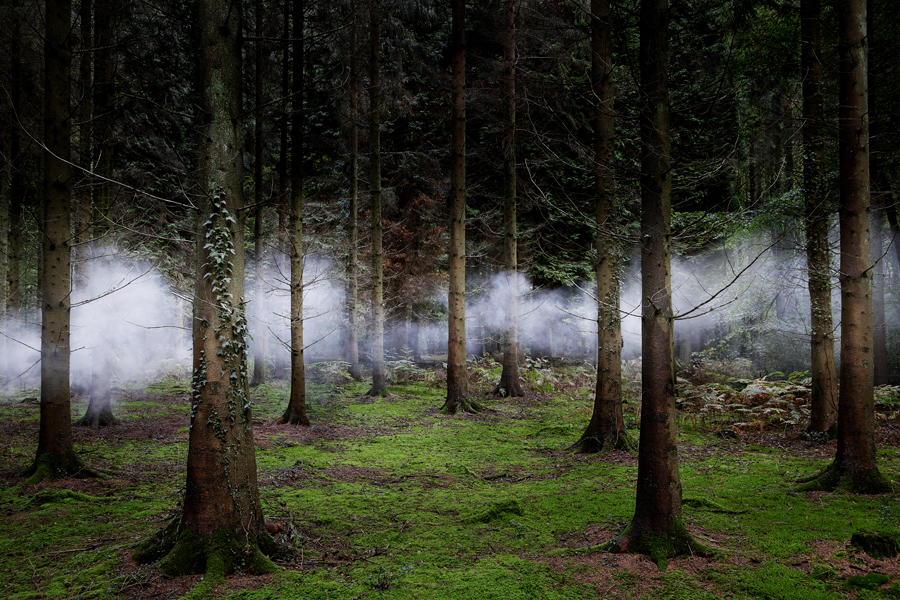 I have been working in UK forests for the past seven years, making work which explores the complex interrelationship between the landscape and the individual. Our understanding of landscape can be seen as a construction in which layers of meaning that reflect our own cultural preoccupations and anxieties obscure the reality of the land, veiling it, and transforming the natural world into an idealization. UK forests have been shaped by human processes over thousands of years and include ancient woodlands, timber forestry, wildlife reserves and protected Areas of Outstanding Natural. As such, the forest represents the confluence of nature, culture, and human activity. Forests are potent symbols in folklore, fairy tale and myth, places of enchantment and magic as well as of danger and mystery. In more recent history they have come to be associated with psychological states relating to the unconscious. More….
Sumo School by Daniel Ali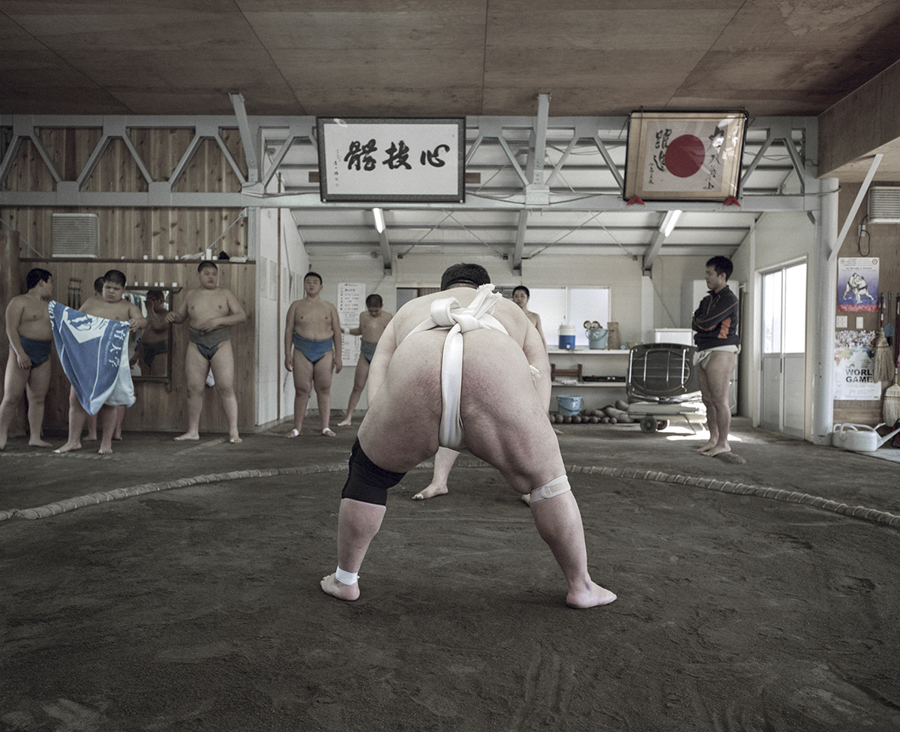 Earlier this year I travelled to a sleepy fishing town called Nou on the north coast of Japan to learn about sumo culture and the training it takes to become a champion in Japan's most notorious martial art. With the journey taking me across country through the Japanese Alps exchanging modern bullet trains for clunky local trains it felt as if I couldn't be any further from the dazzling lights on the streets of Tokyo. The origins of sumo wrestling date back over 2000 years with it's rituals and traditions firmly rooted in Shintoism and with Japanese mythology accrediting the existence of Japan to the outcome of a sumo bout between gods. Sumo champions are huge celebrities in Japan and are given the upmost honour and respect. A daily rigorous lifestyle must be upheld in order to prepare oneself for bouts that can be won or lost in seconds. More….
It´s just love by Sophie Ebrard
To humanise the individuals in front of the lens and show a lighter side within the industry, French-born photographer Sophie Ebrard followed porn director Gazzman for the past four years on his sets around the world. The results are no ordinary erotic images, in fact there's very little sexual gratification in them. 'It's Just Love' is both a study of composition and of the human relation to the industry of sex. It is porn turned on its head in a blaze of long shots, private moments and elegant compositions. Sophie's lack of prejudice makes her work more honest and therefore unique. More……