I have  been working in UK forests for the past seven years, making work which explores the complex interrelationship between the landscape and the individual. 
Our understanding of landscape can be seen as a construction in which layers of meaning that reflect our own cultural preoccupations and anxieties obscure the reality of the land, veiling it, and transforming the natural world into an idealisation. UK forests have been shaped by human processes over thousands of years and include ancient woodlands, timber forestry, wildlife reserves and protected Areas of Outstanding Natural.  As such, the forest represents the confluence of nature, culture, and human activity.  Forests are potent symbols in folklore, fairy tale and myth, places of enchantment and magic as well as of danger and mystery.  In more recent history they have come to be associated with psychological states relating to the unconscious.
Against this backdrop mywork explores the ways in which identity is formed by the landscapes we live and grow up in. Making a variety of temporary and non-invasive interventions in the forest, my work places the viewer in the gap between reality and fantasy, creating spaces which encourage the viewer to re-evaluate the way in which their own relationship with the landscape is formed, the extent to which it is a product of cultural heritage or personal experience, and how this has been instrumental in their own identity.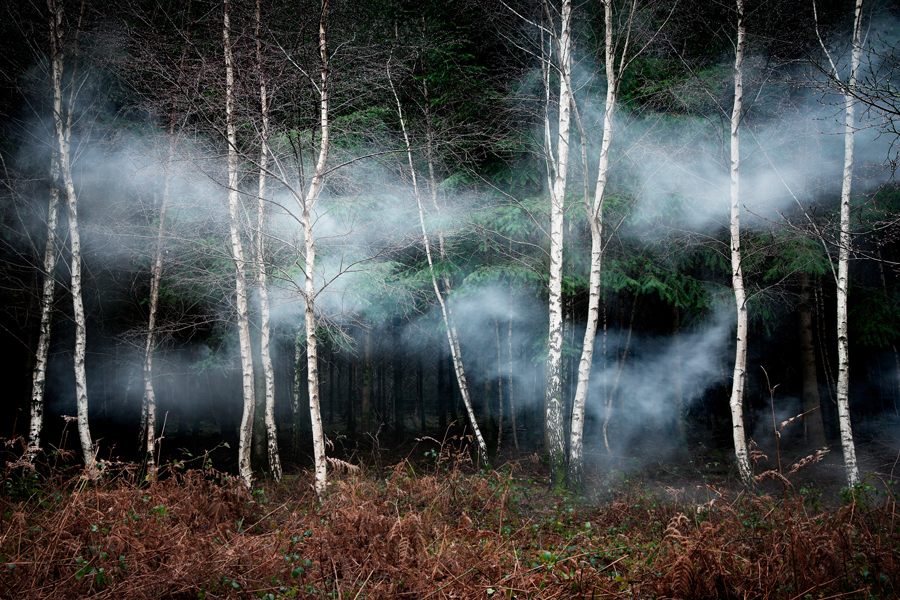 About Ellie Davies
Ellie Davies (Born 1976) lives in London and works in the woods and forests of the UK.  Her gained her MA in Photography from London College of Communication in 2008. Davies's six recent solo shows include Into the Woods at The Richard Young Gallery, London, Come with Me – New Landscape by Ellie Davies at ThePrint House Gallery in London, Smoke and Mirrors: Solo Exhibition at10GS London, and Ellie Davies Solo Exhibition at Bruce Collections, Kiev in Ukraine. In June 2014 she was signed by Sophie Maree Gallery in The Netherlands who exhibited her work at Kunst Art fair 2014 in Amsterdam.  Her work is represented at various international Art Fairs by Crane Kalman Brighton Gallery.
Recent group exhibitions include The Open West 2014 at The Wilson Gallery in Cheltenham, Forest Stories in The Russian Museum Summer Gardens in St. Petersburg, Inside Out at PH21 Gallery in Budapest, 100 Trees at Onca Gallery, Brighton, The Arles 2013 Photo Festival in France and China House in Malaysia, The Noorderlicht 2013 Photofestival in The Netherlands, and the 2012 Singapore International Photo Festival.  In late 2012 the Open to Interpretation: Intimate Landscape Exhibition toured the USA including Gordon Parks Gallery, St Paul, Minneapolis, and Newspace Centre for Photography, Portland, Oregon.
She has recently been interviewed for Cercle Magazine France, F-Stop, Mull It Over, Urbanautica Photo Stories, Two Way Lens, Fraction Magazine, and It's Nice That.  She has been featured in Interior Design USA, Fraction Magazine's 50th Issue, Fuzion Magazine, Photo+ Magazine-South Korea, Conscientious, Silvershotz, Lens Culture, Art Ukraine, Mull It Over, Entitle Magazine, Urbanautica, F-Stop Magazine, Le Monde Magazine , and The London Independent Photography Selected Artist Showcase.  Recent books include WUD: Four Walks in the Fictional Woods, a limited-edition hardcover Photobook published by Tangerine Press in December 2012.  Also,Open To Interpretation: Intimate Landscapes – Published October 2012, and Behind the Image By Natasha Caruana and Anna Fox, 2012.
Davies was awarded First Place in the 2014 Kontinent Awards in the Fine Art Projects Category. She received an Honourable Mention from the jurors of Inside Out 2014 at PH21 Gallery in Budapest, and was selected as a finalist in the 2013 London International Creative Competition.  She was awarded an Honourable Mention in the Professional Women Photographers International Juried Exhibition 2012.  Davies was selected for the Lens Culture International Exposure Awards 2010, and received 1st Place in the Fine Art Landscape category of the 2010 PX3 Paris Photo Prize, The Exeter Phoenix 2010 Audience Choice Award, ArtSlant Showcase Juried Winner in 2010 and 2011, and Commended in the LPA Landscape Awards 2010. Her work is held in private collections in the UK, the US, Central and Eastern Europe, South Korea, Hong Kong, Russia and The United Arab Emirates.  WUD: Four Fictional Walks in the Woods has been added to the collections of the National Art Library at the Victoria and Albert Museum in London, The Library Project Bookshop, Dublin, The Glasgow School of Art Library, and is stocked in Foyles London. [Official Website]