This is a f semi-autobiographical series, that opens a window to the phenomenon of the new hippies in California at the 21st millennium.
The photographs expose a new social phenomenon that is growing in the remote and wild south and north of the California, of a new generation of "flower children", also called hippies or "pirates".
Young people coming from good families across the United States, retire from American popular main stream culture in an attempt to get closer to nature, and to live differently. These teens prefer to settle at the margins of society, and produce different subcultures, interesting, and full of contrasts. Escaping from socialist ideals, they prefer life with less work and commitment, and more escapism, travel adventures, festivals, music, sex and drugs.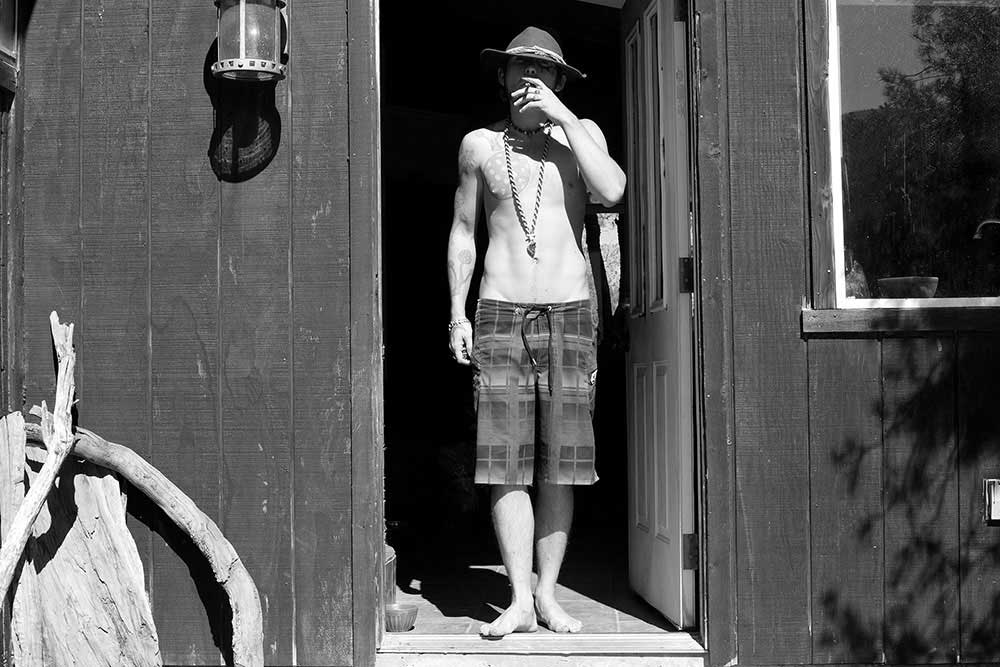 In These series of photographs I have documented Kai, a cannabis grower/farmer, an individual that is representing this state of mind during his daily life. Kai was shot dead during a robbery in December 2014, shortly after these pictures were taken. This series is a tribute to his memory.
"Find me in the hills where we bury the pills and disappear in the sand. Revolvers in hands, revolutionaries at heart. Live for the moment. Risk life for the gold, but we shall not sell our souls. Brave hearts and smoke in our lungs. Outlaw till we die. High shall I sail on open water, sailing upwards in the pursuit of infnitie bliss. This moment belongs to the Pirate, and he does not look back." Kai (1988-2014)
About Maya Smira
Maya Smira is a multidisciplinary artist who use time based media, photography and installation, usually in simple, abstract and formal ways. Her creative process is deeply involved in larger global and social issues and events, and is effected by her constant travels around the world. Her work incorporate idea based compositions, referencing the verge between photography and video. Her portfolio has multiple different facets, each representing a different aspect of interest, all derived by her personal life experience and exploration. Born and raised in Israel, her work sometimes refect living under a constant state of emergency, while other works refer to media, time & technology. Often these different lines come across, through humor, concept or figurative resemblance. In 2012, she obtained a BA in Arts and Humanities, and a BFA in photography in Tel-Aviv. In 2014 she received an MFA from the San Francisco Art Institute New Genres department, along with the Ella King Torrey Award. In 2014 she was a finalist of the LG Art Of The Pixel Award and attended a residency program at the East Side International Art Center in L.A. In 2016 she received an award for best video artist at the Fresh Paint Art Fair in Tel-Aviv, and a grant for a solo Exhibition. She exhibit in both California and Israel, as well as several other countries in the world. [Official Website]