Each photograph retains the balance of both light and darkness with an approach to color that invites the viewers reflection. The narrative in One Day in Paris amplify dichotomies in the past and present, dark and light, color and colorless, physical and psychic worlds, heroes and cowards, truth and tales.
The streets contain a history of people who have walked through the city of Paris. Sæverud's images carry a sense of timelessness and the viewer must discover the truths of modernity by shifting the attention to the shadows. In the dim spaces of the photographs street lights, signs, and pedestrian walkways are identified. As he scopes the city and calmly waits for a moment to present itself, he reflects on the November 2015 Paris Attacks, and reimagines the filled streets of frantic people. What he finds in the aftermath of a tragedy is a resilient city filled with all walks of life who take Paris back with their brave presence.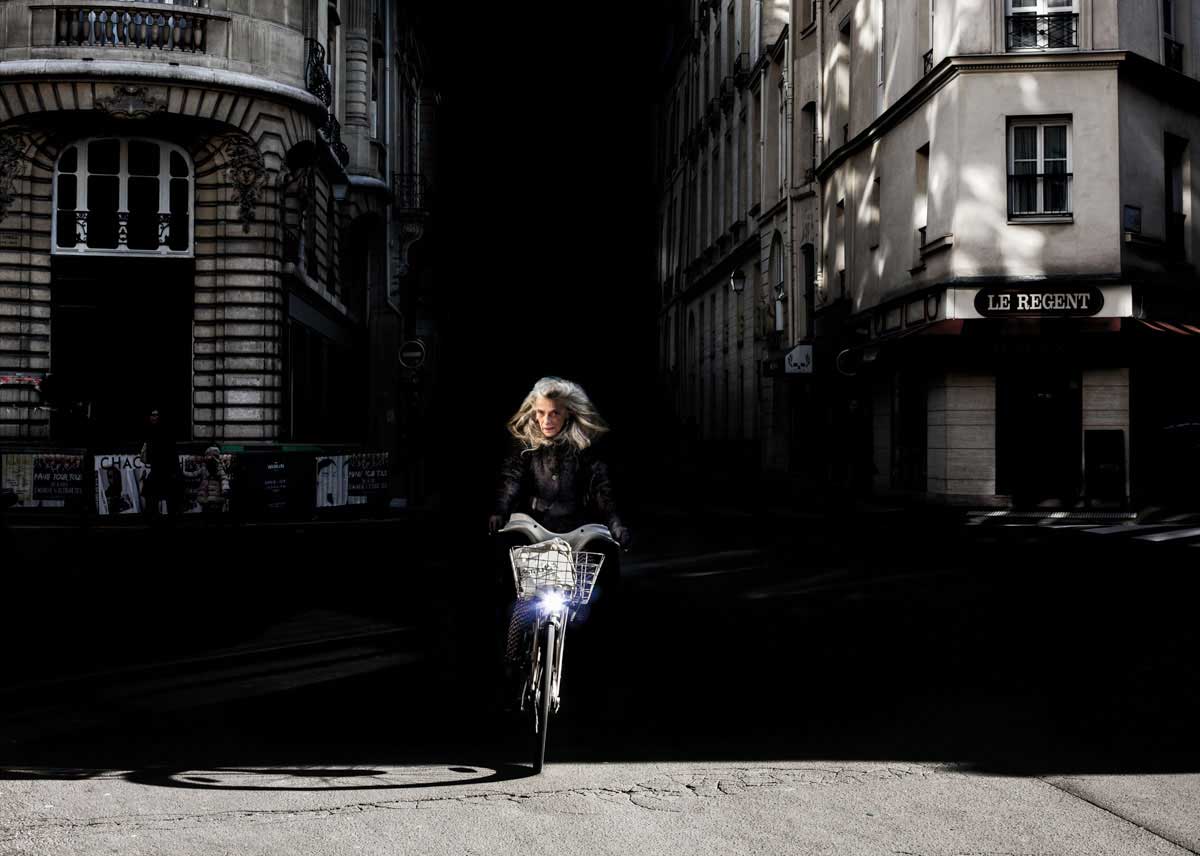 In Joseph Campbell's 1949 book The Hero with a Thousand Faces describes an archetypal journey of a protagonist entering a series of stages that ultimately result in a moral lesson. The titles for each photograph nods to Campbell's seventeen stages of a hero's journey. For Erlend, his series starts with The Call to Adventure, a figure whose back is turned to the camera and faces towards the buildings illuminated by the colors red and yellow. The figure clearly still exist within the reality of the physical world. In The Belly of the Whale, the red and yellow buildings are transformed into the silhouette of colored figures standing in the the shadows. The contrast explains the transition of separating from the physical world into an introverted metamorphosis phase. In Crossing the First Threshold, where a figure positioned offcentered in the frame enters into the shadows facing his back to the natural light as the figure walks through the narrow side street following the angled light that forms a path, identifying that the journey must be made alone.
One Day in Paris continues to follow the heroes journey and culminates at the Master of Two Worlds, where a man stands at the corner of a right angled street. This represents the protagonists' ability to mediate between the physical world and spiritual world. The questionable dichotomies in the beginning of the journey. Ultimately resonating the Hero with a Thousand Faces to parallel people of Paris. Erlend's observations presents itself to all walks of life, that the universal truth with every human being is constantly in their own stage of the heroes journey. This analogy can present itself with anyone, anywhere, anytime, and Sæverud captures only a glimpse of that moment.
Erlend Mikael Sæverud's fine art photography consist of street photographs illuminated in contrast to vast shadows, often eliciting intuitive reflections. He captures his inner world and narratives with serendipitous moments. He photographs as a reflection of himself and the common theme that ties all artists and humans alike through a lens that glimpses at universal truths. Sæverud graduated at Bilder Nordic School of Photography in 2011 and is now represented by Galleri Ramfjord Oslo, Galleri Fineart Oslo, Kunstgalleriet Stavanger, and Galerie Dessers Belgium and recieved two honourable mentions in the Fine art category Black & white Spider awards in 2017. [Text by Kristianne Molina] [Official Website]