London is my favorite place in the world for photography and as I'm missing it so much, I've invited 5 amazing photographers to give me the London doses I need. These unique guest photographers have been able to prove that London can be one of the most inspiring cities in the world.
All of them have their own individual style and portray a different side of London. London's infinite and vibrant possibilities for photography are neverending because of its arty and young spirit. Street portraits and curious finds are always there waiting to be captured. Then we just need to re-visit the urban spots, the busy streets, the markets, and the neighborhoods to get the photo narrative. Meet Vicenzo Lullo, Belinda Corney, Jonė Reed, Gary Lashmar, and Jeff Moore. This has been a party for my senses, I hope you feel the same, enjoy this photo trip! Thanks, mates!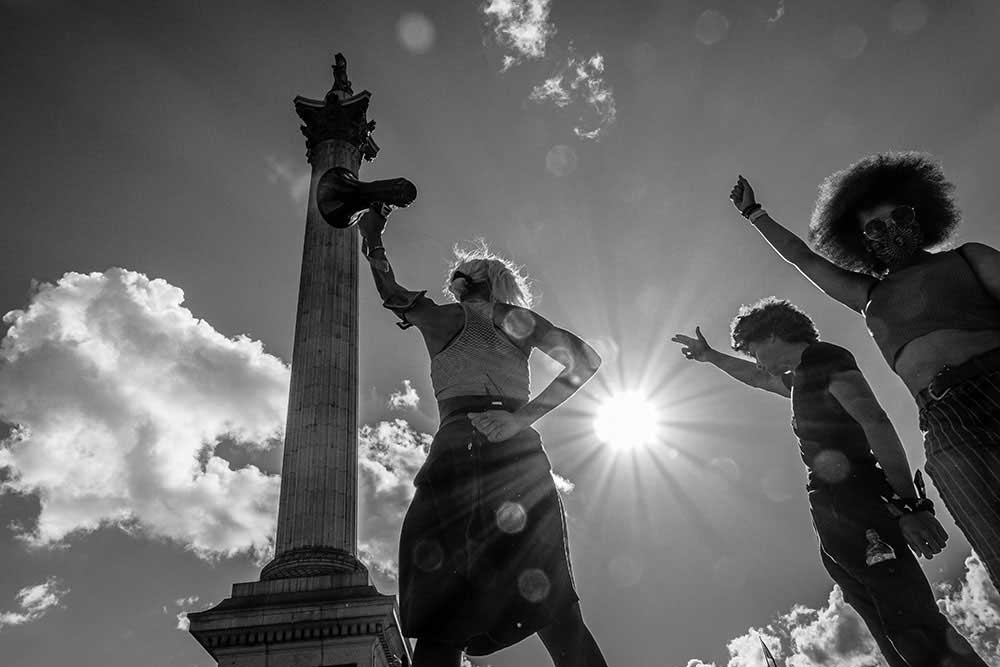 Let's start with Vicenzo Lullo, this 36 years old Italian living in London since 2014 has spent 14 years behind the scenes at concerts, festivals, and theatres around the world working as a Sound Light Engineer. Maybe that's the key to his manners and style. You can tell he is always there at the right time, getting the relevant moments and proving great street photography techniques and skills. He is interested in historical events, demonstrations, and protests, or presenting candid and iconic images such as his series entitled "In Screen, We Believe". He tends to choose black and white photography, though he can also express himself in full technicolor. About his experience with photography and its connection to London, he told me: "I got my first camera in 2018, since then there has been a crescendo of this passion. I love contrasts, in photography as in life. London is my gym not just my town. At first, it was pure instinct, now I am looking for stories, feelings contrasts to capture. In a megapolis like London, contrasts are everywhere and accentuated to the extremes. 2020 clearly showed that. The busy high streets once full of tourists and shoppers became empty until Black Lives Matter (where this picture was taken) fill them again with life, passion, and anger. This Trafalgar Square is a great example where you can see London's contrasts". Thanks, Vicenzo for your neat photography and words.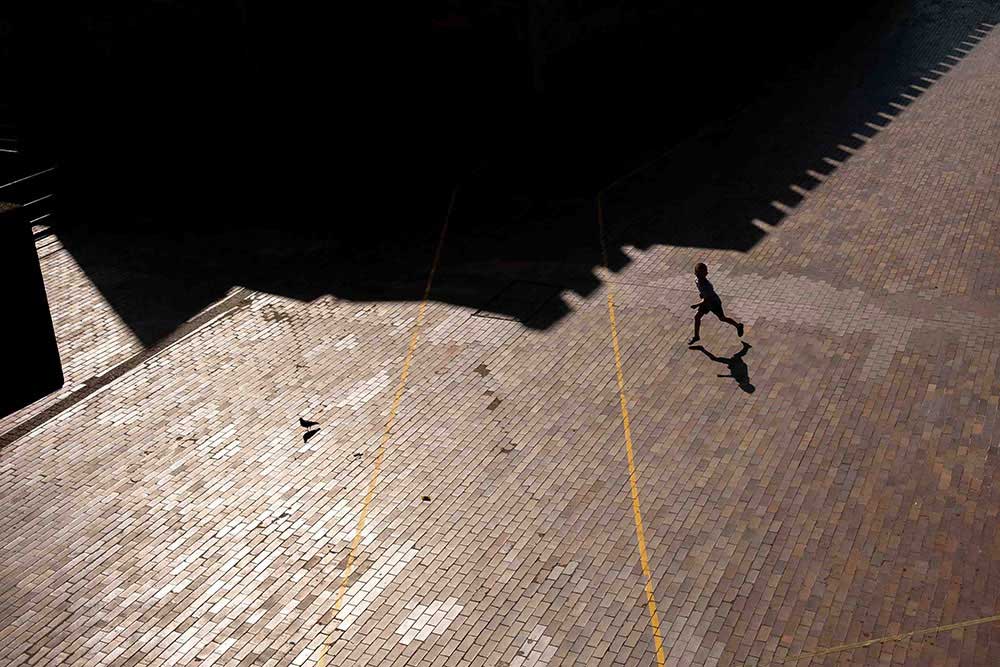 Welcome to the second stop, Belinda Corney defines herself in her Instagram profile as "a light and shadow stalker". I would add to that color because she is definitely getting the colors in London. Her photos will drive you mad and you will find yourself getting a plane ticket to London. You have been warned! This is her story and her feelings towards London: "I am originally from Australia, but I have lived in London for 17 years now. I always enjoyed taking photos, but it was in 2017 that I discovered street photography through Instagram, which then led me to join a street photography workshop. I fell in love with the genre immediately and this kick-started my love of getting out and photographing the amazing city I live in. I feel very lucky to be a photographer living in London as it's almost impossible to not see something interesting each time you venture out with your camera, whether it be a fleeting moment captured amongst the hustle and bustle on Oxford Street at 5.30 pm, or a solitary figure weaving through the shadows at the always peaceful brutalist wonder that is Barbican. I love brutalist architecture, so Barbican and the Southbank Centre are my favorite areas. I enjoy capturing moments in these spaces with their sharp edges and interesting shapes created from light and shadow, they are the perfect spot for when I need some peace and quietness to be creative. I have always been drawn to shadows, so it was inevitable they would feature in my street photography. I do like to include a human element in these shots, usually solitary or in silhouette. I love that I can be in this vibrant city but I still have these areas to escape to when it becomes too much. London's South Bank or Oxford Street is where I go if I want to lose myself in the vibrancy of the city. Sometimes overwhelming but always rewarding, the huge crowds always bring a mix of characters and scenarios. You can feel physically drained after a few hours there but also exhilarated. I will always be grateful for what London has given me in terms of creative fulfillment. It also has an amazing community of photographers, many of who I have met over these past four years, they are a lovely and supportive group of people". Her detailed description works as a photo guide to get the best of London! Thanks, Belinda, and congrats on your gallery, I can really connect to your images.
The third arty stop gets us to Jonė Reed. This Lithuanian fine art and family documentary photographer is currently based in London. Check her Instagram and find her amazing artistic expression, you will be surprised by her human and original approach. I think there is a poetic dimension in her imagery, her use of reflections, lights, and shadows create a sort of beautiful darkness or mystery mood that transforms every single photo into a deep photo narrative. I would say with an elegant 70s retro vibe with an updated form. This is her story and the emotional connection to London: "I've lived in London for almost 10 years now and I have to say it still hasn't stopped to amaze me. I have a very strange relationship with London – It is definitely "a love and hate one" in equal measures. London can be so warm and welcoming and at the same time quite cold and rejecting. Hence I've learned to detach myself from it. My children feel much more at home here (one being born in London) than I ever will. 
There's something new to discover every time you venture out, both ugly and beautiful and I guess it's a photographer's playfield: the architecture, the underground, the vastness of it, the different feel and mood of every single London borough, and multiculturalism  – sometimes it feels like just a short tube ride away you've accidentally stumbled upon a different city or even country.
I love documenting my children in this amazing city, I think their world is enriched living in such a capital of culture. What I also like is not only the sense of anonymity but also a certain feeling of solitude that you get living in a metropolis and I love taking street photos that express those feelings".  Jonė Reed has the skill to take street photography to the arty level, go and check her work!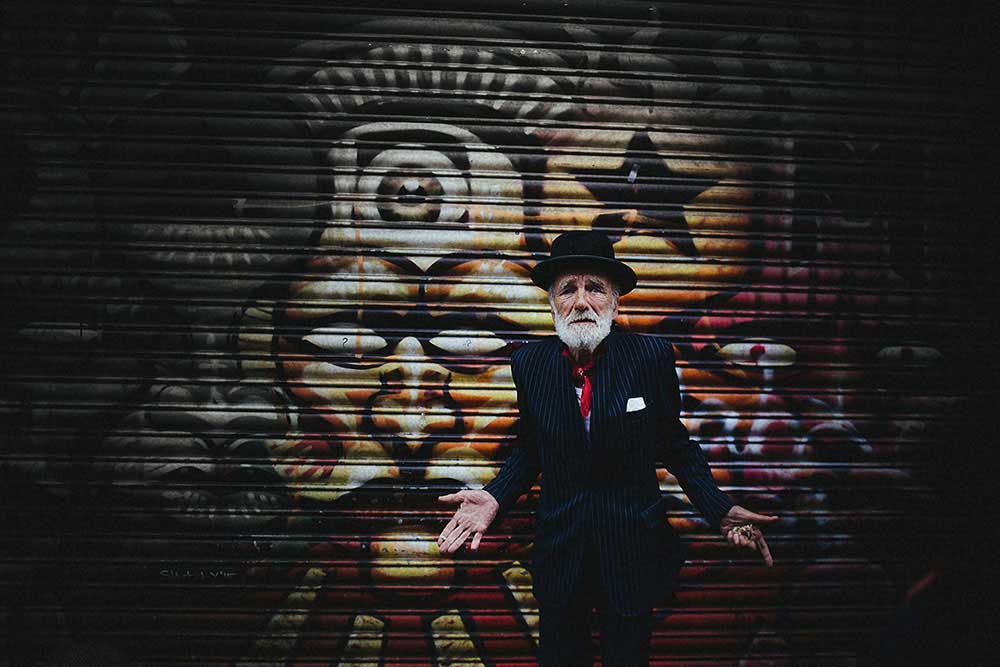 Enjoying the London trip? I wanna more! Our fourth stop takes us to a very authentic photographer: Gary Lashmar. I've been enjoying his reality bites since I got to his Instagrams. He is a master to get the magic moments and getting the right characters in the streets. He is also good at communicating his love for photography in London, you can check his Youtube videos to see his behind the cam and his process of work! He is definitely The Street Thief. If Gary Lashmar would be music, it will sound like rock and punk, he's got the attitude! This is his story and his London vibes: "I am from the East-end of London. London is in my blood. My family was from Whitechapel which is the heart of the East-end of London. And so the streets of London are where I hunt my photographs. The truth is I don't think I really see London. I romanticize it. The London I see is through a filter of nostalgia;  Old English Gangster films like 'the Long Good Friday' or 'Quadrophenia'. The music of the Libertines, the Who, the Jam, and Madness. Throw Charles Dickens into the mix and the Kray Twins. The Mod sub-Culture too which originated in London but has vanished almost completely still somehow finds a way into my work. All of this is how I see London. But I am sure London isn't actually like that and possibly never was. I'm a romantic. I even love the London underground. I have photographed all over the world. Italy, Germany, Spain, Greece, Croatia, Portugal, Indonesia, and much of the USA, and for me London is still the place I love to shoot the most. Old London has almost vanished but if you look closely, take a boat along the river Thames, and take the time to look, you can still see that beautiful old grimy London grinning from between the bland cosmopolitan changes". Thanks for this lesson about London Gary, I appreciate every single word!
Last stop, missing London more than ever! Meet Jeff Moore for our final dose! His pop style reminds me of Martin Parr. He can be irreverent, risky, ironic, candid, and funny, with an entertaining sense that makes his photography speak loud and with a strong personality. I love his image expression! This is what Jeff Moore told me about him and his relationship with London: "I have been a photographer for over twenty-five years covering major events worldwide including news, royals, politics, fashion, and sport. My work has been published in every UK national newspaper and in publications all over the world. I now specialize in editorial PR and advertising photography, consultancy, and image advice. This picture is a few years old the reason I choose it from the thousands of pictures shot in London over the years is that it was taken around the corner from my house and a few hundred yards from where my mum was born in the east end of London. It was a street party for the Queen's jubilee, like most of London, it's a massive mix of cultures, most people think of London as palaces and landmarks but step back a few streets even in central London you'll find communities". Thanks for sharing more London essence with us Jeff, I could feel your emotional roots.
Can't wait to keep on my "Tales of a City" in London! Thanks, Vicenzo, Belinda, Jonè, Gary, and Jeff for reminding me that London can be a million places!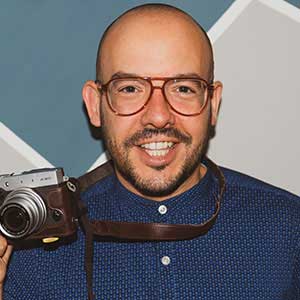 Seigar is a passionate travel, street, social-documentary, conceptual, and pop visual artist based in Tenerife, Spain. He feels obsessed with the pop culture that he shows in his works. He has explored photography, video art, writing, and collage. He writes for some media. His main inspirations are traveling and people. His aim as an artist is to tell tales with his camera, creating a continuous storyline from his trips and encounters. He is a philologist and works as a secondary school teacher. He is a self-taught visual artist, though he has done a two years course in advanced photography and one in cinema and television. His most ambitious projects so far are his Plastic People and Tales of a City. He has participated in several international exhibitions, festivals, and cultural events. His works have been featured in numerous publications worldwide. His last interests are documenting identity and spreading the message of the Latin phrase: Carpe Diem. Recently, he received the Rafael Ramos García International Photography Award. He shares art and culture in his blog: Pop Sonality.