Samuel Feron has been photographing Nature for 2 decades, exploring remote and sparsely habited areas all over the world. He tries to go beyond what the eyes first see, assuming that Nature has secrets in itself.
His camera was initially thought as a tool to explore a land but has become, as the years went by, like a headlamp searching the raw diamonds he will polish as jewels.Samuel has produced around 10 Collections dedicated to Iceland, each gathering images around a specific thematic he associates to the places he travels.
Samuel initially found his inspiration in Nature, especially remote areas as glaciers, volcanoes and deserts. He has travelled to Namibian deserts to capture d its red dunes of several hundred meters high, to Ethiopian lava lake for its volcanoes, to Argentina, with its glaciers and its high peaks, to the Chilean Atacama bordered by huge volcanoes, to Bolivian colourful Lagunas that stands at an altitude of 5.000 meters. [Official Website][Printed Edition][Digital Edition]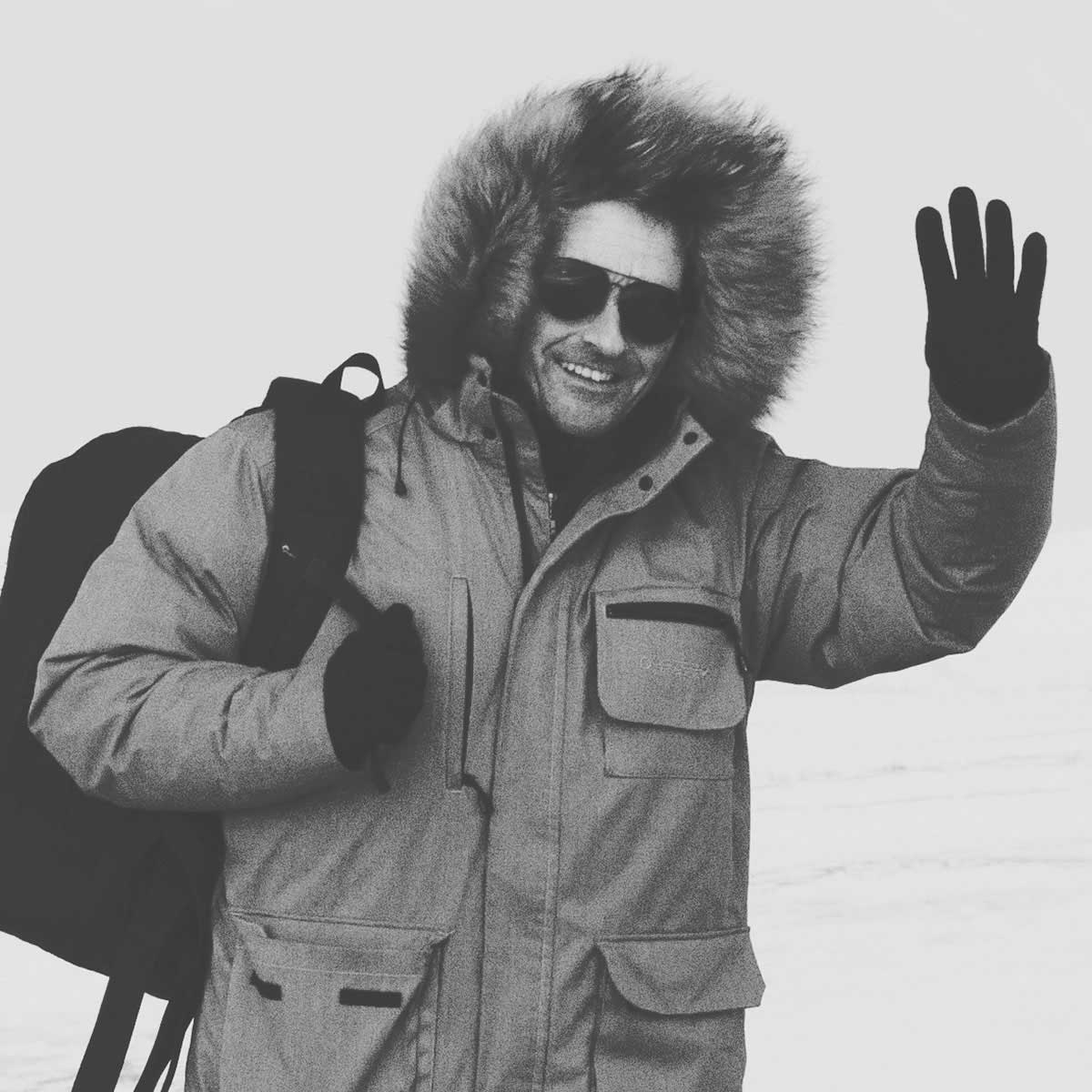 Who is Samuel Feron? What made you really want to be a photographer?
I came into photography quite late. It was in 2003 when I went to Iceland for the first time. At that time, this country was far much less known than today. Iceland for me was surrounded in a quasi-mystical atmosphere: a country lost in the extreme north, of rough, volcanic and icy landscapes, full of mystery. It appeared clear to me that I had to photograph these landscapes. I bought a simple reflex camera with only one lens and I started to shoot!
Tell us what motivated you to decide on landscape photography. Do you have in mind adding another field of expertise to your resume?
When I started photography, I was very focused on going and exploring remote and wild areas. Being a witness of the splendors made by the world (the Nature) was something exciting. Some shoots used to be very difficult to succeed because spots were much less accessible than today and photographic gear not as sophisticated. No histogram to prevent from exposure errors, no high dynamic range technics to manage challenging conditions, no millions of virtual images to statistically have a good chance to succeed a shot.
As the time passed by, tourism became more and more an issue. Acting as a witness was therefore becoming groundless. I progressively left this way of photographing and entered into a more intimate and close approach. As a result, I don't have recurrent themes anymore. Rather, I explore different areas, different photographic atmospheres, working on color palettes, shapes, patterns, and gathering them on what I called "collections". Examples are Collection Nano577 that deals with the green color, Collection Cryo Glyphs, a work on ice drawings, Collection Chaos, that explores the theme of the linearity and the complexity, Collection Magma, a work around the meeting of the magma and the water, etc. What I am looking for, when I start a collection, is a concept. I don't fix myself any limits on what I could potentially undertake. I just need to find something new, otherwise, the collection cannot be.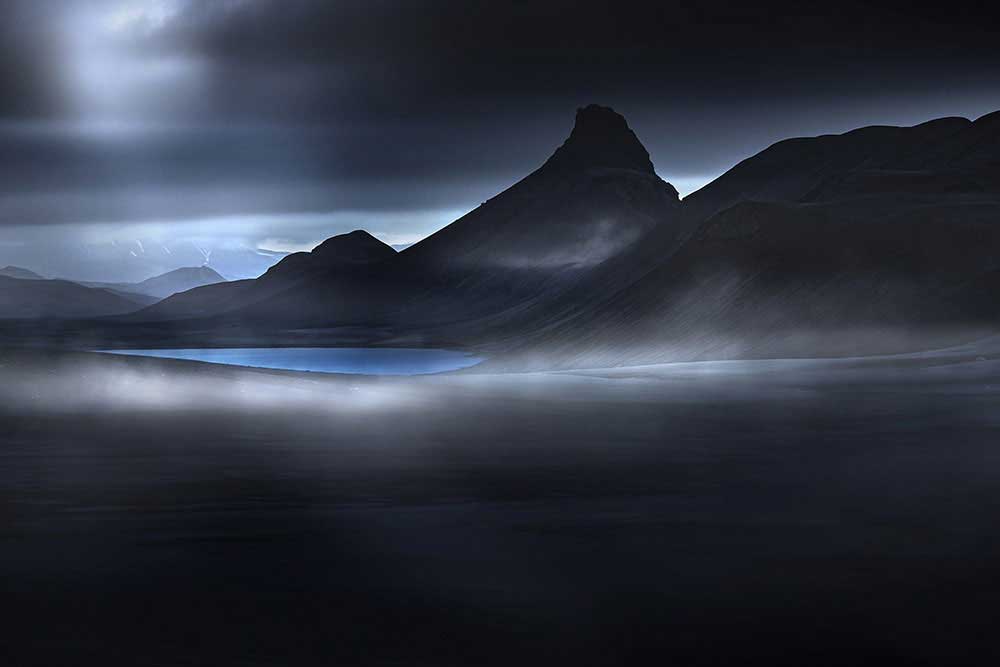 Do you have a favorite photographer who has been a reference when starting this profession?
Not really. There are many talented photographers who produce very personal and creative works but I don't have specific movements or artists that influence my work in deepness, or I am not aware of it. I am probably influenced when I see someone exploring a new area or trying new ideas or technics. It's interesting to understand the motivation behind and sometimes to discover a real different universe, a way of grasping the raw material that can be totally different from mine.
What is the life of a nature photographer like?
I don't know because I don't make a living from photography. I sometimes consider the question but each time, I think to the constraints it would imply in the creative approach. I could not help feeling under pressure to produce an image that can be sold. It will undoubtedly limit imagination, freedom and creativity. These three features are so essential to me. I really don't want to loose them.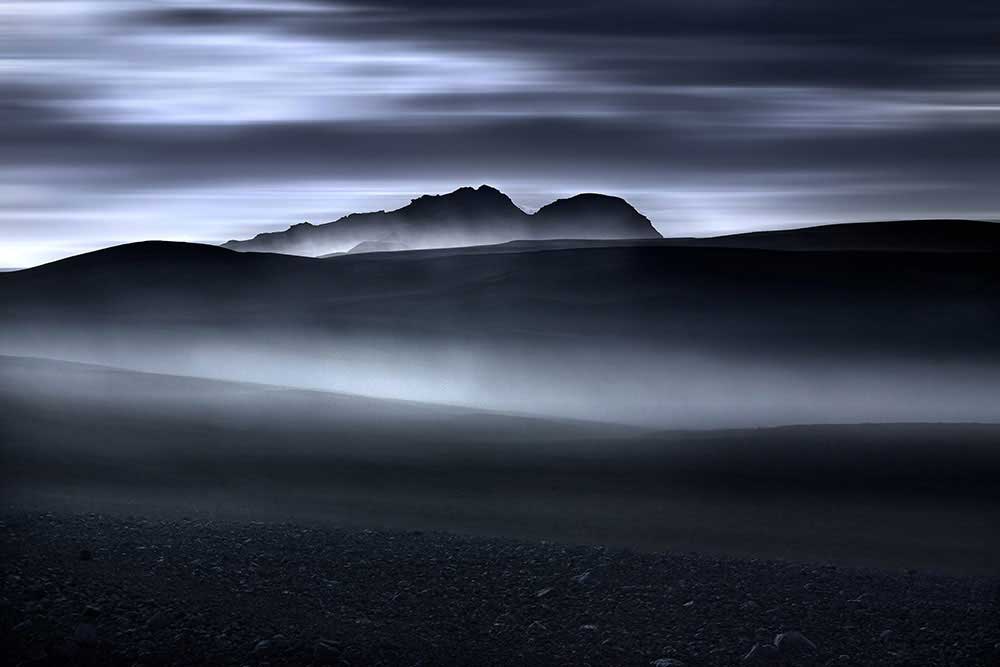 The Blue Desert is a collection of photos that have been taken between 2015 and 2017 in the highlands of Iceland. In this remote and isolated area, a black desert extends over kilometers of cold lava and fine dust. What moves you to carry out this project?Why did you want to tell the story? Tell us a bit about your experience.What do you expect that people discover with this project?
There are still some parts in Iceland where you can experiment loneliness and isolation. When I began to enter into this area, I met these feelings. But express them into photography was a challenge: low contrast, almost no color, empty vastness, rare light… All demanded a specific and an unusual approach. So I began to emotionally explore why this landscape had a so strong impression on me. I tried to figure out the main features of this desert and express them in a dreamlike manner. Then the black desert became the Blue Desert. When a world is so far from what you experiment in the daily life, the reality should be overcome.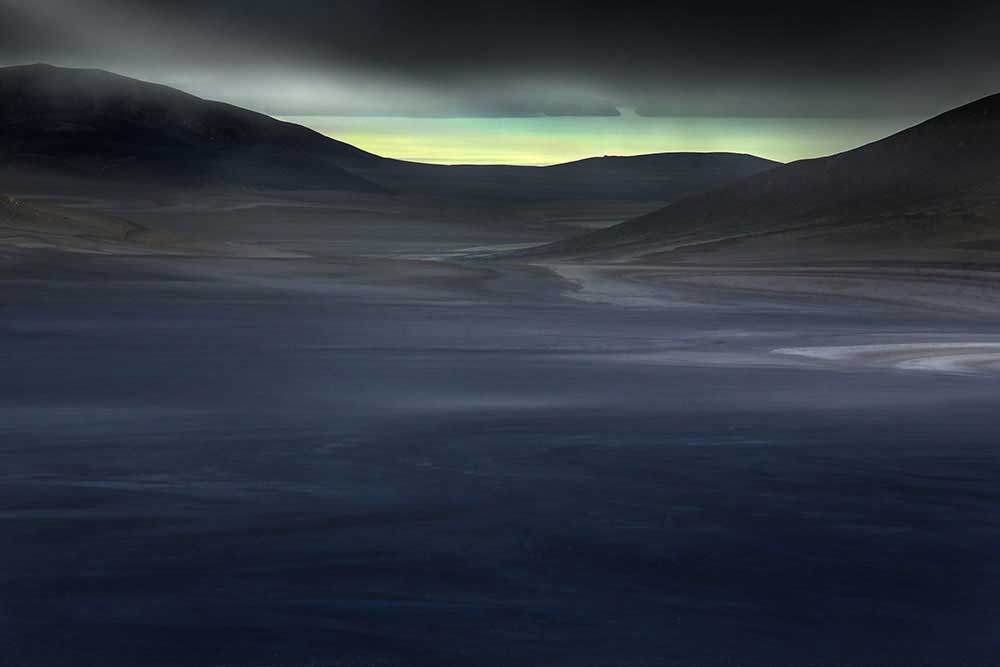 When it comes to taking the photos, do you base your method a lot on planning, or do you get carried away by creativity without overly established patterns?
My creative process appears quite complex to me when I consider it over several years. When I go on location, I have already ideas in mind, like a mainspring towards a given objective. However, when I am in the fields, I always have opportunities to do something else, something I didn't anticipated. This is because photography offers much more than we can imagine before. The difficulty is then to pursue what I have planned – which demands much time and concentration, but without missing opportunities that could occur around me – which demands to be open minded and ready to give up plans. This schizophrenic situation is uncomfortable, but I know I have to do with it each time I travel. 
Some spots can be precisely located, as Mesa Arch in Utah or Tunnel View in Yosemite, photographing these kinds of spots usually doesn't require much creativity because there are not many different possibilities of shooting. What makes a picture different from another one is therefore the light. I am not fond of this way of photographing because it is very passive: you have to be there at the right moment and that's it. Waiting and coming back are usually the main part of the "work". Of course, there is always a room for maneuver but it is limited. For example, some photographers have tried to shoot Mesa Arch from different points of view, but it is the classic one that remains the best. Often, the more majestic the spot, the less room of maneuver.
Some situations are however totally unpredictable. This happens when the light is quickly changing, when the sunlight plays with the clouds. You have to be extremely reactive. Opportunity in such situation brings success. I find that these situations give a lot of fun albeit they are often source of frustration because of quickly changing light. In most cases there is hardly any time to compose and adjust the setting accordingly. These moments are generally unique and so are the pictures.
Most of the time, I work inside a given and delimited environment, like a forest, a lava field, a part of a desert. I need time to adjust to the area, so I easily spend hours or even several days there.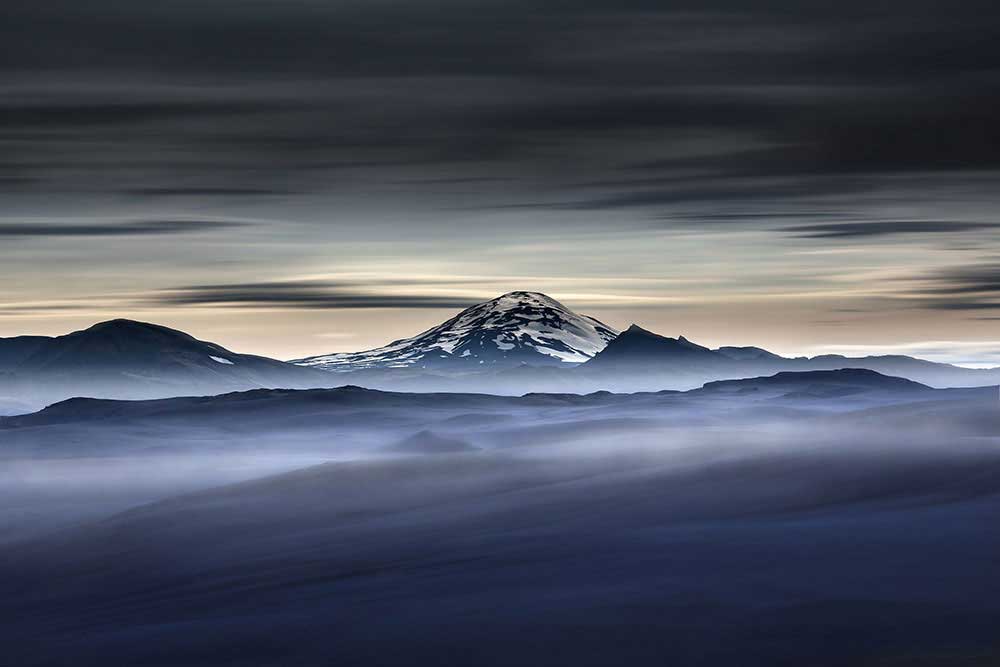 Tell us a little about your work with light. What type of light is your favorite? (regarding time of day, broadcast, address …). How do you work it in post-process?
The very first light of the day still appears to me as the most magical one. I find the atmosphere more subtile than at the end of the day. The broadcast effect of the first rays allows for dreamy feelings and opens the door to creative and personal visions. The post-processing is essential when I need to take advantage of an atmosphere or to reinforce it. 
How important is color in your photos? Do you use it more as a resource to harmonize the final result or do you use it more as a creative resource to create an atmosphere or a feeling?
Color is an essential feature in my photos. For some of them, color forms the main subject. In that case, my concern is to find how I can get relationships between different colors in the scene. At the opposite, for some other pictures, colors may distract attention from the main subject or even undermine the whole image. In that case, I may desaturate undesirable colors.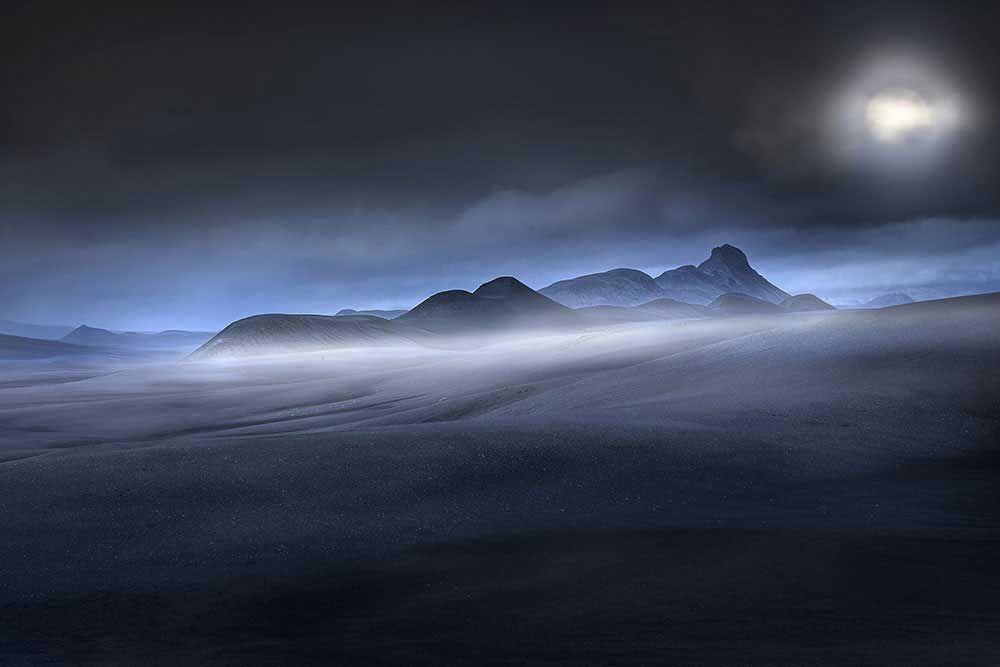 Many times we witness a style war in the post-process, from the purists of the "untouched", to the extremes of what is known as Fine Art. To what extent do you think the post-process is important?Where do you stand, in this spectrum of naturalness vs. processed?
There always has been a debate between landscape photographers regarding the use of post processing techniques. This debate will never end. Roughly, there is, on the one hand, those who consider that Nature is sublime enough and should be untouched by techniques. Only a few and minor corrections are admitted, and the work is performed so that the result is as realistic as possible. This is the "realist approach". Without surprise, this approach tends to be more followed by the "old" school (photographers who have begun with films) probably because the post processing was less easy to perform than today. On the other hand, there are other photographers who feel fully at ease with processing the image using all modern tools and techniques.
In a certain sense, I think that this debate is eternal and vain because what is at stake to me is how a photographer can show and express something different. Of course, there must be some limits but those are personal.
Let me relate a story. In 2014, I spent several weeks in the Atacama Desert with a Chilean guide who was deeply involved in photography. I remember that particular day when a beautiful light illuminated a salar in the Altiplano. We naturally installed our tripod and began to take pictures. We were very concentrated and were not paying attention to each other. At one point, however, I stopped photographing and had a look at my guide. He was obviously taking the same landscape, with the same angle. The light was, of course, the same for both. Everything was similar in the approach, and that it perfectly made sense. However, the result was that our both images looked very similar. Were there 10 of us, then there would have been 10 similar images.
In that circumstances, it is an evidence that a personal vision cannot simply emerge from a simple "click", a passive recording of a scene. Something lacks. Post process precisely allows for remedying such deficiency. I am very happy with the fact that camera files are "RAW" files, meaning "brute" and thus requiring to be "made". It's a raw material, like a brute diamond. It has to be cut, polished, worked. The appropriate cut-off is just a matter of personal judgment.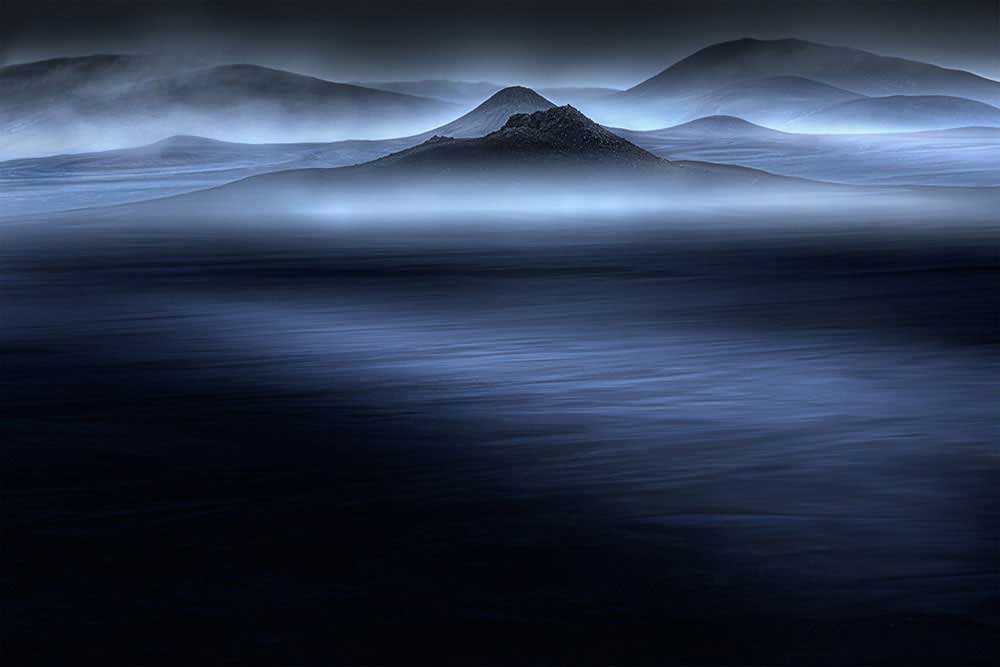 To what extent do you think a good technical execution is important vs the artistic part? (There are flawless but soulless images, and excellent images spoiled by technical problems)
I agree with your comment. Although generally considered as important, technic may ruin a photo when not mastered or not used in an appropriate way. Technique should always follow a purpose but technique is not necessary to achieve to a great image. A blurred photo may be of high interest – which means technique has been left aside- if it has been on purpose. In that sense, taking the opposite approach of the one allowed by the technique may be source of inspiration. Hurrying to learn the rules because you'll need to forget them immediately!
Another Inevitable: Tell us about your gear.What does a nature photographer carry in his backpack?
I currently use a Reflex (Canon EOS 5D) along with 2 lenses in order to cover a range of 24mm to 200mm. I hardly go out of that range. A tripod is of course necessary. I hardly use filters, except for long exposure. As the years went by, I limited and simplified my gear because I want to focus on the content more than the technics. Technics quickly becomes overwhelming and distracting. Actually, I have become reluctant to the overdose of technics and the race to the perfection that technics is supposed to bring. I don't use more than 10% of all the menus that my camera offers. Their practical interests are limited and their ability of making a good picture per se is inexistent.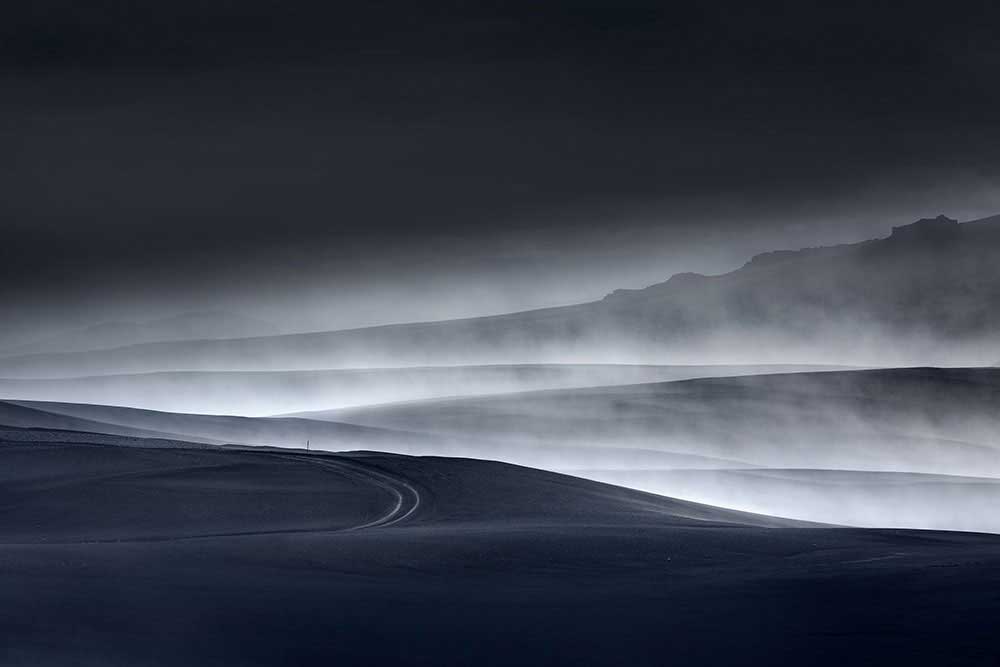 Speaking of landscape photography, it seems that digital retouching is always in the spotlight. Do you edit and retouch the photos or do you prefer the naturalness?
Processing can easily have important drawbacks. Many pictures are processed in a very similar way: dramatic sky, high saturation and high contrast, use of HDR. Some web galleries are overwhelmed of pictures that look similar. I find incredible that the freedom offered by post processing techniques actually leads to such uniformity. The less constraints there are, the more homogeneity we observe. At the end of the day, what is emerging is fashion and herd behaviour. That's remarkable. Creating is finally not very efficient in an environment of total freedom probably because in that context we tend to be reluctant to effort.
To me, nature has two realities. The first one looks simple, immediate, visible, available to anyone. It corresponds to our daily experience. It usually requires little effort from us to grasp it. We are passive because we are plunged in that reality. The second reality begins to appear when we try to really look at nature as if we were actors and architects. It is a hidden reality comparatively to what I have said previously. 
I believe that nature has secrets and my work is to discover them. In that sense, the camera acts as a headlamp searching through the night. It allows me to discover but it strongly depends on where I point the light. That's why I say that a photographer should build or make the picture. Revealing a so-called reality is in general far from being enough. 
Several years later, I may come back to old pictures, because I need and I like to revisit them. To me, a photo doesn't just fix a moment. It allows to pursue a creative process which has no end. When I revisit a photo I can arrive to results totally different in comparison to what I have already obtained during my first work. This is a complex process. To me the way we grasp a given image is as important as the image itself. I would almost say that a picture is sometimes just a pretext for creativity, for work or for expression. 
A tip for taking incredible photos of nature
I would be very interested in having such tips… as I have never found some! When I am in the field I try to leave my ordinary vision, my daily way of looking at the things. Even in front of ordinary elements, I try to look as if I came from another planet, another world and see for the first time what is surrounding me. A new sight is crucial. For example, would you be able to describe the houses or the buildings in the street you live? How many floors, what is the colour/material of the houses, how is the shape of the roof, how is the entrance door, etc. A very large majority of people are not. Yet they have been living there for years and sometimes for decades. Now, go a little deeper through the experience. Take time to really look at these houses. You will get the strange feeling that you discover them for the first time. It is really a funny and instructive experience.
What photography brings is a powerful way to really look. When I photograph I pay much attention to each of the elements entering into the photo: shapes, perspective, patterns, relationships between spatial elements, contrast, etc. With the years I have extended this kind of seeing in my everyday life although without the camera. I visually experiment many different compositions and associations between subjects. It's a useful and precious approach when being later on the ground. I presume that my style has been imperceptibly influenced that way, by learning in a daily manner.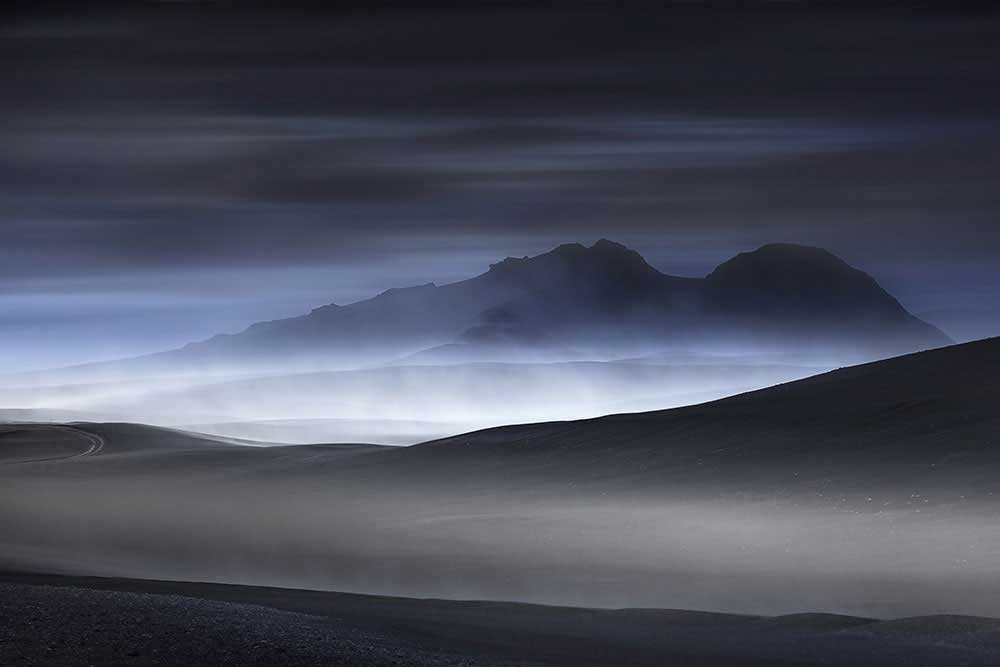 Any project in mind for the future? Where is your photographic evolution going?
Having photographed for years and years, I have accumulated a large amount of pictures but these are just pixels. Now it is time to see them printed and I am now looking more and more to galleries. I think the ultimate destination for a photograph is the print. Although an image can be clearly seen on a high-quality screen, pixel remains virtual. Above all, an image should be considered in itself and not on a computer, where it is mixed with other things. Furthermore, it is important to see an image in a large size. Current screens are too much limited.
Samuel, what do you think of the current situation, the massification of photography and the difficulties of professionals to survive with this work?And about the influence that social networks have on the work of photographers? Do you think they are harmful or that they can be a good help to make yourself known?
Social media has deeply impacted photography. On the one hand, social media allow for a better exposure of the photographer's work and became unavoidable for communication. On the other hand, social media have given rise to a considerable flow of pictures that make difficult for a photographer not to be drown in. From that point of view, I would say that social media impact is ambiguous: an easier way of communicating and promoting but balanced by a huge concurrence.
To me, the most important, and regrettable consequence of the social media is that they constitute to a standardization of the way of photographing. When browsing through photographic social media, it's easy to see how similar so many pictures are, especially in the post treatment phase, for instance, dramatic skies, saturated colours, overuse of standardized HDR technics or overuse of wide-angle lenses. The ease of use of post processing software results in a prevalence of the technicality over the artistic and personal views. Social media spread this approach to everyone in the world. Because this kind of images is what you can see on the web, "photographers" naturally tend to conform to that kind of pictures, thinking that it is THE good way of making good pictures. That is the bad side of it – everything tends to be similar, wherever you are in the world. I find incredible that the freedom offered by post processing techniques actually leads to such uniformity. The less constraints there are, the more homogeneity we observe. At the end of the day, what is emerging as fashion is in fact a herd behavior and creativity suffers as a result, because in an environment of total freedom, we tend to be reluctant to make any effort. 
Social media have also a devastating impact on the well-known photographic locations – what I call iconic spots.Many spots are now spoiled forever – victims of their popularity reinforced by social media. From the photographic point of view, iconic images are done. They have left the domain of several and privileged photographers (those until the end of the last century) and have fallen into the mass tourism. Antelope Canyon in the USA or Kirkjufell, Vestrahorn in Iceland are examples of places photographed hundred thousand times a year. The images are spread on the web, attracting even more people year after year.
At the end of the day, I think that social media will lead photographers to ask themselves a question if they want to stand out from the crowd. If they don't do it, they will be smothered, from an artistic point of view. Therefore, the way out is on creativity and renewal path. In short, we need to move from a situation where we could take a picture to a situation where we have to make a picture.
Finally and the obligatory question, what is your opinion on our magazine?
My opinion is that Dodho is an excellent magazine and this is not an obligatory answer! Along with very qualitative images, your magazine displays real, deep and diversified contents. I hardly imagine the amount of work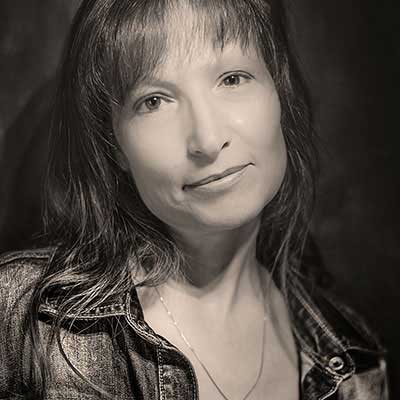 Since 2016 she is director of marketing and responsible for content. She began her career at an early age in the world of image and design. Involved in the constant pursuit of talent she is responsible for the Dodho Magazine success.With a gift and experience more than proven in her field, she maintains relations with the best agencies and publishers to promote the photographers careers published in Dodho, responsible to some extent of the rapid success that Dodho Magazine has had in the world photography industry.