In this interview for Dodho Magazine, Mieke Douglas met with Brazilian Photographer Alessandro Celante to discuss his ongoing project 'Impermanent Masks', which recently featured on the cover of Issue 16 of the Magazine.
Born in 1972 in the interior of the State of São Paulo, Brazil, graduated in Social Communication from FAAP-SP and postgraduate in photography and arts at the SENAC-SP Center for Communication and Arts, where he researched photographic historical processes. Taught for 8 years photography and Semiotics at Universidade Padre Anchieta in Jundiaí – SP. Has been working as a graphic designer for more than 25 years at AUM Graphic Design, a company that owns and develops projects in the visual arts due to the photographic bias, which made it possible to participate in several collective exhibitions, such as twice in the "Mostra de Arte Digital – Centro Cultural Pablo de la Torriente Brau", Havana – Cuba and individuals, such as "Les regards Numériques d'um Brézilien". Musée de Baux, Les Baux de Provence – France. In 2014 creates the experience "impermanent masks" and its consequences, as exposed in countries such as Cuba, Mexico, Uruguay, Chile, Italy, Australia and Malaysia as well as the main festivals of photography in Brazil. [Official Website][Printed Edition][Digital Edition]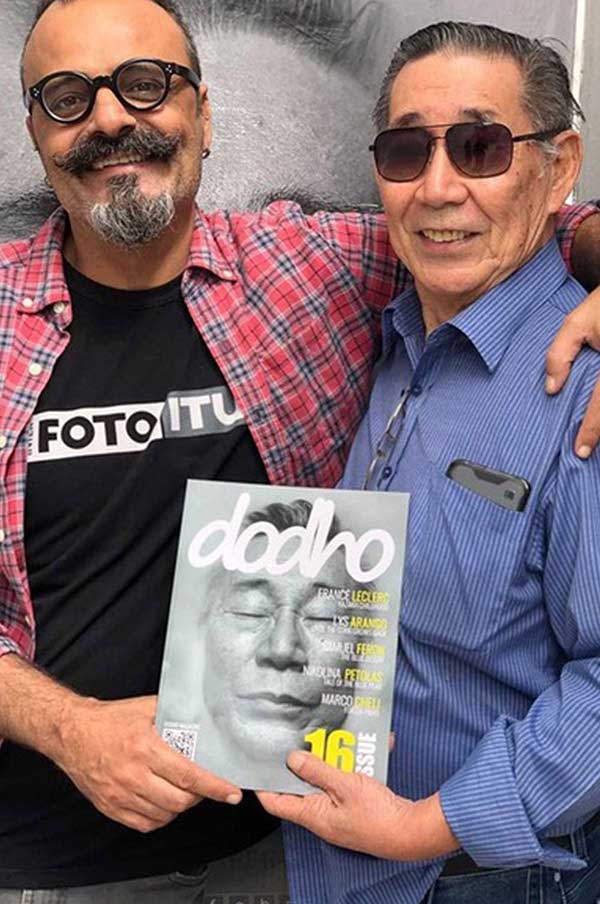 'Impermanent Masks', which you have been working on since 2014, has involved making images of over 300 volunteers, while they are lying in a small swimming pool filled with water and dry ice. I watched a video of this extraordinary process and it struck me as a sort of rebirthing. Is this what you had in mind? What are you trying to say with this work?
My projects have always been about human perception of and relationship to society, more precisely about the distance between subject and phenomenon based on new technologies, and that's why I develop them based on sensory experiences. 
The masks, both in their capture and exhibition processes, demonstrate immersion and rupture. Our understanding of the world is through our senses and the experience in the pool with cold water and dry ice, interferes simultaneously with all five senses. For a fraction of a second they are restarted, even metaphorically, when I photograph a death mask from someone alive! The death in question is of our perception and this shock makes us rethink our relationship with the world. The images are just the result of what really interests me, the process.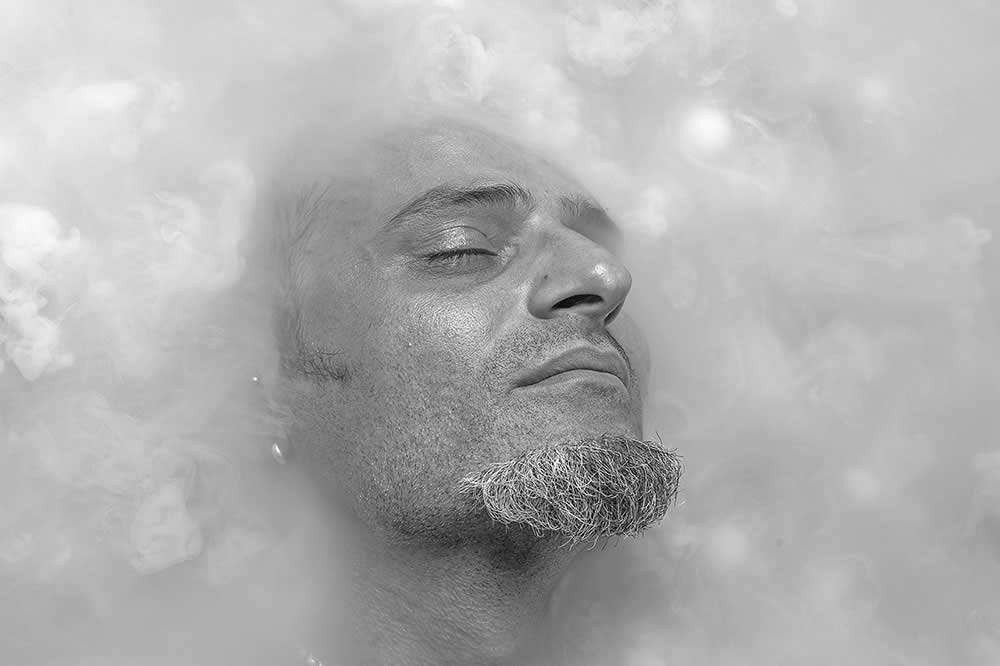 What inspired you to start on this epic project and continues to consume you almost a decade later?
In fact, the masks are part of a larger project that I call "immersive experiences", a kind of incubator of projects, experiences that participants report on. This is what provides longevity for the process of making these ephemeral images. I don't know if there was a moment of inspiration, but a series of insights that converged to make the project what it is today. The intention is to bring more and more people, without any restrictions to participate in the experiences and not just in the exhibitions.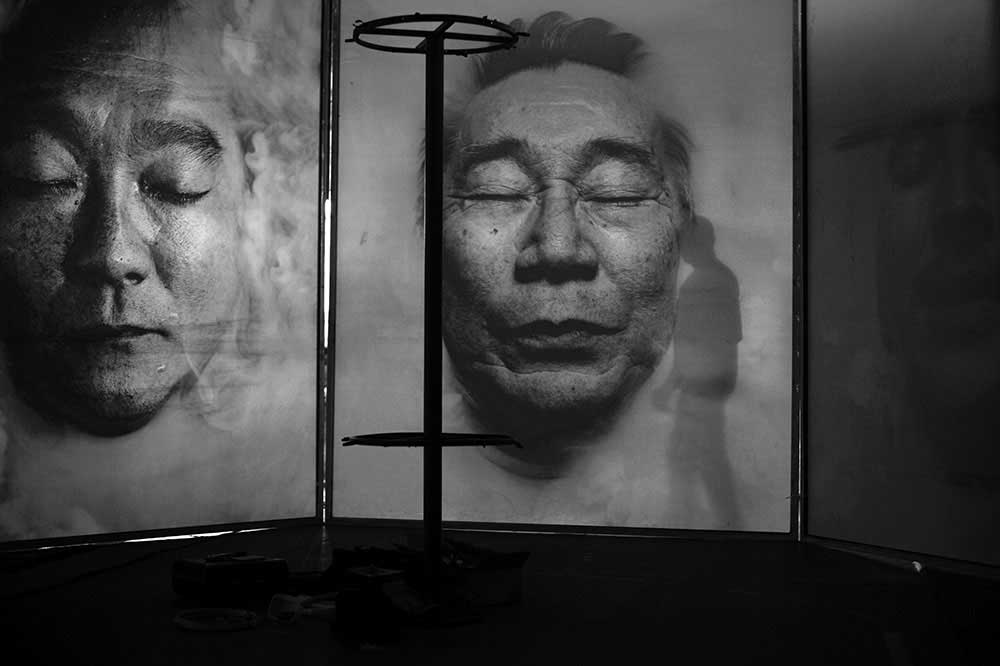 Can you walk me through the process of making this work on a day-to-day basis?
The intention is to provide a break in the daily lives of the people who participate. The physical process is the same, but the reactions are individual and the reports of each help me grow and direct the project, and of course, it ends up disrupting my day-to-day. That's what gives the project its dynamism.
Did you know from the start what the imagery would look like, or did it develop over time? What are you trying to achieve with the visual?
This project was born from academic research and many paths were traced until it reached what it is today. I started from the relationship between photography and the need of human beings to somehow cheat death and remain. The possibility of an impermanent photograph led me to create an experience where the process is more important than the result, in that sense I had no idea what the visual would be.
This project has a very striking aesthetic. What is more important to you, the visual or the message?
No doubt the message. Not a message I try to convey, but the various messages the participants build when they project their personal experiences on the photographic set and give me back testimonials on their personal journeys. Let it be clear that there is no one message, but a polyphonic reverberation of message fragments
Do you think an image needs accompanying text, or should photos speak quietly on their own, without words?
Images and text are autonomous languages that can work individually or in consonance. The project must establish whether there will be a dialogue between these languages, or if they will exist independently of each other.
How did your subjects respond to this process? Was it an intense encounter for them? Did they experience a transformation themselves?
As I said before, the process is the same for everyone, but the experience is individual, and the results are very different. Most of them are intense. The rescue of affective memories, disconnection from reality can have physical reactions and many tears. I wouldn't say they experience a transformation, but the doors of perception open to this possibility.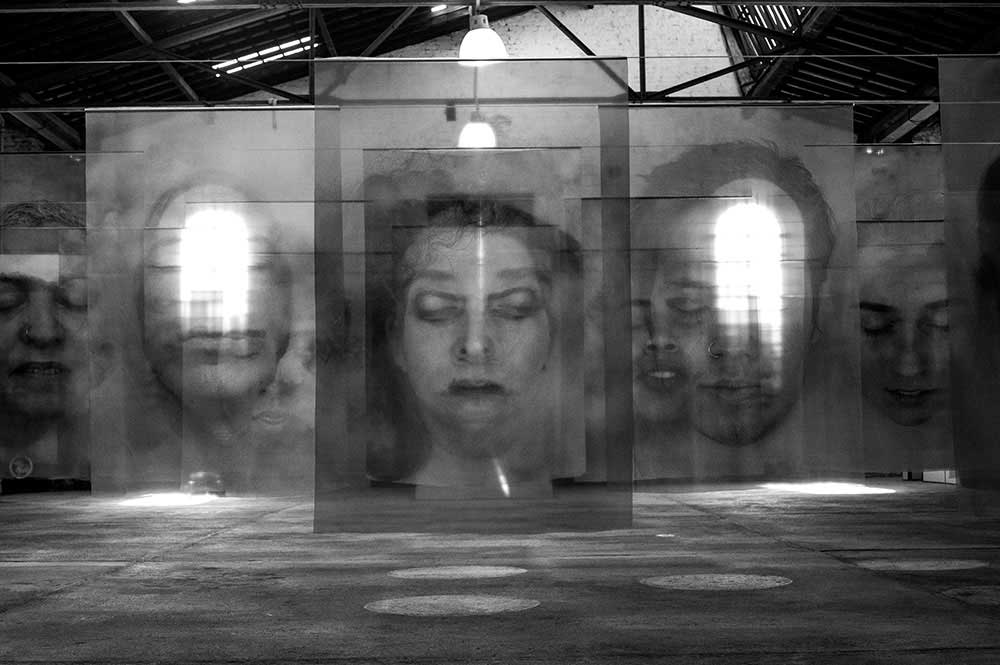 You recently had a large-scale photo installation with the images printed on translucent fabric, hung from the ceiling all around the exhibition space, so they could be not only seen but also touched. The effect was quite dramatic, enhancing the ethereal aesthetic but also adding yet another layer of immersion, this time with the viewer. How did you hope this would engage with its audience?
In my exhibitions, the installation is always thought of as a language, it must work in an interactive way and not only accommodate images. This is the original way of exposing the impermanent masks, due to the labyrinth-shaped arrangement, the transparency of the images that provide overlaps and the need to touch. It is a second immersion after capturing the images. I often say that we need to touch the images to let them touch us and naturally there is resistance from visitors to touch, we learned that we cannot touch the photographs.
Do any memories stand out in the making of this work?
Specifically in this installation, the visit of a visually impaired person surprised me. It gave rise to the idea of doing exercises with groups of visitors, who entered the exhibition blindfolded and after a while took the blindfolds off, the result was very interesting. It was a new approach that was born during the process, that's how it works.
Have you discovered anything about yourself making this project?
I believe that when we take risks and interact in the art environment, discoveries are daily, as well as learning. Yes, I have been discovering and reinventing myself in every part of this process.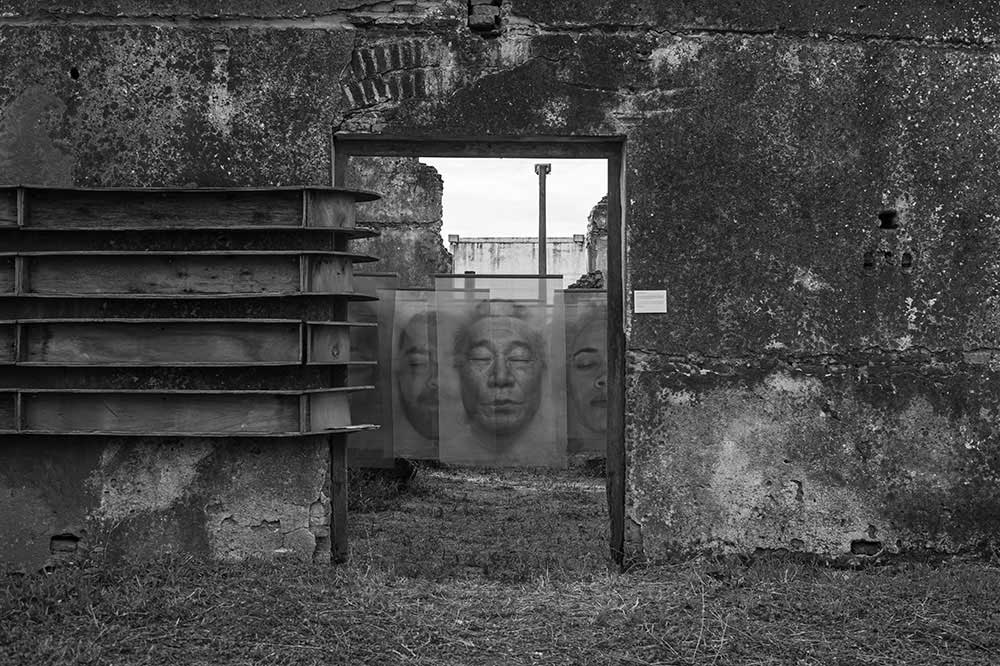 Who are your major artistic influences? Are you more drawn to photography or the wider art world? Have your influences changed as you grew as an artist yourself?
I have the classic influences of the art world, a special predilection for portraits, which led me to photography and a need to work with different languages that provide dialogue and reflection. In this sense, my most striking influences are Bill Viola, Paolo Gioli, Cristian Botansky, Rosangela Rennó, Joan Fontcuberta and many others. Influences don't change, they just increase!
What do you like to do outside photography? Does this enrich your personal vision as a photographer?
I'm also a graphic designer and I have a need to do manual things, so even within the photographic world, I work with alternative historical processes that require manual skills. But I think what I like most of all is the experience of being a father. I have a 12-year-old daughter Olivia. It enriches me as a human being and gives me a sense of present time, which consequently enriches me as an artist and photographer.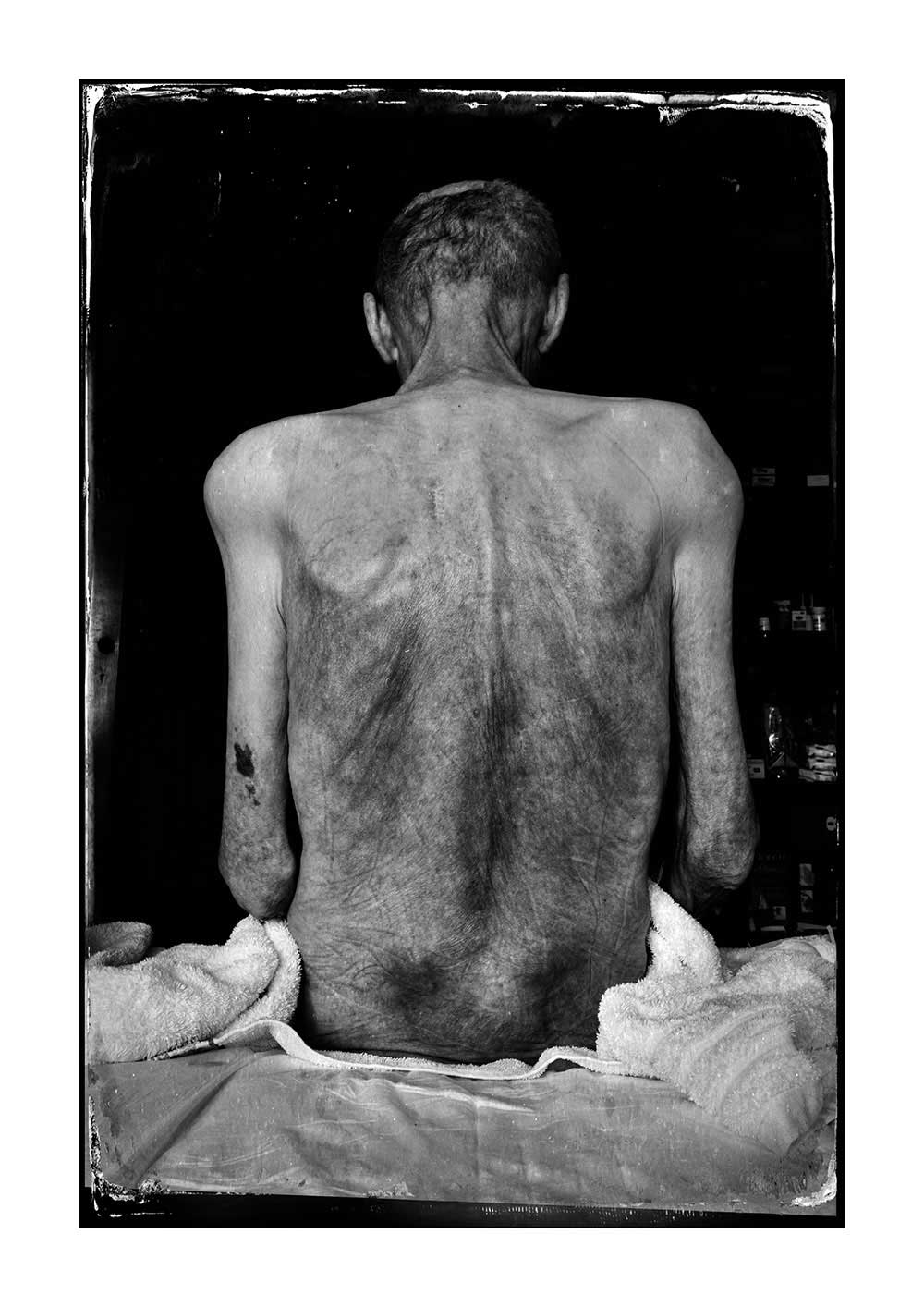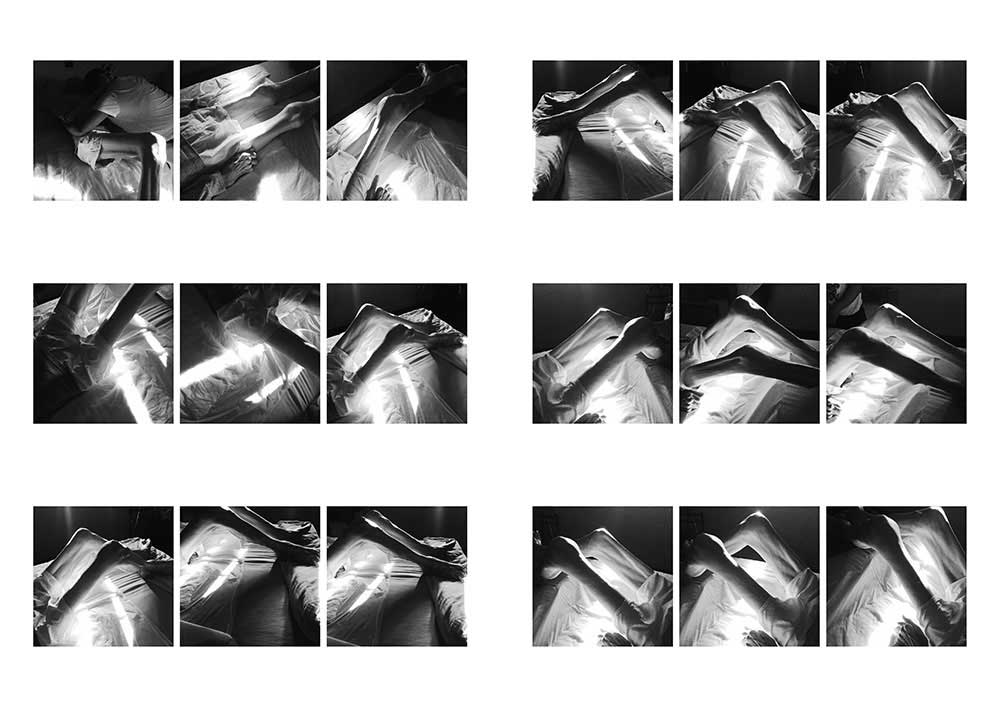 How did your practice change as a result of the pandemic?
From 2012, I took care of my sick father in a bed, extremely debilitated with almost no immune system, until his death during the pandemic in August 2020. I even have a photographic project about it – "ESMORESSÊNCIAS" something like faded essences. In this sense, I am coming from a longer process of confinement, but with his death it seemed to me that I started living the confinement of the pandemic late. This affected me a lot, I felt out of step with what was happening in the world. I'm trying to catch up with the pace the pandemic has imposed on us. I think I'm coming out of grief and reinventing myself.
So, what next for you? Any plans for this or any other project?
In the midst of the mask process, I realized that many people went through the immersive experience and never had the opportunity to go to an exhibition and many who visited the exhibition did not participate in the experience. I planned my 2020 year for workshops where the participants, in addition to going through the experience, could learn an ancient photographic technique called "VanDyke Brown" and make their own mortuary mask in fabric, linen. "SUDARIES" is the name of the workshop. With the pandemic and the death of my father, this was postponed, but I am thinking about resuming this process. These images are from the workshop.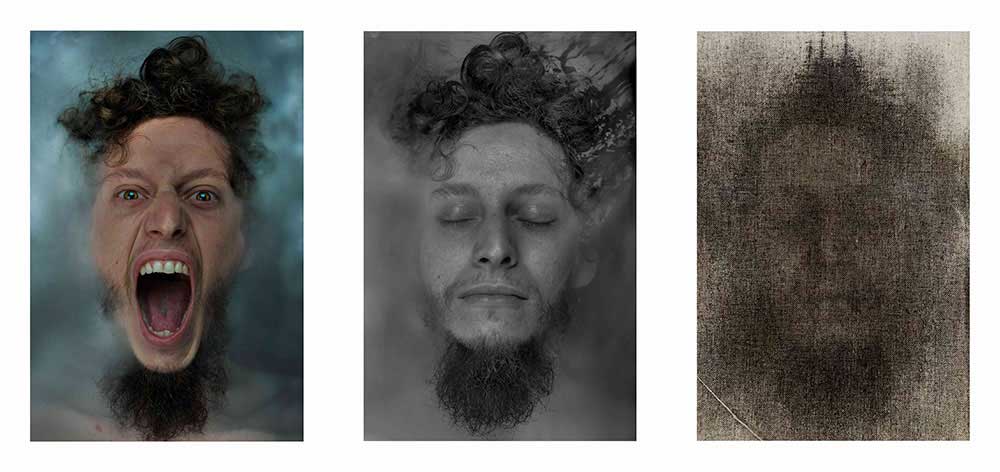 At the same time, I have been working on a project "MUFF Joint Paths," with the CDF Montevideo (Montevideo Photography Center) and the exhibition of the works will take place in 2022. My project is called "FURYO" and to get a sense of what it is about, I have transcribed the project presentation text with this image: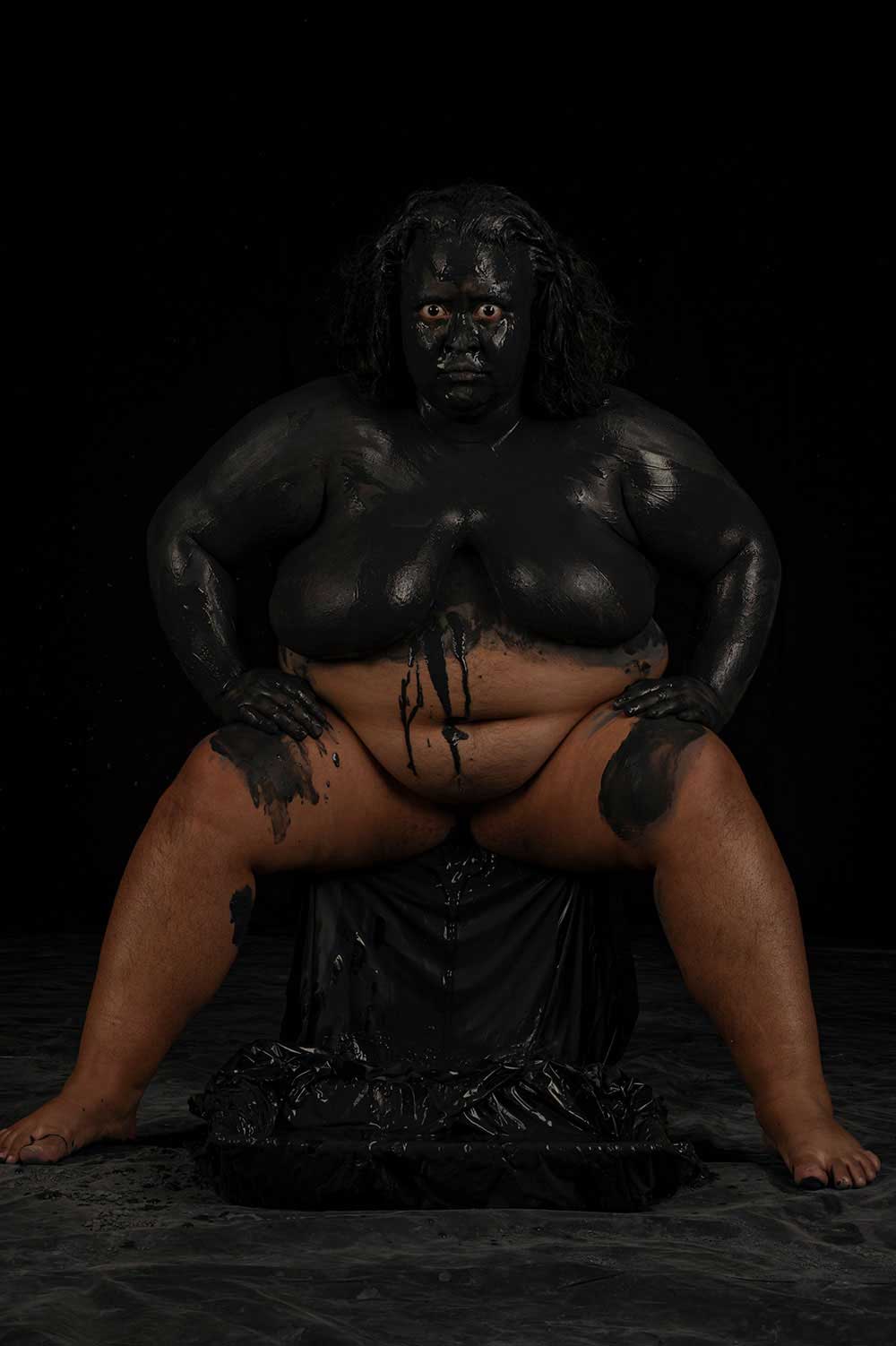 "The breath, according to the myth of origin, was the precise moment in which we became human. What was just matter devoid of any meaning, molded to the designs of a creator in his image and likeness, was filled with life and meaning. However, involved and impregnated with this humanity, it was no longer possible for us to undress, the body thus began to transform itself incessantly, becoming a spectrum and representation of oneself and others, in a kind of curse. As foreign bodies, it was up to us to return to the creative raw material, break free from the skin we inhabit and trace new dialogues based on the plenitude of a transfigured nudity, which springs from its own will and imposes itself due to its imperfections and uncertainties". Alessandro Celante
Furyo – 不慮」- Unforeseen, unexpected, sudden, accidental, fortuitous, casual, refuse.
Thank you Alessandro for sharing your work and thoughts. It was a real pleasure.
I would like to immensely thank you for the opportunity and emphasize the importance that being part of this publication helped me to restart my activities. I hope one day to be able to take the immersive experience beyond the borders of my country, until then we'll take care of ourselves and protect ourselves!
Mieke is a Dutch and Canadian Fine Art Photographer, living in London. She is known for her atmospheric lighting and surreal perspectives. Her work is described as moody, almost painterly, with an underlying sense of unease. She has recently won several major awards including: International Photography, Chromatic, Minimalist, Julia Margaret Cameron, Budapest International and British Photography Awards. Mieke was also Shortlisted for the Alpha Female Award at the Sony World Photography Awards and for the Association of Photographers Emerging Talent Awards. Her work is held in private collections and has been published and exhibited internationally, including at the Royal Academy of Arts in London. She has recently had her first Solo Show, 'STILL", in London. Mieke has just won Open Image Barcelona and will have her 'White Horses: Covid Dreams' series exhibited in Barcelona this Autumn and will be exhibiting her latest series 'Lost Society | Looking In' at the Head On Photo Festival this November in Sydney. She is an ArtCan Artist and a member of The Royal Photographic Society, The Association of Photographers, London Independent Photography and Photofusion.