The human towers in Catalonia (known in Catalan as "Castells") are traditionally built in festivities and competitions in the region of Catalonia, in Spain.
During these events each team (known as "colla") builds and dismantles its own human towers. For their success, a crowded and stunning base of hundreds of people needs to be previously perfectly set up. The most important Human Tower Competition takes place in the city of Tarragona once every two with the participation of more than 30 "colles" from all around Catalonia and a live audience of more than 20.000 people. During the competition, the higher and difficult to build a tower is, the more points a team gets. Every human tower is usually between six and ten levels high.
Teams are made of between 100 to 500 women and men. Young and light members form the top of the tower while heavier members form the base. The "Castells" are also one of the most important cultural traditions in Catalonia for more than 200 years. "Strength, balance, courage and common sense" has become their motto. On 2010, the "castells" were declared by UNESCO to be amongst the Masterpieces of the Oral and Intangible Heritage of Humanity.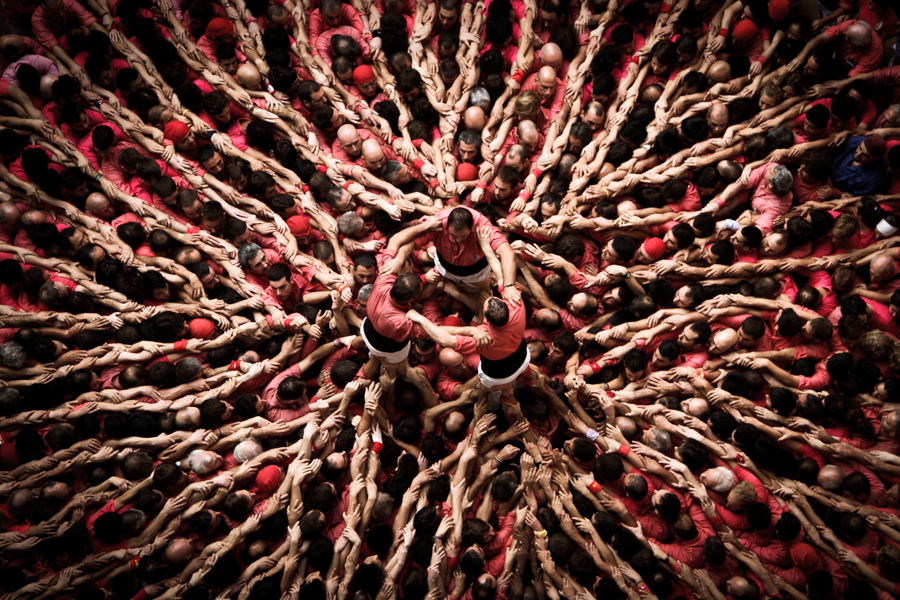 About David Oliete
David Oliete is a freelance photographer born in Tarragona, Spain. After living in Cardiff and Barcelona he currently works on mainly social and documentary projects. His work has been exhibited abroad, published in international media and awarded at contests such as the International Photography Awards, the Travel Photographer of the Year and the Seoul International Short Film Festival, in Korea. David currently works on both personal and commissioned assignments. [Official Website]