We celebrate with you the conclusion of the HIPA fifth season of competition, themed 'Happiness'. We hope that we were able to open a new page filled with happiness throughout the past year using our many visual and educational photography courses and programs.Through the directions of His Highness Sheikh Hamdan bin Mohammed bin Rashid Al Maktoum, the Crown Prince of Dubai, Chairman of the Executive Council and Patron of HIPA we have worked tirelessly to read the minds of photographers around the world and turn their aspirations into reality.
After 5 years of establishing HIPA, we have successfully reached photographers from 193 countries around the world, which is the exact number of registered states at the United Nations. This past season, HIPA received a total of 80,420 photographs from 32,712 photographers hailing from 173 countries around the world. It must be noted that 66% of participants this season have taken part in the competition for the very first time.
To reemphasize its place within Dubai's cultural and arts standing, HIPA will also present the Dubai Photo Exhibition, consisting of over 700 iconic photographs from the early days of photography until now. This will include what is widely believed to be the first portrait photograph ever captured, in the year 1840. The exhibition opens its doors from the 16th until the 19th of March at the Dubai Design District (d3).
On behalf of my colleagues on the HIPA Board of Trustees I would like to express my sincere gratitude to His Highness Sheikh Hamdan bin Mohammed bin Rashid Al Maktoum for his unwavering support of HIPA through his intricate vision and direction. I would also like to thank the HIPA team for their wonderful efforts throughout the last year. We promise that the future will hold even more beautiful photography, because those who aspire to succeed are able to transform their dreams into reality.
This year's grand-prize winner is photographer Antonio Aragon Renuncio from Spain. For an amazing photography of a group of children play and run behind old motorcycle tyres in the red dusty dirt outside of an NGO clinic. Dodho Magazine, at the invitation of the organizers, traveled to Dubai to attend the prestigious ceremony of the fifth 'Hamdan International Photography Award'. (HIPA)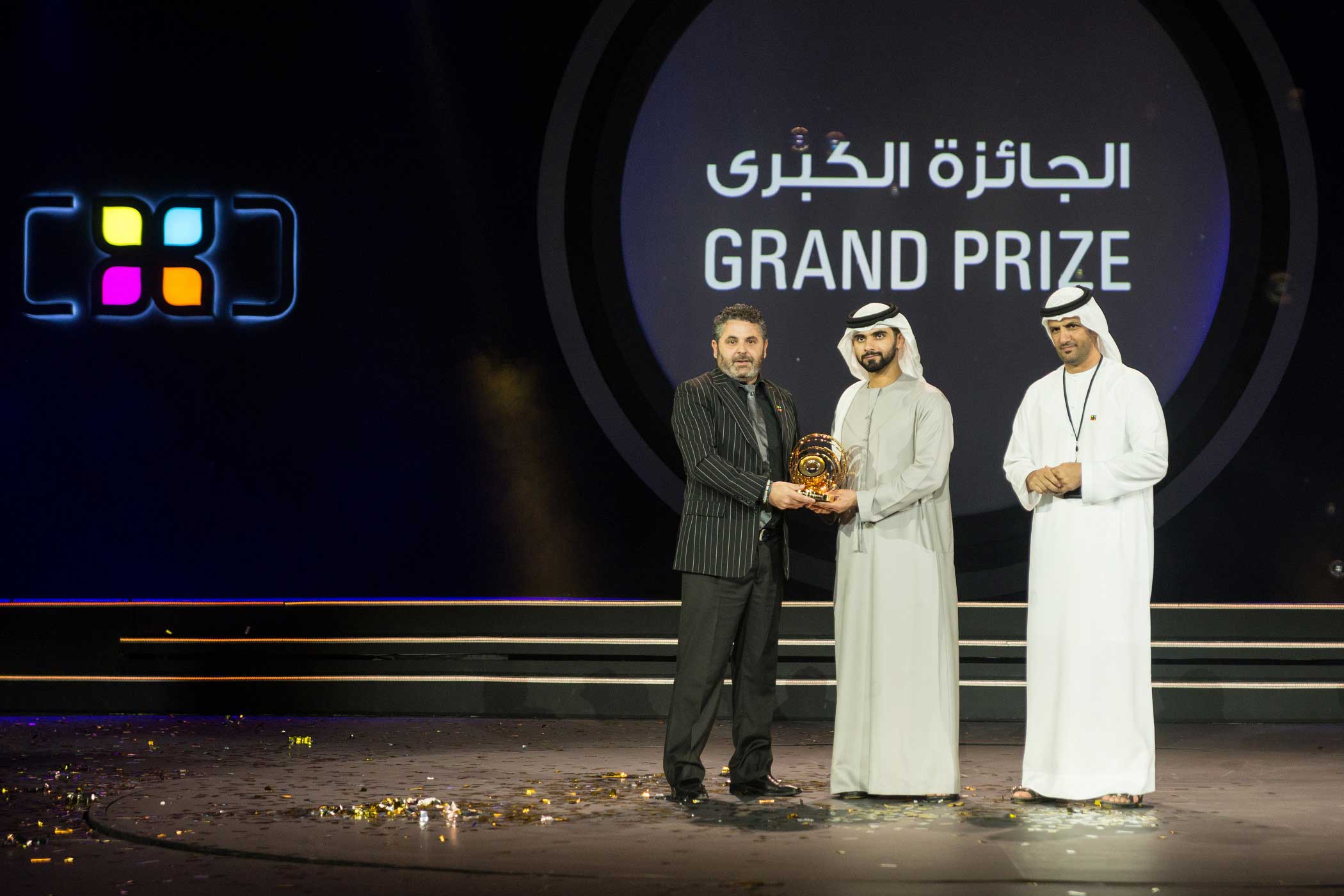 HIPA GRAND PRIZE
Antonio Aragon Renuncio | Spain | Grand – $120,000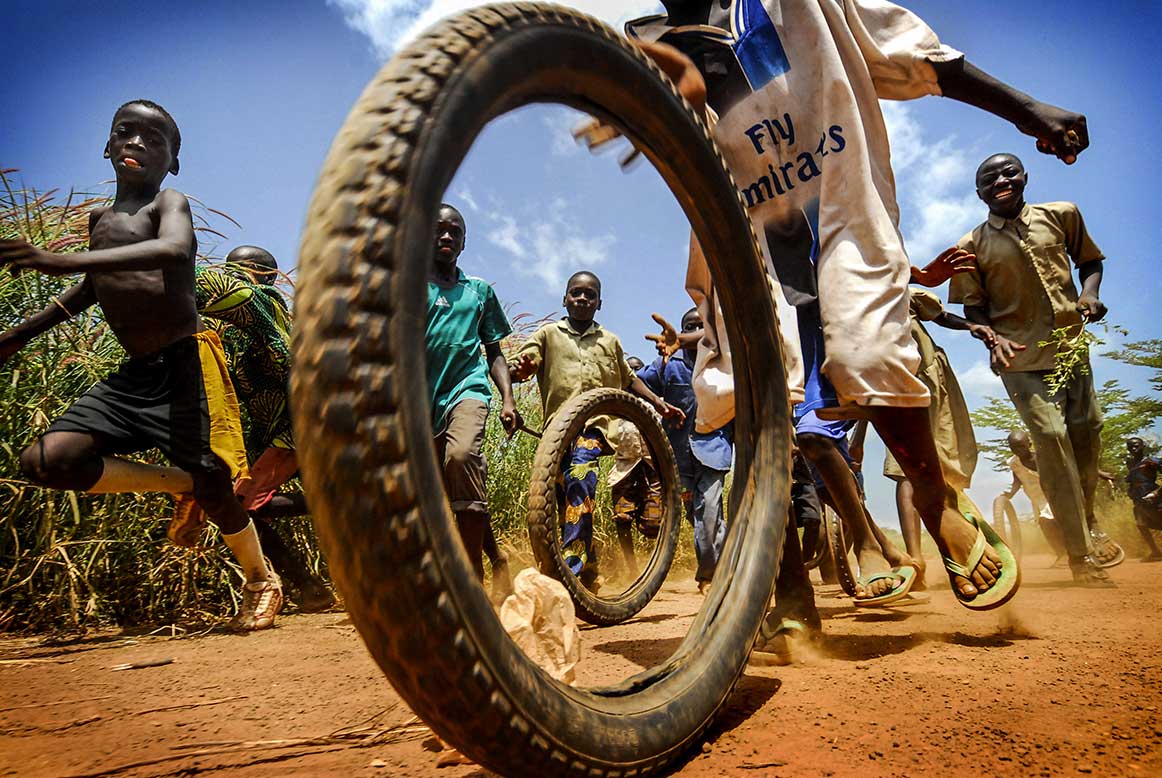 In an impoverished village in the West African state of Togo, a group of children play and run behind old motorcycle tyres in the red dusty dirt outside of an NGO clinic. Even though these children were mostly the sons, nephews and children of the patients in the clinic, their smiling faces and noisy joy are the embodiment of pure Happiness.
HAPPINESS
Hameed Husain Isa | Bahrain| 1st – $25,000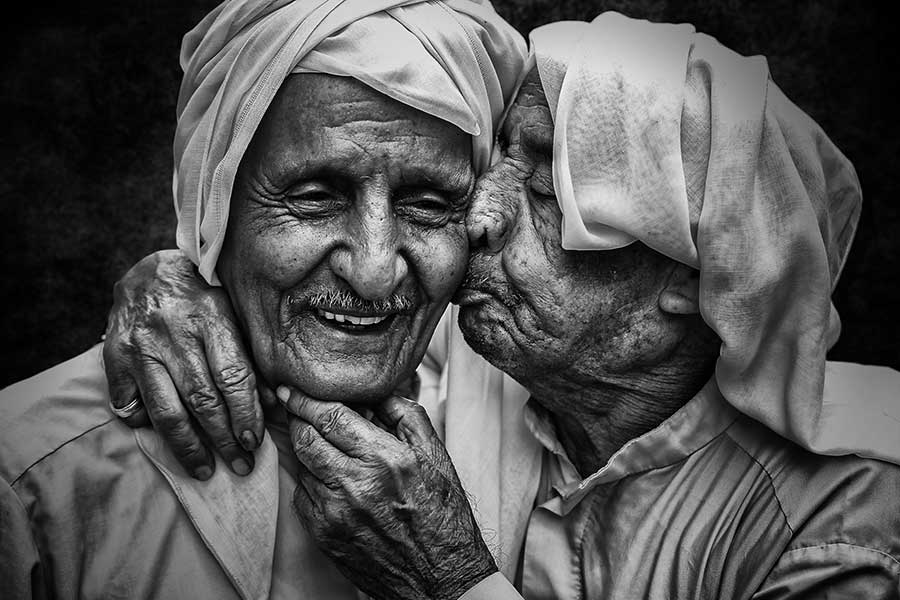 The touching embrace of two old friends in Manama reveals that through the long years of a lifetime, even age cannot diminish the simple feeling of happiness.
Brent Stirton | South Africa | 2nd – $20,000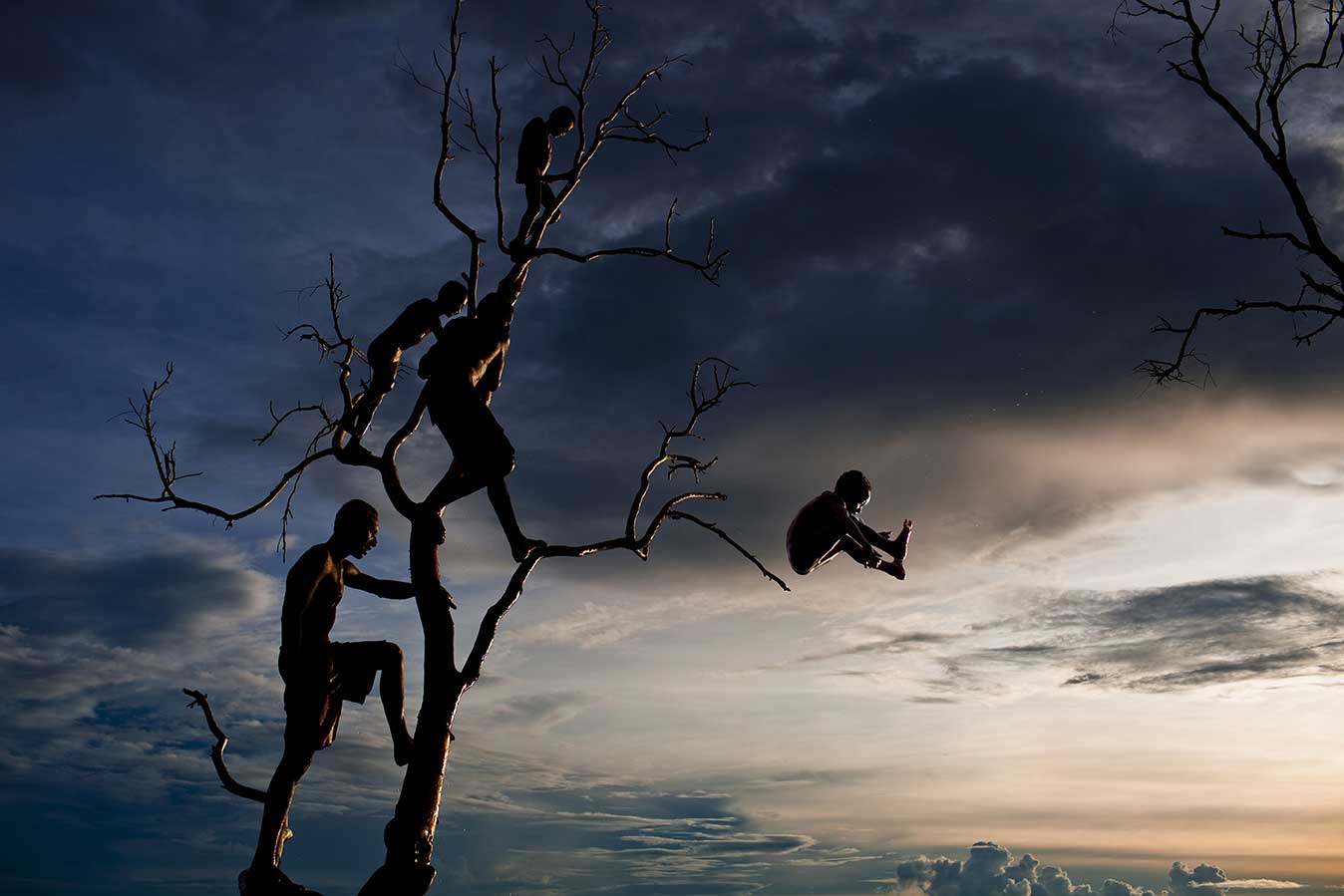 A late-afternoon family outing in Papua New Guinea sees boys jumping from trees into Lake Murray. Time for one more turn before the sun sets.
LAKE MURRAY, WESTERN PROVINCE, PAPUA NEW GUINEA-JANUARY 2008: Scenes of kids enjoying the lake in Kubut Village, Lake Murray, Papua New Guinea, 1 January 2009. Lake Murray is a region where people have lived lives in harmony with nature for centuries. People make their living by hunting, farming, fishing, and growing rubber trees and now also with Eco-forestry. Their life-styles are dependant on the harmony between them and nature and they are trying to ensure a sustainable relationship for future generations.  This has been complicated and compromised by the interventions of both international mining and logging groups over the last few decades but local community resistance is growing as rising anger mounts at the environmental damage done to rivers and forests which form the backbone of the village survival system. (Photo by Brent Stirton/Reportage by Getty Images.)
Sergey Ponomarev | Russian Federation | 3rd – $15,000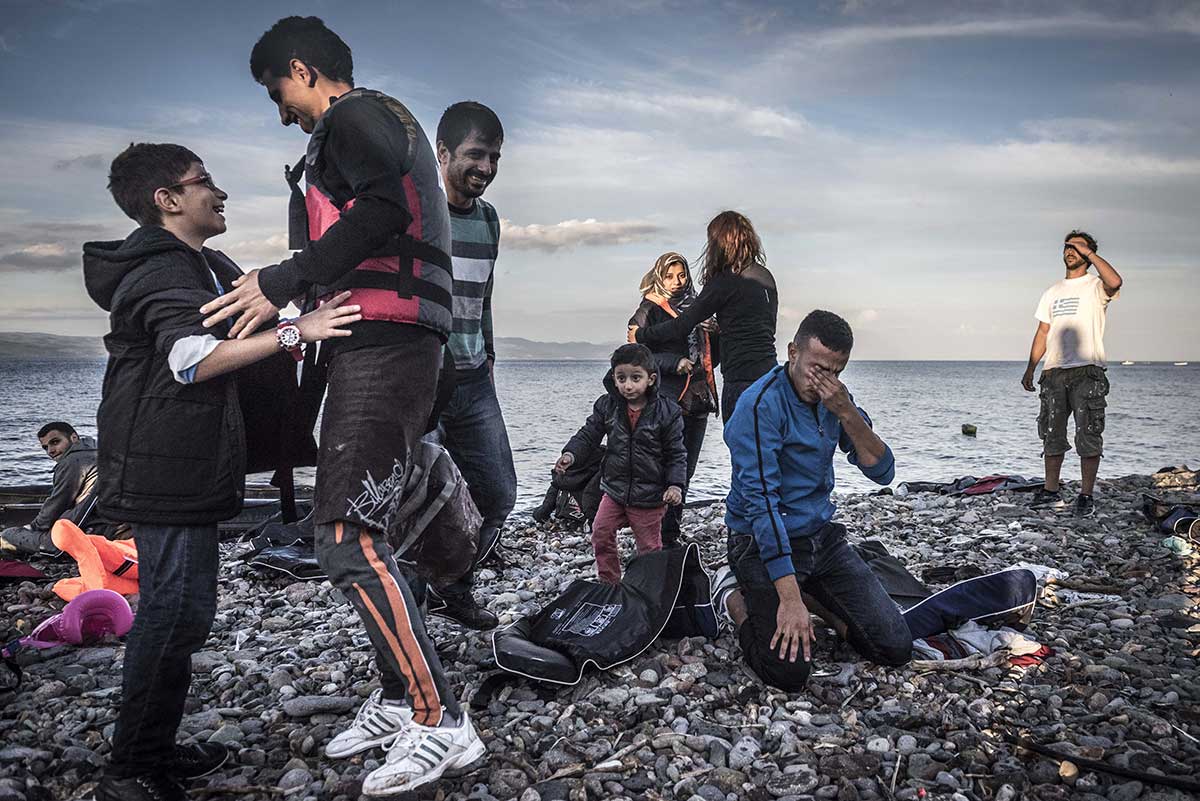 Relief and joy for a refugee family that survive a perilous journey by sea that for many others has unfortunately ended in tragedy. Refugees reacts after arriving safely by broken raft to Lesbos island, Greece, Monday October, 12, 2015. (Photo Sergey Ponomarev for The New York Times)
Omar Ahmed | United Arab Emirates | 4th – $12,000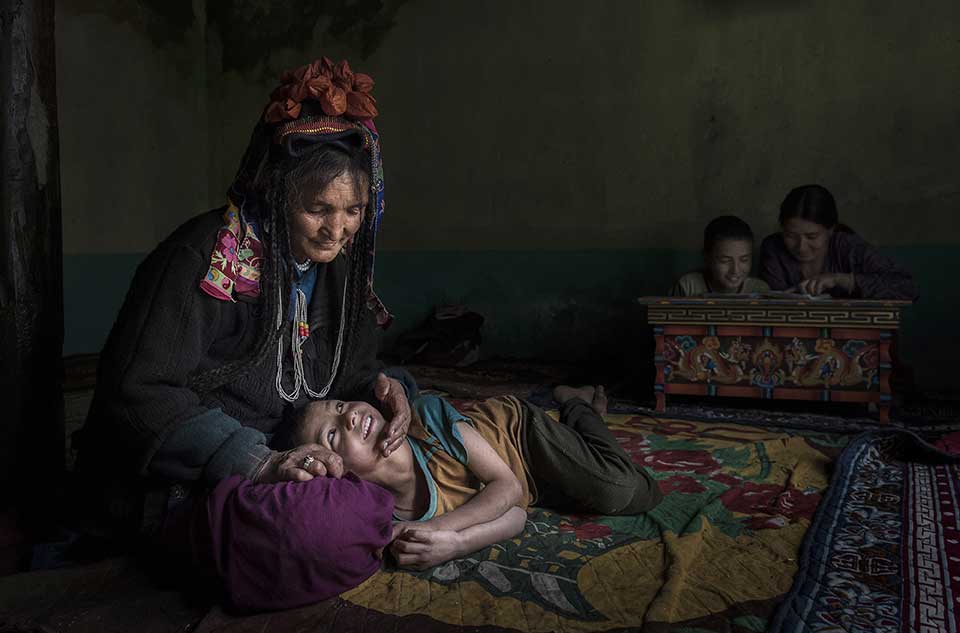 A child lies in the lap of his mother in the Jammu and Kashmir province, India. Happiness is clearly reflected in the face of the child, who knows that love lives in his mother's arms.
Manar Gad | Egypt | 5th – $10,000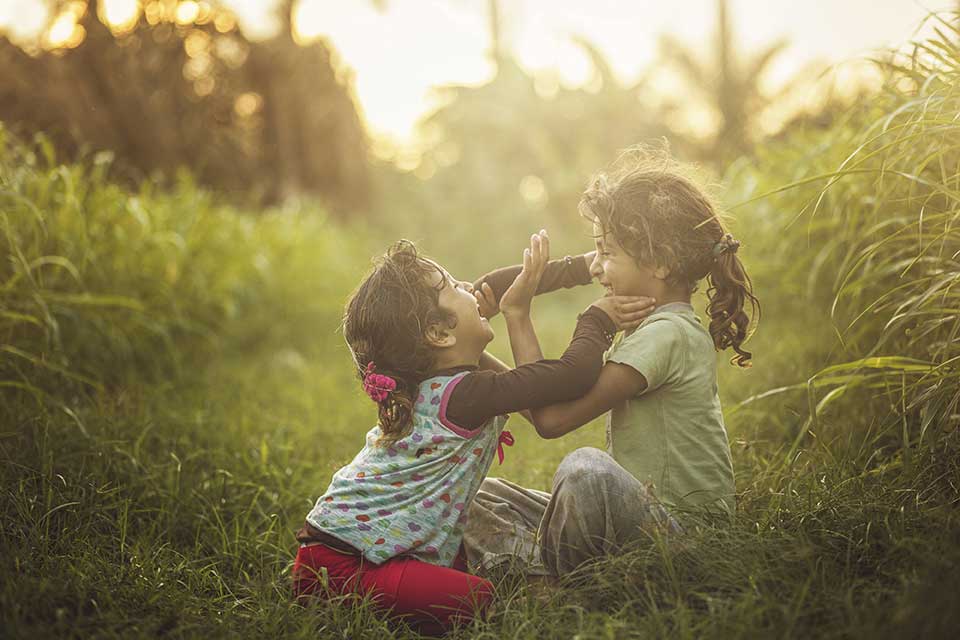 On the Dahab Island near Cairo, a scene of simple happiness for Sarah and Rania, who play together on a sunny day.
GENERAL
Francisco Negroni Rodriguez | Chile | 1st – $15,000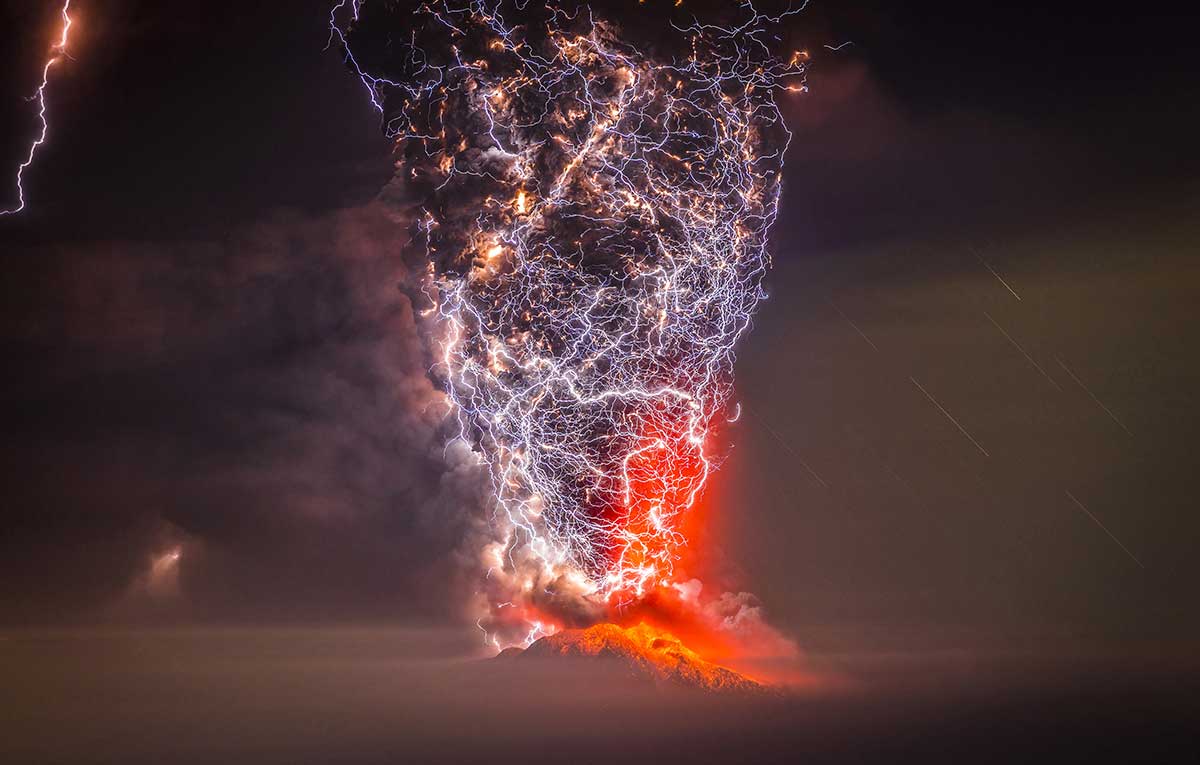 Fire and Lightning create a terrifying spectacle of fury during the eruption of Calbuco Volcano in Chile, awake after 40 years of inactivity.
Sandra Hoyn | Germany | 2nd – $12,000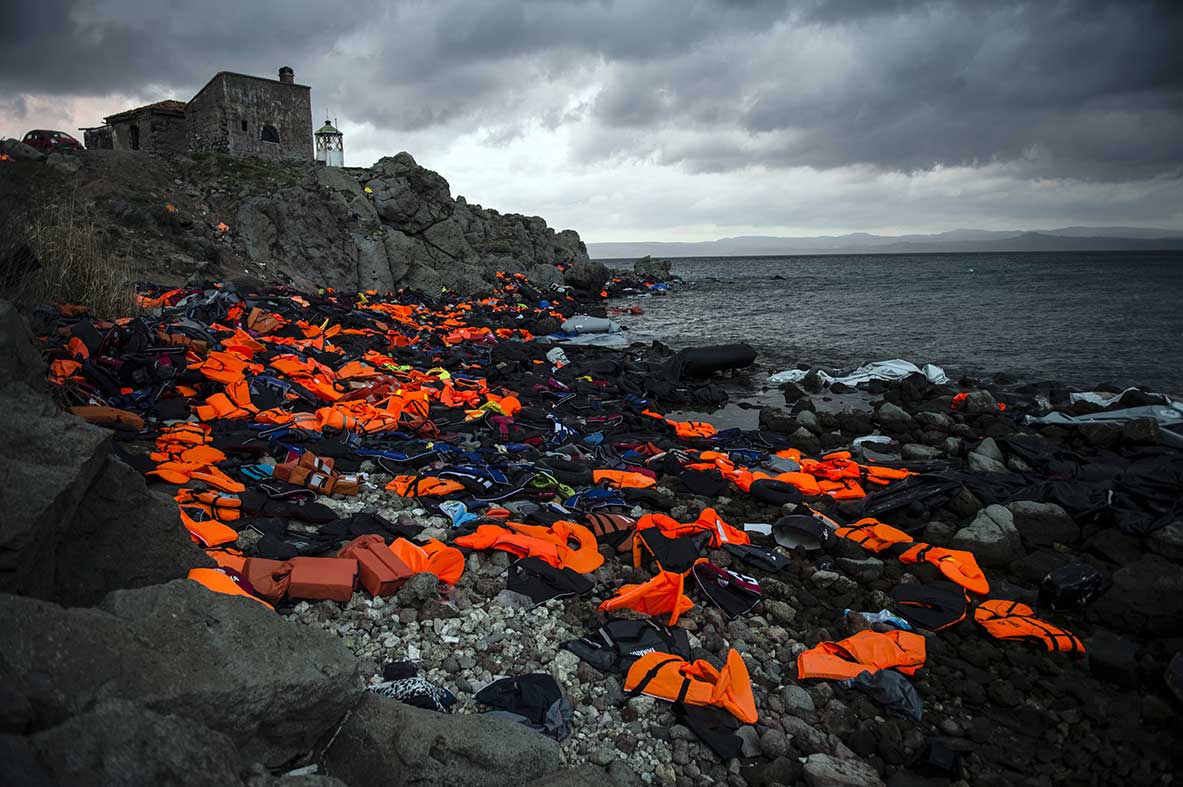 Safety Jackets strewn along the Coast of Lesbos Island in Greece are symbols of a journey of survival and death for more than 500,000 refugees. Life vests, inner tubes and rubber rafts on the north coast of the Greek island of Lesbos. The basic equipment that thousands of refugees have used to cross to Greece from Turkey. November 21, 2015.
Vladimir Viatkin | Russian Federation | 3rd – $1o,000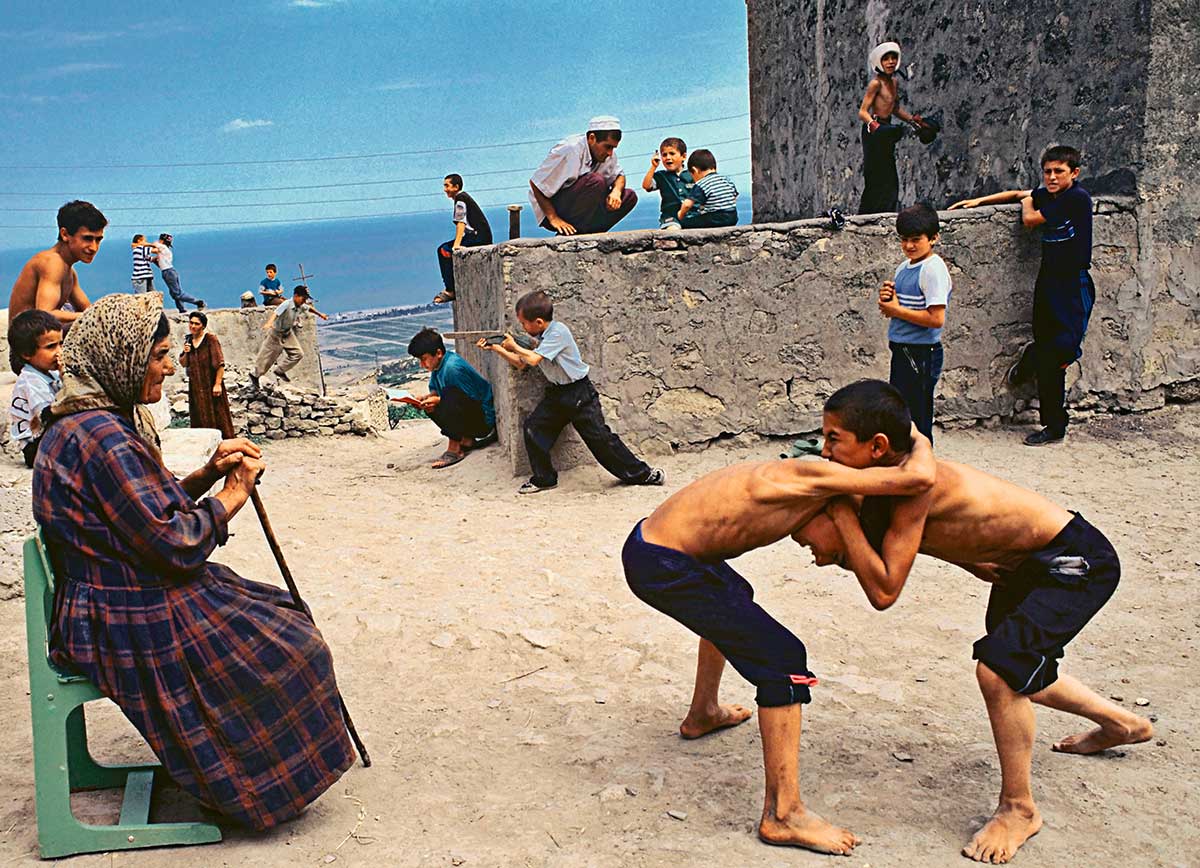 The picture shows an ordinary summer evening in a Russian village, in the center, young boys wrestling, under the watchful eye of referee and grandmother.
Zhiqiang Zhang | China | 4th- $8,000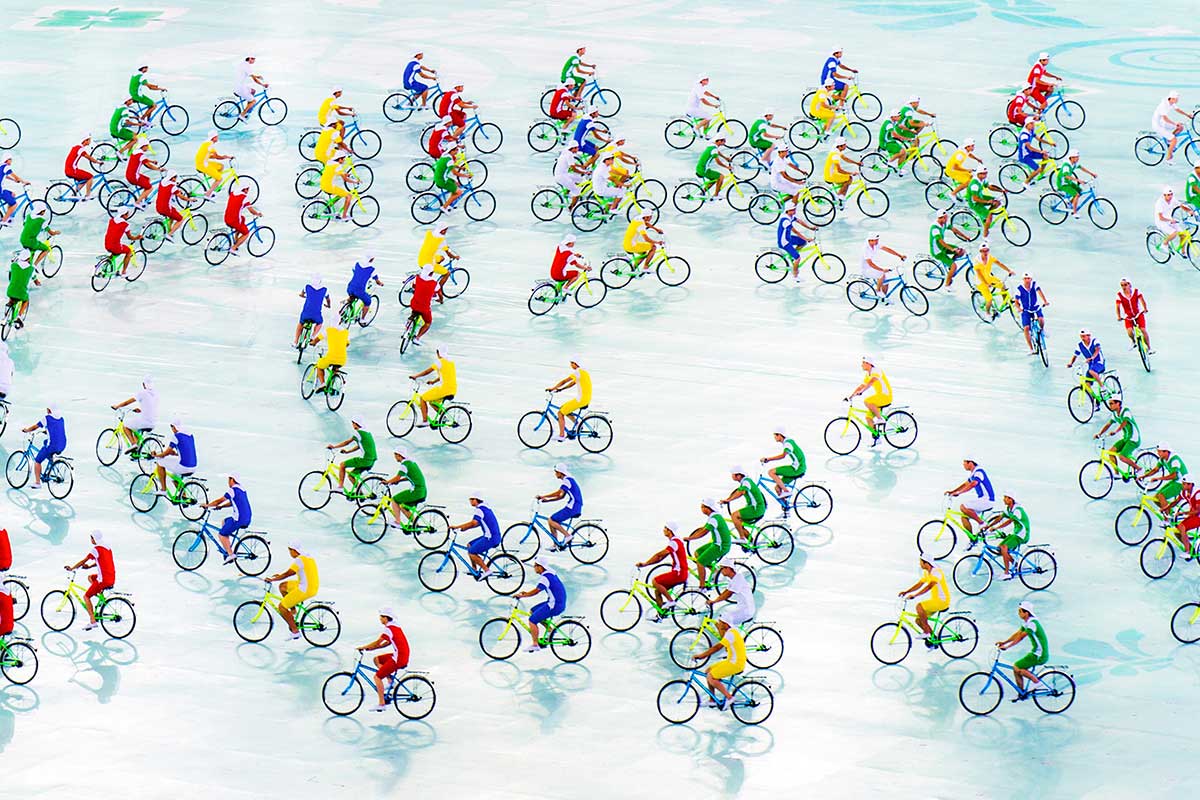 In the spirit of the Olympic rings, cyclists rehearsing a sequence for an opening ceremony at the Olympic Sports Centre in Fuzhou, China.
Fausto Podavini | Italy | 5th- $6,000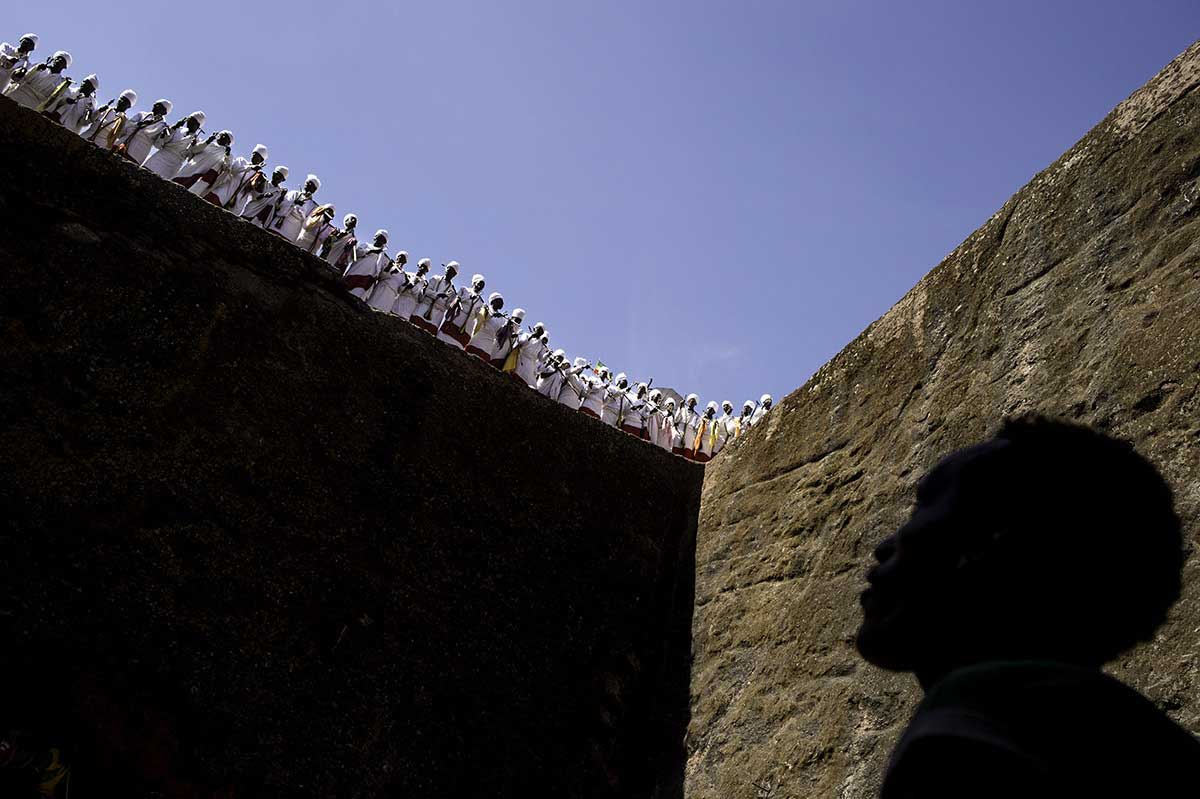 A Celebration of the festival of St. George in Ethiopia, the priests pray and sing for the Saint and for the worshippers that gather at the entrance of the Church.
WILDLIFE
Steven Winter | United Arab Emirates | 1st – $15,000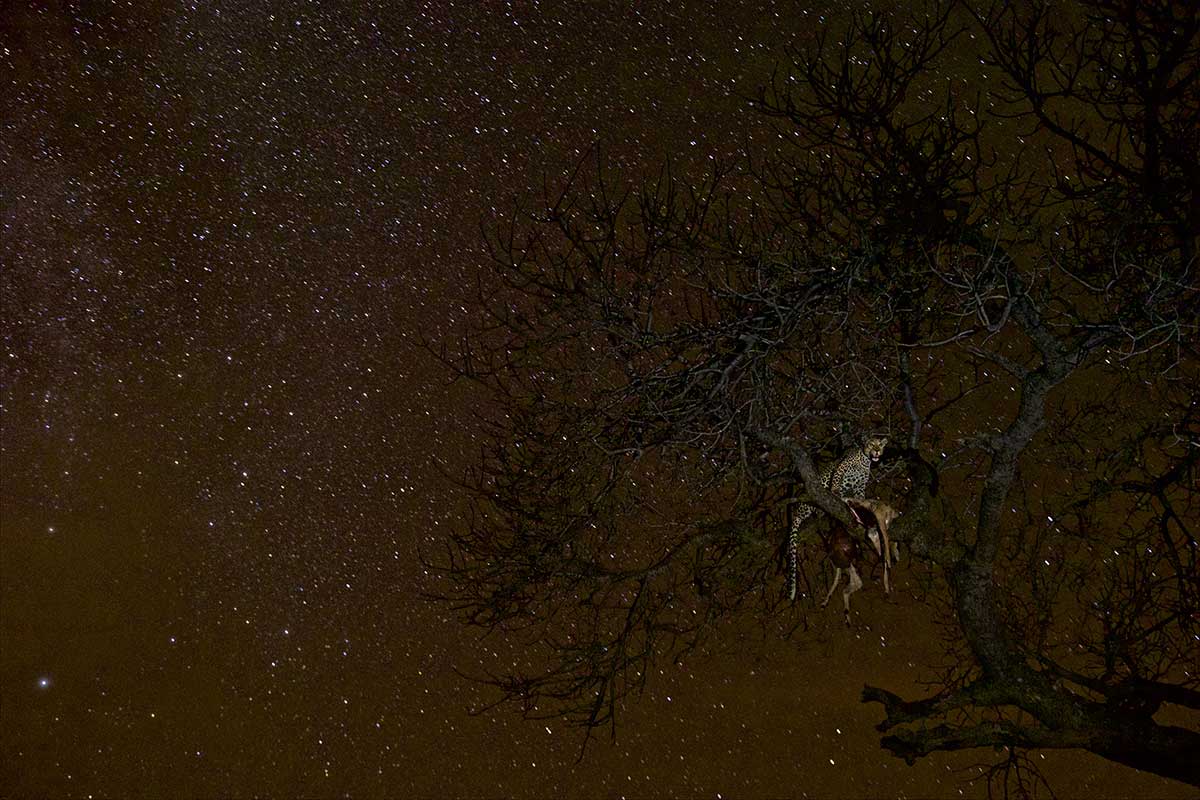 A creative combination of Wildlife and Astrophotography, a leopard and its prey are highlighted against the starry night sky.
Lynn Emery | United Kingdom | 2nd – $12,000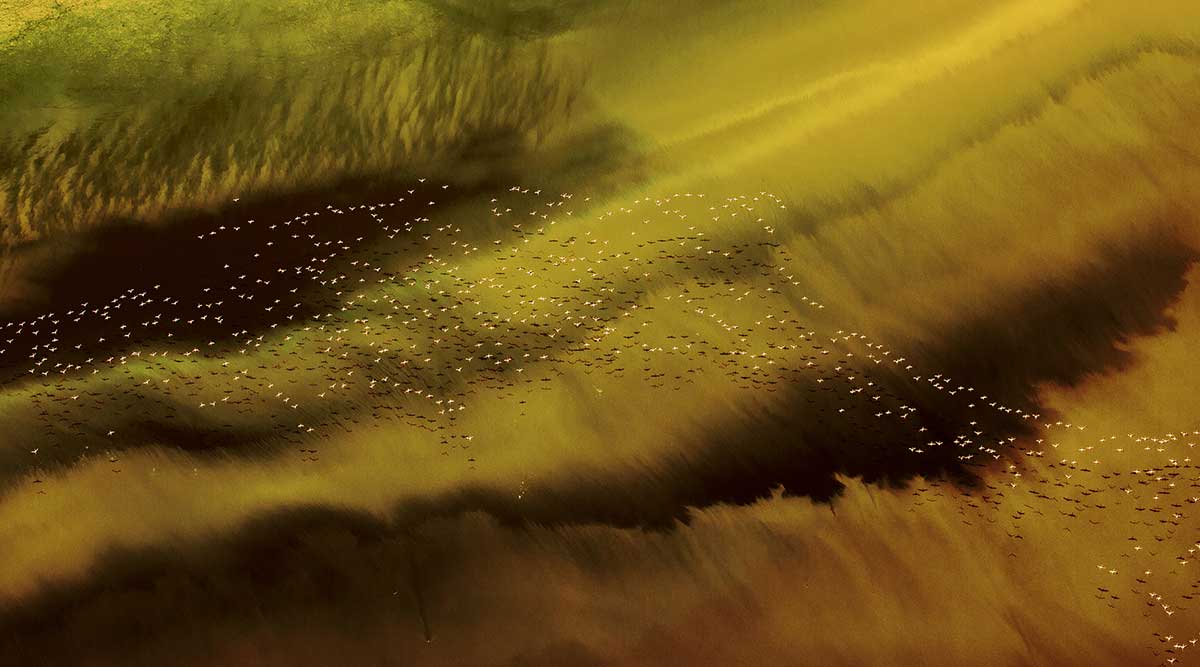 Flying with flamingos over Lake Turkana in Africa's Great Rift Valley. A study in light, colour and contrast that evokes the feeling of a painting.
Minming Lin | China |3rd – $10,000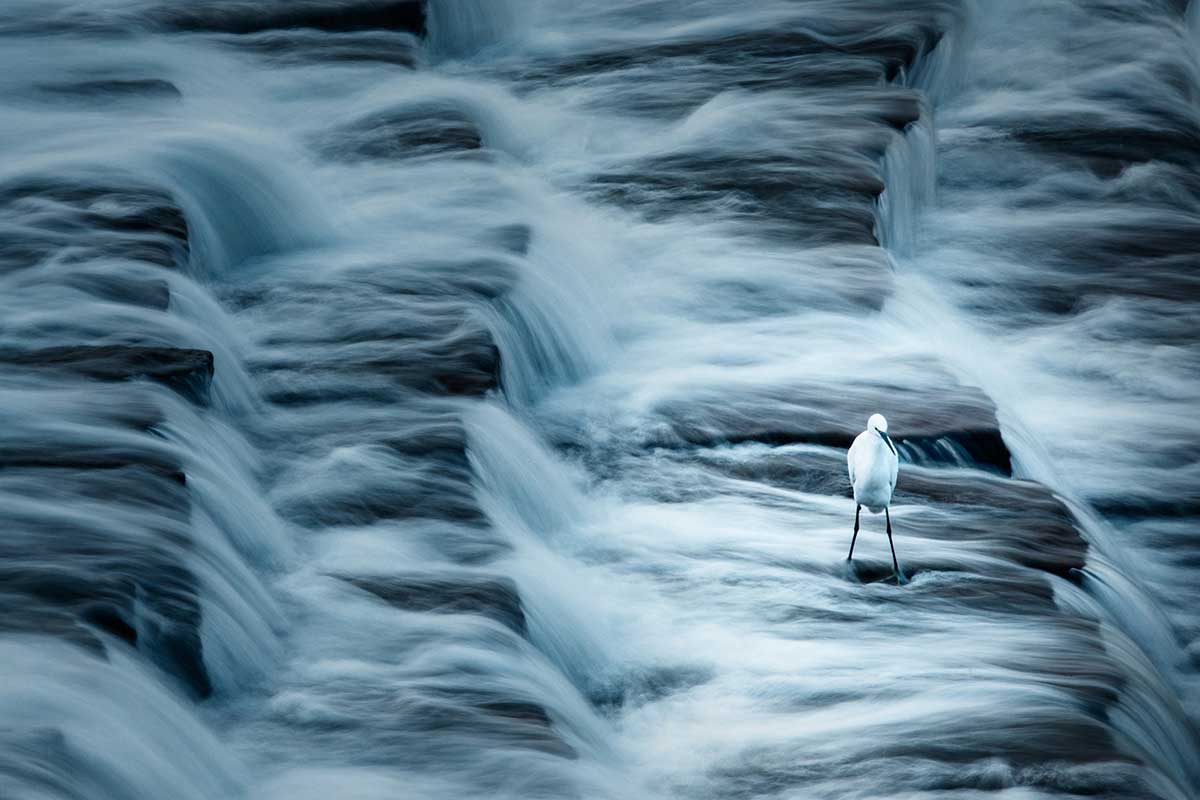 Water flows steadily from a reservoir, collecting all but the most determined in its dream-like stream.
Min Ouyang | china | 4th – $8,000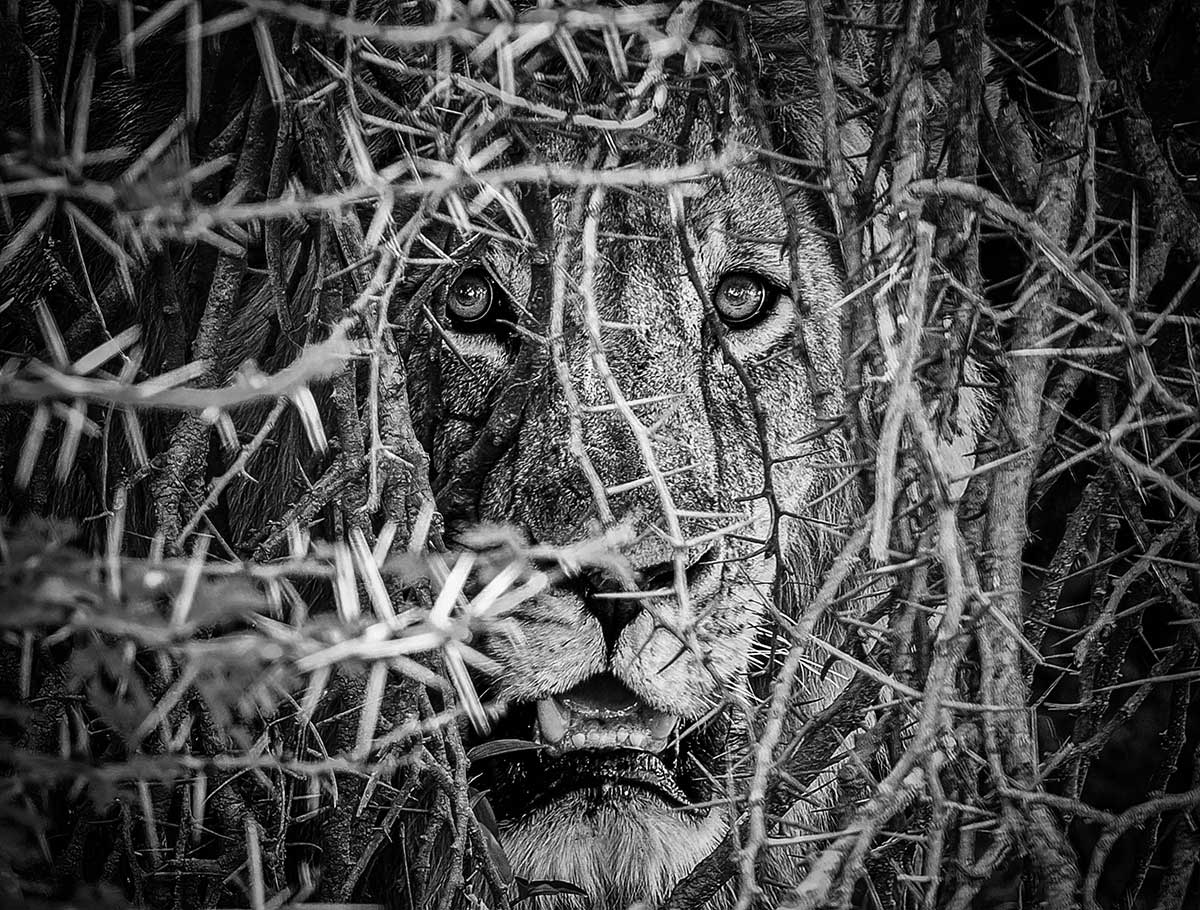 A mesmerising black and white image, the face of a lion emerges from a thicket, catching our eye, ready to pounce.
Fabian Berg | Germany | 5th – $6,000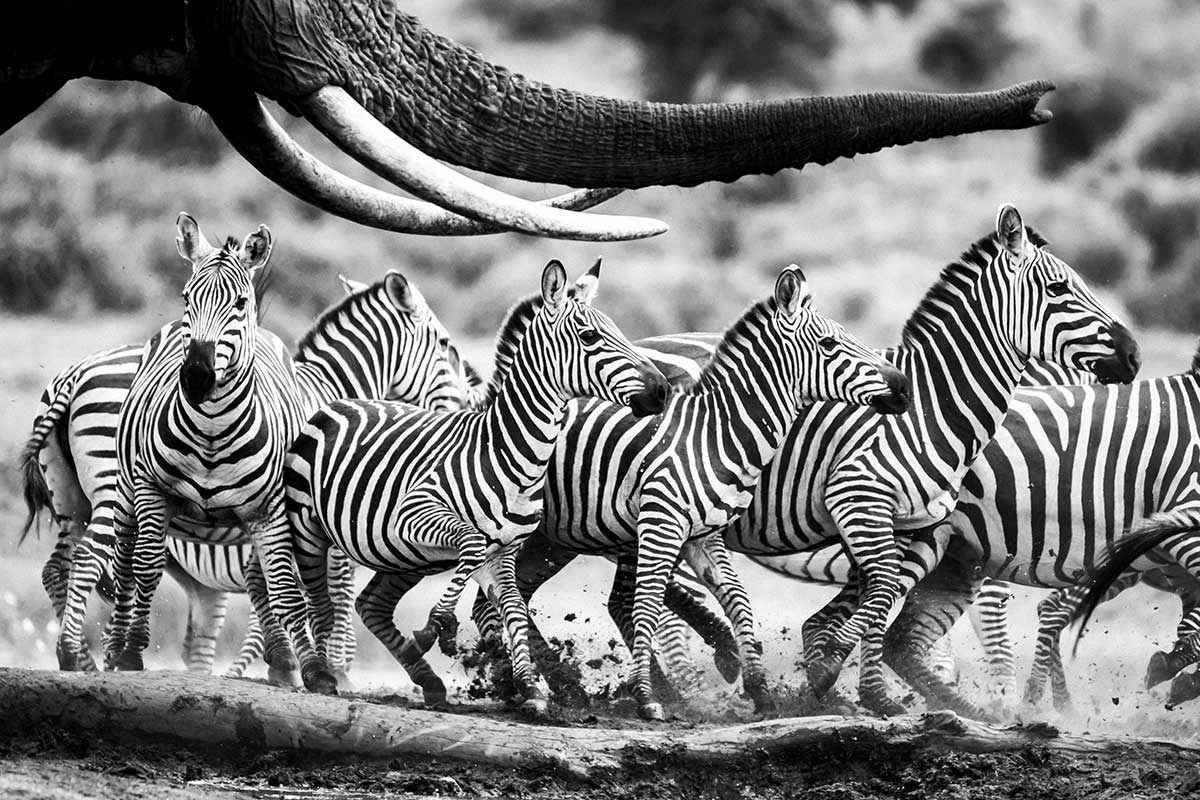 A herd of Zebras make haste and flee as they learn quickly what all in Africa know… there is no match for the fury of an Elephant.
FATHER AND SON
Khaled Alsabbah | Palestinian Territory | 1st – $15,000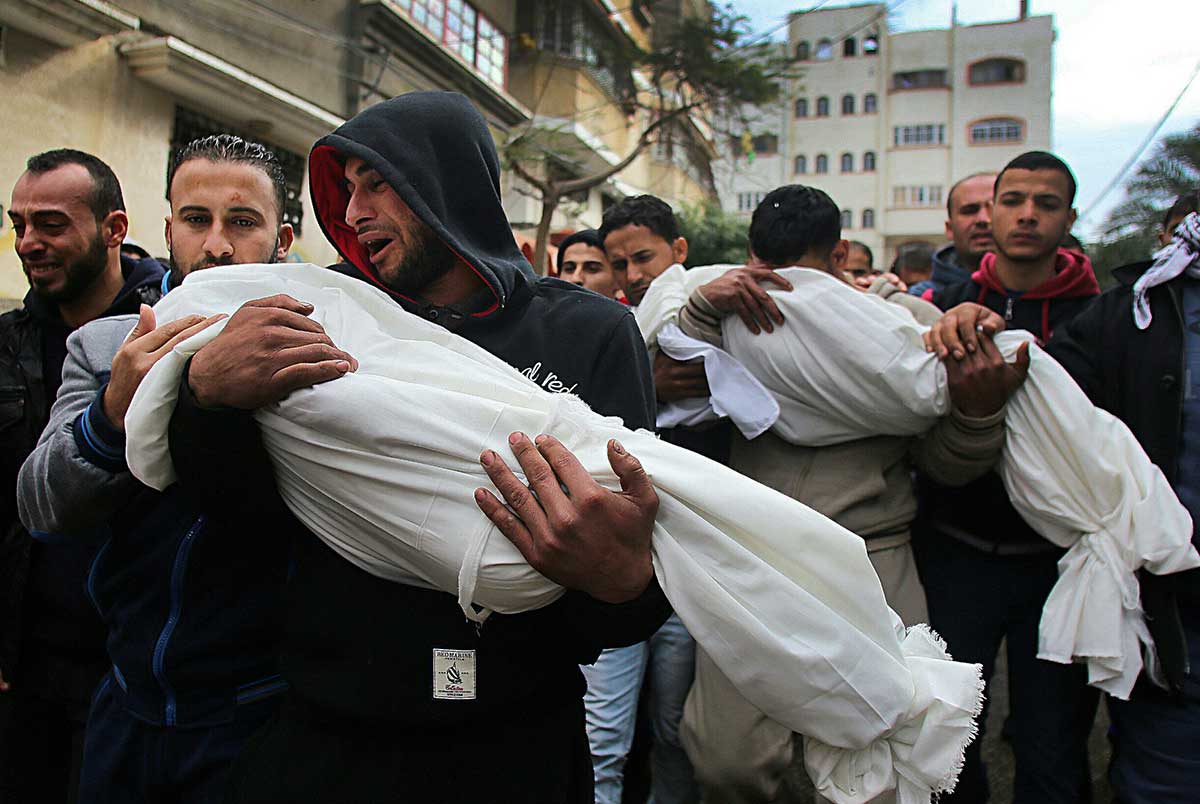 In Gaza city, Omar and Khaled are laid to rest, having died after a fire broke out while they were studying by the light of a candle.
Musa Talaşli | Turkey | 2nd – $12,000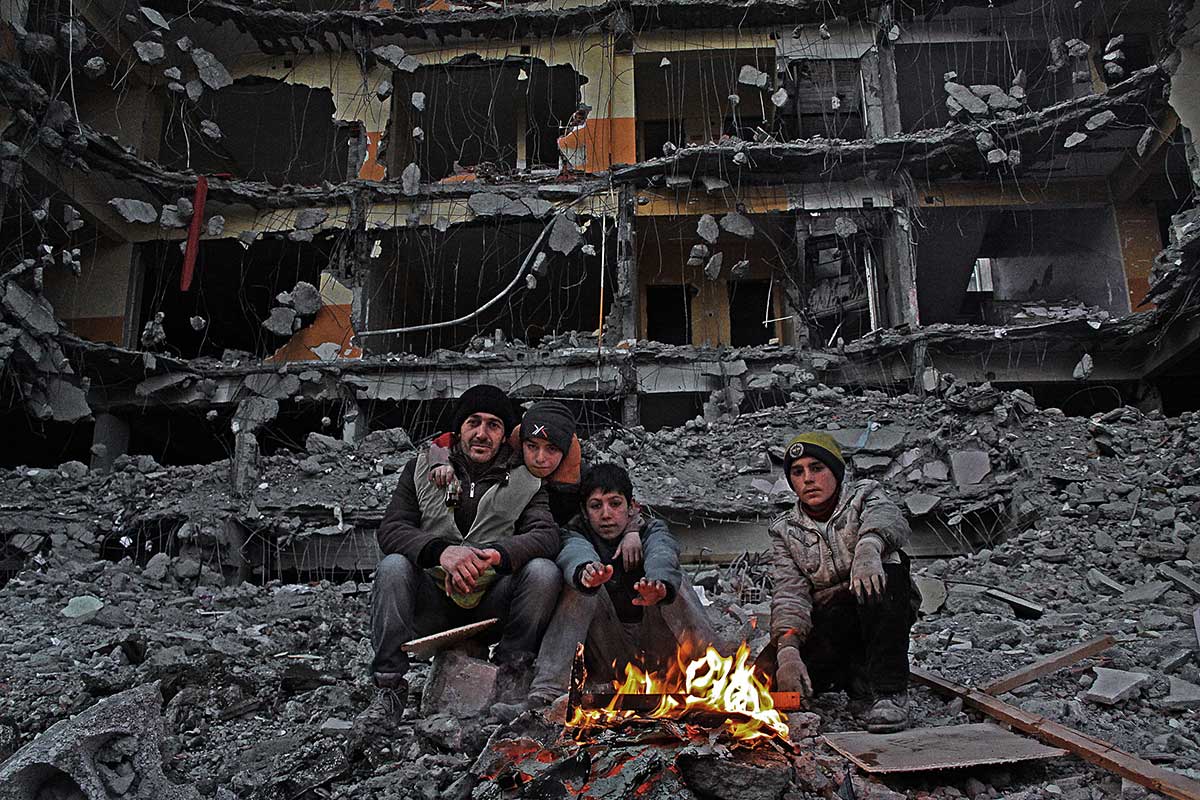 In the rubble after a devastating earthquake in Turkey, a father who was helping to clear the debris makes a fire to warm his children.
Mihailo Simovic | Serbia | 3rd – $10,000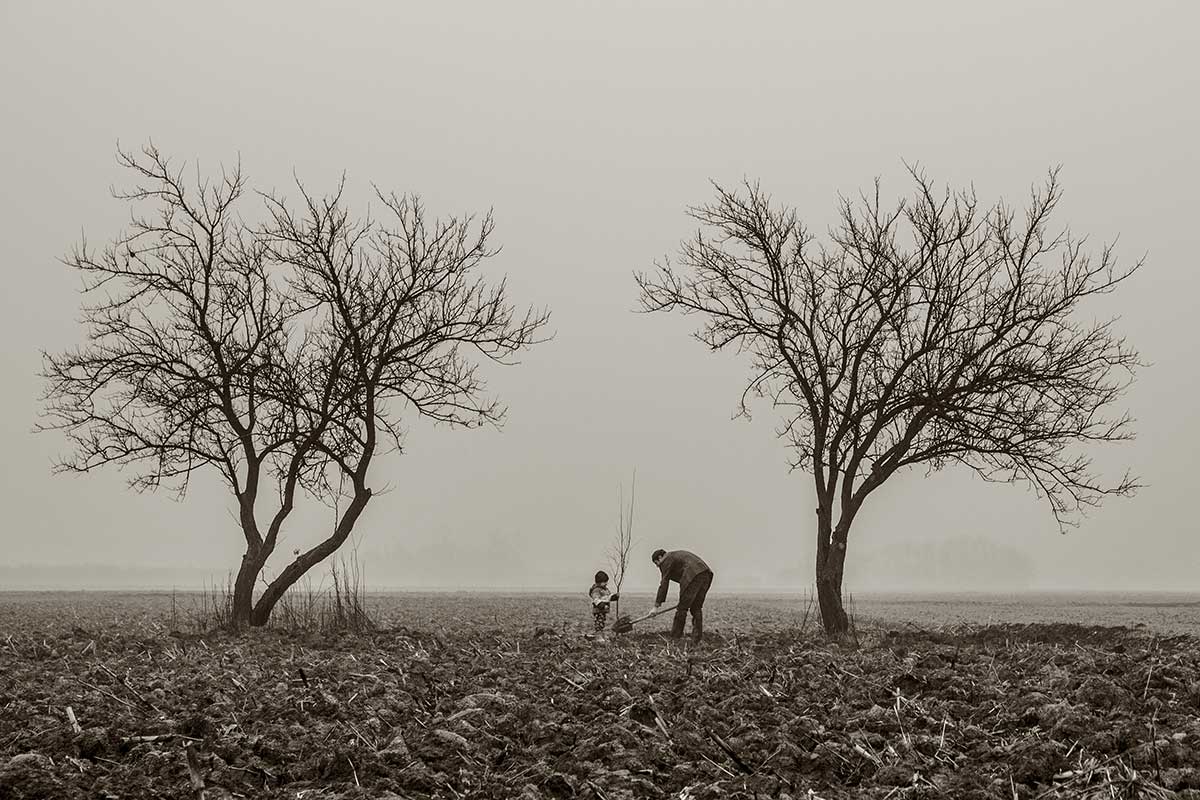 Trees isolated on a foggy plain, a stunning self portrait of the photographer and his three year old, planting a tree, as a pledge for the future.
Johannes Petrus Janssen | Netherlands | 4th – $8,000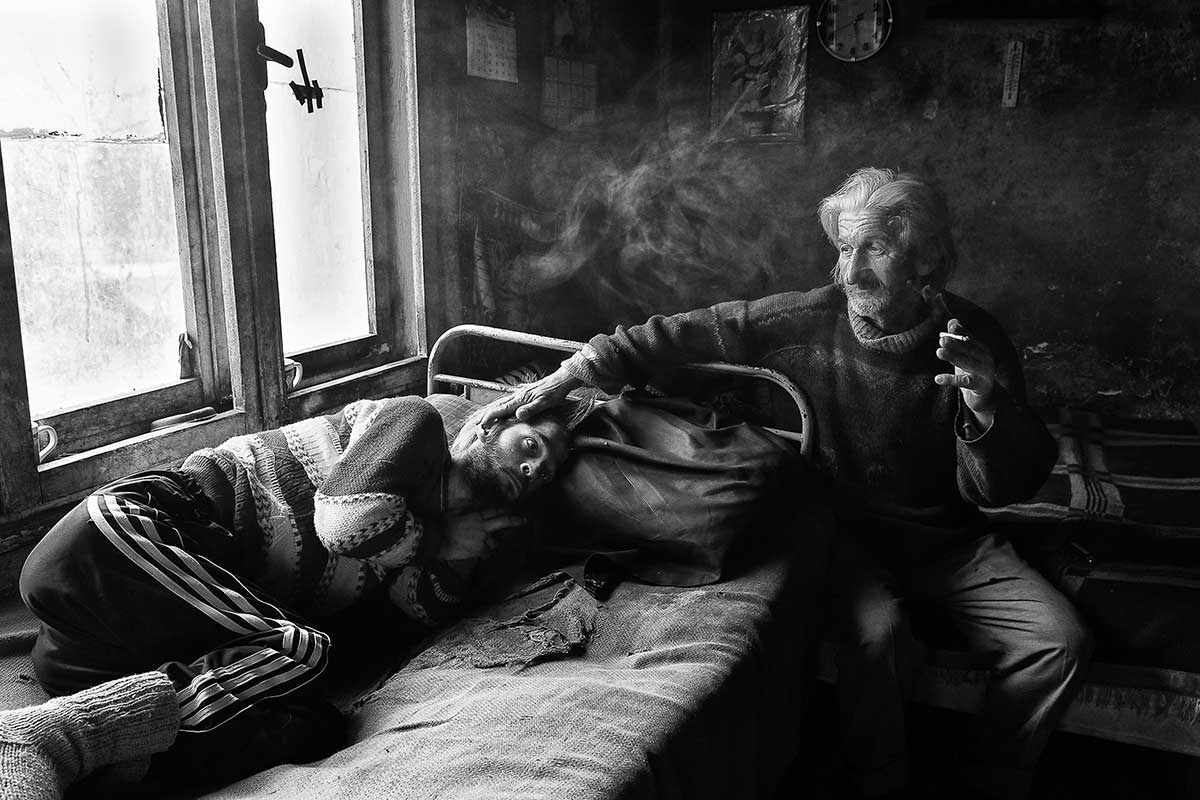 Comforting his sick and disabled son, the eyes of the father reveal a story of daily struggle, strength, and a love that is challenged but not diminished.
Saber Nouraldin | Palestinian Territory | 5th – $6,000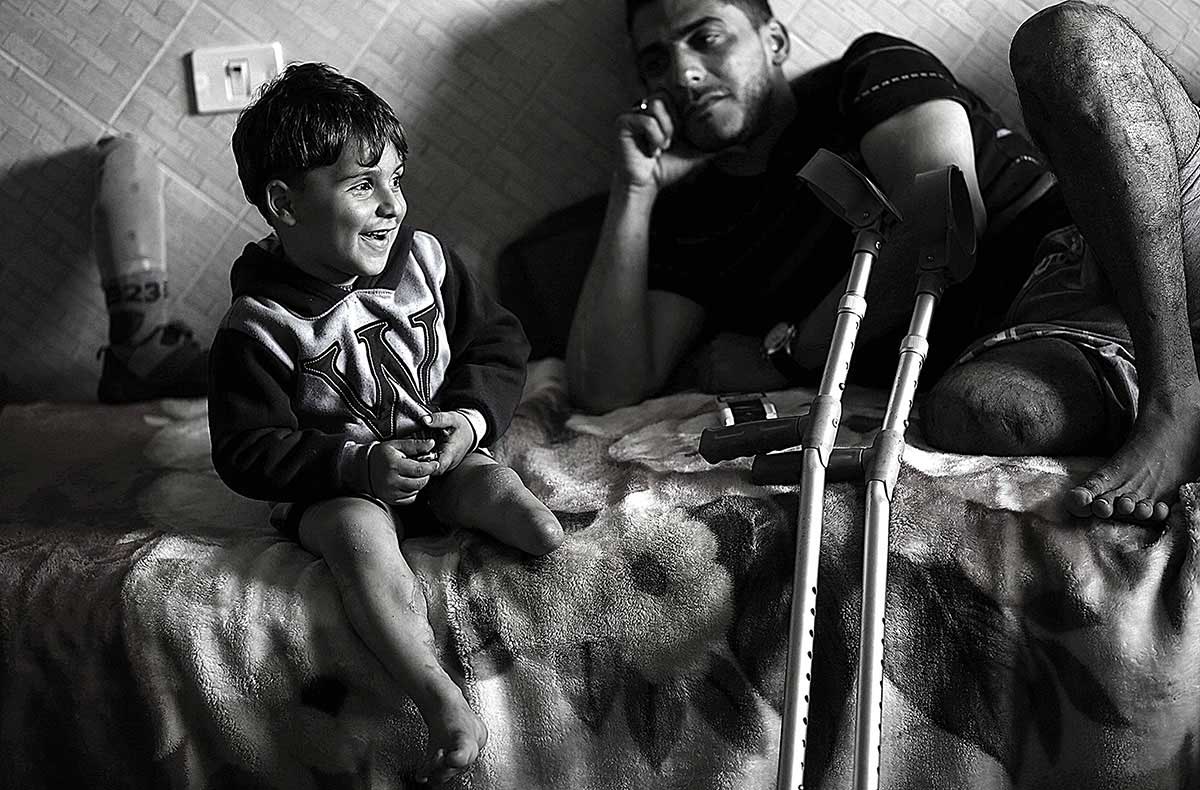 Rafah in the Gaza Strip, both Father and Son overcome the tragedy of losing lower limbs in an Israeli bombing, during the 51 day war in 2014. Wael Al-Namla, 27, sits with his son three years old Shareif In their house in Al- Joneina neighbourhood in the east of Rafah town in the southern Gaza Strip on 17 March 2015. Wael Al Namla, 27, his wife Israa, 21, and their son Shareif three years old, three of them lost the lower lips together to one Israeli bomb when they were trying to find a safe place to stay at, following a 72-hour ceasefire declaration during the 51 day of war in, 01 Augast 2014.
PHOTOGRAPHIC RESEARCH-REPORT AWARD
Don McCullin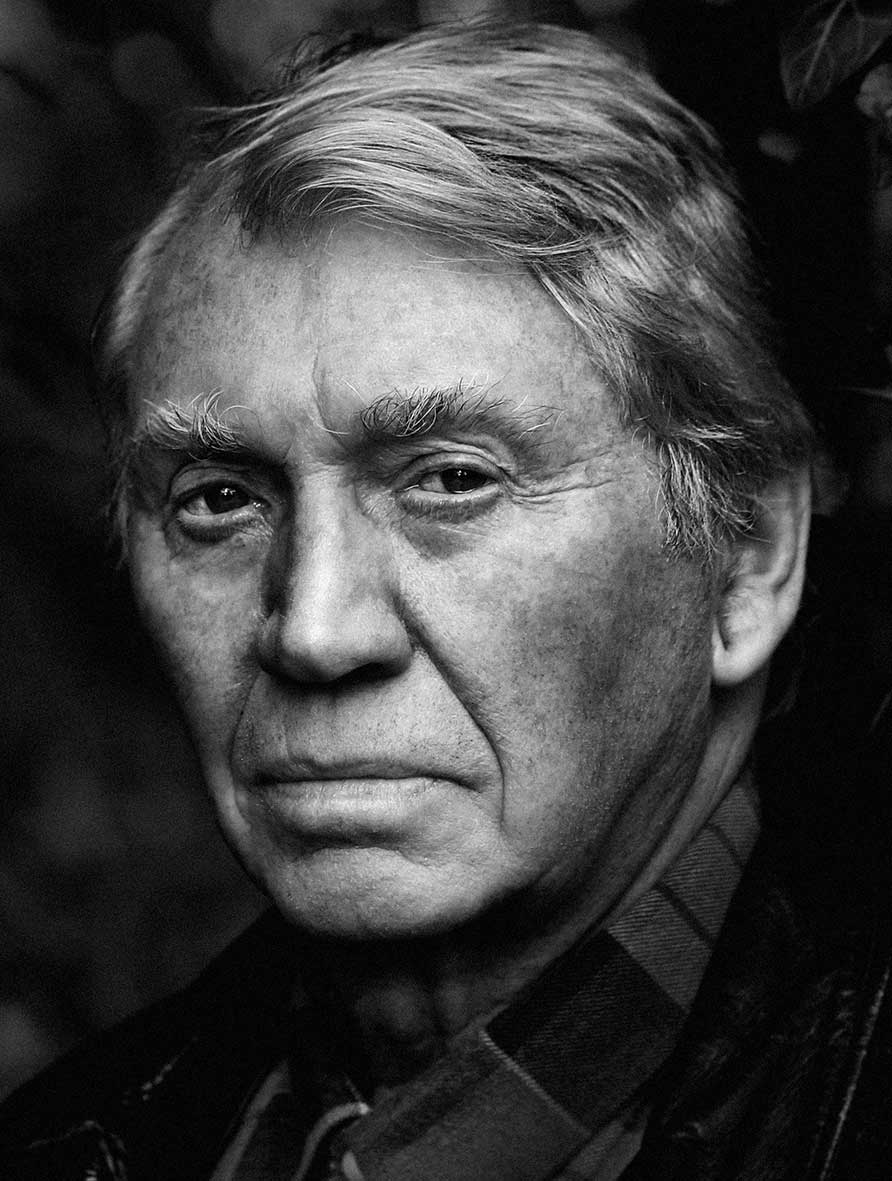 Don McCullin is one of our greatest living photographers. Few have enjoyed a career so long, or of such variety and critical acclaim. For the past 50 years he has proved himself a photojournalist without equal, whether documenting the poverty of London's East End, or the horrors of wars in Africa, Asia or the Middle East. Simultaneously he has proved an adroit artist capable of beautifully arranged still lifes, soulful portraits and moving landscapes.
Following an impoverished north London childhood blighted by Hitler's bombs and the early death of his father, McCullin was called up for National Service with the RAF. After postings to Egypt, Kenya and Cyprus he returned to London armed with a twin reflex Rolleicord camera and began photographing friends from a local gang named The Guv'nors. Persuaded to show them to the picture editor at the Observer in 1959, aged 23, he earned his first commission and began his long and distinguished career in photography more by accident than design.
In 1961 he won the British Press Award for his essay on the construction of the Berlin Wall. His first taste of war came in Cyprus, 1964, where he covered the armed eruption of ethnic and nationalistic tension, winning a World Press Photo Award for his efforts. In 1993 he was the first photojournalist to be awarded a CBE.
For the next two decades war became a mainstay of Don's journalism, initially for the Observer and, from 1966, for The Sunday Times. In the Congo, Biafra, Uganda, Chad, Vietnam, Cambodia, Israel, Jordan, Lebanon, Iran, Afghanistan, Northern Ireland and more, he time and again combined a mastery of light and composition with an unerring sense of where a story was headed, and a bravery that pushed luck to its outermost limits.
He has been shot and badly wounded in Cambodia, imprisoned in Uganda, expelled from Vietnam and had a bounty on his head in Lebanon. What's more, he has braved bullets and bombs not only to get the perfect shot but to help dying soldiers and wounded civilians. Compassion is at the heart of all his photography.
Away from war Don's work has often focused on the suffering of the poor and underprivileged and he has produced moving essays on the homeless of London's East End and the working classes of Britain's industrialised cities.
From the early 1980s increasingly he focused his foreign adventures on more peaceful matters. He travelled extensively through Indonesia, India and Africa returning with powerful essays on places and people that, in some cases, had few if any previous encounters with the Western world. In 2010 he published Southern Frontiers, a dark and at-times menacing record of the Roman Empire's legacy in North Africa and the Middle East.
At home he has spent three decades chronicling the English countryside – in particular the landscapes of Somerset – and creating meticulously constructed still lives all to great acclaim. Yet he still feels the lure of war. As recently as October 2015 Don travelled to Kurdistan in northern Iraq to photograph the ongoing conflict in that region.
PHOTOGRAPHIC APPRECIATION AWARD
Oscar Mitri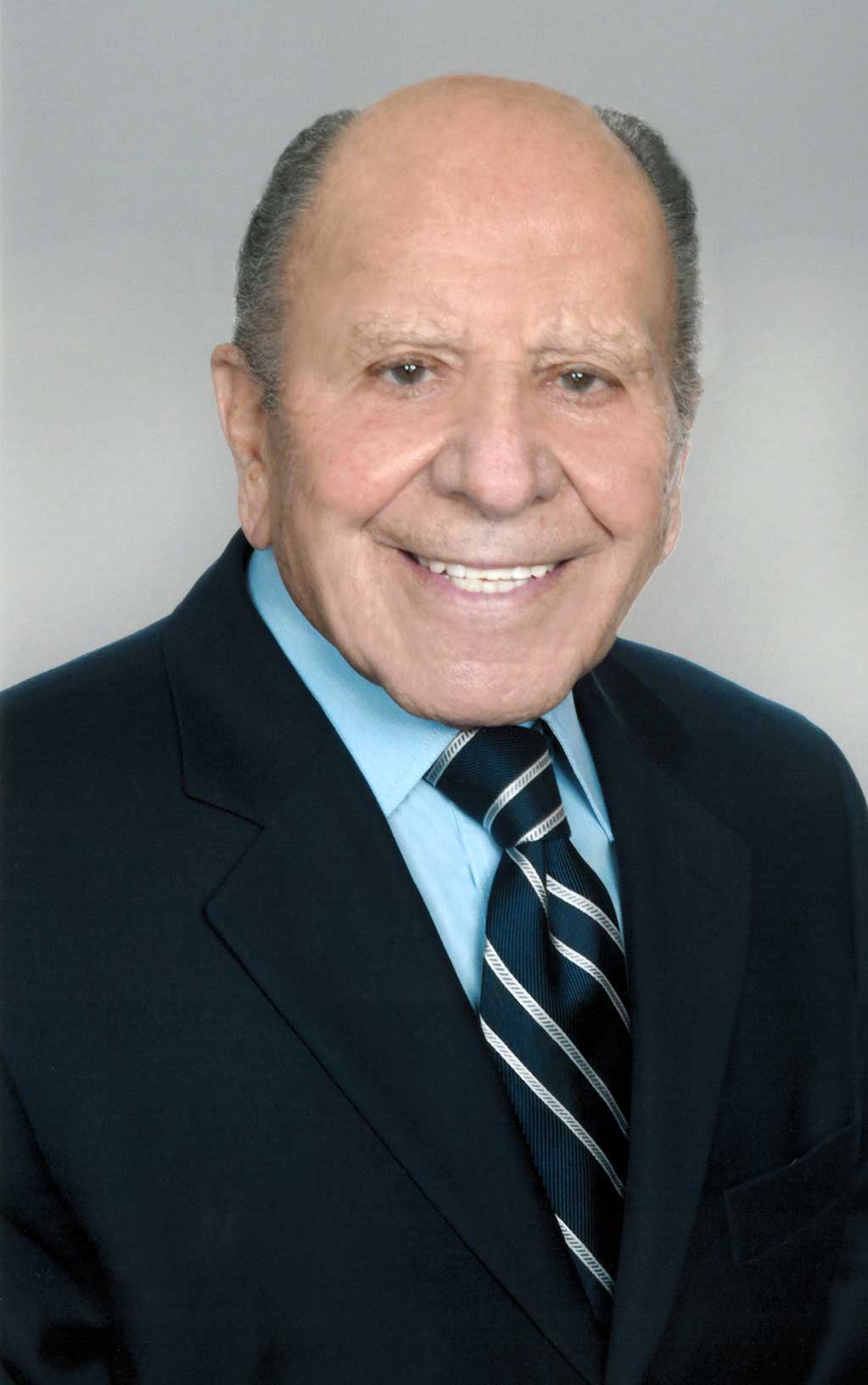 Oscar Mitri was born in Cairo, Egypt. He completed his secondary education at the 'Collège Patriarchal'in Cairo. At a young age he learned to love nature. He was hired by publishing houses in Cairo and Lebanon, in the department of photography, wetting his appetite and making him wish to start a career in this field. In 1956, he specialized in colour slides technique at "Institut d'Art Photographique" in Paris.
His career took off and he embarked in Documentary Photography. He was hired in Kuwait in 1960 by an Arabic cultural and geographical monthly magazine (similar to National Geographic). His stay in Washington at the National Geographic Magazine enabled him to gain more experience in photo reporting. His career took him to Asia and Africa. He travelled the Atlas desert in the Maghreb. He visited 42 countries, including the UAE, the Gulf countries and four islands in Africa and Asia.
His masterpieces are appreciated by a whole generation in the Middle East. He shared, with much photographic eloquence, the reality of life in the Third World. He entered the intimacy of peoples and tribes (nomadic Tuareg) to reflect their life, their customs and their traditions. Oscar now lives in Montreal with his wife Jackie. He has two sons and four grandchildren.