Klaus is living a secluded life in the center of the hamlet of Taufer in the Ahrn valley in South Tyrol.
He lives near the church and the schools. In his universe you can feel a very special atmosphere that reflects his views of the world.
Lots of imagination. Numerous objects can be found in the small house that used to be a storage space for agricultural equipment. This is where Klaus moved about 20 years ago. He restored the house, set up woodstoves and sanitary installations and created an unusual place over time. His friendly appearance makes him quite popular in the village. Of course there are some who simply laugh at him, which does happen when you live your own life and don't subject yourself to the standards that are intended to make everyone the same.
What is his anticonformism all about? Klaus hasn't bought a thing for years. To put it more precisely, no commodities, no clothes, no books or records. Everything in his collection if that's what you wish to call it, was found at the recycling yard in Sand in Taufers in the Ahrn valley, where he has been working for the past 20 years. Klaus collects objects given away by their owners who don't want them any more. Klaus has "saved" all those objects, giving them a second life. He only takes what he can really use, what he likes particularly – things that have an appealing design.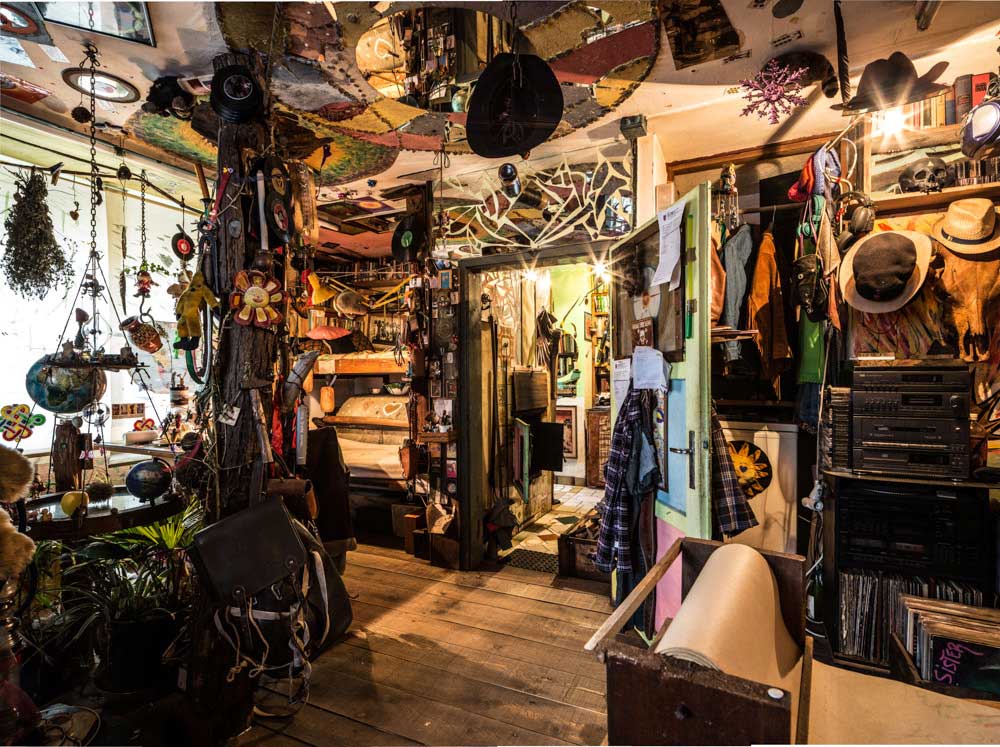 "You know, I have only reliable objects, I don't really know how to put it, everything last long with me. Otherwise I fix it or work on it until it works again", says Klaus. Among fancy assemblies, green plants and herbs hanging from the ceiling to dry you can mainly see records and books, books, books. They are not just for decoration. Klaus reads them. He lives in them He adds marginal notes and sheets of paper with additional notes.
I enter his cozy living room – there is a scent of herbs in the air. Klaus is making tea – a record by the "Doors" is playing. Music plays an important role in his life, particularly music from the seventies. Posters of the Rolling Stones, the Beatles etc. are displayed on the walls, posters of musicians that accompanied his wild youth. The mirror-mosaics on the ceiling and the walls create an almost psychedelic atmosphere. Klaus who initially learned the tiler's trade has created a very special living atmosphere over the years.
But Klaus can do without a TV and a computer. He doesn't need them, neither does he need a mobile phone. People looking for him know where they can find him. He does not have an electric door bell, only a nostalgic bell with a clapper to use manually. If you don't find him there, you can leave a message on a sheet of paper that he always has ready at the door, together with a pen. Analogous SMS so-to-say.
If you visit Klaus repeatedly you will find that is universe is by no means static, for he keeps changing details, combining assemblies in new ways, exchanging things. An organism undergoing constant change. "When I like something I keep refining and reshaping it", says Klaus. He lives the way he lives – true to his convictions and ideals. His quiet protest against the terror of consumerism and throwaway society – without any proselyting on his part – could be an example for us. This is what is felt and my photos tell the story.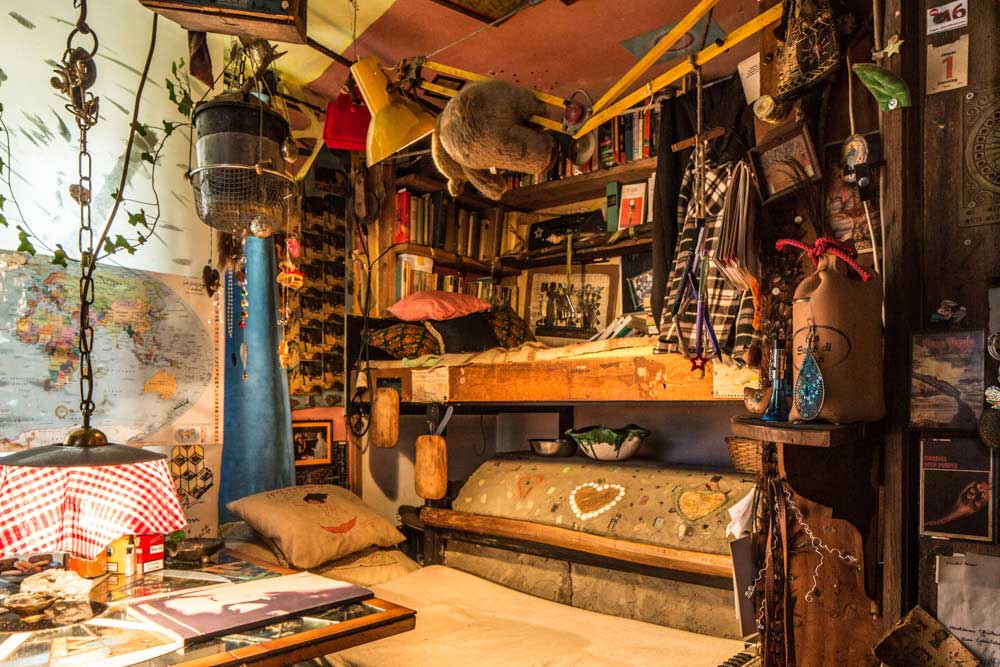 About Heinz Innerhofer
lives as a freelance photographer in St. Lorenzen, South Tyrol, Italy. Studied at ZeLIG, School for Documentary Film, Television and New Media in Bolzano, camera assistant for various documentary films for ORF, ZDF, SRF and RAI. Training as a bookbinder was followed by a few years as a photographic assistant in Munich. From 2001, freelance photographer and graphic designer. From 2010, studies of artistic and performance photography at the Austrian "Prague Photo School".
Many exhibition projects at home and abroad incl. Ars Electronica Center Linz, Galerie Zebra Vienna, diz-muc Munich, Werft.Raum.Atelier Oberrieden/Zurich, Galleria Gallerati Roma and Galerie Prisma Bolzano, sometimes in combination with contemporary music with e.g. Christina Auer and Eduard Demetz. Publications in various international photo magazines and prize winner of e.g. the Gold Medal at the International Trierenberg Super Circuit, the Silver Medal at the TIFA Tokio Photo Awards, 3rd prize at the off-festival vienna and finalist at the Siena International Photography Awards.
Invitations followed to international photo festivals such as Orvieto FIOF Festival Internazionale della Fotografia, off-festival vienna and R-evolution Summer Festival Barletta. [Official Website]