These works are an interpretation and depiction of the character of Mother Nature.   Given various names in different cultures, the nature goddess is always worshipped for her association with fertility, fecundity, and agricultural bounty.
The most well-known of these is the Greek goddess Gaia, whose name is used for some of the works. In the Greek Olympian  creation myth, Gaia is the first goddess to be created from Chaos (nothing) and is the personification of the earth. She gave birth to the sky, mountains and seas, from which all the  other  gods came.
The character of Mother Nature is thought to be the first being to be worshipped by people—the very first god. When humans were hunter-gatherers, the goddess was equivalent to the Abrahamic god we know today: a being that was mysterious, unpredictable and endlessly powerful. Nature was something that we did not control and was therefore unexplainable and dangerous. After the agricultural revolution, followed by the industrial revolution, this fear of nature was diminished. We have not only conquered nature through technology, but are now destroying it as well with pollution and global warming. The world's predominant religion (Christianity) always depicts god as a man, never a woman, and devalues women in many ways.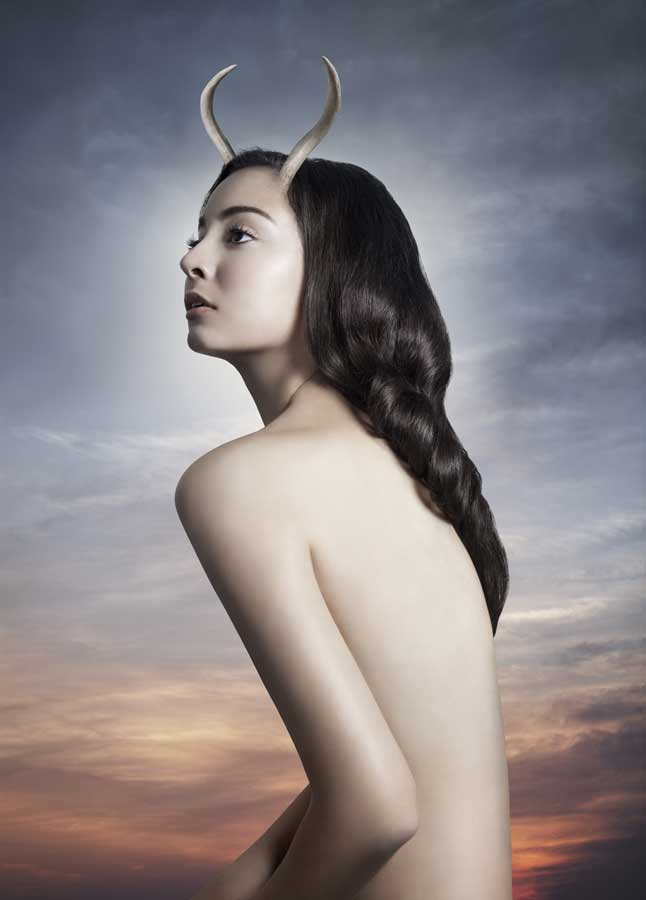 These images take the goddess back to her origins and portray her as powerful, mysterious and ethereal. To depict her character, the goddess is metaphorically and literally blending with nature: branches as arms are an example of this. To represent her strength, a dancer was chosen to model, as dancers are physically strong. Exaggerating this, the muscles were  accentuated  through photo-manipulation.
The goddess is sometimes depicted with horns or antlers in the images to reference the horned god, a primary deity found in neopagan religions, in which he is associated with nature, sexuality, hunting and life cycle. Christianity co-opted with this character and conceptualized him  as evil (the devil), especially due to the association with sexuality. The horned goddess in these works  embraces  sexuality  and  sexual expression. The portraits of the goddess with a halo reference Christian religious iconography, mocking depictions of Jesus Christ and The Virgin Mary. Furthermore, the oval shape, lighting   and the painterly esthetic of the images were influenced from Baroque painters like Frans   Snyder,  Peter  Paul  Rubens,  and  Jan Weenix. [Official Website]
The images personify a nature goddess taken back to her origins, questioning our values and treatment of the natural environment and the state of the earth. They portray the goddess as a woman that is powerful, capable and defeating—she is goddess almighty.