Storytelling is common to every culture and tales handed down through generations have the power to hold important meaning and symbolism.
In this series, our exploration of myths, fables, fairytales, nursery rhymes and idioms opens the discussion on how these mythical qualities can be interpreted today.
These works are less about the historical significance of the tale but rather, the symbolic interpretation that the clues in these narratives offer. The stories are fascinating, beautiful and threatening and play an important role in knowledge transfer and personality development, having the power to influence a person's perception, attitude, behavior, and many other factors important to our societies. [Official Website]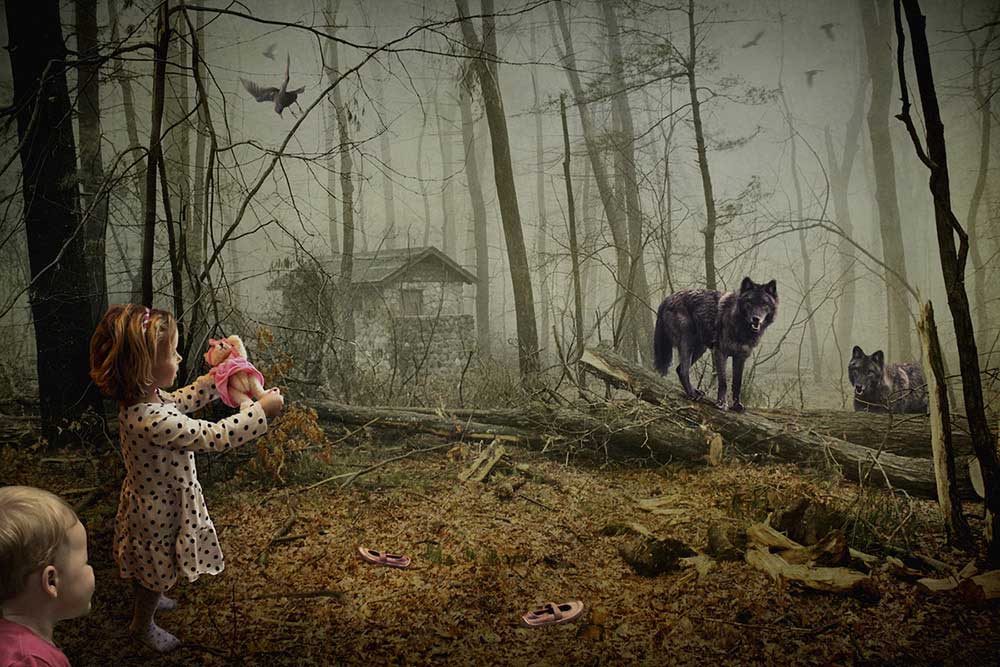 Bio Deb Young (New Zealand) 
When Young was a teenager, a photographer friend took snaps of her family. They were dressed in muslin and flares and the shots were taken outside in the back yard. Back-lit and black & white, she was mesmerized by the romantic, almost rock-star feel of those back yard, hippie shots. Her passion for photography further came to life when she was given the opportunity to work behind the scenes on the publication of New Zealand Photography Magazine.
Young recently exhibited at The Kolga Awards in Tbilisi, Georgia, the Center for Fine Art Photography in Colorado and the Griffin Museum of Photography in Boston. Along with collaborator Francisco Diaz, she was awarded the 9th Julia Margaret Cameron Award at the 4th Biennial of Fine Art + Documentary Photography in Berlin.
Bio Francisco Diaz (USA)
Though born in the U.S., Diaz's heritage is Cuban/Spanish. His predilection for artists like Goya, El Greco, and the still life work of Juan Bautista de Espinosa comes from that background. Childhood years were spent in Brooklyn on Coney Island.
Recent exhibitions include Gilman Contemporary in Idaho, the Center for Fine Art Photography in Colorado and the Kolga Awards in Tbilisi, Georgia. With his collaborator Deb Young, he was named "International Photographer of the Year" at the 6th Edition Pollux Awards, the Fine Art and Documentary Photography Biennial held in Malaga, Spain. Diaz + Young are represented by both the Susan Spiritus Gallery and Gilman Contemporary Gallery.