Over the course of my life (at present 61), I've been in some 'diverse life' situations. The one constant has been photography. Admittedly there have been large patches of time when i was camera less, again owing to 'diverse' living arrangements.
Anyway from the start, I don't know how this really began but somehow or (more likely) someone introduced me to the printing process. When in a darkened room I placed a white sheet of light exposed photo paper into a dish of photo chemicals and like magic it turned from white to grey then to black. Figured I try this again, this time placing my hand on the photo sensitive paper so light wouldn't hit it, my first picture, holy crap I was off and running. Finally got a hold of a camera, my fate was sealed.
From then on most of my time was spent with a camera round my neck on the streets or in the dark room, a place of sheer magic. Over the years I landed up at The School of Visual Arts which led me to a career as a Film Photo Technician. Remember this was the end of the 1970's to the beginning of the new century, film was still king.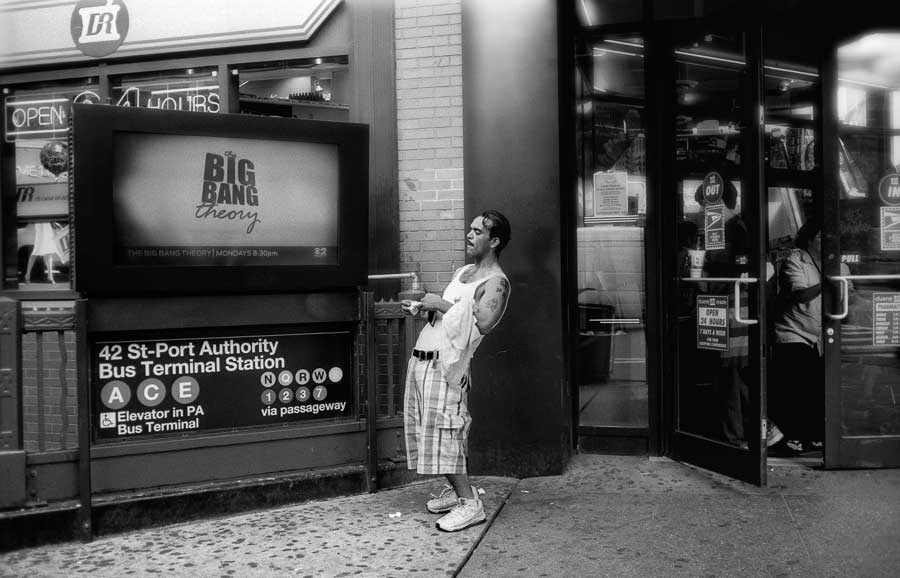 Along comes the new century 2000 and I move to Times Square. I'm in heaven, all the lights, the masses of people swirling about and this is happening 24 hours a day in my back yard.
I'm partial to Black and White photography. When a properly exposed Tri-X negative meets a sheet of Agfa Portriga Rapid in the darkroom it makes your eyes pop out, there isn't a bigger thrill. CoIor pictures are just to confusing to look at. I love the process of capturing 36 shots stored in a small metal cylinder. Rushing home, preparing the various chemicals at 68º, counting the minutes and seconds till images form on the film strip. Rinsing the film off then finally peering thru the transparent film strip and checking out what images I have.
I'm looking for a few things in my pictures. I love these little stolen glances that people make, for themselves or for others. Opposition is another of my favorites, the ball and square working against each other.
As time went on I started noticing a running theme, the Apocalypse in upon us. The devil is here, chicken little screaming the sky is falling. Everyone must get religion, now !. Open your arms to Jesus, Scientology and other faiths. Then you have one of my personnel favorites the various outlandish or just plain odd denizens of the streets.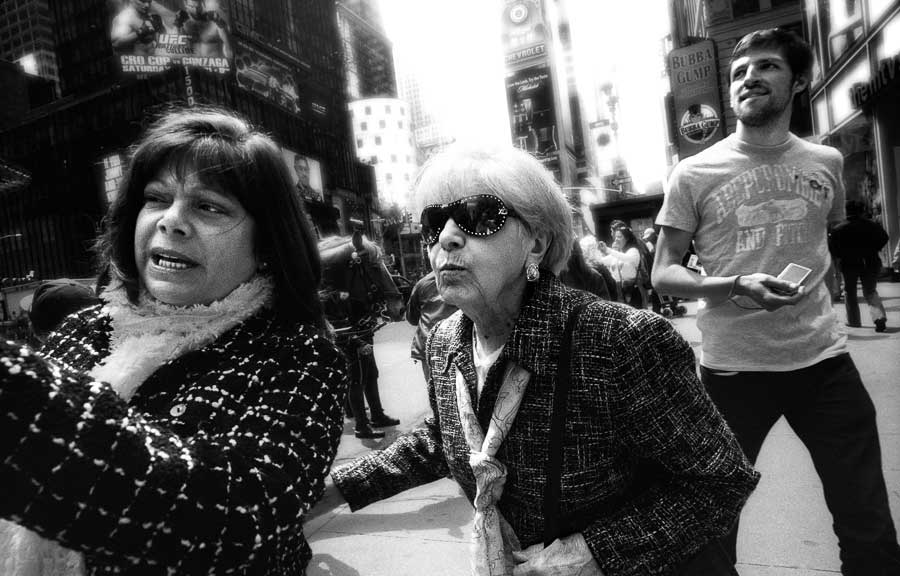 Times Square and it's surrounding Midtown area is so congested that by itself presents uniques oppertunities. You can stick a camera in someones face with nary a blink. I favor wide angle lenses, usually 28mm to 35mm. So filling the frame requires me to move in as close as possible, one of the perks of the crowded urban landscape.
One of the unfortunate "along came the spider" scenarios of the last past decade is the understandable reluctance of families to have their kids in photos. The absolute wide eyed joy kids exhibit in Times Square always made for some disturbing moments.
When 9/11 hit that almost took the air out urban photography . Being stopped by building's Security, eyed by the NYPD. How dare we take photos in the city that that we were born and raised in. Common sense prevailed and that paranoia has hopefully fallen to the curb side.
With Tourism on the up swing in New York City and Times Square as one of the hot spots I'll have my hands full for as long as i like.
PS: Most of us find some peculiar obsession with what cameras and film are being used. So here goes,
Been using film for decades, so my camera's are Nikons F2, F5 and F100. Got clipped one day by a car so the proceeds went for a Leica M6. Films, Kodak Tri-X and Plus-X, then Fomopan 100 and 200 asa. Finally I had to give the devil its due and went Digital, Nikon D700 has been my camera of choice this past year or two. [Official Website]