Travelling is for me one of the most beautiful things in the world and I've always been deeply fascinated by how emotions and feelings can sometimes play a huge role in how we perceive and experience those trips we make.
When I visited Japan for the first time, it wasn't only just a simple holiday trip. It was also the first time I was visiting my boyfriend in his hometown, Osaka, and sharing with him his daily routine for a month.
As the days passed, I realized I was living in between two "realities": Even though I was a tourist, I was also leading a routine as if I was actually living in Japan. I would visit the typical tourist spots but I would also wake up three days a week at 5 am, have breakfast and ride a bike with my boyfriend to the station to go to university with him and wait in the library reading while he was in class.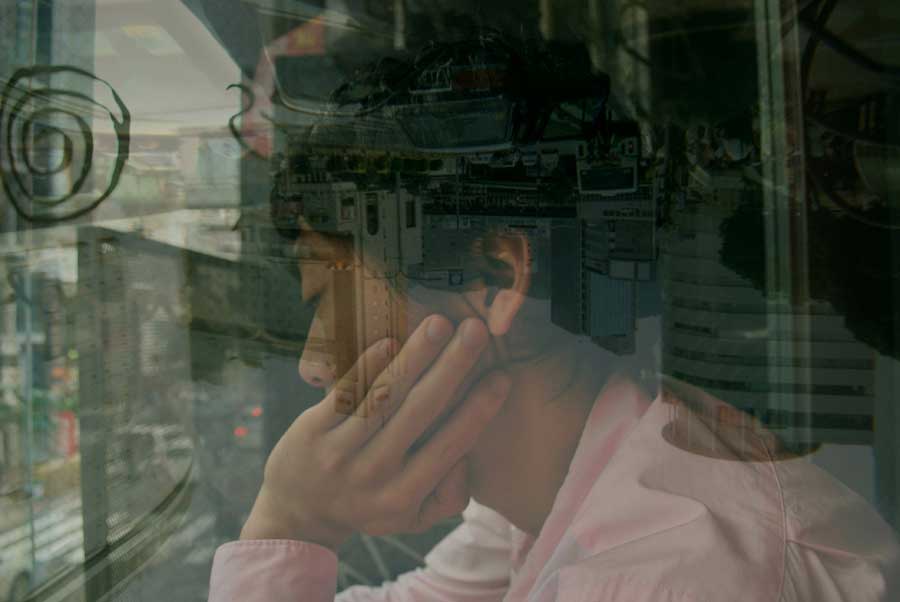 I packed with me a film camera and my DSLR and decided to play and mix these two formats in order to represent my view on these two different "worlds" I was in: In one hand a different country that I've never been to with a culture different than mine, and on the other hand a new routine that I shared with my boyfriend, his family and his friends.
This experience was also very influenced by the feeling that my body and my mind were constantly busy, moving here and there visiting and travelling to different places all in one month, while my heart was continuing the path of a steady relationship.
That's why it was crucial for me to present all of these juxtaposed feelings in a way that was able to tell each element apart but they were also mixed and blended all together with the rest, since in my mind and heart neither of those can be separated from each other, thus this series was born.
The series is formed by ten pictures of my boyfriend taken by a DLSR, blended with different landscapes from Japan such as Shibuya Crossing in Tokyo, Kiyomizudera in Kyoto, the Hikone Castle in Shiga and several urban spaces from Kobe and Osaka taken by a 35mm film camera.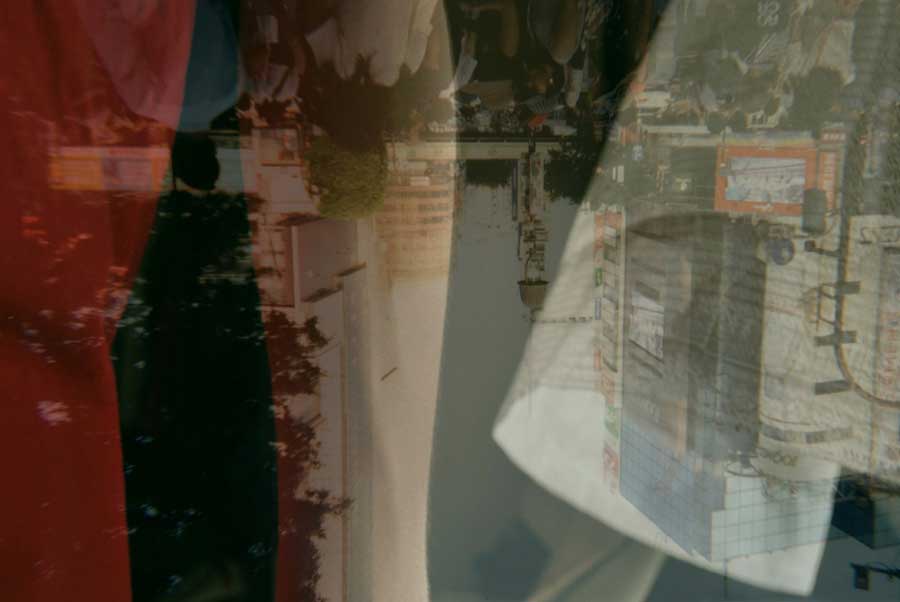 About Guadalupe Acevedo
Guadalupe Acevedo is a self-taught photographer born and raised in north-east Argentina in 1993. Started to get interested in photography and taking her first pictures when she was thirteen years old and she haven't stopped ever since. During her teenage years, she learned several foreign languages such as English, French, German and Japanese.
In 2012 she exhibited her first series "Home is where the heart is" at a local gallery in Misiones, Argentina. This series portrayed her experience of leaving home and working in Germany for a year at the age of 18. The exhibition was supported by the German Consulship and well received by the local public.
In 2013, her series "Mirages" was featured in the 4th issue of DiscoClick, an online spread dedicated to emergent photographers. The series shows the interaction between light and glass reflections and how they can converge and create illusions of juxtaposed spaces, as if they were real life double exposures. "Mirages" was also exhibited in OLGA in January 2014, a local festival for emerging artists in her hometown.
In 2014, one of her works was selected in the 25th edition of The Festival of Light in Buenos Aires, as part of an exhibition dedicated for Latin-American photographers under the age of 25. She's currently based in Buenos Aires, as she finishes her degree in Film Studies. [Official Website]