No American road trip looms larger in our collective consciousness than the one bound west, and has been both the favorite subject and a formidable challenge for most artists, from Robert Frank to Jack Kerouac.
In 2015, Italian-born photographer Renato D'Agostin took the challenge and travelled the 7,439 miles from New York to Los Angeles on his 1983 BMW motorcycle, developing film in hotel sinks along the way.
This initiatic journey gave rise to a series of bright and contrasted images, overwhelming with beauty, subtlety and grace,
entitled "7439".
Renato D'Agostin was born in Venice, Italy, in 1983. He began his career in photography in 2001 by exploring his daily world with his father's camera, and thereby discovered new ways of transcending the beauty of the Most Serene Republic of Venice. Finding his inspiration in urban life, he traveled through the capitals of Western Europe, and after a period in Milan where he worked with the production studio Maison Sabbatini, he moved to New York. In 2005, he attended Fine Print courses at the International Center of Photography (ICP) and soon after became assistant to Ralph Gibson.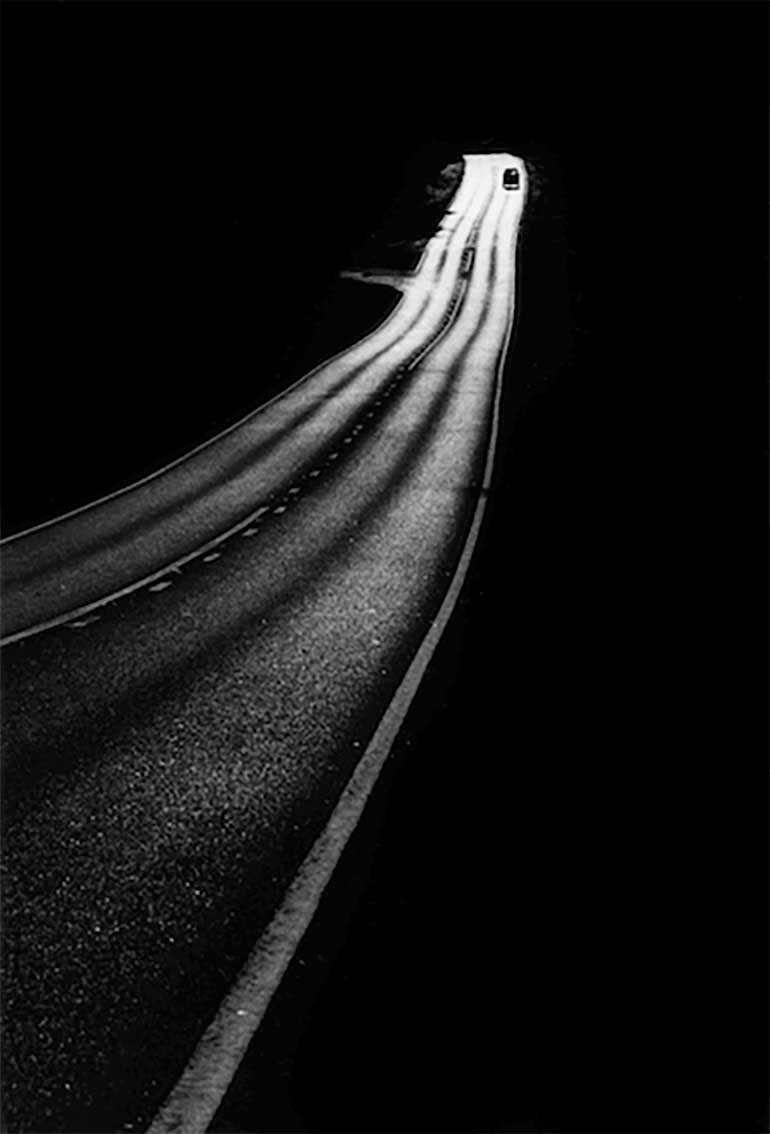 Dislocating subjects from their realities, Renato D'Agostin opens new portals in the viewer's imagination by reinterpreting the relationship between space, architecture and people. Thierry Bigaignon comments: « Renato D'Agostin is an explorer-born photographer. He captures visual elements that most of us won't even notice, and leaves his singular mark on every picture
he takes and makes. Mastering every aspect of his silver gelatin photography, Renato D'Agostin knows better than anyone how to imbue a classical black and white picture with a contemporary cut". He adds: "Renato's photographs, laden with abstraction and surrealism, are strong and powerful yet delicate".
Renato D'Agostin's work has been published in numerous books, the most recent of which, "Proxemics" (The(M) éditions), having just won the award for best photography book during the « Nuit du Livre 2017 » in Paris. His prints have become part of prestigious public collections, such as the Library of Congress and the Phillips Collection in Washington, the Center for Creative Photography in Arizona, and the Maison Européenne de la Photographie in Paris. Renato D'Agostin's photographs have been exhibited in major galleries in the United States, Europe and Asia for the last ten years.
The "7439" series will be presented for the first time in France from May 13 to September 9, 2017.
28 original black and white silver prints, numbered, printed and signed by the artist (format 32×48 cm, limited edition of 25 and 67×100 cm, limited edition of 5).
Galerie Thierry Bigaignon
From May 13 to September 9, 2017
Hôtel de Retz, 9 rue Charlot, Paris III
www.thierrybigaignon.com