Nothing compares to taking a fantastic picture while on vacation. It's difficult to resist taking a decent picture when you're at one of the most picturesque locations on earth.
A shot you took with a flip phone from 2003 with a 1.3-megapixel camera would still appear better than the one you viewed while spending the entire evening browsing through Instagram.
Traveling may be a career, a way of life, a philosophy, or an art form. Look no further if you want to find locations ideal for taking images. So why are you still waiting? The most incredible locations on earth are waiting for you!
Arboretum, Dallas
Texas, so they claim, has more of it. We think Dallas is superior, though. If you're staying in Dallas, you should be aware that this energetic city is always improving its offerings of hotels, restaurants, bars, and art. In a tranquil location on White Rock Lake, the 66 acres of magnificent display gardens of the Dallas Arboretum, one of Dallas' most stunning outdoor attractions, exhibit outstanding seasonal flowers, decorative shrubs, trees, and plant collections.
Additionally, Dallas' Arboretum, which boasts a lake, an abundance of aromatic flowers, and beautiful meadows, is one of the settings that lends itself to photos the best. There are many chances to see new blossoms during the spring and summer, including the absolute favorite, the tulip season in March and April, as well as concerts and other events.
Avatar Hallelujah Mountain, China
China is a huge nation with many of the most incredible places on earth, many of which are undiscovered by western travelers.
It was difficult to pick just one breathtaking Chinese location to photograph, but the Avatar Hallelujah Mountain (yep, from the movie) in the Zhangjiajie National Forest Park, which is one of China's most gorgeous locations in and of itself, is the one surging above the rest. The Zhangjiajie Glass Bridge, the tallest glass-bottom bridge in the world, makes it simpler than ever to take stunning shots in the park. Not for the weak-hearted!
Salar de Uyuni, Bolivia
No list of "the most beautiful locations in the world" would be complete without Salar de Uyuni, even though it isn't the most straightforward spot to go to. The Bolivian Andes, home to the biggest salt flats on earth, offers an incredible view with a seemingly infinite horizon.
Here, two separate seasons drastically alter the scenery. The flats are best explored between May and November when it's dry, and between February and April when it's wet and the water provides a stunning mirror effect.
Banff, Canada
Most people are probably unaware of this unremarkable-appearing Canadian vacation town, but Canada has been keeping it a secret from the rest of the globe. It has a skyline that might pass for an oil painting and is peppered with snow-capped mountains, verdant woods, and hot springs for relaxation. It has more than earned the distinction of being among the most beautiful tourist destinations on earth.
The vista from Lake Minnewanka and the Bow River is unparalleled, whether you go in spring or summer. Take a deep breath and engage in a variety of outdoor activities. Ask a local if you're unsure about what's best; you'll probably become good friends in the process.
Machu Picchu, Peru
Machu Picchu in Peru is the ideal location for any photographer who likes both exploring and taking vast landscape pictures. This well-known 15th-century structure is situated not far from 8,000 feet above sea level. It offers stunning vistas of the Andes, as well as ancient Inca temples and ruins. Additionally, you may practice astrophotography and capture stunning images of the Milky Way at Aguas Calientes, which is situated at the foot of Machu Picchu. Pack your landscape photography gear (especially a wide-angle lens to capture more of the subject) and wait until the sun is a little lower in the sky to avoid harsh shadows if you decide to travel to Peru.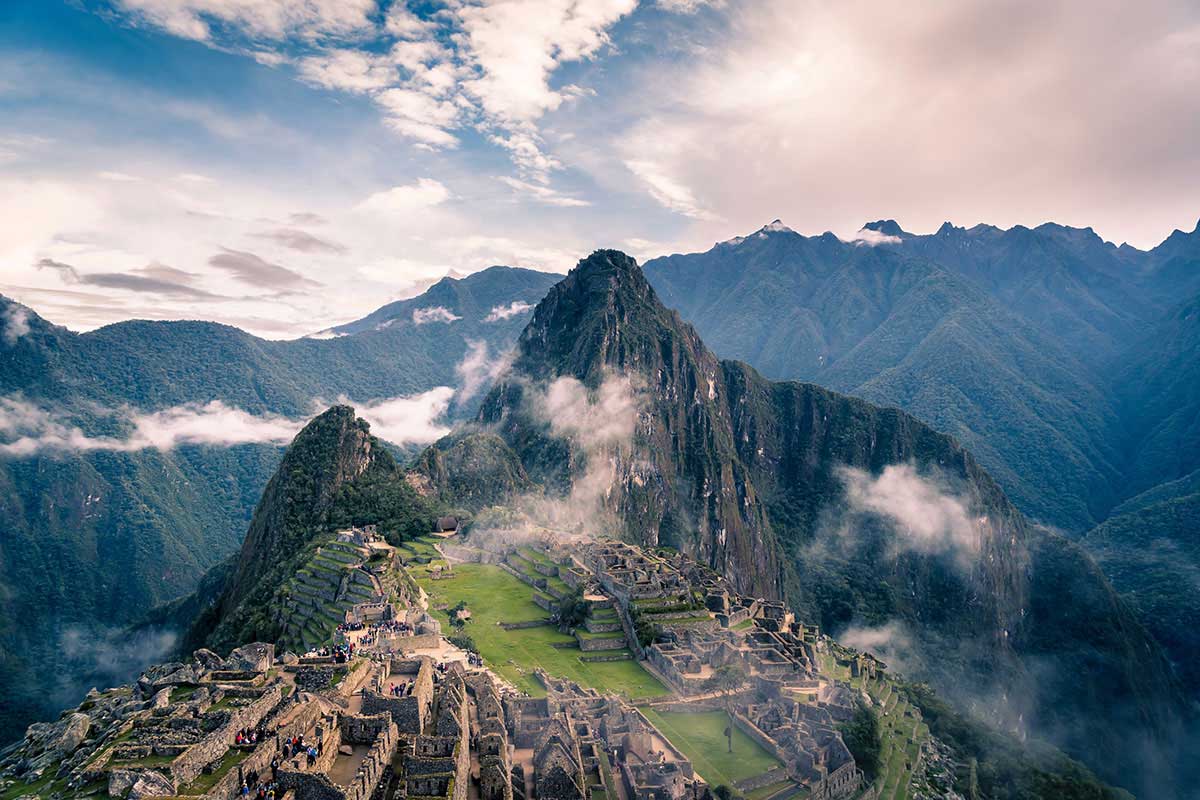 Mauna Kea, Hawaii
Experienced astrophotographers will enjoy taking photos in Hawaii's premier stargazing location. Hawaii's highest point, Mauna Kea, is possibly the world's tallest mountain and volcano, so there won't be any light pollution to muck up your photos of the night sky.
Don't even think of leaving home without your tripod and remote shutter release if you want to capture the stunning starry sky in razor-sharp detail. Star photography generally necessitates very slow shutter speeds.
The Alps, Switzerland
Whether you wish to climb more than 13,000 feet to the summit or take your photo from a grassy hill a few miles away where you can still get a great perspective of the mountains in the background, Europe's famed mountains will always make for a priceless image. Photographers frequently use the peak of Breithorn mountain to get the best images of the Swiss Alps and the bordering French and Italian Alps. If you have the chance to take pictures during the day, we strongly suggest combining both day and night in one image for the best results.
These breathtaking locations throughout the globe are just waiting for you to make travel plans and pack your bags!