Ann Prochilo brings extraordinary dreams of mixed elements, and thoughtful reflections to her images, being in the intersection of different worlds but still connected to her roots.
Her surprising works are the result of a striking and complex process of work and way of thinking while trying to have her feet on the ground with everyday questioning about which is her place in the universe. From a philosophical point of view her words and series are powerful and insightful, and analyzed strictly from the photographic perspective her imagery is as surrealist as personal, and just so beautiful! Now sit back and enjoy this conversation, meet the person, her motives and ways to create. [Official Website][Printed Edition][Digital Edition]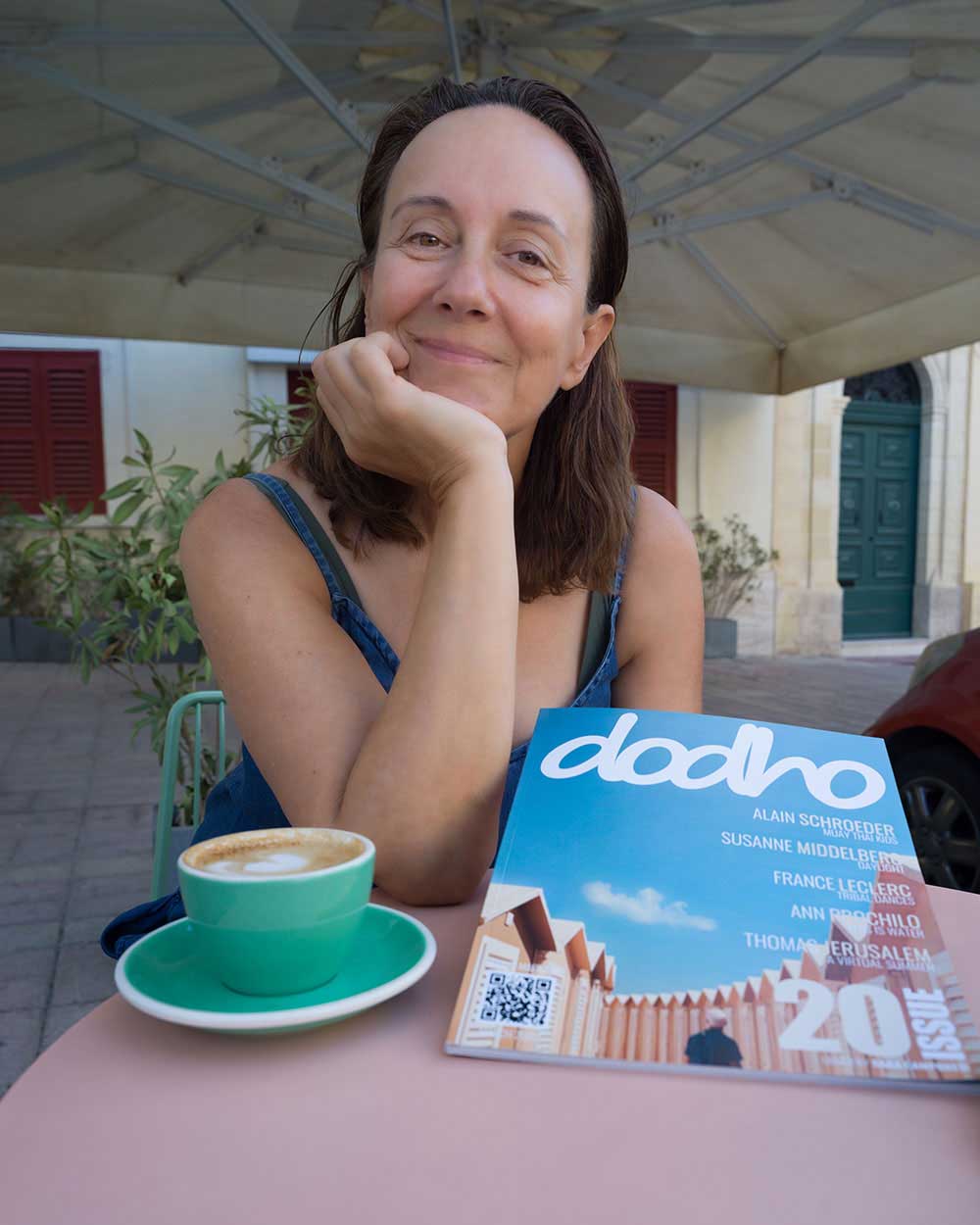 In your photo-narrative "This is Water" you state that "essential things are all around us, hidden in plain sight", and to convey this idea you embrace the optical distortions caused by the surface of the water instead of correcting them, in this way the concept connects straightly with the form. I can imagine that this link brings a more natural and exciting process of work for you as a creator. How was the selection of the images? Was it surprising to find the results or you were conscious of the outcome during the shootings?
Making photographs rarely unfolds the way I expect it to. In this body of work, I'm deliberate about working with refraction and the movement of water. Even so, I'm always surprised when things below the surface are wildly exaggerated, or light scatters across the frame, or a person's head is obscured or dislocated. For me, photography is the perfect combination of intention and serendipity. Unexpected outcomes are key to the alchemic possibilities and to my obsession with making images. I'm here for the tension of random elements and to respond to the environment. I never want to be constrained by preconceived ideas because I may fail to take advantage of the opportunities that might come up.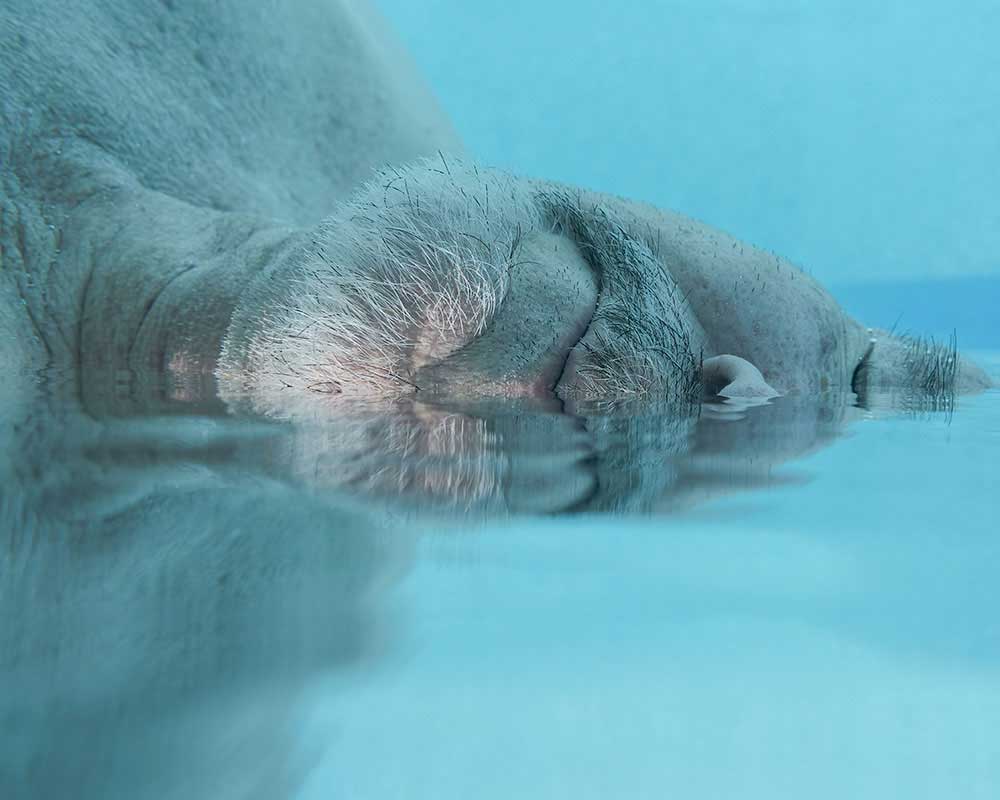 Your experience working in the HIV arena has led you to the field of expertise in dialogue and mediation, and in reconciling the spaces between conflict and collaboration as tools to transform and create. In the series, we can see all these ideas between two different views, worlds, and conditions. We find a circumstance under the water and another one above the surface. Both states of affairs are shown distinctively beautiful. In the creating moments, which side was your main focus? How did you find the balance between the two sides?
I find balance in dealing with opposite elements in parallel rather than separately. One object is not prioritized over the other, I prefer to hold spaces for both. The more I revel in each space, the more I become conscious of my own skewed perspective. The more I get curious about interactions, the more likely the discordant worlds come together to create something new.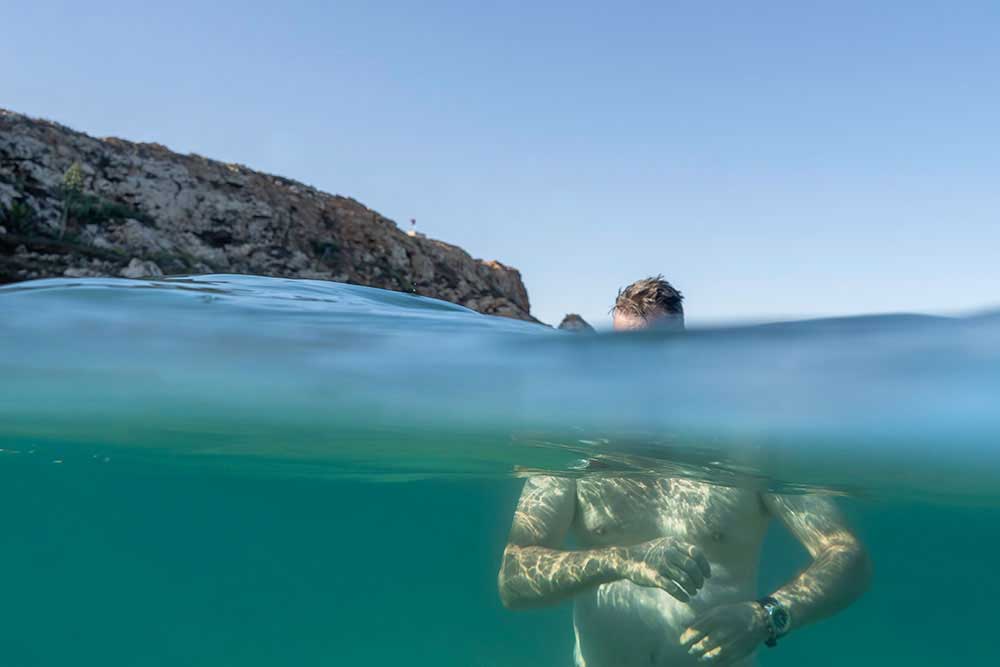 All the twists, deformations, and curves caused by the water element bring an animal and quite natural representation of humans. The images depict relaxation, calmness almost primitive and aboriginal. It feels like life in the water is safe, effortless, and brings comfort, like being in the mother's belly. The beauty of the images is absolutely stunning. How do you feel about water and what sensations do you connect to the sea?
When I wake up in the morning and I want to remember my dreams, I normally run through a list of bodies of water: Was I in the ocean, a lake, a quarry? Was I on the docks or a cliff overlooking the sea? Was it cold or turbulent? Was I floating or drowning? This almost always brings a dream to the surface that might otherwise have been lost to the amnesia of sleep.
While water is associated with purification, regeneration and intuition, it is also associated with forgetfulness, concealment and death. As you point out, the images depict relaxation and calmness, but that calmness is ambiguous: is it safe and restorative or deceptive and beguiling? Does it offer insight and awareness or oblivion? Is it safe-harbor, the calm before a storm, or the aftermath of some great tempest, the figures may be floating in the wake of destruction? My view is that all of these interpretations can be true and are not mutually exclusive.
Fundamentally, this project is about transformation. I believe our task as human beings is to wake to ourselves, and be aware about the waters in which we swim so that we may choose the right actions in the world. For me, that means not foundering in a sea of willful ignorance or being rendered mute by those who would drown our voices.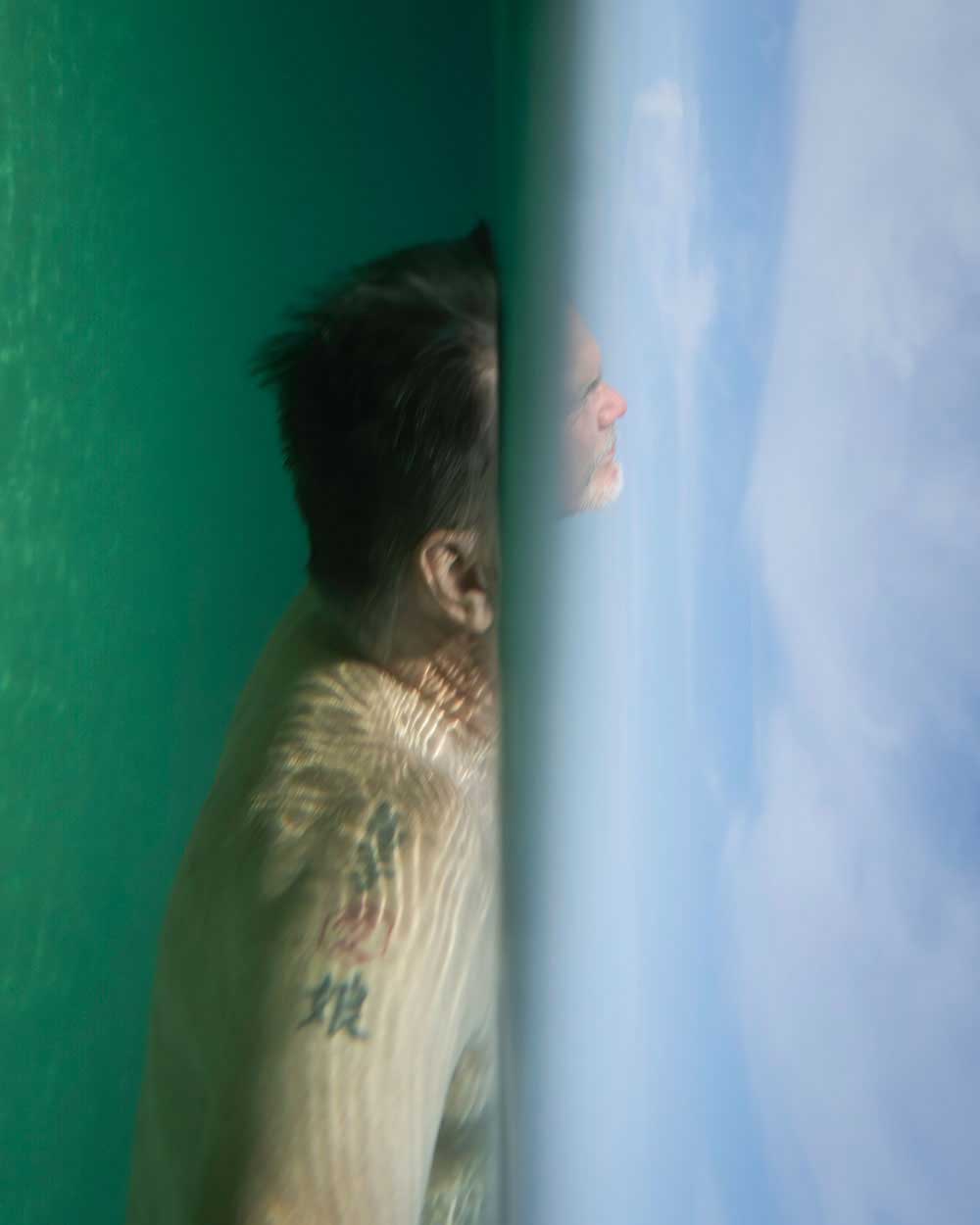 In your images, the subjects live between two different worlds, like them, you also move between San Francisco and Malta, what are the advantages of this traveling experience in your life as a creator?
Living in different places helps me to get far from the notion that the way I see things is the only way. Navigating new environments also reminds me that what I do on a day-to-day basis is default. Forced out of my comfort zone, I'm anything but master of my universe. I'm a child learning to tie shoes: How do I open the door? How do I get a grocery cart? How do I get out of a parking garage? How do I save face after holding up the check-out line because I didn't know to pre-weigh my vegetables? How do I make community with people from completely different cultures and life experiences? It slows me down. I re-evaluate engagement with everything and everyone, ever-grateful for the opportunity and the open arms I encounter.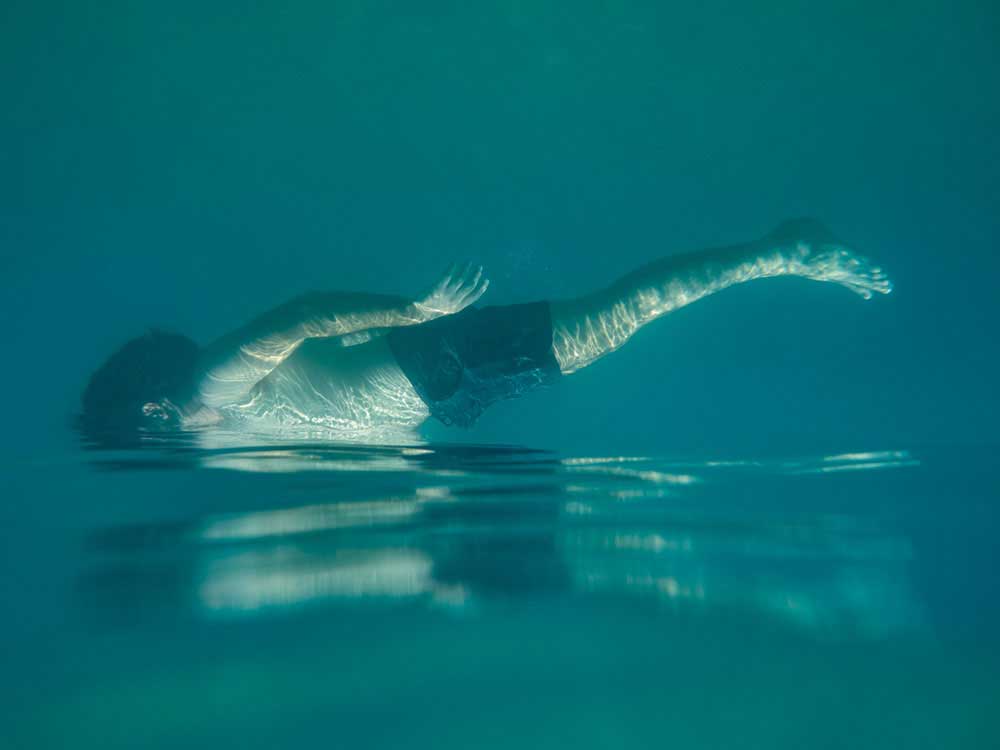 In your series Leaving Home, we find a subject almost with a ghost appearance occupying the spaces of an empty house, in the statement, you connected the images to your life being the middle child of six.  We find again the image of the in-between. Were you missing some solitude in a big family when you were a child? Is there any influence from the ghost stories or horror films in the series?
Being born into a large family is one of my greatest blessings. Dinner was a lively affair starting promptly at six, each of us in assigned seats. Conversation was witty, brutal in its censure, and relentless in its teasing. Solitude was not a concept I could conceive of, even in moments of profound loneliness. Though I sometimes felt lost in the shuffle or alienated, I always felt loved and secure.
I was four when my parents bought an old house that had once served as the Cottage Hospital for the village. In the midst of a hoard, there were bed pans and exotic bottles hinting of potions and poison. The best find was a high-backed, wicker wheelchair that quickly became a carnival ride to be fought over. My parents' bedroom had a door that was taller than the rest. I was told it was to accommodate surgical equipment. I envisioned all the births and deaths, trauma and celebrations that happened there. When my father renovated the bathroom, he found a Book of Psalms in the wall that belonged to the builder. All of this stoked my imagination about the past and hidden things awaiting discovery.
Above all, this project is about belonging and loss. I've always been a bit attracted to the macabre and the idea of an invisible curtain separating the physical world from the world of the dead. The making of these images was my vigil in the lead up to my mother's death. The curtain felt thinner. I wanted to make my mark and imprint on the light, smells and textures of this place that held my family and memories. I made thousands of images, sometimesblurring features to convey movement, tension and the lifting of the veil. I haunted rooms to secure my place in the pantheon of ghosts who came before me and those who will come after. I made my peace.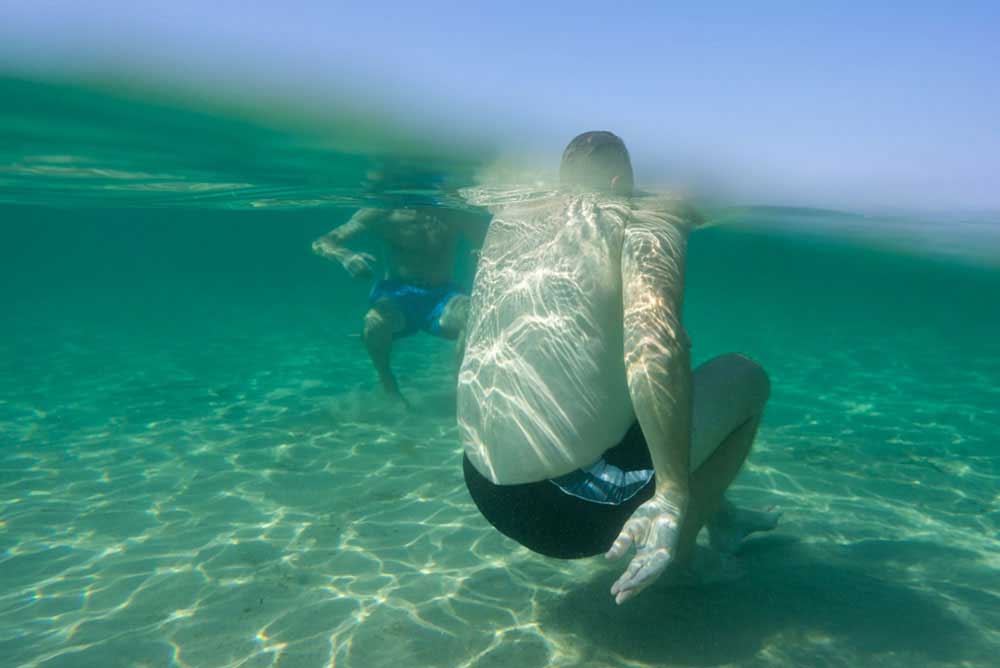 Your series Barumbara establish two options to our current situation worldwide: "inundated, we may thrive, or rebel, or turn inward, protective and feral. What position has you adopted and which would you advise our photographers and readers to take? The orange warm tones and lights in this series are mesmerizing, has this been the focus in the form for this image? Which is the key with respect to the form that you have looked for within Barumbara?
Ongoing crises, bad-actors and short-sighted policies wreak havoc in the world. I try to remember that being put off-balance also provides fertile ground for learning about myself and the world. When I move past anxiety or outrage, I strive to stay curious, educate myself and prioritize where to put my energies. When I feel impotent, I remember I am one of many and that somewhere between incrementalism and revolution there's a way forward.
I make most of these images in the middle of the night, compelled by the darkness and mixed color temperatures. I'm drawn to cool moonlight and the artificial glow of streets and interiors. Long exposure gives them their characteristic softness and intense warm palette. I want to evoke a sense of suspended animation, safe haven in the eye of a storm––awaiting resolution or retrenching for the next wave.
Thanks Ann for your revealing statements, your critical sense about what is important in life, and most of all for your beautiful and wakening series. You reminded me of something we should not forget about that is our priorities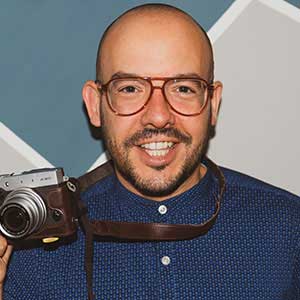 Seigar is a passionate travel, street, social-documentary, conceptual, and pop visual artist based in Tenerife, Spain. He feels obsessed with the pop culture that he shows in his works. He has explored photography, video art, writing, and collage. He writes for some media. His main inspirations are traveling and people. His aim as an artist is to tell tales with his camera, creating a continuous storyline from his trips and encounters. He is a philologist and works as a secondary school teacher. He is a self-taught visual artist, though he has done a two years course in advanced photography and one in cinema and television. His most ambitious projects so far are his Plastic People and Tales of a City. He has participated in several international exhibitions, festivals, and cultural events. His works have been featured in numerous publications worldwide. His last interests are documenting identity and spreading the message of the Latin phrase: Carpe Diem. Recently, he received the Rafael Ramos García International Photography Award. He shares art and culture in his blog: Pop Sonality.