Katharina Fitz was born in 1985 in Austria, currently working and living as a photographer in Berlin. Her photography is primarily concerned with urban sociology and social issues within her geographical and personal environment.
"It is important to follow a straight line and clear structures when creating a series, because this allows me to focus more closely on the subject matter."
There are two important components which reoccour throughout her photographic work: She is interested in the behaviour of people and their integration within urban and architectonic structures.
Secondly, there is a strong urge to use photography to document the present. Through the help of the photografic medium she captures places, professions and people in order to secure their visual existence. She develops a kind of collector's love towards her chosen subjects. [Official Website]
Urban Gardening "Tempelhof" (Winter/Autumn)
International Photography Awards 2013: 3rd place in Architecture – Other
Through her urban gardening project she has started to experiment with photography and discovered a tecnique which allows her to show vast but also small spaces exactly how she images them. Each picture consists of several hundred individual pictures taken from a height of three meters and then fused together into one single image. This "birds-eye view" changes the viewer's subjective perspective and places them in an objective and observational position. We have the feeling of controlling the situation and that everything appears to be orderly.
The end result will be a series of all four seasons.
Dornbirn Houses
International Photography Awards 2013: 2nd place in Architecture – Buildings
The photographs were taken in her hometown Dornbirn in Austria. In small cities such as Dornbirn, houses and gardens are very important for integration and acceptance within the neighbourhood, as well as reflecting the mentality of their residents.
Through their properties, the occupants are able to imply that their lives are in order and that they are living a bourgeois life.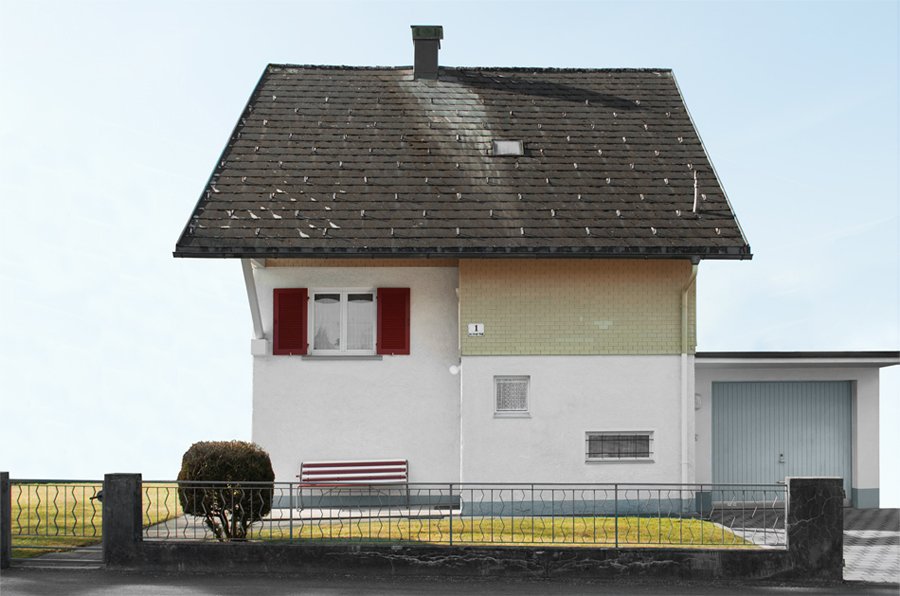 On-board Toilets
A collecion of various on-board toilets around Europe. The series is going to be expanded.
Le temps qui passe – Memories of a life
The series "le temps qui passe" depicts a last journey through the house of Janine Boyer, which she had to leave in 2013 due to her old age and Parkinson's disease.
Sentinel
Fascinated by the rigidity of their looks and their stoic and statuesque appearance, I have portrayed various types of sentries which can be found throughout Europe.
Once only the best soldier may reach to be at this prestigious position, in the early days where even penalized for sleeping while one's turn. Nowadays in some countries the sentries still fulfill the honorable position of guarding/ protecting lives or buildings, but in most cases the original function has changed it´s significance of being a simple tourist atraction.