GAJAN is a hindu folk festival celebrated mostly in the Indian state of West Bengal and is associated with the worship of Lord Shiva.
Gajan spans around a week starting from the last days of the month of Chaitra till the Bengali new year ( mid april); it ends with the Charak puja where several penance acts are performed by the Charak sanyasis (Ascetic).
During this festival of Gajan people dress up as cosmetic Shiva, Parvati, Kali, Krishna and other deities. Usually Rajbongshi clan of people are allowed to do such make ups/ makeovers. The Rajbongshi people also Known as 'Koch Rajbongshi' are largely an indigenous group of people inhabiting in northern Bengal, Assam and some parts of Bangladesh and may be associated with the Koch dynasty (1515 – 1949 ) of Assam & Bengal.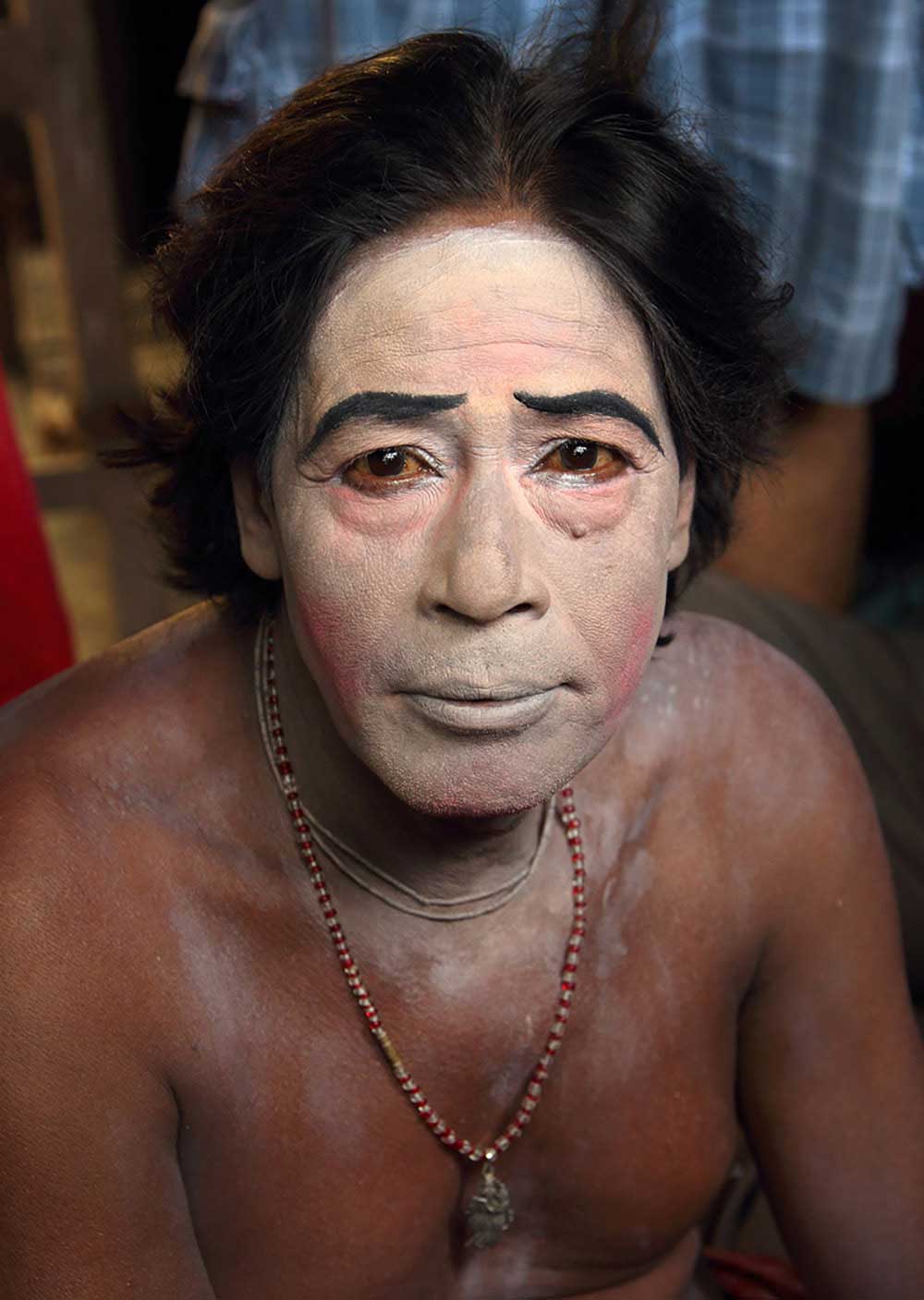 Meet Dinobondhu lal Rajbongshi, the fisherman from Krishnadebpur, a small village near Kalna in the Burdwan district of West Bengal. This is the festival time, the festival of Gajan and it's a change of profession for a week. He will be taking the form of Shiva ( the Hindu God) and will be performing/ dancing in small acts and plays to collect some money. It's a ritual and has been followed over hundred years…his fore fathers have been doing it and so he is, along with a few people and children of the Rajbongshi clan. This makeups will be continued for a week, each day with a fresh one.
Dinobondhu has a family of four and the entire family supports him in this ritual; his elder daughter takes the attire of Krishna and the younger son Raj is still very young as of now, maybe in the years to come he shall carry on the tradition like his father.
Abhishek Nandy, is a self taught amateur photographer from Jamshedpur, Jharkhand in India. He believes " there is a picture everywhere…its only about perception and observation."
Abhishek is into art photography with inclinations towards human interest and travel. He has been conferred with the honor EFIAP from the International federation of photographic art, FIAP, Belgium and is also a fellow of the federation of Indian photography. Abhishek is a regular exhibitor in international art salons and exhibitions worldwide.