Munich-born Sepp Werkmeister has over the course of the last decades made a name for himselfas one of Germany's leading jazz photographers. He created insightful black-and-white portraits ofall the greats, from Louis Armstrong and Ella Fitzgerald to Oscar Peterson and Miles Davis in Munich, Paris and New York as well as at international festivals. Werkmeister's photos adorn countless album covers, posters and books, not to mention many of Joachim-Ernst Behrendt's jazz publications.
Werkmeister's New York cityscapes of the 1960s and 1970s are still relatively unknown. They offer fascinating insights into the turbulent life of the Big Apple. At that time, the streets of New York were a stage for glaring social inequalities. Glamor often sat cheek by jowl with squalor. Class differences were openly displayed in street life, usually offering an accurate reflection of the racial divide of that time. Werkmeister penetrated the heart of this tough environment –one that was not always free of violence – and used his Rolleiflex camera to capture huge swathes of New York's urban society: trash, drifters and the homeless on the one hand, and wealthy urbanites sporting the latest fashions on the other. His photographs include a host of colorful characters, caught in unguarded moments, standing out from the anonymous mass. Werkmeister was especially alert to contrasts such as these, pointing his camera equally at the run-down tenements of the Bronx or Bowery and at the window displays of prestigious stores along Fifth Avenue. This jarring depiction of New York covers the entire range of street life, from gutted limos, alcoholics and junkies to stylish dandies strutting the boulevards like peacocks.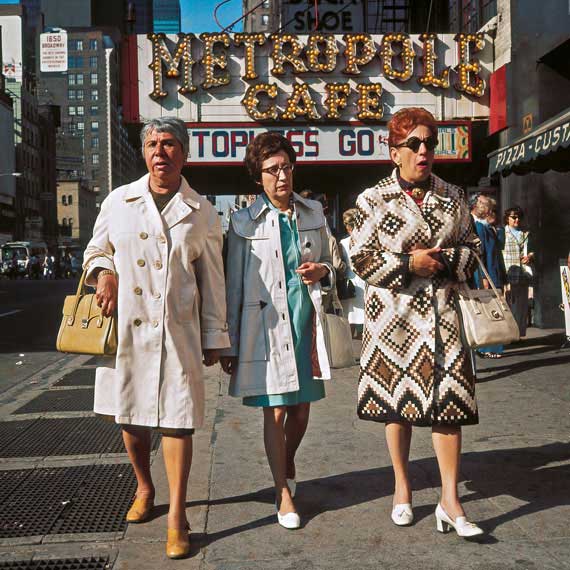 It was not easy for a white photographer to move around taking pictures in predominantly black neighborhoods, as Werkmeister recalls: "As a white guy, in some bars I just simply didn't get served. They didn't take any notice of me, they didn't even see me. I just didn't exist. I was, in a sense, invisible.". This gave him the freedom to observe what went on around him inconspicuously and record it with his camera. Werkmeister was free to produce atmospherically rich images and tap into people's authentic behaviors and feelings. These photographs place Sepp Werkmeister within a long-standing tradition of European and American street photography. Henri Cartier-Bresson, William Klein, Lisette Model, Weegee, Garry Winogrand, Thomas Hoepker and Vivian Maier, whose work has recently been discovered, are among the best-known chroniclers of this genre. Sepp Werkmeister certainly bears comparison with these leading photographers his New York pictures speak effortlessly for themselves, and represent a genuine discovery in the history of post-war photography. They are also unusual in the sense that Sepp Werkmeister was an early adopter of color, a decade before Stephen Shore and William Eggleston made color street photography internationally acceptable.
At that time Werkmeister was influenced notably by the color prints produced by the Austrian Magnum photographer Ernst Haas and by the uncompromising work of Diane Arbus. Werkmeister met Arbus in New York, and her personality made a lasting impression on him. In parallel with his photography, Sepp Werkmeister recorded city life with a Super 8 motion picture camera. Here too, we see similar motifs, reflecting the rhythm and dynamism of everyday life. "New York Life Lines" is an exhibit which includes a recently completed film about New York containing original footage by Sepp Werkmeister.
We are grateful to "Kulturkontor"for the rediscovery of this work and for enabling us to make a worthwhile journey back in time to the New York of the 1960s and 1970s. The association has worked extremely hard to ensure that Sepp Werkmeister's film now reaches a wider audience.
The exhibition is accompanied by a catalogue (bilingual in English/German) with contributions by Fritz J. Raddatz and Ulrich Pohlmann, published by Hirmer Verlag, Munich.
July 31 – September 27, 2015
Münchner Stadtmuseum
St.-Jakobs-Platz 1
80331 München
www.muenchner-stadtmuseum.de