Exhibition: Emmanuelle Bousquet, Ville Kansanen, Arno Minkkinen
Self portraits are long known to be one of the favourite visual motifs for artists. Since the 1960s photographers started to dedicate their work towards the subject of self-questioning images.
Lots of artist around the world ask themselves, whether contemporary art and photography are still able to capture and model the specific personality of an individual, as it has become an immense impact for the youth as well as the older generation to take a tremendous amount of "Selfies" every day.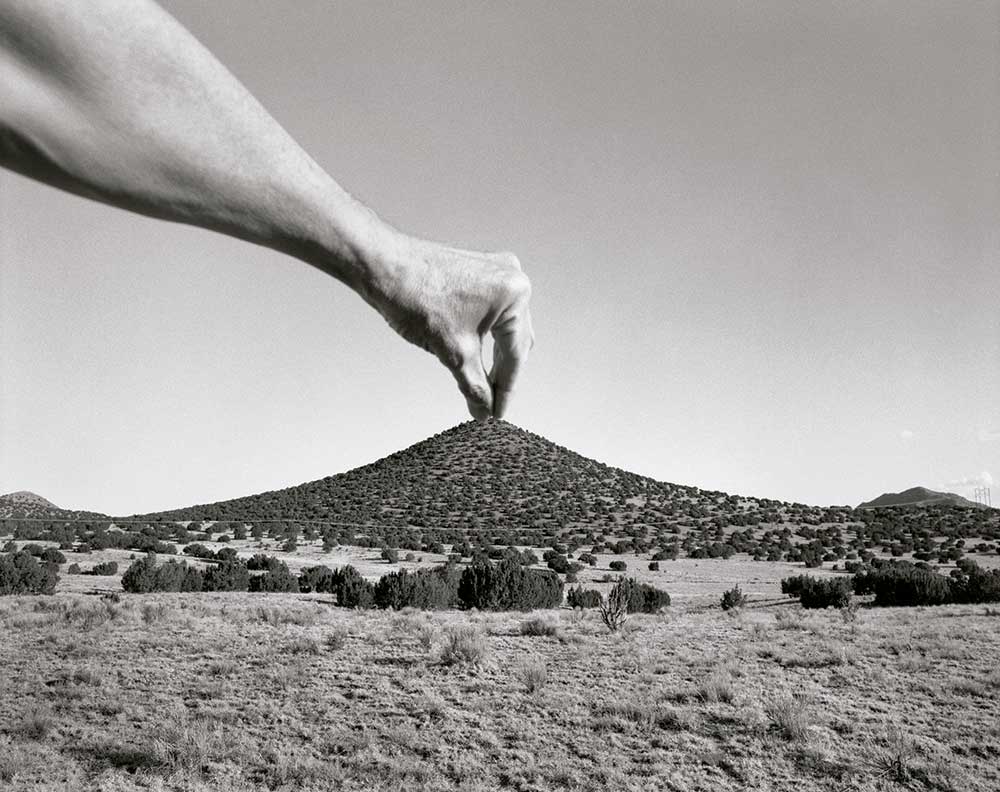 Taking this question into account the exhibition of the in focus Gallery "Self portrait as a Concept" is mainly concentrating on three artist, which have developed a quite unique style in the strategy of their presentation as well as the staging of their own ego.
To establish a certain "handwriting", artists need to bring along talent, creative ideas, perseverance and a good sense for the medium. In order to develop an own style, it is necessary for the photographer to create pictures that clearly represent his or her own intentions. For this, he caused a work that service his own inspiration and recognition. Furthermore it can be a revelation for others.
Emmanuelle Bousquet, Ville Kansanen and Arno Rafael Minkkinen both photographers and artists, follow clear concepts with different tendencies. All three of them developed their own style with remarkable results.
Arno Rafel Minkkinen, (*1954, Finnish photographer, lives and works in the USA)
Over 40 years now the Finnish-American artist Arno Rafael Minkkinnen uses his own body to create a surrealist appearance of men and nature. For this exhibition the in focus Gallery shows a various amount of his striking nature and body studies. He is an absolute expert in forming an original and amusing black and white photography of the interaction of men and nature. It is the play with shapes and size relations that has fascinated A.R. Minkkinnen for decades.
He received his Master of Fine Arts (MFA) in Photography at the Rhode Island School of Design, is currently working as a professor for art at the university of Massachusetts, Lowell and teaches at the Aalto university in Helsinki. Besides that Arno Rafael Minkkinen operates in the function of a curator and essayist. His self portraits are present to an international audience by numerous books, journals, lectures and 100 solo exhibtion around the globe. In 2006 he received the "Finnish National Art Prize in Photography", 2013 the "Luice Award for Achievement in Fine Art", followed by the "John Guggenheim Memorial Foundation Fellowship" in 2015. A.R. Minkkinnen is represented in many important museum collections worldwide.
Ville Kansanen (*1984, Espoo, Finland, lives and works in San Francisco)
In focus presents the young artist Ville Kansanen, who is still largely unknown in Germany, with his latest series "The Procession of Spectres" from 2015.
The images create a stunning tension between majestic landscapes, surreal structures, the artist's self, and a noble silence.
The work of Ville Kansanen confronts the viewer with an apparent infinity and the overpowering of a primitive, boundless nature. Nature becomes a projection surface for reflections on the human condition, in order to revive an emotional relationship between these two entities.
The sense of loneliness and isolation that the pictures radiate, however, do not point to desperation, but rather resolution in a comforting melancholy.
Ville Kansanen has exhibited in various group exhibitions in New York, Los Angeles, New Orleans, San Diego, Lexington, Fort Collins, London, Berlin and Japan. His work was recognized with the Lucie Award for Discovery of the Year and the International Photography Award as Fine Art Photographer of the Year in 2015.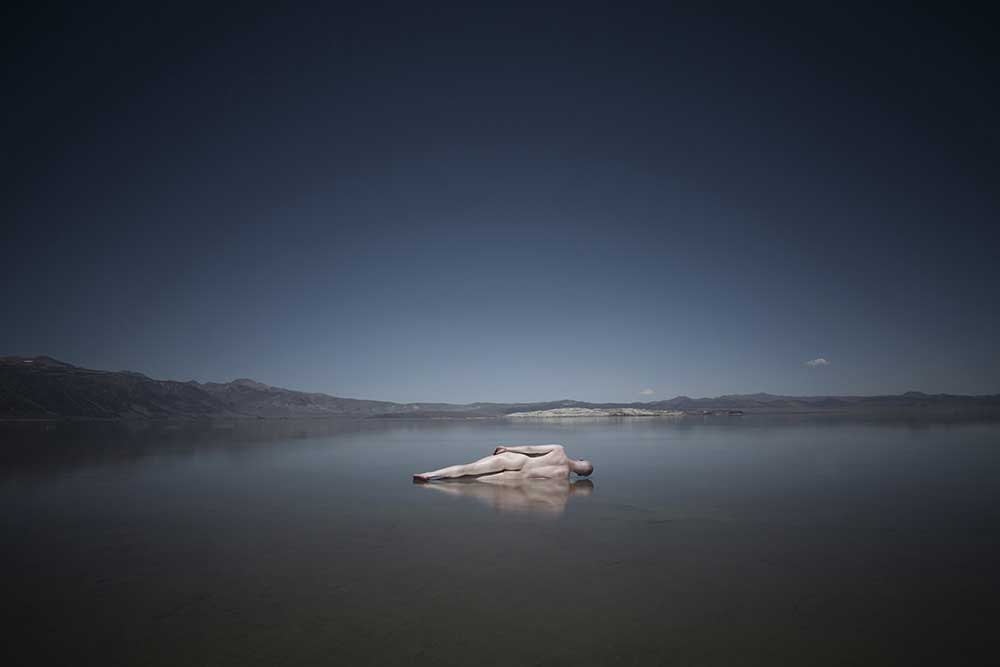 Besides the centralization of the physical and symbolic body many female photographers are playing with conceptions of gender and the questions about their own identity. How do you want to represent your own female body in front of the camera? Which norms and rules are connected to it? Emmanuelle Bousquet (lives and works in Paris) explores these questions in her work. In this here shown series "Illusions" from 2010 she poses and photographs herself in different roles with changing characters.
Yes, there is truly something troubling in these self-portraits.
Something that, eerily, has something to do with a certain violence: "Turn on the light. Don't leave me alone in the dark." In this exchange between the one who looks at herself, the one who looks at us, and the one who we were looking at, we can clearly see the work of seduction, and this would already be sufficient in order to construct an intriguing series of formal beauty, but we can also, in each fold, in every suspended gesture, hear the whispered secrets of a child, an adolescent, a young woman.
To photograph oneself is to put oneself in danger. Extremely constructed, her portraits also, paradoxically, speak of the need to let go.
Emmanuelle Bousquet immerses the spectators into a conscious state of dreaming and her photographies seem to tell their stories with a barely perceptibly whisper.
After she finished her diploma at the school of journalism in Paris, Emmanuelle Bousquet visited the UCLA in Los Angeles and completed a programme at the SPEOS Photography Institute in Paris. 2004 she met the photographer Antoine d'Agata, who advised her to deepen her work in the sector of self portraits. "Being my own model allows me to control each photograph, to become one with it. This doesn't mean showing off or glorifying myself, but rather it's about finding a way to express what I'm made of, my body being my mind's instrument." As a result we receive an aesthetic and symbolic concept of self-staging, which became an essential characteristic of her own individual photographic style.
In Focus Galerie
November 8 – December 22, 2016
Hauptstrasse 114 . 50996 Köln