Since a young woman I have been documenting myself through self-portraiture. It wasn't just showing myself – it was knowing and self-discovery – an interaction between me and myself.
I've experienced a number of emotional breakthroughs examining myself with my cameras. The use of a SX-70 with Color Polaroid film started in the late 1970's.  I was an admirer of Yukio Mishima who made his health stronger with an oriental exercise practice after illness. The Japanese photographer, Eikoh Hosoe, collaborated with him on a series of photographs. I shot myself with a French beret to identify myself as an artist and then holding an image of Mishima wearing a Japanese coat, I made a second self-portrait to connect me to the image's vibrant awareness.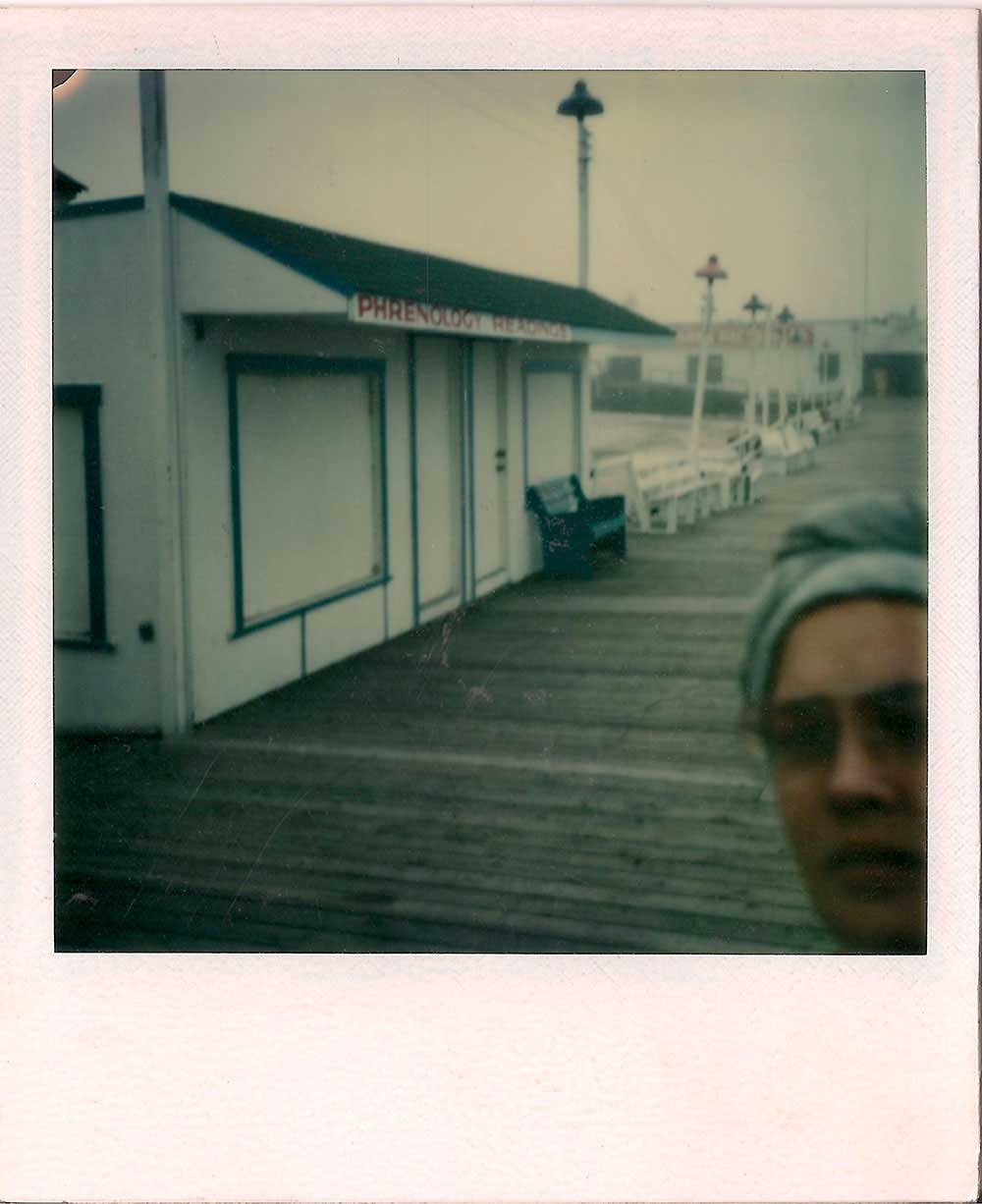 I was conflicted about my identity as I wanted to live a Bohemian life yet continue to be recognized for modeling and the good looks that brought income and opportunities.  The uniform of black clothes, sneakers and ball caps ruled in the 80's art world and my feminine style and charm became a stifling hindrance.  Little Miss Point Pleasant runner up, queen of freshman and sophomore proms, Miss Ocean County Fair, groomed for Miss America, didn't fit in. I had begun to establish a place in the art and photo teaching world at Otis/Parsons, in Los Angeles and took a class in performance art with Rachel Rosenthal, to be prodded to take more risk. I always had my hair long and decided to get a buzz cut.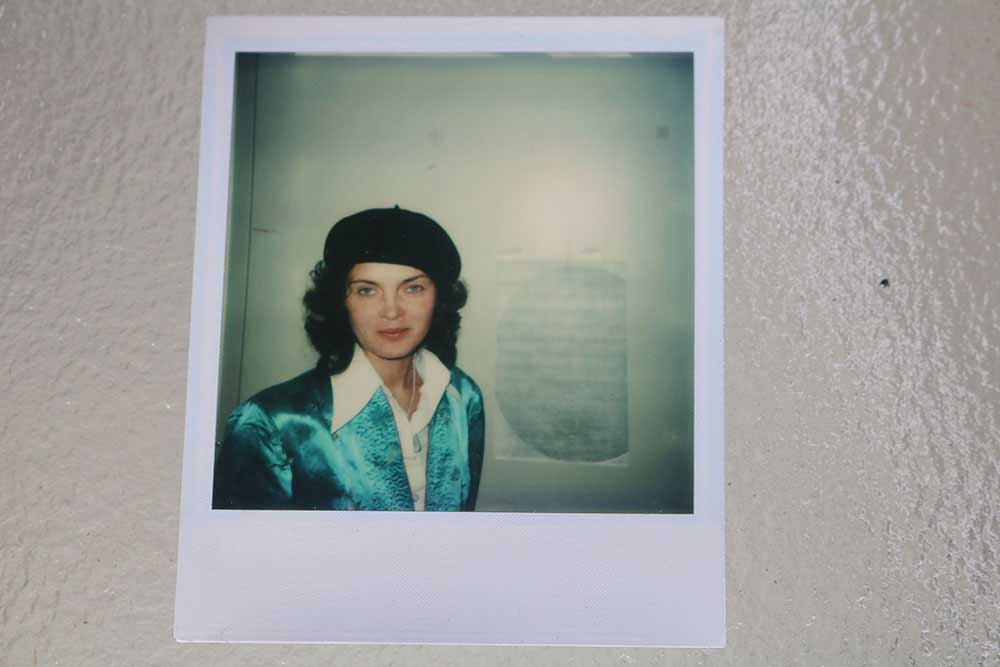 The result was surprising and I reached for my camera and then scratching and remaking my image on the Polaroid's malleable surface. I wanted to distort my pretty face to find a new self.   This film's properties let me penetrate it with a match and pen point to further explore interior longings. Seeing the effects such as dents and bubbles, is transforming.  I gained some distance from my visual look that had at one time sustained me.  I gained new control. Living in Hollywood on the same street as the photographer, Robert Frank when he was in town I sometimes imagined his shadow hovering though I never saw him. His road trip images beckoned me to find my own map. I made myself into a woman with an aura over my head, totally removed my face at one point, and crumbled the plastic surface of a self-portrait  expressing the void I was feeling during my divorce. . Experiments with Polaroid offered an imprint, a fissure, and a moment of exchange.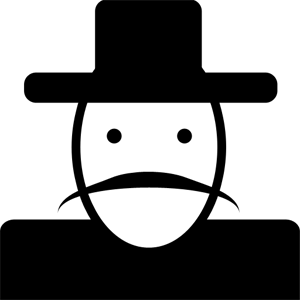 Linda Troeller's books and exhibitions focus on women, sexuality, community. Living in the Chelsea Hotel, Schiffer, 2015 won an IPA Book Award, 2016 and she had an exhibition at Leica Gallery Los Angeles, 2019 with updated shoots. One image debuted at the National Soho Group Photo Exhibition, New York March 2021. An excerpt of "Self-Reflection," was exhibited at Griffin Museum, 2018. Her book with interviews with Marion Schneider, Erotic Lives of Women, Scalo, 1998 was reviewed as one of the "most gutsy and imaginative books of the decade," NYTimes. Daylight published, Orgasm, 2014 was also printed in German with a European book tour. Troeller's house caught fire on Easter 2016 and she escaped but with the home destroyed along with much of her archive. She received grants to re-photograph valued images which were a focus in her 2019 "NY-Apolda" retrospective. She has won many awards including Woman of Achievement , Douglass College for her TB-AIDS DIARY, photo-collages in Color Polaroid that helped prevent discriminative stamping of HIV in passports and now is part of the 50 Years of Photography Show at The Photographer's Gallery, London, 2021 and her newest work will be featured in Salzburg's Fotohof's 40th Anniversary, November 2021.