Bob Avakian and his wife Gail visited Martha's Vineyard for the summer in 1973 and it has been home ever since. Trained in architecture, engineering and building, for years he has worked in the construction field as a custom homebuilder.
After finding himself in management, removed from the satisfaction of hands-on involvement, he turned to photography as a means of self-expression. "In the early 70's I took a photography class as an art elective while in college. Soon after, I moved to Martha's Vineyard. I still had my camera but going from NYC to a quiet Island was a big change and street photography was too intimate on a small island, so the camera got put away except for taking photos of family and friends.  A few years ago I took a workshop in architectural photography and it was at that moment that my passion for photography was rekindled"
As his photographic vision has evolved he has been drawn to the natural landscape and an exploration of night photography.  "Night photography is my main focus," he explains. "I love low light situations. You get an altered reality, something that goes beyond what you remember in a scene. It takes on a painterly quality."  A common thread in Bob's work is the element of mystery.  He drives around the Island, he explains, searching for isolated scenes that contain an unusual light source or another mysterious quality. "I photograph the landscape at night and at dawn. The camera captures the frames as stills, freezing time, regardless of the length of the exposure, and creating an image different from what the eye perceives. I like to believe that these resulting images are from a moment suspended between night and day.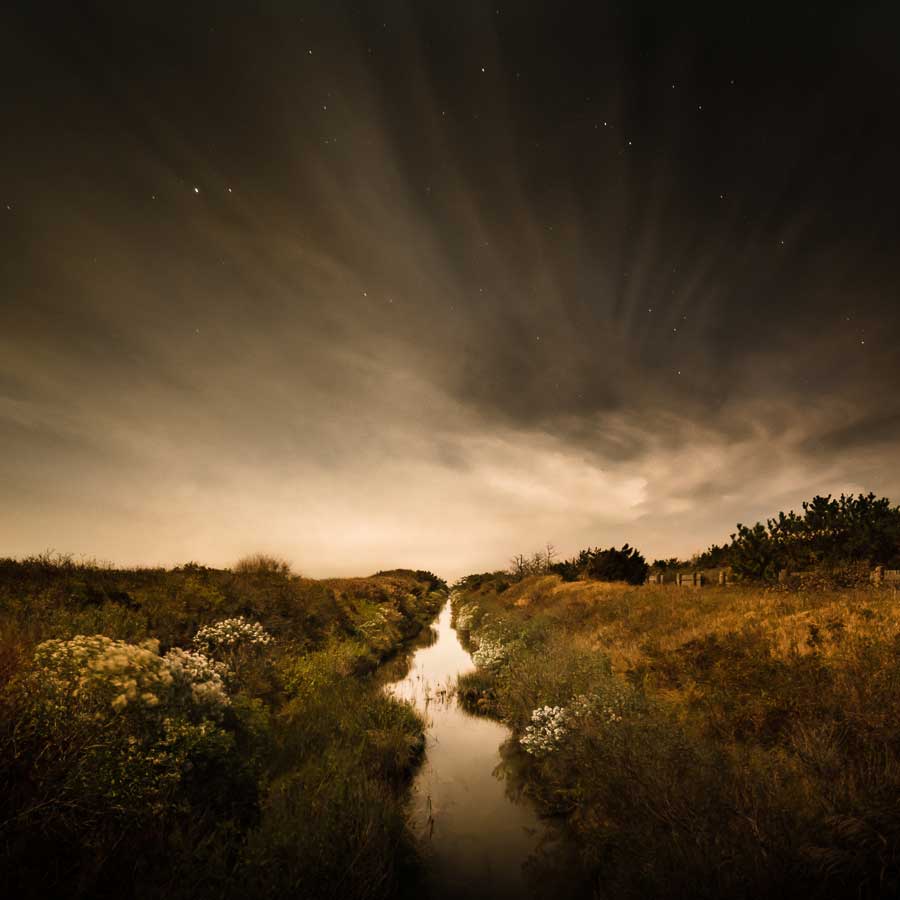 The camera allows me to see my surroundings with new eyes. Out at night, alone, the day's cares recede and the sense of time fades. Allowing a heightened awareness to take over, I direct my attention to conveying the quiet and solitude of the night. It is this shift in attention, I believe, that allows me to experience the moment with a different vision.
My exposure and printing decisions enable me to take the surroundings I know so well and present them, as they have not been seen before. What fascinates me about this process is that magical element of surprise. I venture out in search of scenes that contain an unknown light source of have some other mysterious quality. Of course there are times when I don't find anything. Since the night sets the stage, I never know where I will wind up. It reminds me so much of life."
William Baczek of William Baczek Fine Arts said about Bob's work:
"Avakian allows the camera to use the "real" world to present us something that doesn't really exist so that a new world becomes revealed".  And Vicki Goldberg, Photography Critic and Author, said: "Avakian, purposely exceeding the outer limits of photography's faithfulness to nature, produces a vision of earth that is even lovelier than the landscape that we know."
Bob has recently been the recipient of numerous awards.  In the 2014 Neutral Density Photography Awards his night photography was awarded first place. In 2013 he was selected as a Photolucida Critical Mass top 50 photographer and also won second place in the International Photography Awards, Night Photography category.
His photos have been featured in Aline Smithson's, "Lenscratch"; in Wilson Cummer's New Landscape Photography blog and on the popular photo site Peta Pixel.  Bob shows his work on Martha's Vineyard at The Granary Gallery and in Boston The 555 Gallery represents him.  His work is in the collection of The Boston Athenaeum and the Martha's Vineyard Hospital's permanent art collection. [Official Website]