"Money rules the world, just money- I said! Who creates other idols,  in race of life is lost"
Actually, these lines should be enough to describe Kostya Smolyaninov's work from the "Christian" series. I look at the picture where a girl is praying to the Nike sneakers and I am constantly asking myself how come these two parallel worlds can peacefully coexist? The bus is inundated with faulty language, clouds of alcohol emissions, mixed up with cheap fragrances and sweat, chanson music, state symbols and plastic shrine.
But we need to get home somehow. Thus it is possible to bear even more in sake of a bigger aim. Certainly, many pictures from this series are out of the real context and are installed into a new space – subjective, profitable for the author. What is a proportion between actuality and artistic speculation? In the end, in order to understand that something is wrong on the streets, you do not need to devote a lifetime to disclose the conspiracy theories, or install a surveillance camera in the toilet of a monastery. Just crop the objective reality is quite enough. – by Oleg Syslenko, artist –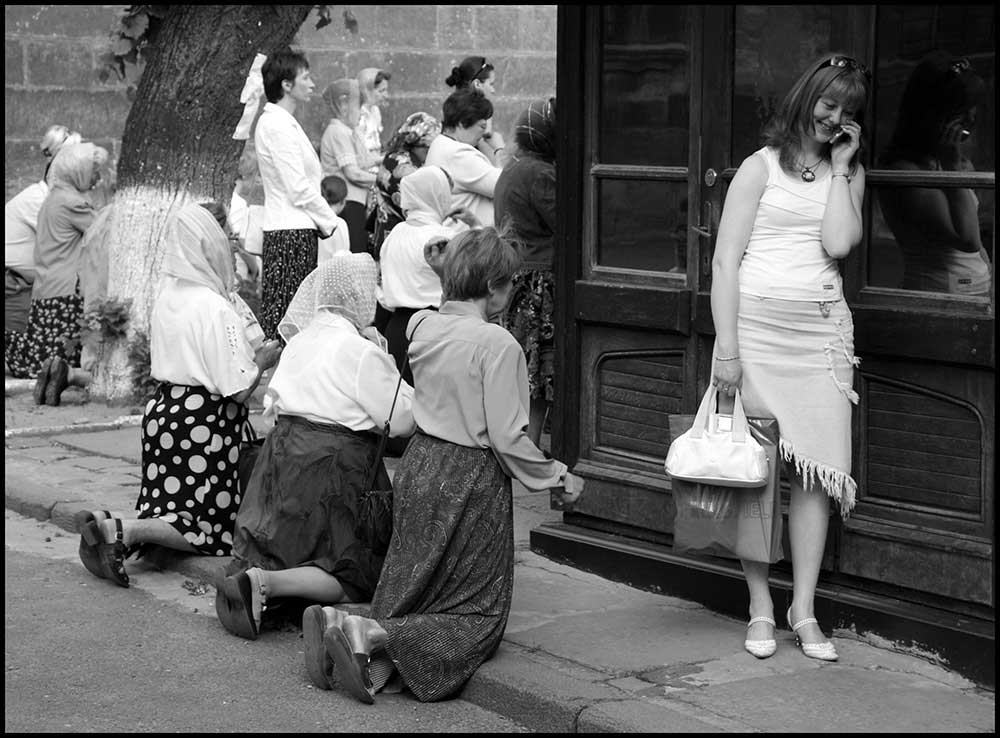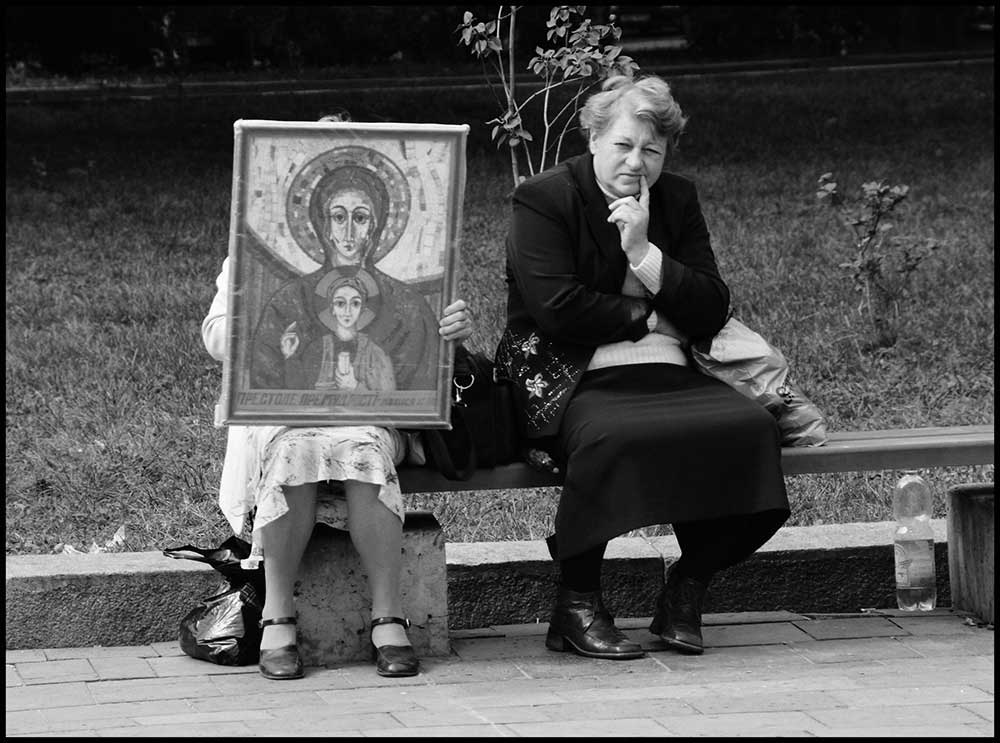 Person often makes something deeply personal public. One, for instance, can passionately and hysterically demonstrate a special attitude to God. Streets are stuffed with religious attributes, symbols, signs that are represented simply as goods.  But the streets are full of people indifferent to God, or peacefully carrying the faith in their hearts. Many spectacular dissonances emerge, engendering magnificent compositions and mise en scene.
Mood, smell and color of the streets blend: sorrow and happiness, aloofness and curiosity, frantic glitter in the eyes and dark hollows, sweat and incense, trash smell and candle refuse, black and white, gray and grayer. Smolyaninov has chosen a complex edge of the street life – an improvised theatre with only two viewers: a photographer and God. Both are playing looking for lies and truth, sincerity and hypocrisy. Believing in God makes one free from two possible evils: boredom and need. Kostya captures these acts with the camera, creating ironical accentuations.
There are no arrows on Kostya's clock. He lives in an ancient city, visits other ancient cities, where street life is frozen throughout time, barely being formally transformed. Smolyaninov pictures have one very important characteristic: they capture fractions of a second and the whole centuries back and forth. – by Alexander Lyapin, photographer [Official Website]