Experience the journey of Anik Rahman, as he walks through life and immerses himself into humanitarian stories both inside and outside the borders of Bangladesh through his solo exhibition, "Minors of Human" at Winter Meet Up by MIB from the 5th to the 14th of January, 2016.
"Minors of Human" is a reflection of the numerous encounters Anik Rahman has had within his photographic journey with individuals who are directly expressed minorities or implied as minorities if not in various lands, communities and circumstances.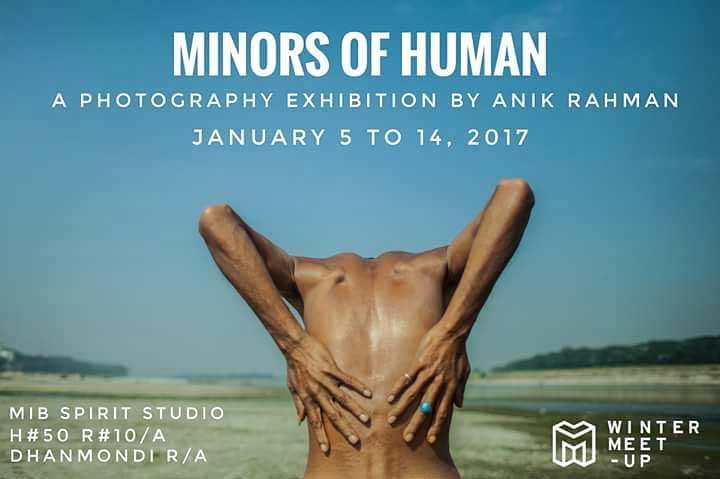 About Anik Rahman
Anik Rahman is a Bangladeshi Photojournalist based in Dhaka, Bangladesh. He was born in 1988 at Dhaka, Bangladesh. Being a citizen of a 3rd world country he have been experiencing the struggle, pain and suffering from his childhood. Resulting he have a great interest on humanitarian stories. At November 2012 he took his camera to document the stories around him.
At the end of 2013 he started working on the victims of political violence of Bangladesh. He named the story "Puppet Show" which have been published, exhibited and awarded internationally. While working with the victims he have decided to continue his life as a photojournalist. Beside human rights issue he have worked on environmental challenge and ferry capsizing of Bangladesh. At 2015 he have worked on the earthquake of Nepal. He also loves to shoot religious and cultural events.
He have worked for many news agencies, magazines and NGO's such as Agence France-Presse, Nur Photo Agency, Zuma Press, Redux Pictures, Vice News, SOS (Nepal & Belgium), Izel, IHS and Asha. His works have been published in Wall Street Journal, The Gurdian, The Sunday Times, Vice News, Wired, National Geographic Magazine, Dodho Magazine, Art Photo Feature, Private Magazine, Documentary Photo Review, The Quiet American, France TV and The Daily Star. His works have been exhibited in Bangladesh, India, France, Belgium, Netherlands, Serbia, Bulgaria, UK and USA.
MIB Spirit Studio
5th – 14th January, 2016
House 50, Road 10/A , Dhanmondi, 1209 Daca