With an ever increasing number of vehicles driving around the country, the quality of our road network constantly needs to be maintained and improved. Add to that the damage caused by 'extreme and treacherous' weather. We all know how we get when the work isn't carried out, moaning about tyre damage due to pot holes, potential crashes due to unclear road markings.
Yet then when the work is carried out, people's frustration really kicks in; blocked lanes, closed roads, traffic queues. What a nuisance! However, do we ever consider the risks faced by the road construction workers that get out on our roads in all conditions, working to make these improvements, the high level of emissions they're exposed to from close proximity vehicles or from the equipment they have to work with? Recently I happened to visit one of a road construction site in the outskirts of my hometown and tried to document their working conditions.
The Road Workers are some of the poorest and most marginalized sections of society. In India, they are mostly migrants from remote villages, often are less educated and not cautious about different preventive measures. The workers are recruited from villages by contractors who employ them for the projects. The contractors are responsible for accommodation, transport to and from the site, and decide their pay and working conditions.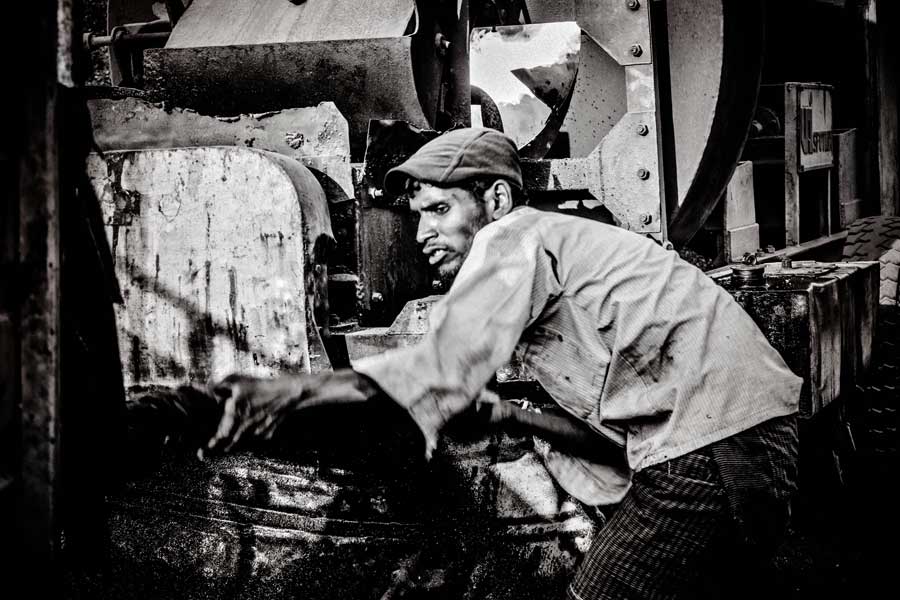 The road construction workers pave and maintain roads and other surfaces such as runways, parking areas and pathways. Their work involves removal of topsoil from road areas, lay bitumen and concrete, apply gravel, stone chips or asphalt to tar surfaces, dig up road surfaces to lay cables or pipes, and compact and smooth road surfaces. Besides, they also construct and dismantle safety barricades around work sites, direct traffic through the areas, clean work areas, and load and unload equipment into and out of vehicles. They need physical fitness, strength and stamina and also need good hand-eye co-ordination. They are required to work outdoors in all kinds of weather.
Workers use a range of specialist road working equipment such as rollers, paving machines and drills, as well as shovels, rakes and specialised surveying equipment. They work with materials such as bitumen, concrete and gravel, and used heavy vehicles such as trucks, graders and bulldozers. They handle the heavy machinery, clean and maintain the equipment to ensure its functionality, move and adjust controls to activate equipment and drive and maneuverer machines.
"I have learnt the skills on the job from more experienced operators here. I usually work regular hours, but at times required to work at night to reduce the impact on traffic conditions." – remarked a construction worker at the site
Conditions may be hazardous and workers are often required to work within strict safety guidelines. The wage structure of the road construction labour is also found inadequate considering their labour. Women labourers are often paid less than men for the same work. Majority of unskilled labourers get a wage between 170-225 rupees per day.
"Many of us work in nearby tea garden where we earn a meagre 120 rs/day but here we can earn upto 225 rupees per day. Female workers are paid 170 rs/day. But our concern is that the work in this site will be completed in one month time and after that we have to go back to the tea garden work with lesser pay."- Sukdeo Murmu, a labour at the construction site. "Our body is our only asset. Safety and health is a big issue. If we are sick or injured and can't work, we lose money." – he further added.
These road workers are at a greater risk of developing certain health disorders and sickness as they are exposed to multiple physical, chemical and biological agents, which make them vulnerable to various health problems that include injuries, respiratory problems, dermatitis, musculo-skeletal disorders and gastro-intestinal diseases. The work is hard physical labour, often under difficult conditions like adverse weather conditions and the nature of work, hours of work, low pay, and poor living conditions with lack of basic amenities and separation from family, lack of job security and lack of access to occupational health services make the situation worse.
Due to ergonomic issues they are also vulnerable to degenerative disorders. If the workers are female, the problems at work site and while commuting gets compounded and multiplied. More so if they have small children. There is no system at all to take care of these children at work site. Women labourers have to look after the food and home in addition to their regular work. Most women come with their husbands, and often with their infant children who are seen playing amongst the piles of sand and gravel as their parents labour under the blazing summer sun.
Sukdeo Murmu, a 60 years old worker and the eldest among the workers, smiles innocently "Pet ka sawaal hai ji! Hum log kya kare?" he says. 'It's about the stomach. What can we do?'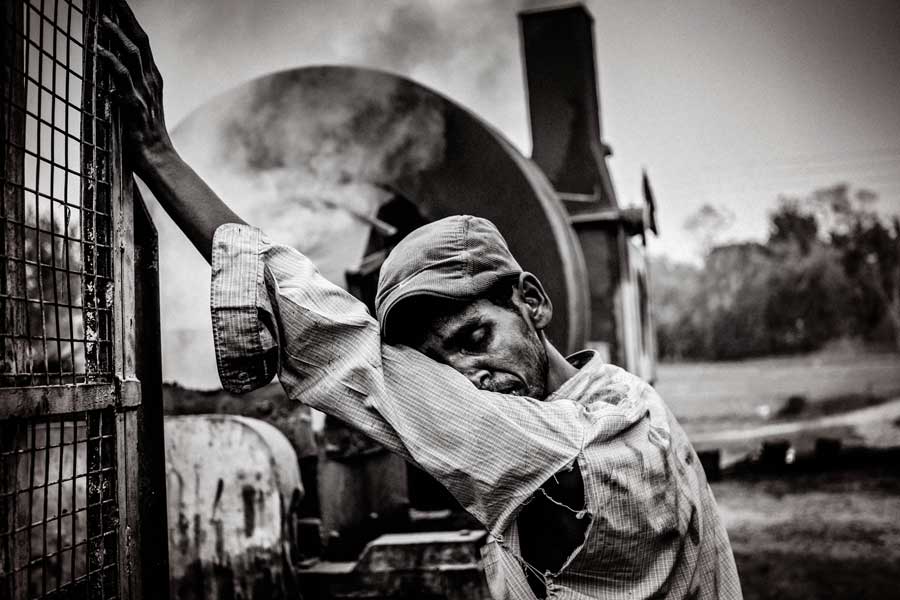 About Amlan Sanyal
My name is Amlan Sanyal. I am a teacher by profession and a freelance documentary photographer based in Siliguri, a small town in sub-Himalayan Bengal (India). I strive to capture storytelling-images as well as insightful, emotion provoking yet, realistic sort of frames. I love capturing the colorful glimpses of the daily life in India. Street Photography/Documentary is my favourite way of looking at the world and taking photographs gives me the power to stop time, appreciate the truth of the moment and question myself.
Some of my memorable achievements was winning the POTM in Epson Fotoflock, publications in National Geographic Magazine, Showcase in Smart Photography Magazine, Asian Photography Magazine, PhotoPlus Magazine (UK), The DPhoto Inspiration & articles, 121clicks, 205dpi Magazine, few nominations at World Street Photography Awards and International digital salon acceptances. I have also received good placements and reviews in some competitions and my work has been published in various print and online magazines and blogs. I am also a contributor to Getty Images and National Geographic stock photography. But as a great success I consider recognition of people in social networks that follow and appreciate my work regular. Though a teacher by profession, I will always be a student when it comes to photography. [Official Website]