The fourth Jimei × Arles International Photo Festival will take place in Xiamen from 23 November 2018 to 2 January 2019.
Co-created in 2015 by pioneer Chinese photographer RongRong (founder of China's first ever photography museum Three Shadows Photography Art Centre) and Sam Stourdzé, the director of the world's most important international photo festival, Rencontres d'Arles (France), Jimei × Arles has grown to become an unmissable event for photo lovers in China in just three years, attracting more than 160,000 visitors (60,000 in 2017). During his first official visit to China in January 2018, French President Emmanuel Macron recognized Jimei × Arles festival as a unique example of Sino-French cultural cooperation.
Co-produced by Three Shadows Photography Art Centre and Xiamen's Jimei District – Tianxia Jimei Media, the festival's art direction is ensured by Bérénice Angremy and Victoria Jonathan, co-founders of cross-border art agency Doors 门艺. This year, the festival will boast 30 exhibitions and feature the work of 70 artists from the United States, France, Switzerland, Poland, Turkey, South Korea, Slovenia, and of course China.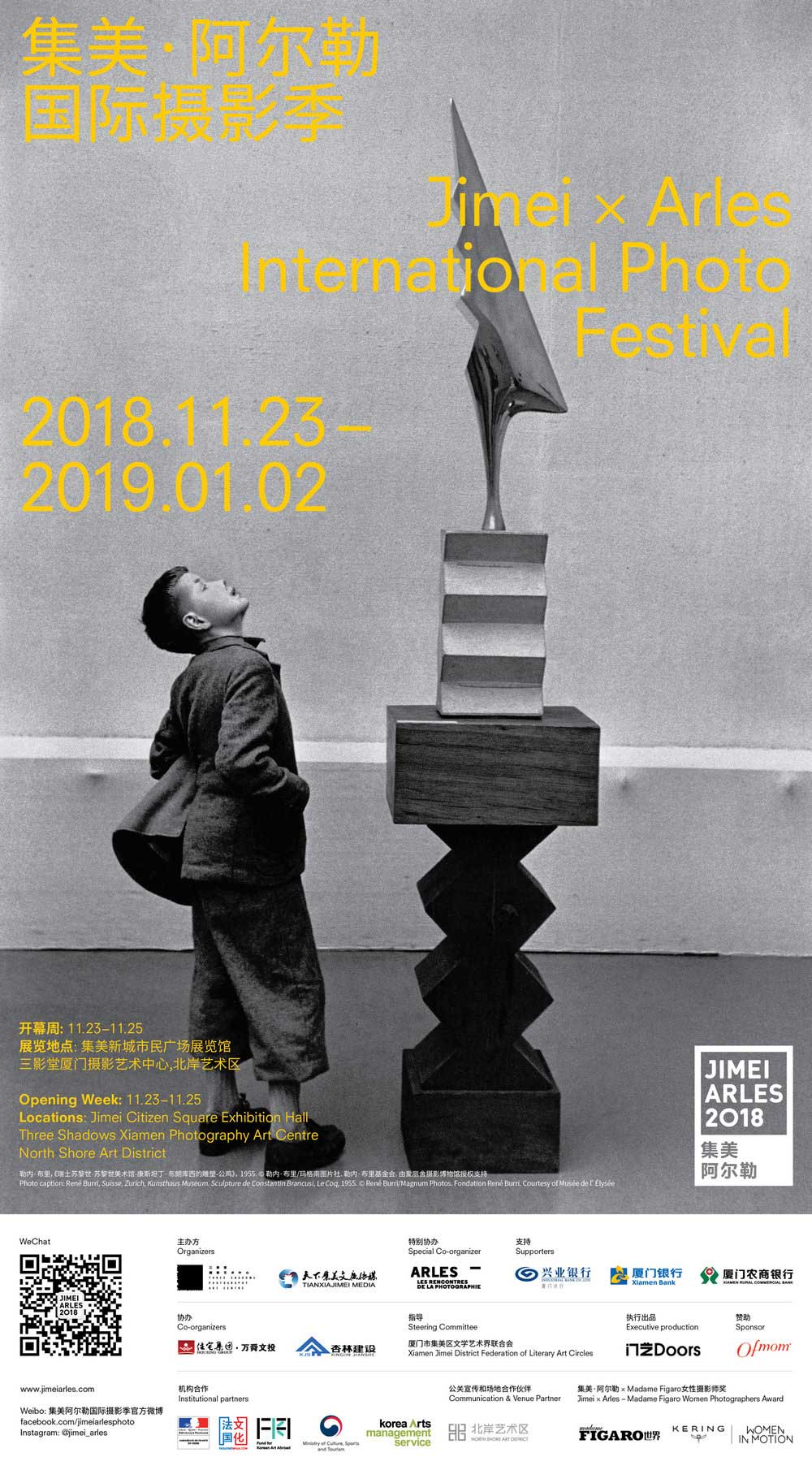 Photographers
Volkan Aslan / Kürşat Bayhan / René Burri / Sinem Dişli / Lim Eung-Sik / Nilbar Güreş / Matthieu Gafsou / CHIA-WEI HSU / Kim Jung Man / Korhan Karaoysal / Ali Kazma / Bohnchang Koo / LI Lang / Gap-Chul Lee / Feng Li / Yijun Liao (Pixy) / Desislava Şenay Martinova / Byung-hun Min / Matjaž Tančič / Ali Taptik / William Wegman / Shen Wei / Wiktoria Wojciechowska / CHEN Xiao / CHEN Xiao & others
Jimei x Arles International Photo Festival 2018
23 Nov 2018 – 2 Jan 2019
301 of No.467, XIn Ling Wan Road
Xiamen