OAK structure is based on multidisciplinary teamwork at the service of the story. Each project has specific needs, and the company seeks to employ the right professionals for each subject, either experts from other areas or local collaborators. [OAK Stories]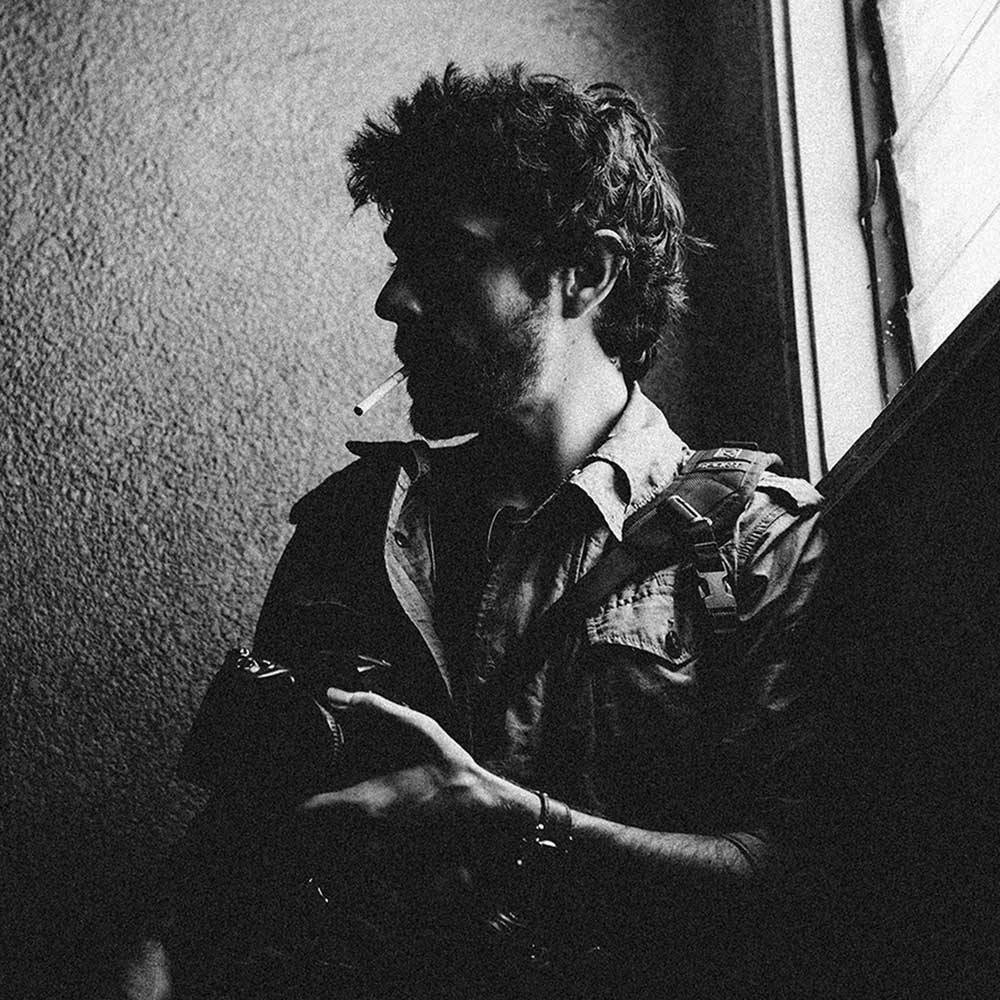 Javier Corso (1989) is a photographer, founder and director at OAK stories. His photographic work originates from the need to communicate about aspects of the human condition through means of local, smaller-scale stories.
He began working as a documentary photographer in 2011, publishing his photographs in media like TIME Lightbox, GEO magazine, VICE, PAPEL (El Mundo), El País, 7K magazine or Revista 5W. Among the cultural centers that have hosted and exhibited his projects The Cervantes Institute in New York, the Florida Museum of Photographic Arts and the International PHOTON Festival stand out. His documentary work has been recognized by the International PHOTON Festival (winner grant), Px3 – Prix de la Photographie Paris (bronze medal), Moscow International Foto Awards (third place) International Photography Awards (honorable mentions) and as a finalist of the World Reporter Award / European Photographer, among others.
Javier Corso started his studies as photographer at Institute of Photographic Studies of Catalonia (IEFC) in 2008. He coursed a Photojournalism Postgraduate at Autonomous University of Barcelona (UAB) in 2010 and he began his professional career working on national newspapers such as El Periódico de Catalunya or El País. He starts his activity in the world of cinema at Escola Superior de Cinema i Ausiovisuals de Catalunya (ESCAC) in 2012. Nowadays he is the leading figure of OAK stories, an agency composed by journalists and storytellers specialized in the development of documentary projects carried out by multidisciplinary teams. Javier Corso is based in Barcelona and combines his role in OAK with his work as a professor in different photographic centers and schools. [Official Website]
Can you please introduce yourself for those who don't know?
I am a freelance photographer based in Barcelona, Spain. I chose the documentary way in 2011 to discover different social contexts, people, faiths and conflicts cohabiting in our world. Since 2015, I lead OAK stories, an agency composed of journalists and storytellers specialized in the development of documentary projects.
Could you tell me a little bit about oak stories?
As the name suggests, OAK aims to bind its work to the robustness of the tree and the grandeur of its wood. As raw material, oak is used to manufacture casks wherein high quality products, that are produced with utter patience and care, mature until the very moment they ought to be presented to the audience.
On the moment of facing our projects, OAK relies on this philosophy. We are a company dedicated to the development of in-depth documentary projects, pursuing excellence in both informative quality and aesthetics. Our values revolve around the idea of journalistic rigor bound to an excellent visual product.
Could you tell me a little bit about oak stories and the team that stands behind it?
The structure of OAK is based on multidisciplinary teamwork. For every project we look for a photographer, cameraman and/or a journalist that is willing to immerse him or herself into the proposed subject. Each project has specific needs, and the company seeks to employ the right professionals for each subject. Whenever we do projects abroad we try to engage a local photographer, researcher, journalist, … to collaborate on the project. This way, we have access to necessary insight such as language, history and culture of a specific place.
The core of OAK is composed by Alex Rodal and myself. Alex is the man behind all of the research that is done in pre-production and during the project.
He investigates the different subjects and themes that are proposed and is also constantly on the lookout for interesting stories that we can pursue; I'm the Director and audiovisual coordinator of the projects.
What motivated you to start oak stories?
After finishing my studies, I worked for several media platforms. It has been a good learning school but I never felt it was a place for me to stay. I missed the immersive aspect of engaging in documentary or journalistic story-telling and to be honest, I was also tired of the prevailing mentality that you need to be an all-rounder and have knowledge and expertise in one too many fields. It is certainly useful to have a notion of different skills, but I believe that everybody has something in which they excel, and when I hand them over a task or a subject to work on, I am convinced they will present something worthwhile.
Our goal consists in executing each project with the utmost informative rigor and the highest audiovisual quality. This takes time. We fight against fast-food journalism making long term projects with exhaustive investigations and spending more than a couple of days on the ground.
what is the secret of making a documentary company successful?
The key is to surround yourself with a good team, with loyal and motivated people who do their very best. It is mandatory to share a similar vision of the process to develop a documentary project.
Looking towards the future, how do you see photo agencies in general, and oak stories specifically.
The big agencies will be bigger, because the mass media has fired many photographers in the era of the image. Print and online magazines need photographic content more than ever, but they can't pay for a correspondent on the ground. The classic news agencies cover this aspect. At OAK, we work as an agency for our own longterm projects. We try to fill in the gap of the other agencies that can't spend the needed time on the ground, focusing on a different kind of human stories beyond the breaking news.
How would you sum up documentary photography contemporary?
I have great appreciation for all kinds of photography. However, when we are talking about documentary stories I need to see a decent base of photography and research. Make sure that the photographs can live up to the context and make sure that the photographs convey a strong sense of belonging and understanding of the subject. I'm not served with text that lifts photographs up to a level not reached in the visual counterpart. If you use photography, think your work in photos. If you develop a documentary project, try to convey something with the pictures themselves.
What advice would you like to offer other artists that might help them learn to better promote and sell their work?
I would advice to not be shy and contact with editors, producers or curators from every magazine, newspaper, festival or TV channel where you want to see your work featured. Invest time, be patient but persuasive and develop a good database. 
Be generous and kind towards fellow photographers, you never know when you will need the help of your colleagues and I think it is our duty to take care of the relationships in our guild.
Are there any future projects you are excited about and would like to share with us?
OAK team is actually working on two new projects in Japan and Bolivia. Both projects are centered around ancient communities and how they live on in today's society. 

You can follow our ongoing projects in our website section called CASK; where we are, what we do and how we work. It is the place to follow our journey and see a project grow. The cask is where our projects mature until they reach their finest audiovisual quality and the utmost journalistic rigor. Only then do we consider having a true OAK story.
In closing, is there anything you would like to say about your agency, partners or team?
I want to recognize the hard work of our Chief Research Officer, Alex Rodal. He is the man behind every project, the name that doesn't appear in the publications, but whose contribution is essential to all our projects.