Magnus Hastings is a portrait photographer whose current series of large-scale photographs, and accompanying book, Why Drag?, focuses on the phenomenal artistry and counter-cultural spirit of the international drag scene.
Hastings' confrontational yet deeply beguiling portraits owe as much to his ability to collaborate with the highly individual denizens of a semi-hidden world as they do to his inimiatable eye and technical skills. He calls his approach 'guerilla photography,' shooting on the streets, driving around with a queen in his car until they find the perfect spot in which to create a story, using found objects as props.
'Or if I have a specific idea, I cast the queen in my mind and invite her to come and play in my studio. Drag queens are used to playing with masks, to hiding and revealing themselves, so they're much more relaxed in front of the camera than other subjects'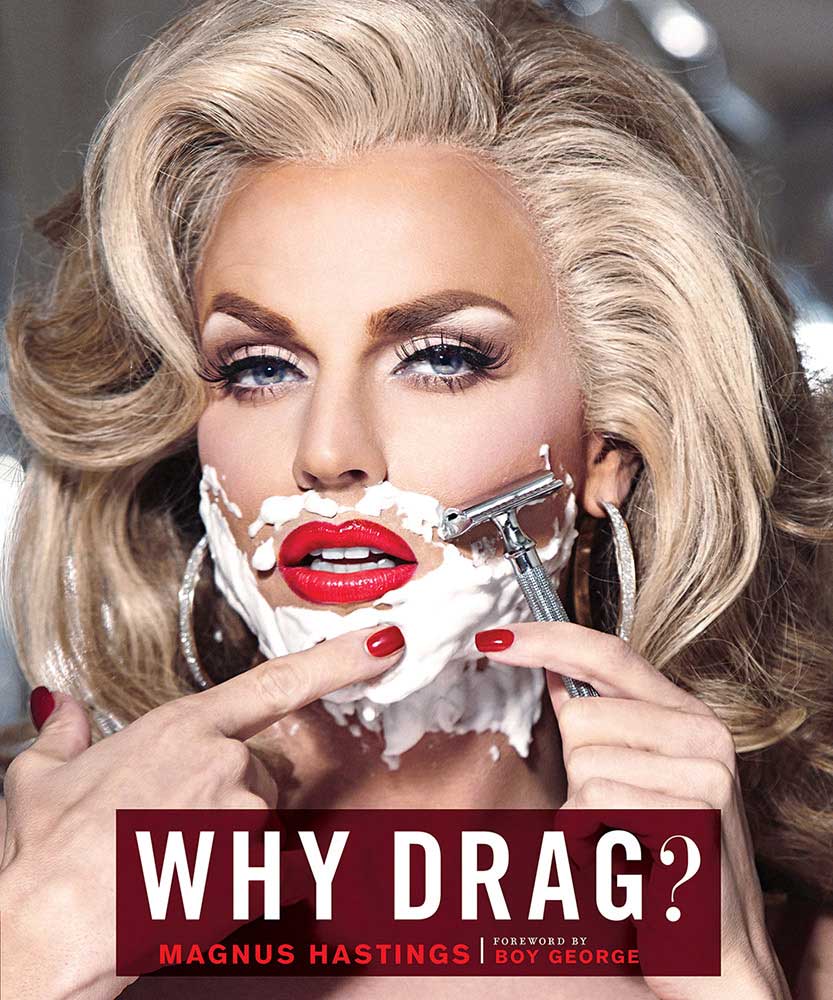 Hastings captures lives in which wit, honesty and courage fuel an exhilerating blend of visual intelligence and cultural acrobatics. He catches the energy and poignancy of his subjects by photographing them just after the expected moment, at 'the point of breath,' when they have dropped their guard are perhaps most themselves.
Drag's fearless mix of the aesthetic, political, sexual and emotional places it at the pinnacle of radical performance art. The quotes Hastings has elicited from his subjects, prompted by the question he asks each performer – Why Drag? – chart the profound changes that have taken place within the drag scene over the past decade and reflect changing attitudes in wider society.
While many of the mature queens talk about their need to seek an alternative culture, about fitting in somewhere and finding confidence as gay men, others cite their transformation as a source of power: drag queen as super-hero. Younger drag artists are more fluid, less attached to a single alter ego. They tend to view their bodies as canvases and their acts as a quest for creative freedom and an exploration of identity.
There is a danger, as it becomes increasingly mainstream and gains longed-for recognition for its stars, that drag will lose its edge. Hastings addresses this by seeking out those jaw-dropping performances and underground acts that lack the polish money and exposure bring. 'The San Francisco scene still has the punk rock, anti-establishment elements that drag came from,' he says, 'and we never want to lose those.'
About Magnus Hastings
Born in the UK, Hastings was was educated at the King Alfred School, London, followed by a foundation course at Chelsea School of Art and a drama degree at the Guildhall School of Music and Drama. As a young actor, he supported himself by taking headshots of friends for the UK casting directors' directory, Spotlight, and soon became a professional photographer, specialising in the celebrity and gay scenes. He shot covers for magazines Attitude, Bent, Boyz, QX and AXM as well photographing stories for GQ, People Magazine, Cosmpolitan Magazine (Italy), Glamour Magazine (UK), the Sunday Times magazine, the Observer magazine, Grazia (Holland) etc.
But it was the drag artists he encountered in London's Soho that proved his most riveting subjects and photographing them lead him to Sydney, in 2005, where the drag scene was ions ahead of the rest. While still niche, Sydney's drag artists were far from hidden; they were widely celebrated for their artistic freedom and experimental, risk-taking work.
'I had been a cross-dressing, doll-owning little boy until I was shamed out of it. Arriving in Sydney felt like coming home and I embraced the drag scene. I think I see drag through a drag queen's eyes, even though I don't dress up anymore; I still feel that I am a participant, not just an observer. The drag queens can sense this and they allowed me into to what is normally a very tough world to access.'
Hastings relocated to Los Angeles in 2011 and continued work on his drag queen series, travelling the country to discover the most innovative drag artists working today. He exhibited the Why Drag? series in New York in 2014 to much acclaim, and quickly secured a book deal with Chronicle Books . Hastings' reputation as the leader of the drag photography genre resulted in his guest appearance as 'Celebrity Photographer' on Ru Paul's Drag Race in 2015, and his book was published in 2016. Sir Elton John recently acquired 4 prints from Why Drag? for his renowned photography collection. [Official Website]
Why Drag?
by Magnus Hastings foreword by Boy George
published by Chronicle books
available EVERYWHERE