Yulia Artemyeva was born in Gorky (Nizhny Novgorod) in 1983. She completed a degree in Economics in 2006. In 2010, she was awarded a qualification in Art Photography by the Academy of International Collaboration in Moscow.
In 2015, she received the title of Excellence Artist of FIAP (EFIAP) from The International Federation of Photographic Art (FIAP, France). In 2016, she was taught by Elena Sukhoveeva (Russia). Her works have been exhibited at group exhibitions throughout Europe, North and South America and Asia. She is a winner and finalist of numerous international photography competitions and awards among which are FIAP exhibitions, IPA 2016, Portraits 2017 (The Center for Fine Art Photography). [Official Website] [Print Version] [Digital Version]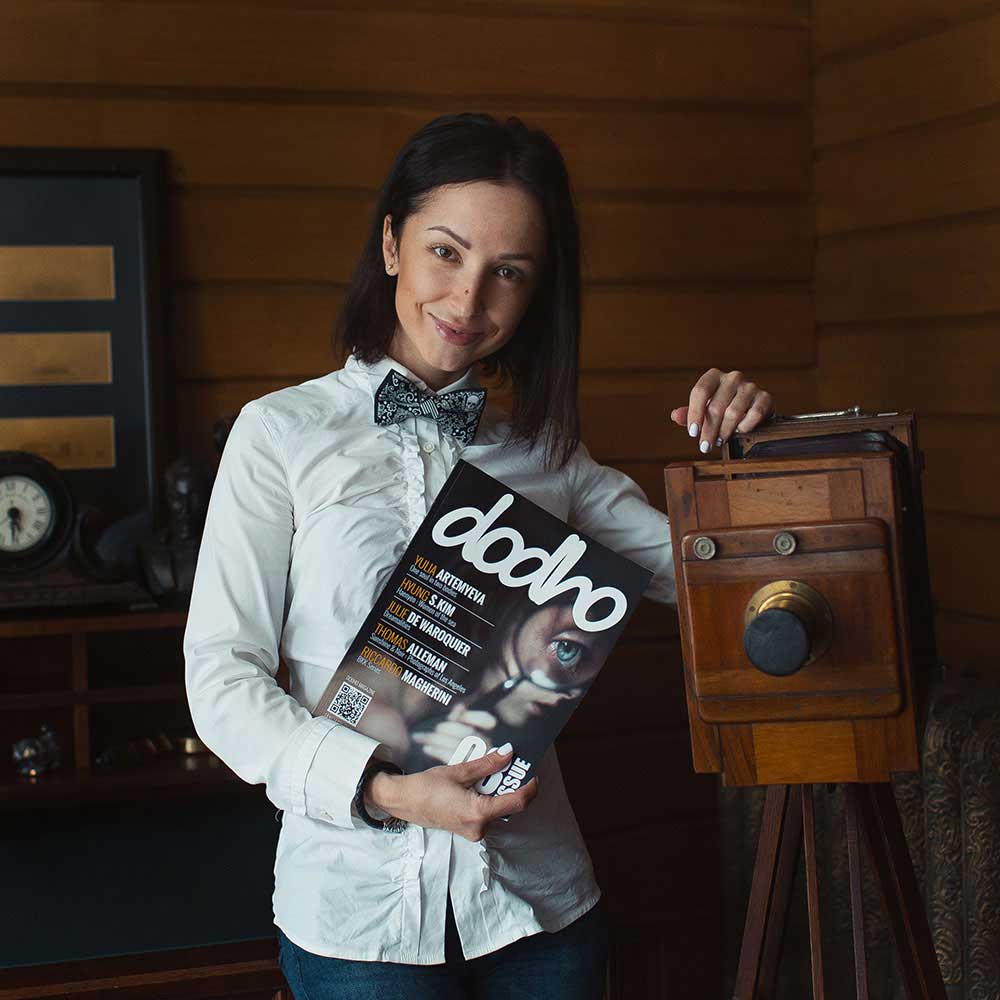 Can you tell a little about yourself?
I was born and raised in Russia. I have a degree in Economics. I've been doing photography for more than 7 years. During this period, I've gone a long way from a commercial photographer shooting children and families to art photography and exhibiting my works.
How did you get interested in photography?
I've always loved drawing and had a knack for creativity. I used to take lessons from a well-known artist, though my job was connected with analytics in a big company. But life alters our plans, and sometimes definitely to the better. My complicated pregnancy changed my life. I had to leave my job as an economist because of health reasons. At that moment my husband gave me my first simple camera, and I started to study it and take photos. Since then I've been swallowed up by photography. It's my passion, my love, my drive.
What inspired you to take your One Soul in Two Bodies Series?
This series came to life after I got me a dog. Every visitor would say that we looked very much alike. Then I started to notice that indeed pet owners and their pets not only love each other dearly, but are also connected by something bigger – they understand each other perfectly, they become one, they share one soul.
Three words that describe your works?
Identity, unspoken, self-searching.
How would you define your general style of photography?
Before I came to work in the genre of social investigation, I had gone a huge way in Photographic Art, intentionally creating complicated multi-layer compositions in Photoshop, then in Street Photography, including using film cameras.
Social investigation based on the unbreakable connection between the model and his or her natural social environment, staged but with minimal, conscious retouching, has become a sort of golden mean between these two vectors.
Now to me, Photography is a way of investigating human psychology in its relation to living environment. I would define my area of work as Socio-Psychological Portraiture.
In your opinion, what makes a good conceptual photograph?
The mood, the atmosphere and mutual trust. There's always some kind of chemistry between the photographer and the model, thanks to which interesting shots appear.  The most important thing is to shoot exactly what you are feeling, what you are thinking about, what is disturbing and exciting for you. In my view, photography is a reflection of the inner self of the artist.
What do you think makes a memorable project or photograph?
I believe a burning issue of modern society raised in the project, as well as interesting visualization of the text.
How do you know you got the shot you wanted?
I don't!  I haven't got it yet.
Your idea of the perfect composition?
My favourite format of a photo is a square. It's simple, laconic, and minimalistic.
What would I find in your camera bag?
My fetish is my Leica M camera, with a 50 mm zoom, a lot of memory cards and good natural light.
What future plans do you have?
My plan is to carry on moving ahead without stopping, and developing in my field every day.
Finally, one last question .
Finally, one last question. What opinion do you have of our print edition?
Your print edition is fantastic! Every artists gets a separate section. It was very interesting to look at other projects and find out more about other modern artists. Thank you for the opportunity to become a part of DODHO!