Pamela Garcia-Aguirre is an editorial, documentary and fine art photographer who currently resides in Los Angeles. Growing up in California she discovered her passion for art at an early age.
She later moved to San Francisco to pursue photography and art full-time. Influenced by the world around her , Pamela enjoys capturing and creating stories with a cinematic and experimental approach. Fascina- ted by the strange and magical moments in time, she is inspired by the ancient mysteries of art his- tory, nature, life, and sociology. Being comfortable on set and in front of the camera has led to colla- borations and digital appearances – with recent collaborations with Lola Blanc and Vice.As well as working on her personal work, she enjoys painting, acting, filmmaking, web design, writing, and crea- ting books. [Official Website] [Print Version] [Digital Version]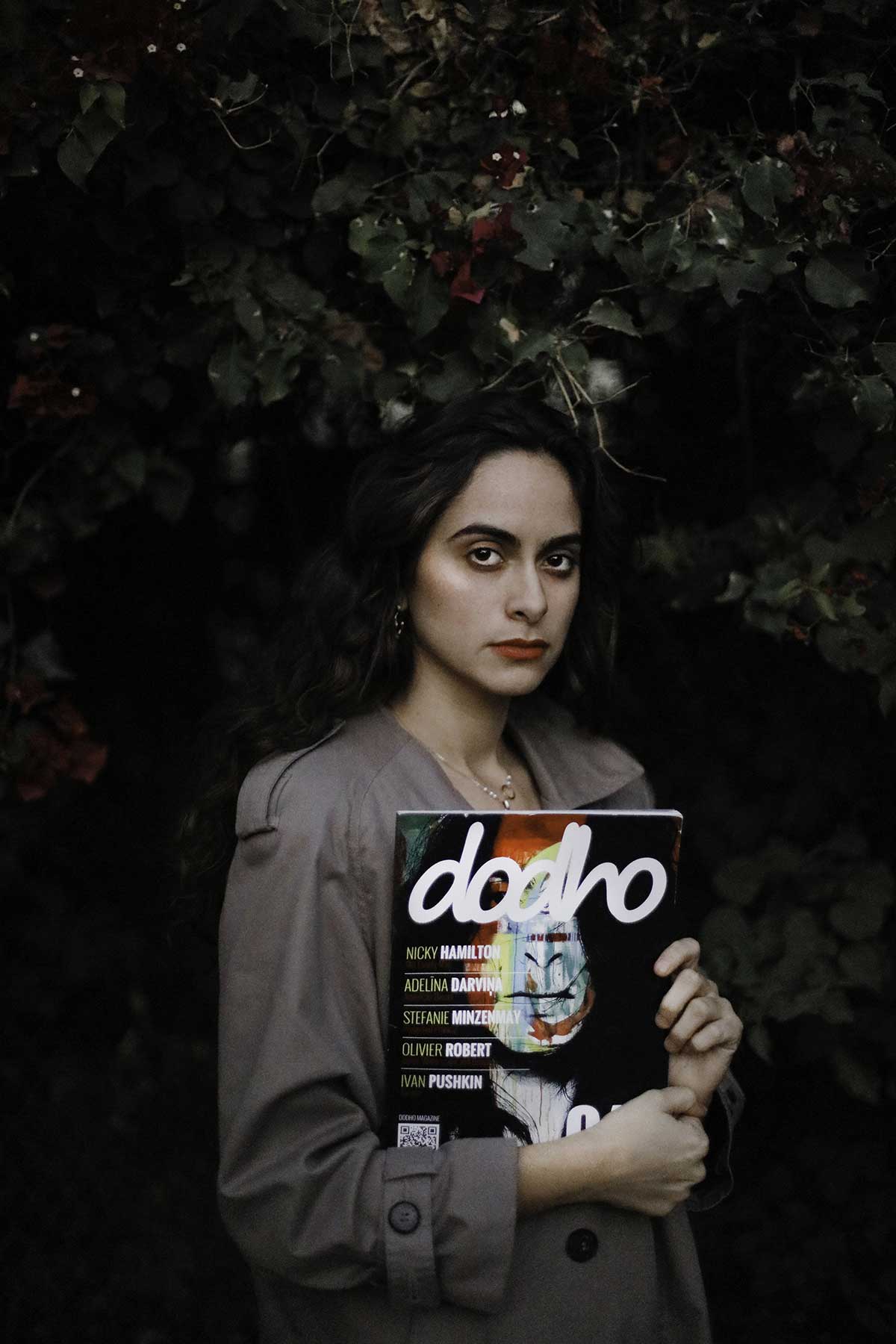 Can you tell a little about yourself?
I am a visual artist. I love many things about life, especially art, nature, and philosophy. I am fascinated by time, society, feelings, and culture. I enjoy having deep conversations and during my free time I enjoy writing poetry, photographing life, creating books, printing, playing the piano, web designing, and being involved in the making of cinema.
How did you get interested in photography?
Growing up in a household that loved art, I was always surrounded by paintings, photographs, movies and memories. My parents took photographs in a very documentary, and fine art way, but it was always for pleasure. Extremely drawn to art and the deeper meanings held within them, I started to write and create photo collages on the walls in my room. One day when I was 13 years old my mother put a camera in my hands, and my life was never the same. I haven't stopped photographing since.
What inspired you take your images?
Life and the human experience has inspired me to take photographs.
How would you define your general style photography?
Expressive and raw.
Could you please tell us anything about your technique and creating process?
It all begins with a thought, a feeling, then an action, find the light, the moment, observe the energy, compose, capture, process, and present. It always changes based on the project, and moment being photographed.
In your opinion,what makes a good portrait Photography
The intention behind it. I believe that if you can look at a photograph of someone and feel a profound feeling, then it's a good portrait.
How much preparation do you put into taking a photograph?
I pour my entire soul out into each project and art piece I create. Going out and just taking my camera without thinking and just creating always brings surprises and new experiences,but I also love setting up scenes and sets to collaborate with others to create a larger masterpiece,usually will take hours, and days of planning if the direction is that way.
What do you think makes a memorable project?
Creating something you love, and inspiring others at the same time.
How do you know you got the shot you wanted?
If the moment, light and energy is right, the shot will be too. Every moment has the potential to be recorded in a meaningful and powerful way.
Your idea of the perfect composition?
There are so many ideas of what a perfect composition could be, but I believe it's a mixture of good framing using the golden section, juxtapozed with an authentic moment in time.
What would i`ll find  in your camera Bag?
At the moment I have a Canon camera, two lenses, some cards, battery charger, lipstick, and a pen in my camera bag.
How important is an awesome website for your business and how has social media played a role in your photography?
I believe that in this digital age it's always nice to have some kind of visual outlet on social media online to show the world your work, and connect with other amazing individuals, and artists who are passionate about the same things you are. It has played a large role in my exploration of art, and visual exposure of my work.
What future plans do you have? What projects would you like to accomplish?
I have been in Los Angeles for the last two years, and have been through one strange and wild ride. Enjoying the history and new faces, I have found myself in unexpected and enchanting places and thank the universe everyday for that. I hope to continue to photograph my life here in the Land of the Lost Angels, along with finishing up some photo projects, books that are still in process, and manifest the new adventures and worlds I've only dreamt of documenting.
Finally, one last question. What opinion do you have of our print edition?
When it came in the mail I was never more excited, it's truly a beautiful piece of art. I am very happy and honored to have been a part of such a magical magazine that celebrates the love and art of contemporary photography.
Legal Note: The photographer attest that have full authorization to give consent to the publication of these photos or project and have the authorization and permissions of third parties. Guarantees that you have all the necessary communications of property and you have obtained all the necessary authorizations for any property, buildings, architecture, structures or sculptures appearing in your photographs.