Olivier Robert is a professional photographer sharing his life be- tween Europe and Japan. Born in Belgium (1970), he was initiated to photography at the age of 15. At that time, he also discovered Asia. This intense experience has drastically influenced his way of life and his vision of the world. From then on, photography, traditional ink-painting and Asian philosophy have been closely linked.
In 1994, he graduated from the Institute of Landscape Architecture (Belgium) and left his native country for Switzerland. As he ar- rived in the Lake Geneva region in 1995, he started a photographic project about the lake. This project is still continuing 20years after and has pushed him into visiting many other lakes in the world, particularly in Japan.Having experienced the studio and commercial photography for some years, he decided in 2004 to devo- te his time almost exclusively to landscapes and waterscapes photography. In 2015, his works have been exhibited at the Lake Geneva Museum (Musée du Léman, Swit- zerland) as a 20-year retrospective and have been published in a book for this occasion.
For his continuous projects as well as family reasons, he often gets thoroughly across Japan looking for specific landmarks which convey timelessness, simplicity and sometimes mystery. This approach has led him to the most remote places of the archipelago, through mountains, temples and shrines about which he has also carried out a project on the Buddhist statuary and sacred sites for years. His works have been frequently published and have been worldwide exhibited numerous times in galleries and museums. Olivier Robert is represented by galleries in France, Switzerland and Japan. He is also a winner and finalist of several international photography awards.  [Official Website] [Print Version] [Digital Version]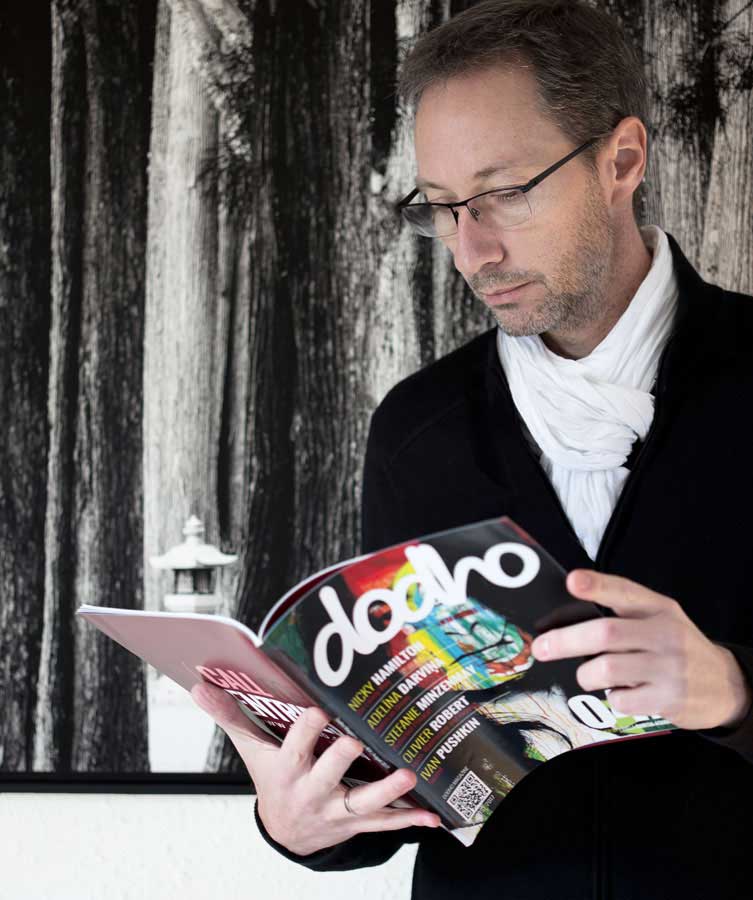 Can you tell a little about yourself?
I was born in Belgium in 1970. Initiated very early to photography by my parents and relatives, I wanted to become a photo reporter. Since it wasn't possible around that time, I decided some years later to be a self-taught photographer.
In 1994, I graduated from the Institute of Landscape Architecture in Belgium and the year after moved  to Geneva (Switzerland) for my first job. I started my photography business as a secondary occupation and got my first orders for magazines and media. Later, I bought a studio equipment and worked for models, producing mainly black & white portfolios for an agency in addition to a project about plants. In 2004, I eventually decided to devote my time to personal photography projects about lakes and landscapes. From then on, I've spent my life travelling as much as possible, especially in Japan where I found my main sources of inspiration. Now, I share my time between Japan, Switzerland and France, I live near Geneva and have two occupations, self-employed photographer and landscape architect.
How did you get interested in photography?
As I said, my parents (especially my father) were into photography. When I was a child, they would spend their time taking lots of photos during holidays, hikes, weekends, etc. and I would live within an artistic context around me. Like all parents photographers would do with their children, I had been an intensively-photographed subject. Consequently, I've got black & white memories of my childhood through their photographs. From the age of 8, and as long as I remember, I've been fascinated by the dark room that we had in the cellar at home. Of course, around that time, I couldn't understand what was happening while developing prints but there was something magical in seeing an image appear on a sheet of paper. Some years later, I started playing with their cameras including some medium format ones and took my first steps in the square world of black & white photography. When I was 15, I got my first analog 35mm camera. A very important present. I still have it of course. Bit by bit, I discovered color photography and spent some years taking photos of plants, trees and landscapes getting used to the photography techniques. Since it was impossible to develop the color films and make prints by myself, I started working with laboratories. Even though it was a very interesting experience, I missed the dark room process and eventually decided to return to black & white films in the late 1990's.
What inspired you take your Japan, Waterscapes and Beyond series?
This work started on the shores of Lake Geneva as I arrived in this beautiful region in 1995. It wasn't supposed to be a project at the beginning. I was just taking photos of this lake in every season year after year, and improving my techniques and experiences of black & white. When I discovered Asia in 1985, I was firstly attracted to the traditional Chinese paintings and the amazing landscapes they depict. I've read and learned intensively about this art of ink painting for many years. Gradually, it became an important source of inspiration which encouraged me to find some similarities between painting and black & white photography. For this Waterscapes and Beyond series I visited many other lakes in Europe and in Japan where I've been immediately fascinated by the remains of the fishing structures and some other constructions above the water. I took lots of photographs of these structures for many years and eventually decided to make a project out of them.
This work talks about the esthetic value of these man-made objects built on the lake shores and the way they pertain to the landscapes.Over time, the traces left by humans above the water deeply affect the perception of the landscape one can have. Once they are no longer in use, these elements are rarely taken to pieces but rather left abandoned. To me, these objects are more constructive elements than disruptive ones in understanding the landscapes. Moreover, their esthetics contributes unintentionally to the beauty of the waterscapes.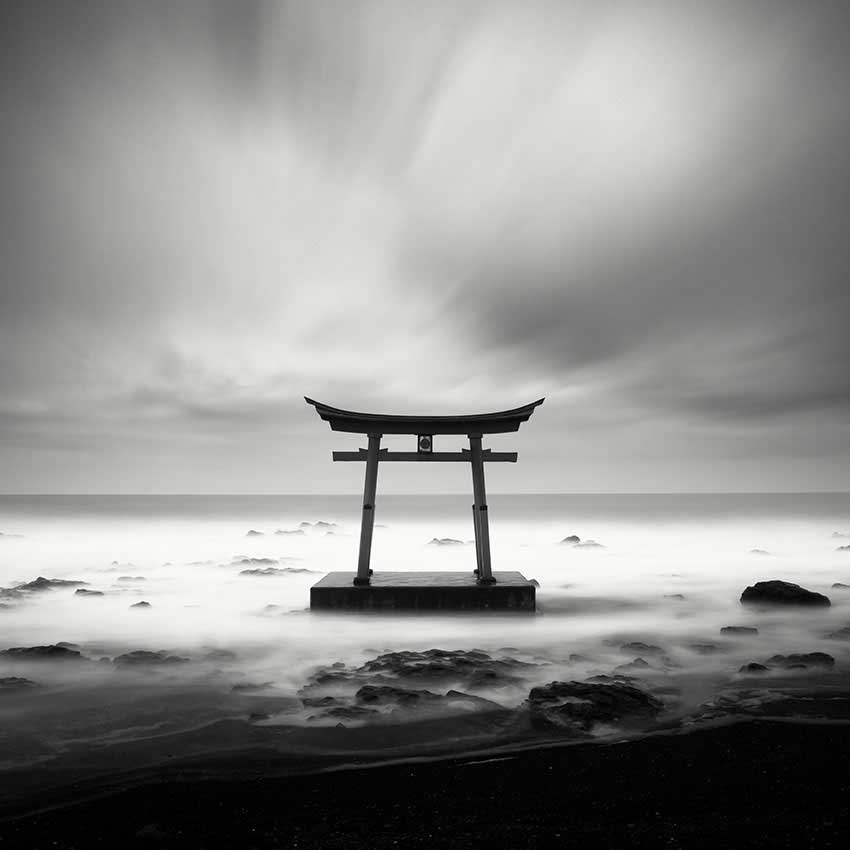 How would you define your general style photography?
It is very difficult to put words on my own photography style. I like to consider my work midway between classical and contemporary photography. Since my goal has always been to focus on timelessness and emptiness in the sceneries, I'd say it is rather a minimalist style…
Could you please tell us anything about your technique and creating process?
For my Waterscapes projects, I mainly use techniques that allow me to get the features I try to convey in my photographs such as timelessness, mystery, and minimalism. To this end, long exposures are appropriate. They afford me a good way to get concentrated on the subjects. But they are just techniques and aren't an end in itself. I've always had a very slow photography and working with medium format cameras is a specific approach that requires more time. I want (and I need) to take my time in any circumstances. I'm now working with the digital version of medium format. I've spend about 4 years shooting with analog and digital cameras until I could find my way in the digital world and process my prints very close to the results I could get out of the dark room.
My post-processing is very simple. It mainly consists in working on the density and contrast as I would do in the dark room. I'm not a big fan of intensively processed photographs. I refuse to remove or add anything in the image. I'm also very slow in processing my photos. It is very usual to wait for weeks or months before processing the photographs once I'm back from trips. This is my personal way and probably a philosophical consideration. I can't be in a hurry. I really want to take time for the post-process as well. I need to come back many times on a selected photograph and check it again and again until I'm fully satisfied. From that moment only, this photograph is added to the project or to the related gallery of my website. Occasionally, I dive in my archives and sometimes pick out a forgotten photo that suddenly makes sense in a series. I love to get back in archives. It's a good way to remember all the great moments I had and it helps me understand the evolution of my work. For me, taking time in archives is a great way to remember that a project is never totally completed.
In your opinion,what makes a good Black & White Photography
Very tough question… Years ago, an ink painting master told me that the black ink was for her the ultimate simplification of the colors. I like this point of view.Since then, I've often considered this philosophical opinion while photographing. To depict completely the essence of a scenery with light and shadows without seeking the colors information… Perhaps, that would be my first definition of a good black & white photograph.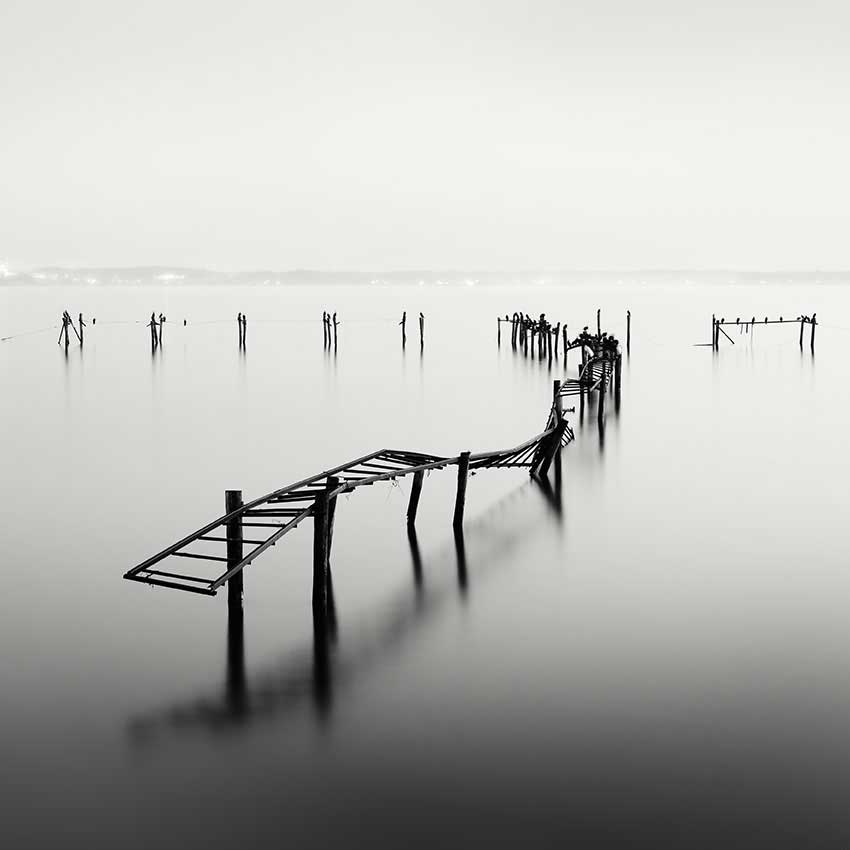 How much preparation do you put into taking a photography?
Preparation is one of the most important steps in my photography. This is what the results will depend on. Actually, it starts with the preparation of the trip itself. Finding the appropriate weather conditions (snow, rain, mist,…) and the logistical preparation are obviously my main preoccupations. For my projects in Japan, I can rely on our contacts and family on the spots as well as on the precious help of my wife. She knows her country perfectly and organizes our journeys in Japan for many years. I'm very thankful to her involvement in my work.
A good preparation also helps me get a specific connection with all what I want to take photos of. Without connection to the landscape or waterscape, I can't be very inspired or productive. That's why I really need lots of time. Before taking photographs, I often go to the spots the day before or the night before. I use to take some very simple snapshots to understand more what I want to get out of the waterscape. I try to see what these landscapes have to say, why I feel attracted to and how I can give my own feeling about it through a photograph. Since the preparation is important, I don't take many photos of the same scenery. I'm also an early morning photographer and rarely work at night. I personally appreciate this connection with the morning light. This is a privilege to enjoy these moments, first thing in the morning, when there is nobody around, or at most some fishermen to talk to. These moments have often made my day. I feel something philosophical in starting the day with the rising light for a photographer. Finally, I strongly believe that the act of photography is as important as the result in itself. I've always considered that it was a great privilege to look at a beautiful landscape through the lens, thousands of kilometers away from home. Acting as a photographer is a satisfaction in itself regardless of my production. I've been through numerous failures, missed exposures or technical mistakes but I've never failed in getting good memories of a photography moment.
What do you think makes a memorable project?
Memorable for who…? Basically, when I start taking a series of photos, I never know if it'd become a project or not. Taking photographs repeatedly about the same subjects or the same ambiances for months or years makes a project to start. Consequently, after such a long time, I'd have already gathered lots of memories or experiences. That makes me feel like working a bit longer on the project. My memorable projects are those for which I've also worked aside in other ways than photography. Searching for texts, reading, writing, traveling, getting special permissions and meeting people who would help me reach my goal are very important steps in making a project memorable and unique to me.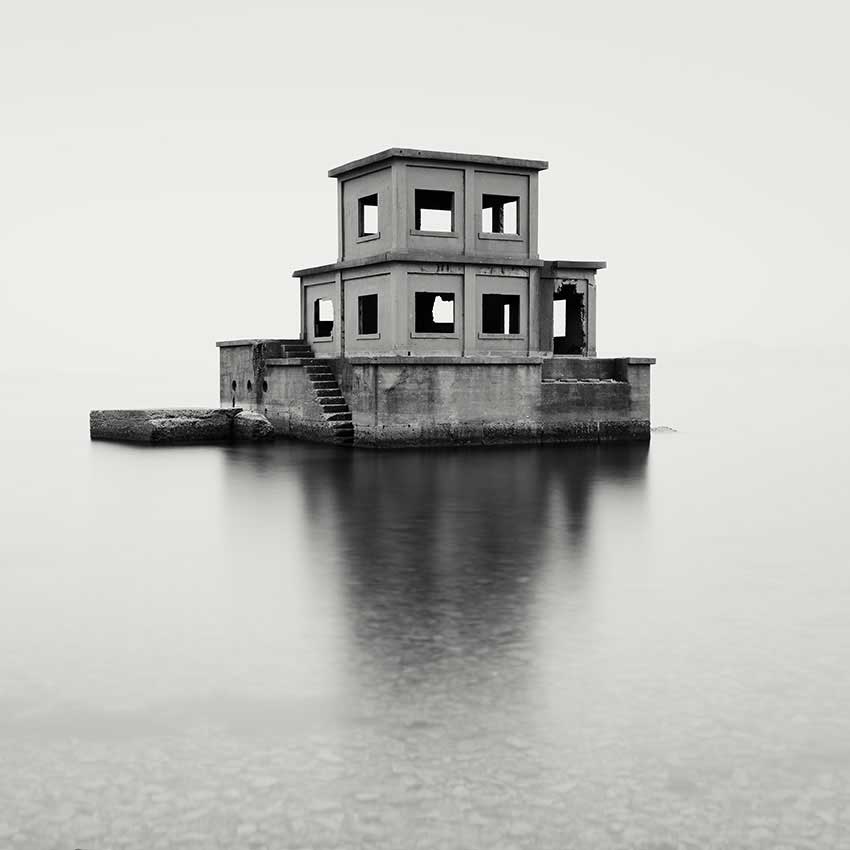 How do you know you got the shot you wanted?
Most of the time, I have no idea about it until I've developed and printed the photographs. Of course, I have an intuition about the results, positive or uncertain when I'm working. but I like the idea of uncertainty. Several times, I've had a very positive feeling about the results that finally turned out to be uninteresting and vice versa. In terms of final satisfaction, only the prints matter. I haven't got much satisfaction in the virtual world and I'm not interested in seeing my photographs on a monitor. Using computer is just a step of the process, nothing else. Once the print is done and framed, then I can say: this is what I really wanted.
Your idea of the perfect composition?
I think the perfection doesn't exist in photography or in anything. Composition is not the only feature of a photograph. Moreover, I've always refused to judge my fellow photographers' works in a technical way such as exposition, composition, etc. I'm more interested in the power of a photograph's expression, in its emotions, whether it be through the composition or not. Technically speaking, I've never really followed the rules. At least, not systematically… And I love to be astonished by the photographs that have something to say, and not only something to show. So, in my opinion, the perfect composition is the one which helps the photographer to emphasize his deep feeling about the scenery or the subject and nothing else. It should be the result of a personal choice and not a rule.
What would i`ll find  in your camera Bag?
2 camera bodies, lenses (no zooms), filters, some good luck charms received in temples and lots of unnecessary stuffs gathered over time that makes me happy to carry in case of need. But I never need them. They are more reassuring than necessary. And of course the most important gear that doesn't fit my bag: a tripod with my first and 20-year head part that I've never replaced so far.
How important is an awesome website for your business and how has social media played a role in your photography?
In my opinion, having a website that represents my work and philosophy in the best way is essential. I started my first website in 1995. I always spend lots of time updating the galleries, and improving the presentation. In addition to the clients who contact me through it, my website is a capital place to connect with galleries, clients and to show portfolios. My experience has confirmed this aspect many times.
As for the social media, I must admit that they've never been interesting for my business. I know that many artists are using social media to develop their business and that's perfect if they can succeed. But it's not my case. I started belatedly with the social media. Moreover, and to be honest, this is not really my philosophy of life. I always give priority to the direct contacts with galleries, museum and clients (which is also time consuming) rather than computer-mediated technologies. Consequently, I've narrowed down my social media presence in the past 5 years. I don't mean they are not interesting, I just say they've never played any key role in my business so far and now I have no time to improve my social media activity by myself. To me, social media are made for sharing and from this point of view, they are great! Thanks to them, I've been in touch with many other photographers in the world and have met some of them. Just for this, it was really worthwhile spending time on social media
What future plans do you have? What projects would you like to accomplish?
I have many plans fortunately! In addition to my ongoing projects about the lakes, the Japanese landscapes and culture, my wife and I are working on a photography project about the Buddhist statuary and the sacred sites of Japan. This project started many years ago on the very long routes of the Shikoku pilgrimage and led us to many remote places of the archipelago. Year after year, we have been granted special permissions and have been in contact with monks or temples owners who made this project possible and consistent. I am very grateful for this. We want to make the most of these privileges and go on working intensively on our researches about ancient texts to discover more fascinating places. This work will soon be exhibited in a museum in France (2018). We are also writing a book about the 47 prefectures of Japan. This book will focus on our photography experiences and anecdotes in each prefecture through the seasons. Also, we will continue leading some close friends and photographers in Japan who want to walk off the beaten paths and experience another side of the country, closer to the traditional way of life
Finally, one last question. What opinion do you have of our print edition?
Not finding my way in laser printing solutions to print out my photographs, I must say that I was a bit nervous about the potential quality of the magazine before getting it. But once I got it in my hands, I couldn't tell any difference between your laser-printed edition and a traditional magazine. The highlights, midtones and shadows are perfectly balanced. I am familiar with the company you're working with for your print edition and I know how challenging it is to get a very good quality reproduction of black & white photographs together with color ones. Congratulations on having achieved such a great work. Many thanks for publishing my portfolio in the 4th edition of Dodho magazine, for this interview and for your commitment to promoting photographers all around the world!