Massimiliano Balo' was born in Italy. He works and lives in UK. He is a self-taught artist and photography is his passion since he was young however he has begun to make digital art in 2013 when he received his first Honorable Mention at the 3rd Annual Mobile Photography Awards.
From then on his works have been appreciated artistically by international expert juries winning important photographic competitions including the Sony World Photography Awards as a shortlisted in 2017. For his way of creating art he recently exhibited in Italy for an exhibition entitled Face 2.0 at "The BID" gallery.
His photos create a sense of mood, atmosphere, dream like and drama scenario. The designs lead the eye up, down, and throughout the frame in a way that makes the viewer feel as though they may have walked by these scenes and not noticed them. His photos blur the line between art photography, portant characters in his stories. He ask that the viewer be sensitive enough to look deeply at his images, to see the details he has included in the frame and to consider the how the haunting environments relate to the size and texture of the organic forms. Most of his compositions are abstract. [Print Version] [Digital Version]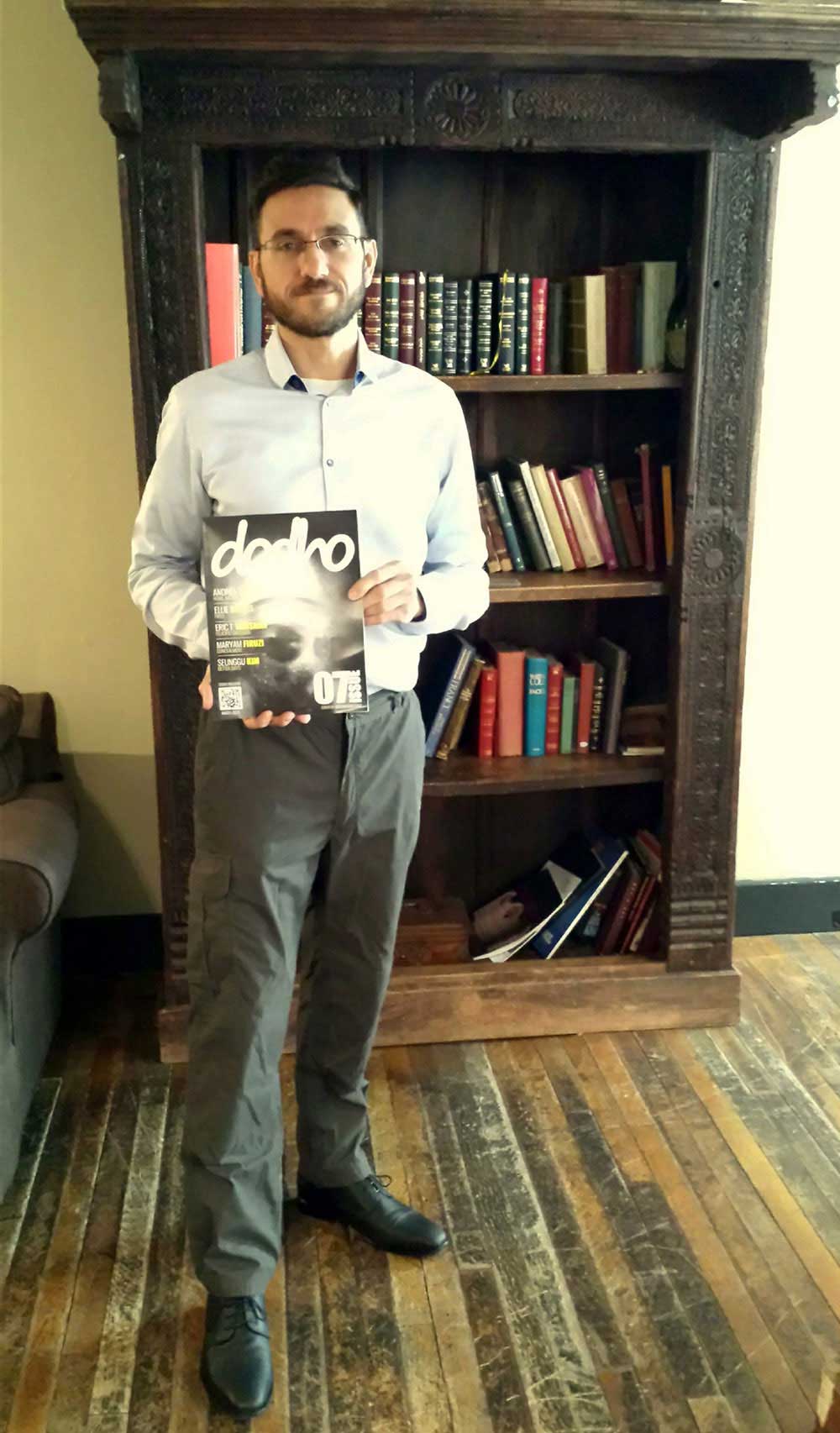 Can you tell us a little about yourself?
My name is Massimiliano Balo' and I come from Italy. I was born in Sicily 40 years ago and I left the island when I was 20 years old and from then on I traveled far from my native place to discover the world. After living in northern Italy for a few years I decided to move to England in 2004. In my spare time after work, I dedicate myself to the creation of artistic works, and in addition to this I teach yoga early in the morning on weekends.
How did you get interested in photography?
I started taking pictures around where I used to go in my spare time but then I realized that my passion was to modify and manipulate my subjects from people to places. During my experience in London I was lucky to have met a digital artist Gregoire A. Meyer who noted my talent and he sugest me, in order to make known my works, to participate in internationl photography awards competition and in fact the same year I received my first Honorable mention at the 3rd Annual Mobile Photography Awards and one Silver at the PX3 "Prix de la Photographie Paris. 
What inspired you take your "The Mummy" image?
The "Mummy , like all my works, is the result of my artistic  intuition that moves from the unconscious. It is difficult for me to explain what leads me to create these subjects. It's like entering in a sort of meditation and at the end of the work I find my enlightenment. The "Mummy" subject is my work colleague to whom I took several shots for an ongoing project.
How would you define your general style photography?
I would define myself as a visual artist and mostly of my works are in abstract style.
Could you please tell us anything about your technique and creating process?
Well, I am self-taught artist and I don't know much about technique and process in fact I use very simple mobile editing applications. I editing and manipulate with my fingers touching the phone screen. I processing the image several time overlapping it on a multiplicity of layers.
In your opinion, what makes a good black & white Photography
Certainly its originality and the passion that the photographer or the artist puts on it.
What do you think makes a memorable image? 
Creativity that captures a moment and makes it unique.
How do you know you got the shot you wanted?
As I mentioned in the previous question, when I create I am absorbed into a deep meditation state that ignore time an space.  Then is my intuition that makes me do the final work. It is a feeling that cannot be described with words.
Your idea of the perfect composition?
From an abstract artist like me it's very hard to find all the elements to create a perfect composition especially when at the foundation of your art there are no rules to follow but everything happens naturally.
What would iI find in your Camera Bag?
Because I am not a professional photographer and I don't need special cameras or lenses to do what I do I would say that I would prefer to find a flight ticket for an exotic destination.
What future plans do you have? What projects would you like to accomplish?
I don't believe in the future because I live the present so I don't plan to much. However according to my philosophical vision, the future already exists and is manifesting itself in a space that is not perceptible to us but it could be perceived through intuition. It is up to us to accept the reality as it is offered in our eyes and appreciate and honor it every day. 
Finally, one las question. What opinion do you have of our print edition?
I believe that the magazine is very well made and above all,  it offers the possibility for emerging photographers to express their artistic vision with great freedom.