John Paul Evans is a Welsh-born photographic artist and academic who now lives in Devon, UK. His work explores the polemics of gender representation in photography.
He is recipient of the 2016 Hasselblad Masters of Photography Award. John Paul has exhibited nationally and internationally. Selected group shows include 'Home Sweet Home' for the Ffotogallery Diffusion International Festival of Photography in Cardiff 2015, 'Pride Photo Awards Retrospective' at FOAM Museum Amsterdam 2015, Voies Off Festival, Arles 2014, 'From Common Differences'- Ffotogallery Diffusion Festival 2013, 'Unreliable Truths'- The Glynn Vivian Gallery Swansea 200. [Official Website] [Print Version] [Digital Version]

Can you tell a little about yourself?
I would describe myself as a photographic artist and academic whose main area of interest is in the field of gender politics and representation. I am now in my early 50s.
I taught as an academic for 20 years and I was senior lecturer in photography at University of Wales Trinity St David's in Swansea teaching photography within a fine art context. I took voluntary redundancy in 2015 to focus more on making creative work. I received the Hasselblad Masters Award in 2016 and have received various other awards for works made under the 'matrimonial ties' heading.
How did you get interested in photography?
I first got interested in photography in the early 1980s. It was a time of great division in Britain. The conservative party was in power and had introduced laws such as clause 28 and were also proposing clause 25 as a means of suppressing sexual behaviour and outlawing the promotion of homosexuality in education.
As a young man trying to come to terms with my sexuality around such political oppression l became interested in photography as a mode of political representation and artistic expression. Academics in Britain in the 1980s analysed how photography as a medium had been deployed to reaffirm notions of belonging and otherness in relation to race, gender and class politics. As someone who grew up in a working-class household, photography made me feel I had a voice, which helped me come to terms with my sexuality in an environment where homosexuals were being described by the media, and in certain political circles, as harbingers of disease.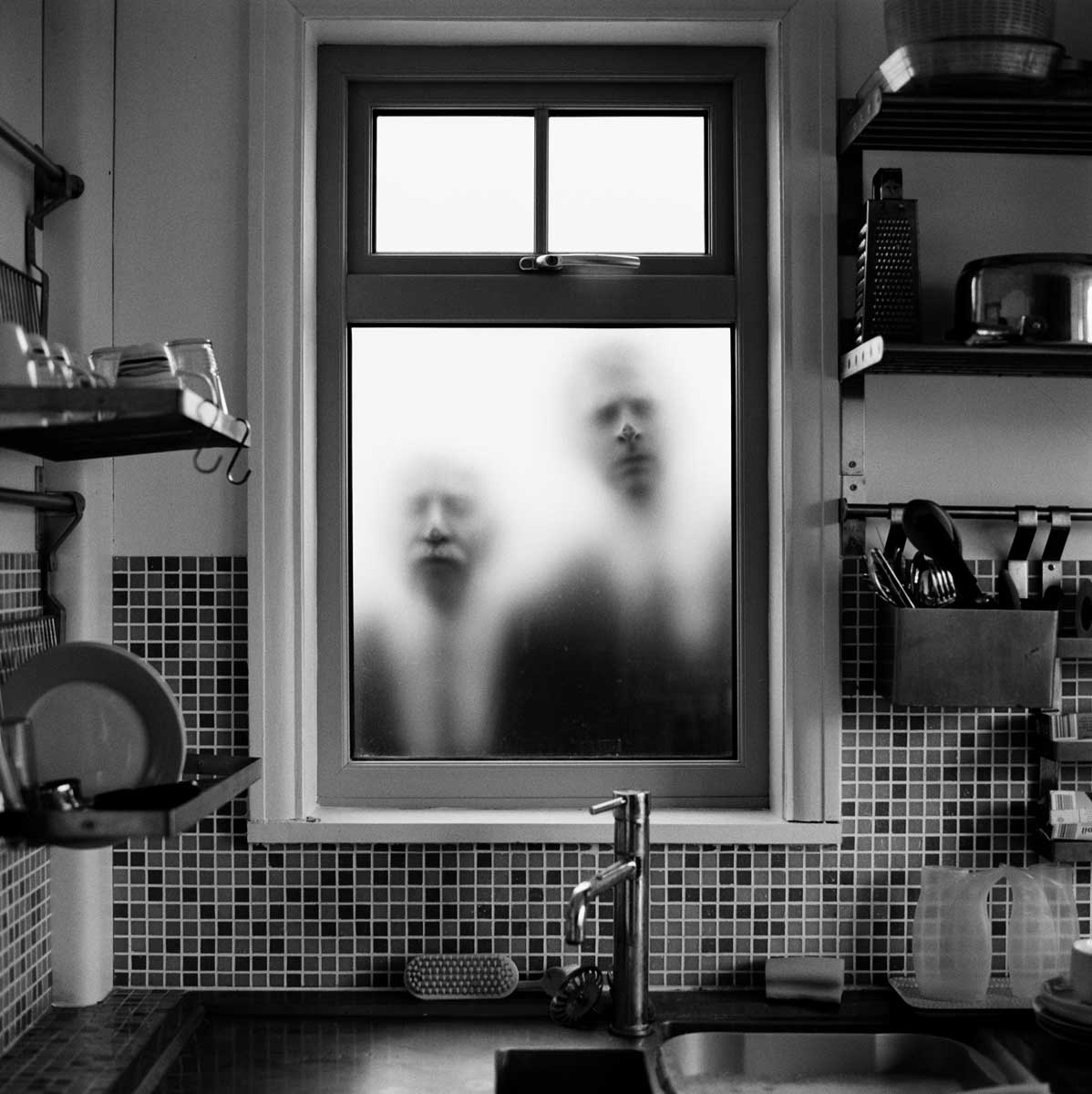 What inspired your Matrimonial Ties project?
The idea for the project began in 2013 with the debate in Britain surrounding the prospect of offering full marriage rights under law rather than civil partnerships. It was interesting to hear the media debate. After civil partnerships became law in Britain in 2005, the media generally talked about gay people achieving equality, but when the question of marriage arose it was clear that there was still great division in society and how certain sectors (namely the church) felt their world was under attack. The clear prejudice that was being reflected in certain debates made me feel the need to explore the convention of the 'wedding portrait' in an absurd/comedic way as a way of reflecting the absurdity of the fear of offering equality in law.
Peter and I had been in a relationship since 1989 and as an academic I had been critical of the family album and how it reaffirmed notions of belonging in term of normality and otherness. As a consequence, there isn't a photographic document that reflects the years that Peter and I have been together. I had been working with Peter on various pinhole photography projects such as 'stilled lives' since about 2010.
There was an awareness at the time that we had been together then for more than 20 years and as the song declares 'who knows where the time goes'. Personally, there was a genuine need to make works with Peter as I wanted there to be some sort of record of our existence together. So although I might cite certain inspirations or political influences for making work, I see the works primarily within the context of a personal memoir, even if there is some underlying theme or political message. One writer described the work as a love letter from me to Peter which was one of the most poignant insights.
When I listened to certain individuals talking as though their world would never be the same again if gay people were granted rights under the law I felt a genuine need to represent our relationship as a comedic performance to reference the absurdity of bigotry and intolerance.
How would you define your general style of photography?
I would hope that the work might be considered formal and symbolic as well as comedic- yet-sad.
Could you tell us anything about your technique and creating process?
In terms of photography, my process is very basic. I only use available or natural light so I basically rely on a medium format camera with a fixed lens.
My practice has evolved to incorporate various strategies ranging from straightforward portraits through to still lives of scenes that might include miniature 'cut out' effigies of figures including Peter and myself. The use of 'cut out' figures is within the tradition of political montage. It's a 'queer' stance of inserting figures into scenes where historically homosexuals would have been denied representation. In the case of the still lives, the final image will sometimes have various photoshoots contributing to the final image, and incorporate pictures within pictures. They are deliberately simplistic in terms of photographic production. I know that in a post digital world it would be more straightforward to digitally insert figures into a scene, but it is important for me as an artist to photograph 'real' compositions and scenes rather than work in a virtual world, and it's also important that the figures reflect a state of being 'there' and 'not there' at the same time.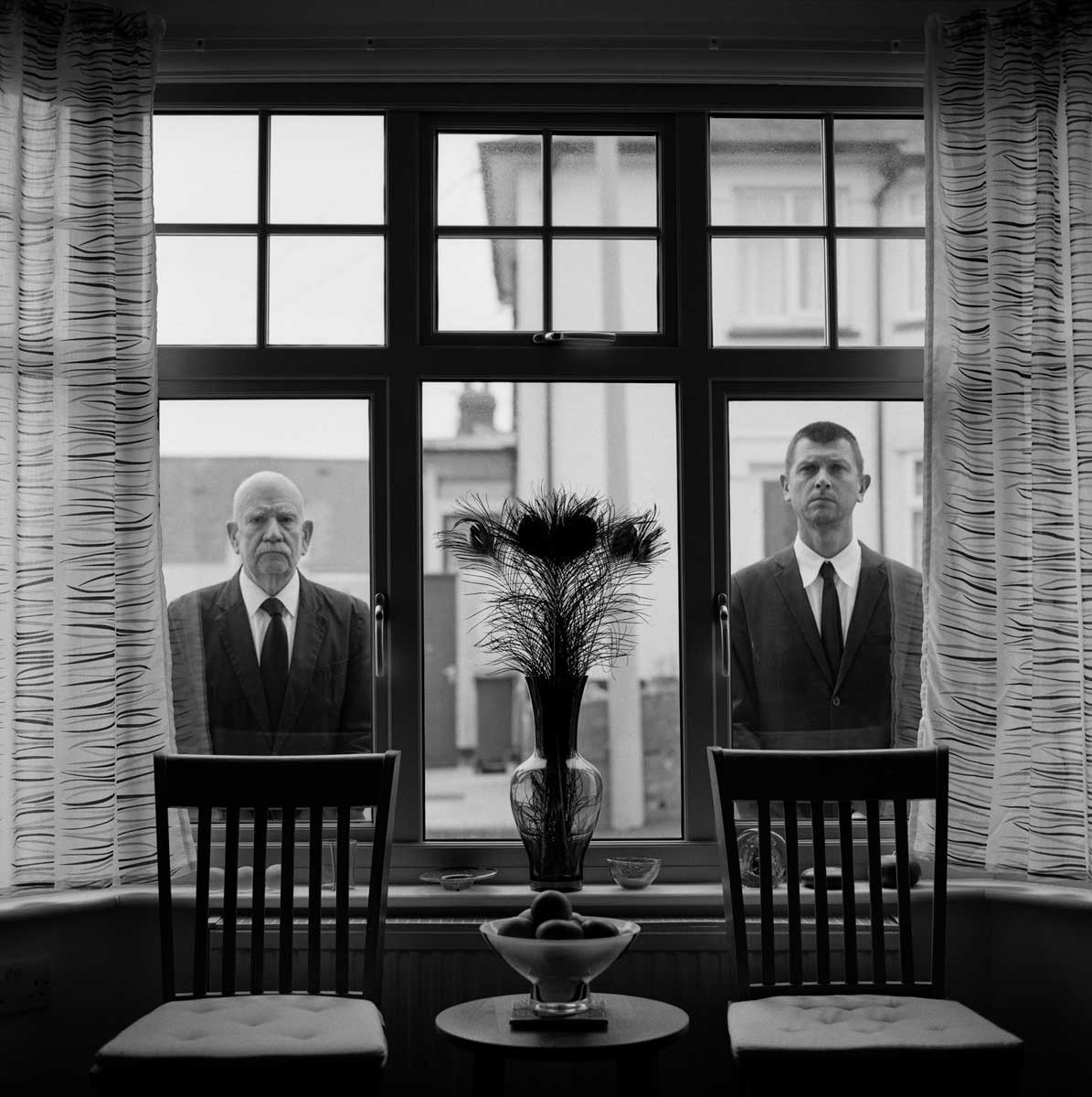 In your opinion, what makes a good B&W photograph?
It's a difficult question to approach as Black and White photography is such a broad genre covering a multitude of subject material and contexts of representation.
Some photographers might cite their reason as a desire to evoke mood or create atmosphere through dramatic effect. The immediate response that springs to mind when I question my choice for using B&W is that I wanted to distance the scene from reality. The intention with 'till death us do part' was to create absurd variations of the wedding/couple portrait. The pictures that came into my mind were images that relied on pose and formal composition to create a sometimes surreal and sometimes comedic effect, so I wanted to rule out other distractions within the scene such as colour.
If I make work in black and white, it is on film which is then scanned into an Imacon (Hasselblad) X1 scanner. Black and white is something I still associate with the slow process of film capture and although I gather there are filters that imitate film grain, it can never replace the magic of working with film.
How much preparation do you put into taking a photograph?
My picture making process is relatively slow. It usually starts with images appearing in my conscious mind, but this is arrived at through research and thought about the scene I want to represent. Even with a seemingly straightforward portrait there is always an element of preparation when the scene you are planning needs to be compositionally 'still' and 'balanced compositionally' and the partner you are working with is in his late 70s and suffering from arthritis.
What makes a memorable project?
The works that I am drawn to are images that convey a personal or political message about the human condition.
How do you know when you have got the shot you wanted.
I sometimes laugh out loud and it makes me realise that I have forgotten 'who' I am looking at in the picture and am approaching the image as a stranger for the first time. If this happens then I realise the absurd-comedic-surrealist-poignant intention has worked.
Your idea of the perfect composition
When I first began to work with a medium format camera in a square film format, I wasn't sure if I could overcome the dramatic change having been used to composing within a rectangle for so many years. The first project I composed within this format was 'home & away' and there was something about using the square to compose 2 figures that seemed perfectly balanced to me. When I bought a Hasselblad CFV50c digital back, I deliberately set it to square format capture as I wanted to continue the discipline of composing within the square. Unfortunately, the X1D doesn't give me this option, so I have begun to mix the square-CFV50C, with the rectangle-X1D.
What would I find in your camera bag?
I only work with natural or available light so you would only find a camera in my camera bag. I use different cameras depending on conditions and scenes. I still think of my Hasselblad CW503 as my primary camera and this is now coupled with a CFV50C digital back. I usually use the 80mm lens that came with the camera, but I have a 60mm if I need something slightly wider. I usually use this camera in the studio, but have occasionally taken it on location. The Hasselblad X1D was the prize for receiving the Hasselblad Masters in 2016. It is wonderful to have the same 50mb sensor as the CFV50C but in a compact camera. So I take this on location with me now. Again, I just work with the fixed 45mm lens that came with the camera.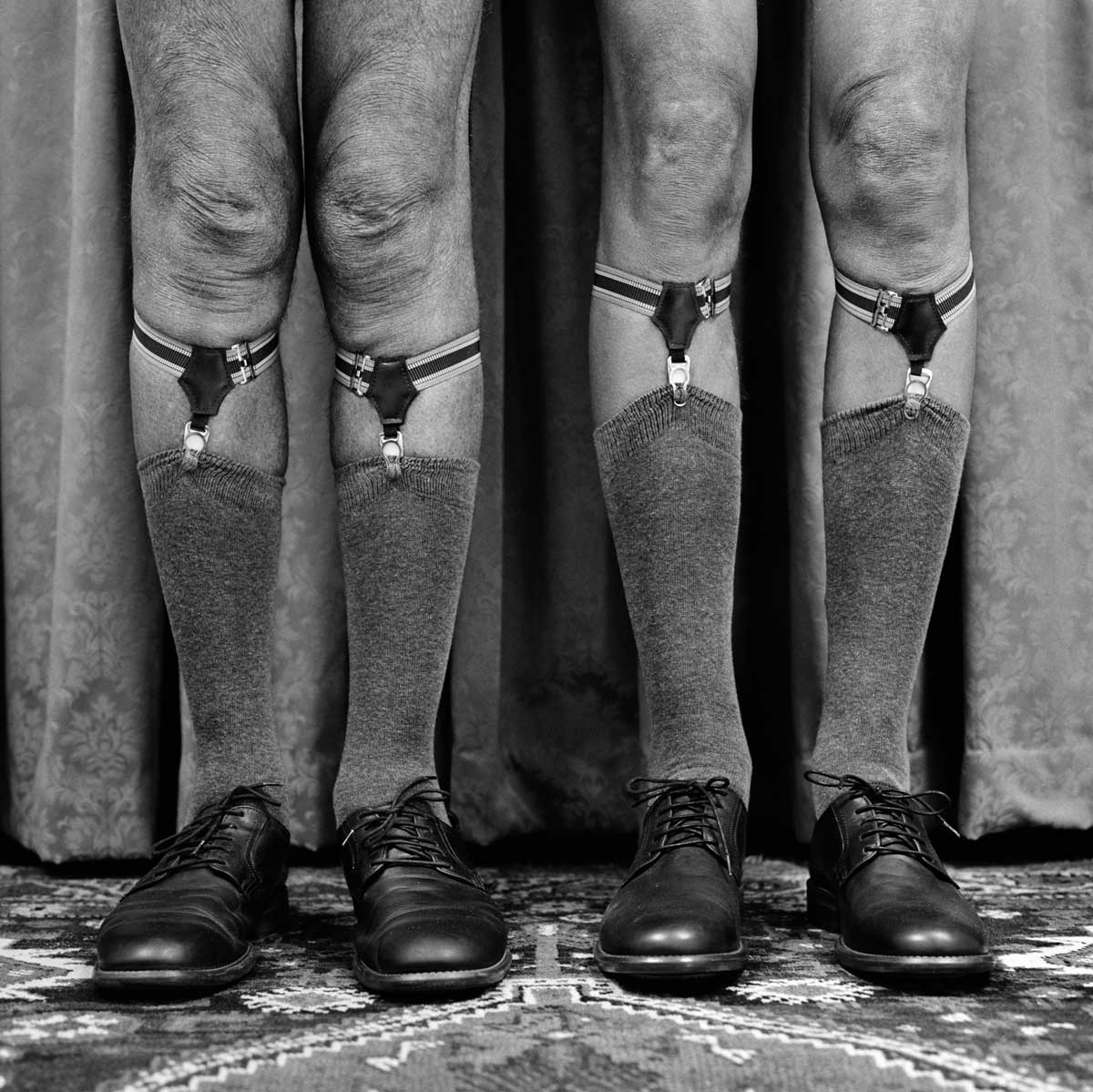 How important is an awesome website for your business and how has social media played a role in your photography?
I am not a commercial photographer, so I am not qualified to talk from a business perspective. I don't feel qualified to judge the importance of my own website, which is very basic, and I don't take part in the social media platform apart from 'Linked In'. But I have to acknowledge that all of the interest and awards have come from coverage in online journals and magazines, so I consider the online platform to be central to the awards I have received and to the possibilities of international exposure.
What future plans do you have? What projects would you like to accomplish?
I have recently been awarded an Arts Council of England Grant to pay for the research and preparation of making new work. The proposed projects are a continuation of the works I make with Peter and I hope they will continue to be featured or published as works within the field or context of contemporary art photography and gender representation.
I am delighted to be featured as the winner in the Dodho Black and White 2017 Award publication. It is a beautifully designed hard back book and the edit and layout of the work is perfect. It is wonderful to see an extensive edit of 'till death us do part' and 'home & away' in print. I am very grateful for all the support I have received from Dodho Magazine in representing various B&W and colour projects over the last months. Dodho is an excellent publication featuring the very best of international contemporary photography and being associated with such a prestigious publication has been immensely beneficial.