At the crossroads of art, history, and identity, we find the work of Jerry Takigawa, an independent photographer whose project "Balancing Cultures" has garnered attention and imagination from audiences globally.
This captivating body of work not only sheds light on a dark and complex chapter of American history but also weaves a deeply personal tale of resilience, discovery, and reconciliation. "Balancing Cultures" is a visual and emotional journey birthed from Takigawa's family photographs that were discovered depicting his ancestors in an Arkansas concentration camp during World War II. This series, steeped in memory and emotion, is a conversation between the past and the present, a dialogue between Japanese and American cultures, and a testament to the healing power of art. In this exclusive interview, Takigawa opens the doors to the genesis and evolution of "Balancing Cultures", sharing the moments and images that catalyzed its inception. We will explore the intricate creative process behind the images, his response to current events, and how his education and experience in various artistic disciplines have influenced and enriched his perspective and work.
Join us as we engage with Jerry Takigawa on art as a medium of expression and resistance, on navigating between two cultures, and on the legacy and lessons that emerge when voice is given to silenced stories. Prepare for an enriching dialogue that promises to inspire reflection and admiration for the transformative power of art and photography in the hands of a thoughtful and committed artist. [Official Website]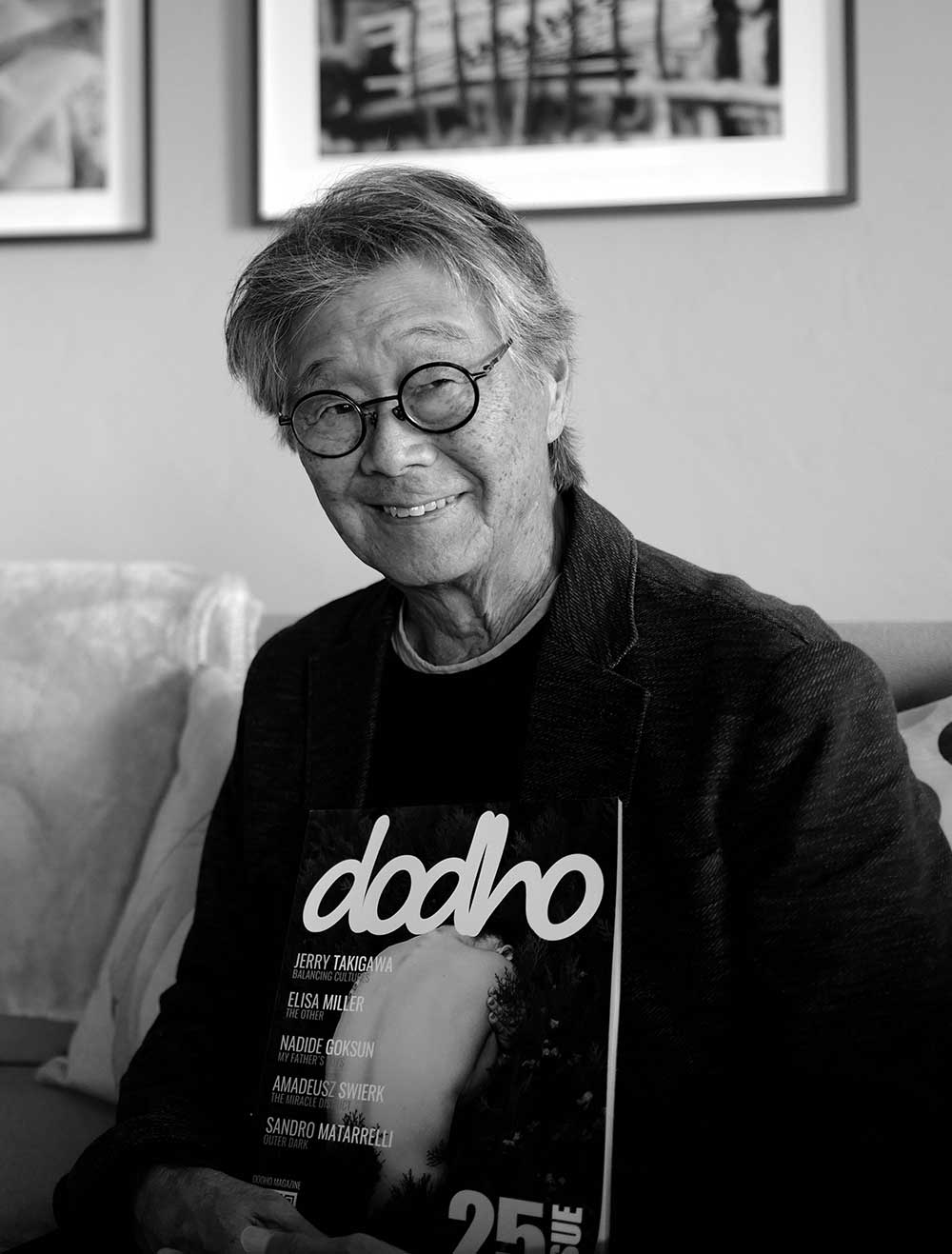 Jerry, how did you start in the world of photography, and what led you to decide to make it a professional career?
I studied fine art in college, specifically painting and drawing, which evolved into photo-real painting and drawing. At that point, I took a photography course from Don Worth while at San Francisco State University to learn how to make negatives to use in making my art. After graduation, I made the switch to photography and graphic design. Graphic design supported my photography and photography became the fine art side of my creativity—where I was the client. I've been working in photography and design for over fifty years. The two practices inform each other synergistically.
Throughout your extensive career, who or what has been your greatest influence or artistic inspiration?
When I studied painting during my early college years, I was drawn to neo-figurative artists Richard Diebenkorn and Elmer Bischoff. The study of painting and drawing helped shape the trajectory of my photography. While attending San Francisco State in the late '60s, artist Ruth Asawa was a neighbor. As an aspiring artist, I spent many afternoons at her home watching her work and asking her questions about her life as an artist. From her, I learned artistic discipline, as I witnessed her drawing the same kitchen chair every day for months. Around the same time, I also visited the home of photographer Wynn Bullock. I was specifically interested in Wynn's work because it was as much about ideas as about the visual expression. His intentions aligned with my innate desire to say something through my art. All along, there was also a strong influence from my Japanese American upbringing. Surrounded by Japanese art and traditions while simultaneously being encouraged to be American, led to a hybrid philosophy and aesthetic—in art and in life.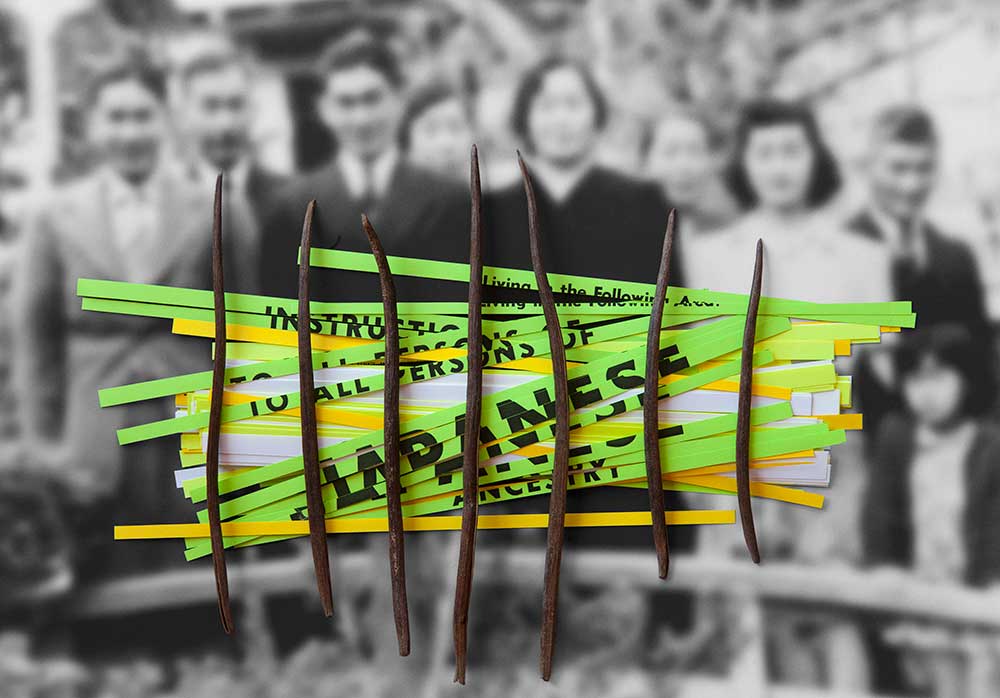 Jerry, can you share with us the exact moment or event that inspired you to embark on the project "Balancing Cultures"? How did this journey of self-discovery and expression begin?
It was not a singular moment, but a passage of many years that lead up to the creation of "Balancing Cultures."  This mirrors the slow growth and evolution of my self-awareness. In 1969, while living in Berkeley, California, I was beaten by the police. Several months later, when the People's Park riots began, I decided to respond by documenting these events. I attended the skirmishes between students and the police and national guard daily for a week, from 8 a.m. to 5 p.m., and made photographs. Some of these images were included in an exhibition at the Phoenix Gallery in Berkeley, and later published in the book People's Park. Also, during this time, environmental issues arose surrounding the terrible consequences of the use of the pesticide DDT. The eggshells of brown pelicans (among other birds) became too thin preventing hatching. I had strong feelings that moved me to photograph these birds because they could not speak for themselves.
Looking back, I feel that my interest in environmental and social issues arose from being raised in a post-war Japanese American household. I was born in Chicago, Illinois, shortly after my American-born parents were released from one of the ten American concentration camps that resulted from President Roosevelt's Executive Order 9066. My family was forcibly removed from their home in Monterey, California, and ultimately incarcerated at the Jerome, Arkansas camp. During my childhood, my parents never spoke of the camps in a political or social context. "Camp" was a marker of time, 'before or after camp,' or a marker of place, 'we met them in camp.' They wanted to protect me from the racism and injustice they faced during World War II, and by doing so they surrendered their own indignation through a practice of silence. The Japanese word for this behavior is gaman, a term originating from Zen Buddhism which means "enduring the seemingly unbearable with patience and dignity." Silence, nonetheless, is a powerful conductor of emotional trauma. In my life, I felt compelled to act when faced with social and environmental injustices—it was my calling to give voice to these issues. I never questioned the origins of those motivations until I did research on the incarceration of the Japanese on the American west coast during WWII.
The first photographic work that felt truly personal to me was the "Kimono Series." I introduced Japanese fabric—primarily kimonos—into my images and, consequently, became more aware of my Japanese identity. I brought kimonos into the landscape and illuminated them with a strobe. This new personal work was validated when it received the Imogen Cunningham Award in 1982. I was making Cibachrome prints at a time when the archival quality of color printing was being challenged. I was the first artist given the award for color work. I felt very honored. The ceremony took place at Ruth Asawa's home, as she was good friends with Cunningham. It had been many years since Ruth and I had seen each other.
I borrowed the Japanese fabrics from the "Kimono Series" and began working with them in the studio, making still-life images in black and white. This project was titled "Landscapes of Presence". Its central focus was time and being in the present moment—as an antidote to accelerating modern life. Creating this series, I formalized a way of working that I practiced as a painter in college and has developed over the years. Essentially, I became aware that if I allowed myself to be present in the moment, open without desire, then answers, visual solutions, and ideas would flow through me.
As this series developed, it became a refined process of working in layers and collage. I began making blurred prints to use as backgrounds and incorporated old family photographs for the first time to bring lost family members closer to my present life. "Landscapes of Presence" evolved for a couple of years while digital technology also evolved. After initially proofing this series as traditional silver prints, my first digital prints on rag paper were inspiring. The images looked like graphite on paper, a favorite medium when I was a college art student.
"Landscapes of Presence" was followed by "False Food", a project about ocean plastic pollution. "False Food" gave me the opportunity to express a global tragedy through a personal lens. Creativity lies in the sweet spot between familiarity and surprise. Negative images can cause people to feel helpless and overwhelmed, triggering them to retreat. Warnings about terror can become acts of terror themselves. The plastic artifacts used in this work were collected by marine biologists from dead albatross, to be used for educational purposes by the Monterey Bay Aquarium. The birds mistakenly eat the plastic and starve. I believe aesthetically recontextualizing an environmental threat opens the heart to stay with the danger and not turn away. I wanted to make something transformative—something that elevated consciousness. When a race car driver is moving at 200 mph, the driver doesn't look for obstacles (we tend to steer toward what we're looking at). Instead, the driver looks for open space. To bring awareness to plastic pollution and the albatross, I wanted to make aesthetic images that would act as artistic open space—an opportunity to re-frame the threat.
Following the death of my mother, my brother and I discovered a cache of photographs of our parents taken in the American concentration camp in Jerome, Arkansas. Seeing these images made the vague idea of "camp" unexpectedly "real" for me. I was compelled to research its history. What I found left me shocked. I wasn't aware of the racism, political injustice, and economic exploitation my family endured during World War II. "Balancing Cultures" was set in motion. Starting with my established narrative-collage approach, I expanded my visual vocabulary by including text-based elements to add context—what I call bbreadcrumbs.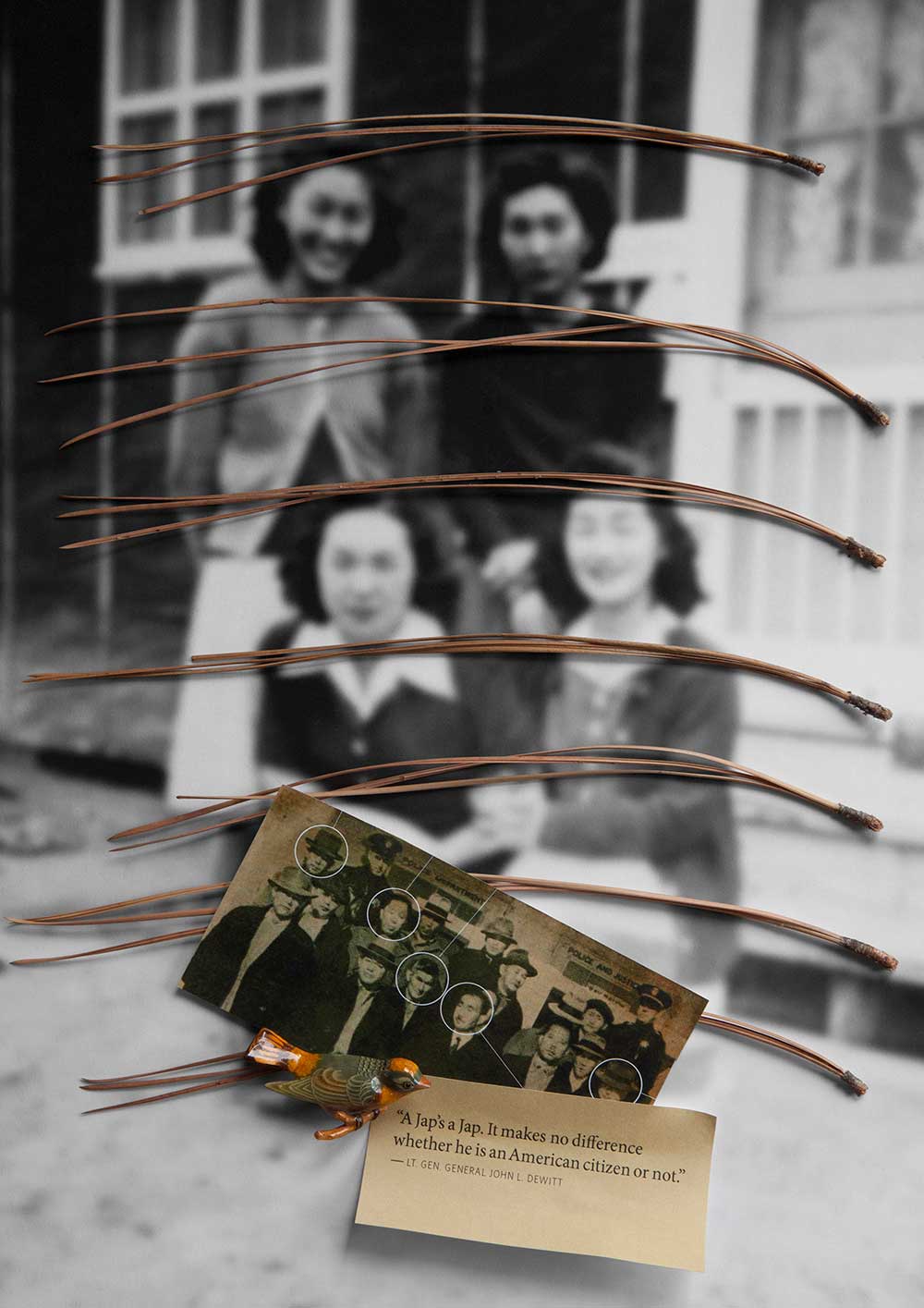 Could you talk more about the creative process behind creating the images in "Balancing Cultures"? How did you select and combine photographs, documents, and memories to build these visual narratives?
With years of practice expressing personal ideas through still life collage images, "Balancing Cultures" would be the most intimate subject I was to take on to date. Using the found family images taken at the Jerome AK prison camp, I created the first images. Researching the social and political climate at the beginning of WWII, especially for west coast United States, revealed racism and xenophobia were at a high pitch. The fact that I was shocked to learn this illustrates how effective gaman, or practice of silence, worked in my life. This energy of anger and disbelief can be seen in early images such as "EO 9066" which I use as an example of my process. The ubiquitous poster "INSTRUCTIONS TO ALL PERSONS OF JAPANESE ANCESTRY" is layered in shredded form reflecting the outrage, indignation, and shame my family felt about being labeled as the enemy at that time. The black and white background image, a family portrait, was intentionally blurred to place it, in photographic terms, in the background—the past—in time and memory. The shredded paper called for heightened energy, so bright color was introduced to make the "voice" louder. I added the vertical sticks because the image "needed" a vertical element to balance the shredded strips. This addition was instinctive and without specific intent, but it completed the image for me. Only later, viewers commented that it reminded them of prison bars.
In your work, you mention that for the first time, you felt the shame, anger, and fear experienced by your family. How did you handle these intense and difficult feelings while working on this project, and what did you learn from them?
"Balancing Cultures" allowed me to express my feelings, but by doing that, it also betrayed my parents' code of silence. This made me uneasy when first sharing the new images with the public. Fortunately, they were received with interest and praise, and I was encouraged to continue the project. In 2018, I was asked to do a public presentation in response to an award I received from CENTER in Santa Fe, NM. The night before the talk, I had a dream in which my father appeared and was angry at me. When I awoke, I wondered if he was unhappy about my sharing these stories in public. But I came to understand that he was only trying to protect me, just as he did when I was growing up. It was becoming clear that the trauma my parents experienced was transferred through their silence and became a legacy for my generation to reconcile.
The title of the project, "Balancing Cultures", reflects your struggle to reconcile Japanese and American cultural attributes. In your personal experience, how have you navigated and balanced these two identities throughout your life and career?
I have to say that my childhood was one of mixed messages. I was encouraged to be "American" by my parents who wanted to protect me yet many Japanese beliefs were passed on. I think this is not unlike many immigrant families facing an element of danger for being different. In my case, I took my parents admonishments to be 'American' to heart. So much so, that it wasn't until my late 30's when I created The Kimono Series that I began to reclaim my Japanese heritage. Owning my Japanese heritage began a journey of working from an authentic personal point of view.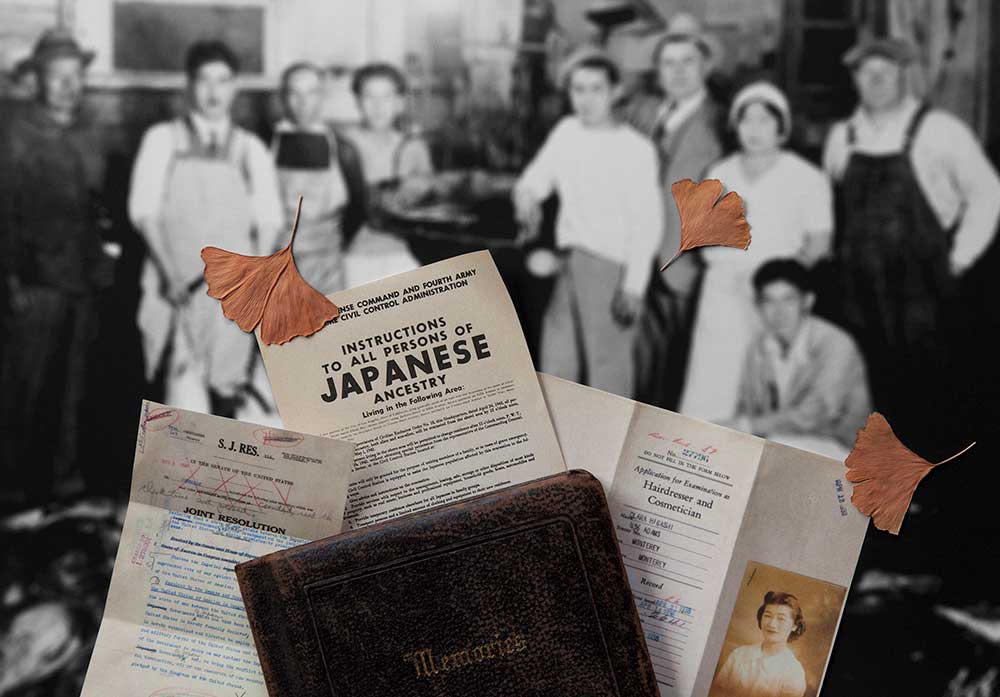 "Balancing Cultures" not only narrates a family story but also resonates with current events, as you mentioned regarding renewed violence against Asian-Americans. What impact do you hope your work will have on contemporary audiences, and what conversations do you hope to start or amplify?
"Balancing Cultures" was introduced at the same time Donald Trump was elected President. The project to coincided with our immigration issues and renewed racist climate. This series was recognized for the parallels history brings to the present. Personally, it was important that I did the project to give voice to my ancestor's silence about the unjust incarceration of 126,000 persons of Japanese ancestry, two-thirds of whom were US citizens. With respect to current audiences, you can't change what you can't see.
We're living in an age of perma-crisis. I believe our sole purpose on the planet is to dispel the illusion that we are separate. In fact, we are not separate from each other nor are we apart from Nature. The polarities we see today are caused by an inability to live with diversity. The personal intent of "Balancing Cultures" is to honor an untold family story and bring its inherent feelings to light through art. The more universal intent may be the cultural promise of gaman. The Zen origins of gaman gave my ancestors permission to release their shame of being seen as the enemy. They lived with their anger toward the United States for wrongfully accusing them and at the same time they raised me to be American because they loved their country. "Balancing Cultures" posits paradox as an existential ingredient for a balanced and spiritual life. It speaks to the wholeness of an inclusive "both/and" model of living and encourages a tolerant and plural tomorrow—the only possible positive tomorrow. It's a call for hope—something that makes sense to do regardless of the outcome.
Considering you have studied photography and also have a degree in art with an emphasis on painting, how do these disciplines intertwine and complement each other in your work, especially in "Balancing Cultures"?
Like many artists, I put in my ten thousand-plus hours of practice to become competent with the medium of photography, including the transient embrace of landscape, figure studies, and alternative processes. Coming from a fine art painting education, I avoided lingering in the school of 'straight' West Coast-style photography. My art training advocated originality and authenticity. I saw photography as a language and, as I became fluent, I wanted to use it to express something meaningful. Early on, I was fascinated by quantum physics which found expression in my early work through images of reflections, layered with 'parallel universes.' This was followed by images that were intentionally blurred or soft-focused—expressive of molecules in motion and applied to a variety of subject matter from trees to figurative work.
"Balancing Cultures" continues the aesthetic born in the studio of combining photographs and objects with text elements added for context. It is a continuing evolution of a personal aesthetic and visual approach to image making. The practice of collecting diverse materials, objects and artifacts and assembling them into a new context is common in 20th Century art history. I embrace this additive practice in my photographs and find it a useful approach to personal expression.
Besides photography, you have also worked as a designer, curator, and writer. How do these different facets of your career interact and inform each other? Is there one that you consider closest to your heart?
Design gives me the opportunity to help someone bring their passion to the world. The creative process allows me to work in the realm of metaphor, a key ingredient to effective, emotional communication. This is the same approach I use in making fine art images. In both cases, I'm addressing the limbic brain of the viewer/audience. In this manner, I create from an internal feeling place outwardly through a tangible visual/verbal expression.
In 2018, I met Kathy Dowell of the Mid-America Arts Alliance (M-AAA). She leads an organization that creates traveling exhibitions for small to mid-sized museums and gallery spaces. Our discussion of "Balancing Cultures" as a possible traveling solo exhibition evolved into the creation of a group exhibition using "Balancing Cultures" as the underlying theme. I contacted my friend and fellow curator, Gail Enns, to co-curate this exhibition. Together, we selected eight Sansei (third generation Japanese American) artists whose work was an expression of the legacy of Executive Order 9066. This exhibition is titled "Resilience: A Sansei Sense of Legacy" and is touring the US through 2028.
I find curatorial work allows me (and the viewer) the opportunity to take a broader look at a particular issue or theme and it is informative to learn about the similarities and differences of various artists' expressions of the same subject matter. I also enjoy the relational aspect of getting to know fellow artists. Writing, on the other hand, is primarily a way to understand what I'm thinking about—what's important to me, what I'm working on. I turn to writing most often to give underlying intent and guidance to my photography work.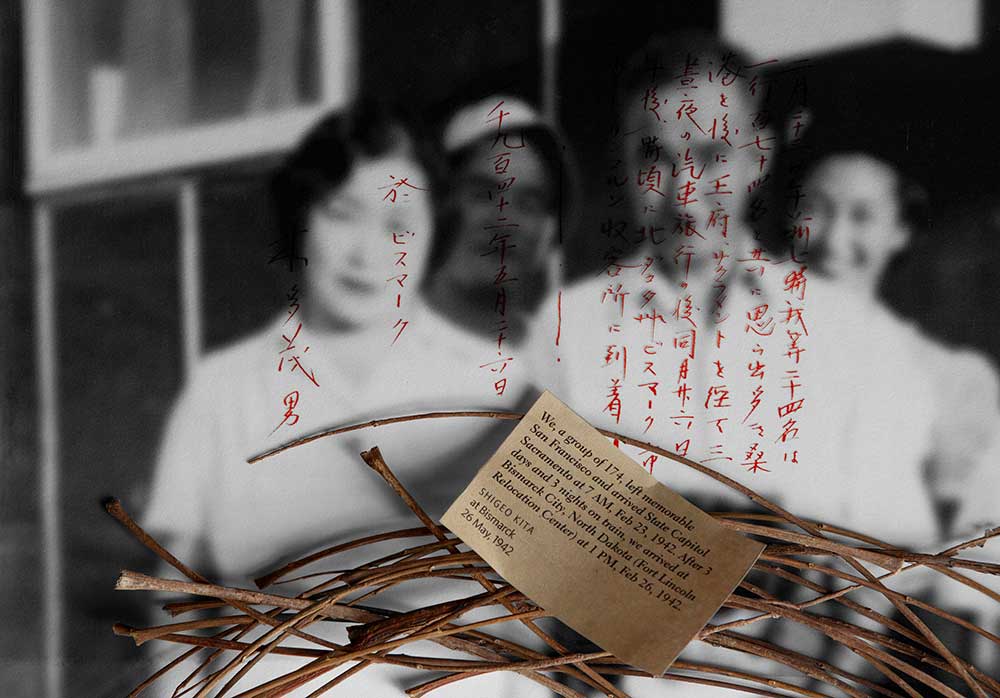 Finally, do you have plans for future projects related to exploring identity, history, and the Asian-American experience, or do you have in mind addressing completely different topics in your next work?"
Photography is a journey of discovery—of truth and of the self. For the past several years, I've been presenting "Balancing Cultures" to a variety of audiences through exhibitions, publication, artist talks, book talks, panel discussions, and interviews. To delve deeper into my personal/universal narrative, I'm moving toward examining gaman as a practice of reframing perception—the existential perception of how to coexist in a diverse and complex world. I am compelled to look deeper through the lens of intergenerational trauma for the benefits that gaman may hold. Human flourishing, not just survival, depends more on adaptation and transformation than on immutable dominance. The future is not a zero-sum game.
In my next photography project, I will address current issues of race, gender, and planet through new photography work that fosters a fresh understanding and stimulates a dialogue about reframing our social contract to one of interdependence. Gaman is the Zen Buddhist view of resolving unbearable hardship and injustice with patience and dignity. My parents as well as most post-WWII American Japanese adopted this practice—manifesting as their silence. This kind of cognitive reframing contains a template for adaptation and transformation in today's diverse populations. Adaptation is a proven attribute of survival and success in nature and as a practical tool, gaman reminds us that perception has the power to change our behavior, and as such, to change the world.
I fear for my race—by that, I mean the human race. The successful survival of our species mandates collaboration and equanimity. It is critical to understand that diversity is what we have in common. Solutions to issues of race, gender, and planet hinge on our ability to imagine a new cultural story—from the old worldview of separation to interconnectedness—advancing the paradox that we are all different and we are all the same.