Machalowski, a German photographic artist who majors on the city and the countryside type of photography two opposite fields, with all their major differences and their potential for a perfect interaction.
I am currently a listed photographer at the Art Photo Index and LensCulture, and also a member of a permanent collection of the Bibliotheque Nationale de France in Paris. [Official Website]
Can you tell us a little about yourself?
I am Frank Machalowski, 47, married, no children and we live in Leipzig. Since 2011 I work as a freelance photographer and photographic artist. I was born and raised in Berlin. After graduading in economics at the University of Berlin I worked for a business and management consultancy specialized on business information technology for fourteen years. 2015 we moved from Berlin to Leipzig.
How did you get interested in photography?
My father was an amateur photographer and he had his own little darkroom in the basement of our house. So I grew up with cameras, film canister, film development and negatives. I was always fascinated by the process of filmdevelopment and keen on getting my own equipment. As a teenager I bought my first analogue camera and started taking pictures just for fun.
Can you explain us the idea or the story behind this image?
The picture is one of my longtime series "tierwald", which I started in 2013. If you look at it superficial – this series is easy to describe: exotic animals in a foggy natural Central European forest. But my intention is not so simple. Every created image is ment to be inspiring. Images arouse emotions, they impress and fascinate, stimulate desires or cause the opposite. I want to encourage the viewers to question what they see. They should concern themselves with what they see, feel and think. Every image is meaningful and waits for the individual interpretation of a viewer. This image is one of my favorites. For some the image is sad, a sign for loneliness and melancholy, a symbol for "bury one'shead in the sand". Others discover in the young elephant a symbol for power, strength and willpower, true to the motto "there is nothing to prevent me". I really love the room for interpretation.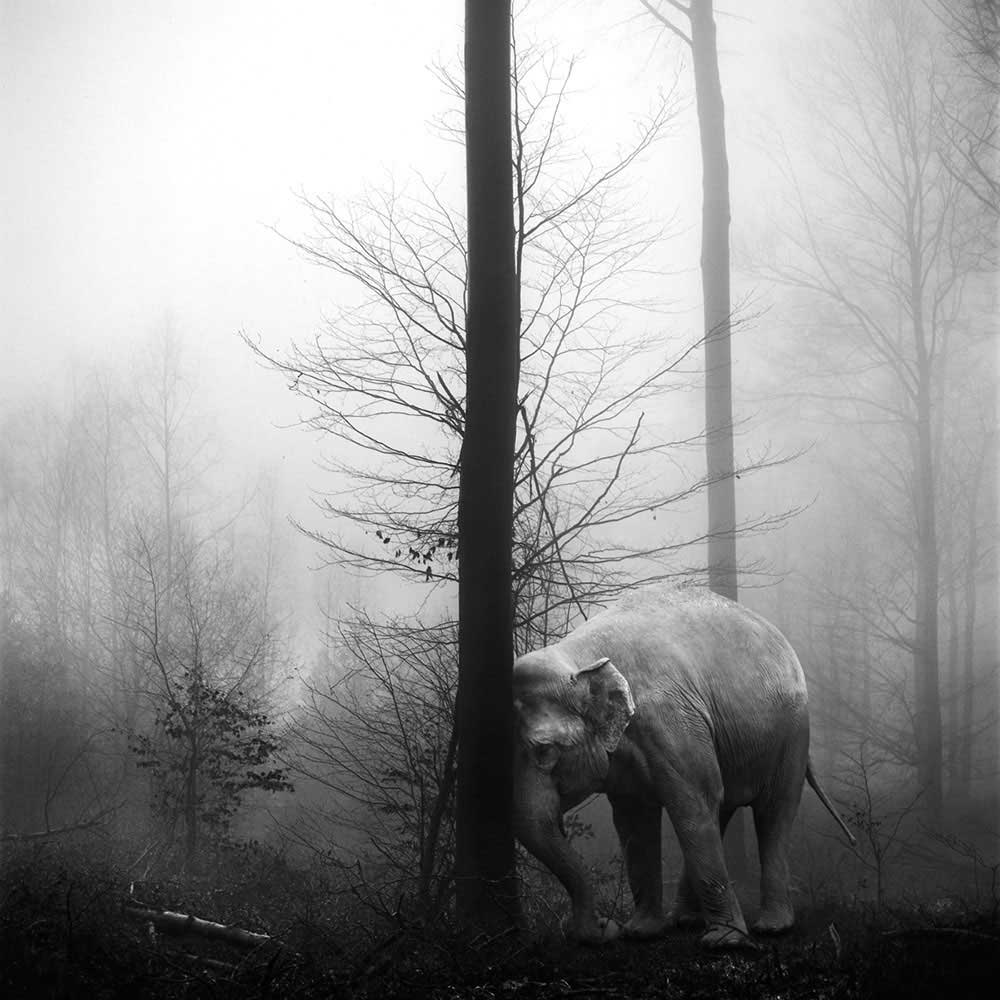 We are talking about the postproduction process. How do you get the final result?
The postproduction of the "tierwald" images start with the film development, scanning the negatives and then searching for the two discrete images which are just melting into one another. I have to think outside the box, stay creative and productive. Sometimes a photo pops up in my mind which I took years ago because I think that it would perfectly fits together with the one I just developed. Image editing software helps to adjust, correct and to highlight the key subject.
Where and how do you find inspiration for your own photography?
I find inspiration in my life. Going through every day life with open eyes and open ears and stay open minded.
How would you define your general style photography?
What's the biggest challenge for your photography genre?
Could you please tell us anything about your technique and creating process?
The main focus of all my series is on analogue photography no matter if 35 mm or medium-format, because I love the analoge technology. Related to the "tierwald" series – every image is a long creative process that consists of two parts. On the one hand I take photos of different German forests on foggy days in autumn and winter, usually early in the morning. I am always fascinated how the landscape changes on foggy days, the surrounding decelerates, the fog slows down everything even the process of taking pictures and time seems to be running slower. On the other hand I take a lot of photos of different animals in zoos and wildlife parks all over the world. Afterwards I start the long process of finding the perfect match.
In your opinion, what makes a good fine art photography
The image appeals to the senses and feelings of the viewer and takes him on a journey of the mind in the diversity of my art.
How much preparation do you put into taking a photography?
It depends on which kind of photography we are talking about. In the case of streetart: seconds, in the case of commissioned work it can take months from the planning to the shooting.
Your idea of the perfect composition?
It's nothing I can put in words and it's not based on knowing it's more a feeling that the image is perfect.
What would iI find in your Camera Bag?
Most of the time: two cameras, cigarettes, mobile phone, tissues, batteries, cable release and cleaning wipes.
Dreams and projects need to be done. What is the message you want to leave?
What future plans do you have? What projects would you like to accomplish?
I would love to travel in India to portray the land and its people. Maybe working on a documentation as a travel photographer.