An aerial photo, an immediate feeling of naturalness, of amazing experience. Seeing from a bird's perspective is not consistent with seeing from the ground.
It took you quite some time to be able to condense information from such a large scale of vision and when you fly and take photographs, shadows lift objects from the ground, allowing the viewer to be drawn into the photograph as if going beyond the real to the more real.
I got in touch to a pilot in Iceland that I worked with very closely and I mainly used an Ultralight aircraft, so I could fly much slower and lower allowing me to take my pictures without the orientation of the horizon.When I arrived the pilot told me we were about to fly over a peculiar area in Iceland. I'd been travelling and taking pictures in Iceland for several years but I'd never seen anything like it in my life and just kept photographing the event. My hypnotic picture of a river close to Myrdalsjokull glacier, shows the extraordinary way it flows into several branches. Seeing things from air provides you with a totally different perspective, seeing a different reality and power of nature. Red color in the rivers stems from the iron oxide, the yellow from the acidic bog soil and the blue from the glacial rivers. Everything flows into a work of art as the shapes and colours combine. Iceland is a world roused  not more and  here remained unchanged.
An incredible blend of softness and ruggedness warmth and coldness, that characterizes the amazing island of ice. A unique unthinkable and fantastic identity, a secluded world shaped by fire and tempered by the ice. Observing Iceland under two perspectives, an alien world, a unique portrait about natural beauty of an island which captures the heart of every photographer. A collection of photographs presented in a stylish hardback coffee table book of mine "ICELAND – Visions of Earth", Preface by Eliza Reid, First Lady of Iceland, poems by Sigurbjörg Þrastardóttir, publication date : September 2017 – "ICELAND – Visions of Earth" – "ISLANDE – Entre entre rêve et réalité" – "ISLANDA – tra Cielo e Terra" – SASSI Editore – Indigo Books – Vilo Editions.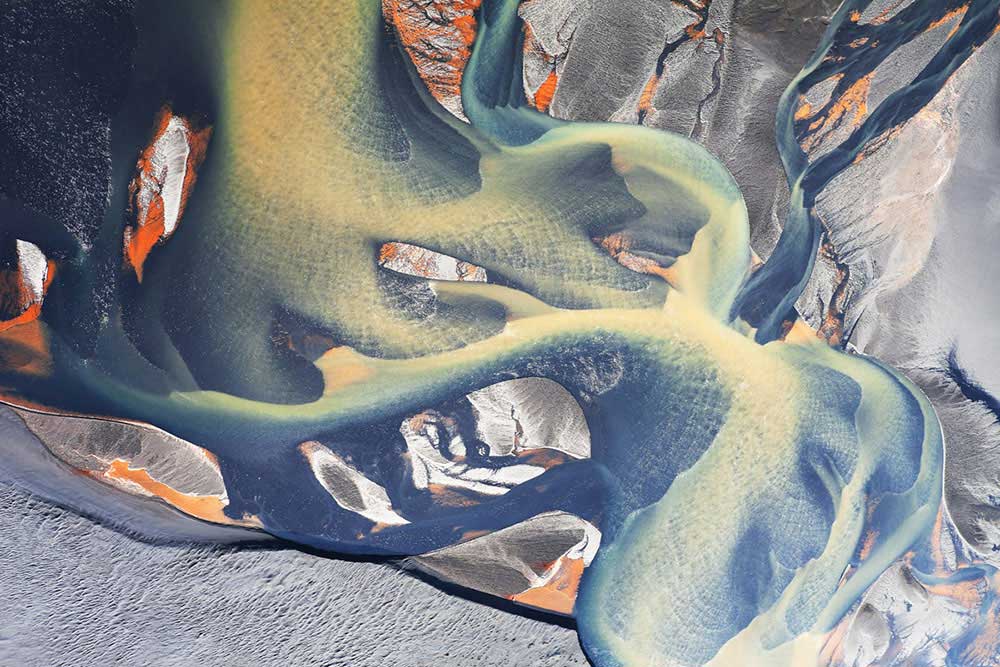 About Massimo Lupidi
Massimo Lupidi is a self-taught Italian freelance photographer with a background in environment, travel reportage, aerials and landscapes. With over 25 years of photographic experience, he has shot production stills for several exhibitions, magazines, brochures and books. Attention to detail, finding the extraordinary in the everyday and taking a fresh perspective drive his work. 
His key contributions have been to: Fotopratica, Reflex, Royal Photographic Society – Travel, Still Pictures Library, Bureau of Freelance, Collins Educational, Meridiani, Francorosso-Alpitour, Malan Viaggi, SeiViaggi, Heinemann Publishing, White Star Publishing, Phillip Allers Ltd, The Journal of Wound, Socialist International, Kingfisher and David West Books, Eine Welt, McMillan, Icelandair, Iceland Magazine, National Geographic, Art showcase in Saatchi Gallery since 2007 and 500px. He was the only European photographer to win a prize at the United Nations "Focus on Your World" International Competition during the 1992 Earth Summit in Rio de Janeiro. [Official Website]