Official Website : www.hipa.ae
ABOUT THE HAMDAN BIN MOHAMMED BIN RASHID AL MAKTOUM INTERNATIONAL PHOTOGRAPHY AWARD (HIPA)
Since its launch in March 2011 by His Highness Sheikh Hamdan bin Mohammed bin Rashid Al Maktoum, the Crown Prince of Dubai and with the blessings and attendance of His Highness Sheikh Mohammed bin Rashid Al Maktoum, UAE Vice President and Prime Minister, Ruler of Dubai, the Hamdan bin Mohammed bin Rashid Al Maktoum International Photography Award (HIPA) has taken steady steps in its development and growth as inspired by its founder.
It has put emphasis on the building and development of man through honing human skills and nourishing ambitions that know no limits in order to excel in the eld of photography. In an era where a photograph has become the most credible witness of the truth and the most e ective means to deliver a message of a thousand words.

HIPA has established a strong presence at the top of the list of institutions that work to build the artistic and cultural aspects of man, while spreading the culture of photography from an aesthetic perspective that touches on the most re ned sense and feelings of man to promote happiness, wellbeing and excellence in the world. This is very imporatnt in a world where photographs are increasingly becoming a main currency, and one of the most e ective means that connects the world's di erent peoples and cultures, not to mention the professional impartiality of photographs and their ability to combine complex thoughts and qualities with simplicity of principles and established facts.
The development of man is one of the top priorities for wise leadership. This concept is crystallised in His Highness Sheikh Mohammed bin Rashid Al Maktoum's words: "The individual is the main element of strength; it is natural that we give the individual our utmost care above everything else."This statement gave birth to all of HIPA's strategic goals, whose interest was not con ned to UAE nationals – though they are the main target – as the Award seeks to keep pace with the global stature attained by the UAE, in general, and the Emirate of Dubai, in particular, in all social, cultural, scienti c, economic and sporting elds.
For ve years, members of the HIPA Board of Trustees have worked incessantly to achieve excellent results beyond the scheduled targets in order to live up to higher expectations from a fast growing audience that has an immense passion for new horizons in photography, and that appreciates the integrated values of the exceptional outcomes achieved.

CATEGORIES: THE CHALLENGE
Photographers are very familiar with the challenges faced in their line of work. They often have to deal with challenges in order to be able to capture the right image at the right moment and deliver the intended message or provoke the right feelings. However, this category is about conveying the theme of challenge in a clear manner either in the way the photograph was shot or in its content and subject matter. The scope is quite wide; the challenge could be shown in the composition of the picture, the arrangement of its elements, sequence, the lighting, or in expressing the odd and unusual (without digital manipulation). It can be in capturing a eeting moment that may never pass again, or in delivering a piece of information or situation that is quite hard for most people to do. Don't limit your mind to what the challenge may be; seek it and capture it.
DIGITAL MANIPULATION
Digital manipulation of photography has reached unprecedented highs that could never have been dreamt of before. In fact, it has arguably become an art form of its own.
Therefore in recognition of this art, HIPA is giving creative photographers with digital skills the opportunity to deliver an out-of-this-world image that is both convincing and realistic; a mind-blowing image from the realms of fantasy that challenges human perception with its apparent reality.
We invite all creative photographers to let their imaginations loose by taking real photos and digitally manipulating them to unreal levels of art, beauty and thought provocation.
This category will no doubt usher in a high level of competitiveness in creativity and digital skills… The sky is the limit.
PORTFOLIO
This category invites photographers to convince the jury of their photographic talents and skills combined with their knowledge in a particular topic or theme of their choice by telling a story through photographs. The challenge here lies in imagining the desired setting of the photographs before capturing them in separate frames that would tell the story on their behalf.
The Portfolio category is an innovative addition to HIPA which no doubt breaks the barrier(s) of the single photograph and the single moment, and allows for the planning and execution of a story from various di erent angles and perspectives with di ering or contrasting moments. This is a unique core challenge for HIPA in its sixth edition. Take up the challenge!
GENERAL
This category remains as attractive as ever for photographers who have an outstanding eye for photography that doesn't necessarily fall into any of the other categories. Year after year, this category has gained quality and diversity, with a constant share of about a third of all entries registered in HIPA. Accordingly, HIPA has widened the scope for this category and will o er participants two opportunities instead of one; thus dividing it into two sub-categories: One for Black and White entries, to give deserved substance to this classic art form, and the other is for Coloured entries, giving participants the option to dazzle the jury and viewers with their colours.
SPECIAL AWARDS: PHOTOGRAPHY APPRECIATION AWARD
There are many passionate people within the photography industry who are dedicated and relentless in their pursuit for excellence. These people o er their services and expertise without expecting a return on their e orts and therefore form a vital part of the photographic community.
The 'Photography Appreciation Award' is a special category for a person or group who has shown long- standing commitment to enhancing the art of photography. By awarding the recipient, HIPA hopes to give back a small amount of the respect and appreciation they deserve.
PHOTOGRAPHIC RESEARCH/REPORT AWARD*
Research requires an unprecedented commitment of time and e ort towards a particular eld of study. It is invaluable in helping mankind create the future and advance knowledge and capabilities.
HIPA aims to enhance the ever-developing research eld within photography by introducing the 'Photographic Research/Report Award'.
The Award will celebrate research that re ects excellence in the eld of photography. This strengthens the strategic goal of the award, which to develop the art of photography for the entire photographic community.
*Participants may enter these two special awards by invitation only.
CATEGORIES AND PRIZE MONEY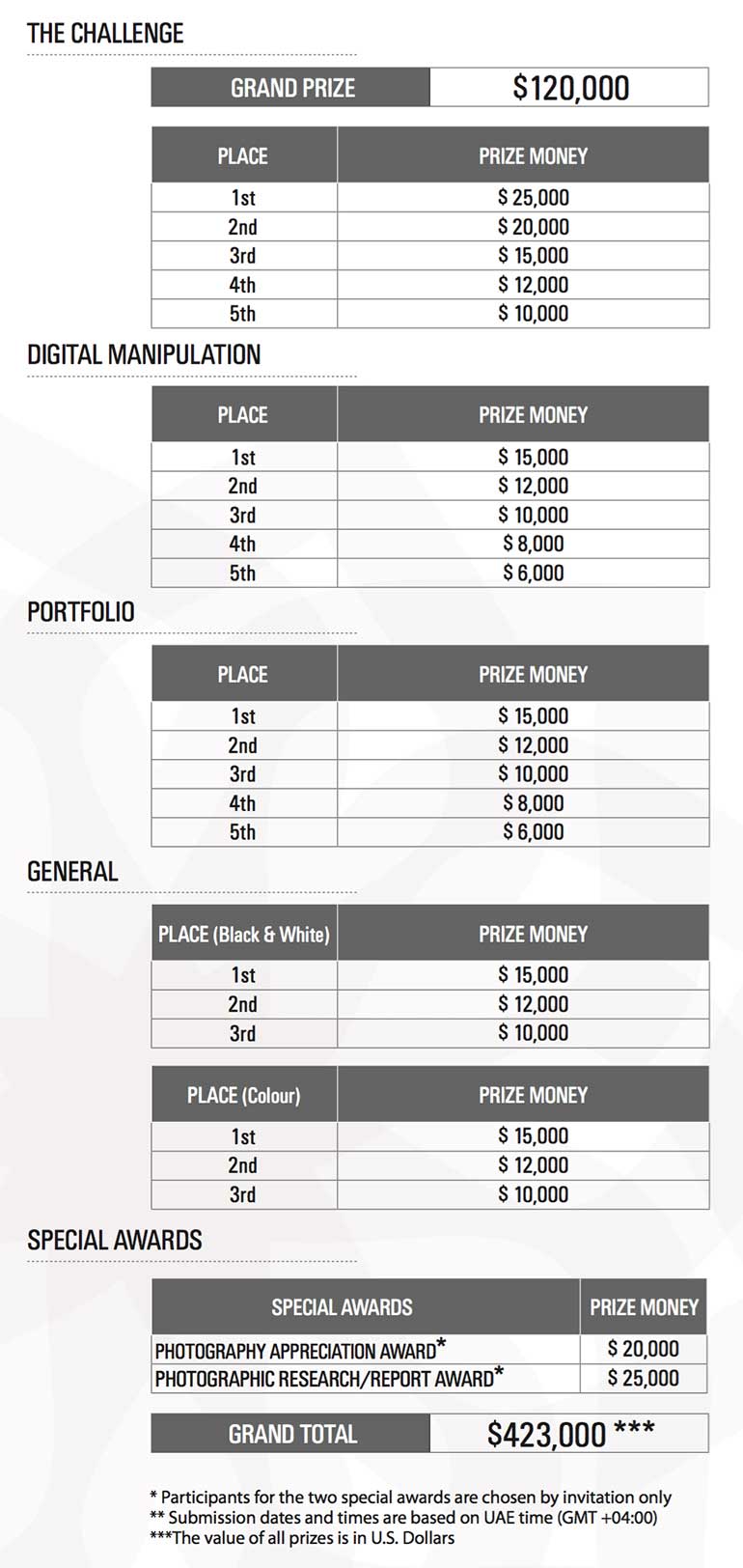 Submissions Close: 31st October 2016 (Midnight)