Most, who tote cameras around, look for congruence: symmetry. As a photographer, I look for the opposite.
I look for incongruity, contrast, disagreement, dissonance and the asymmetry. No where is this palate: a buffet for the senses, more varied and abundant than in India – a place of transformation.
In photographic parlance, visual incongruity: oxymora, is the symptom of very rapid changes in society. Transmogrification that produce high degrees of contrast, dissonance, and bipolarity in the existential conditions. It is the inertia of societal conditioning and habits against rapid change that give us incongruity: our visual feast.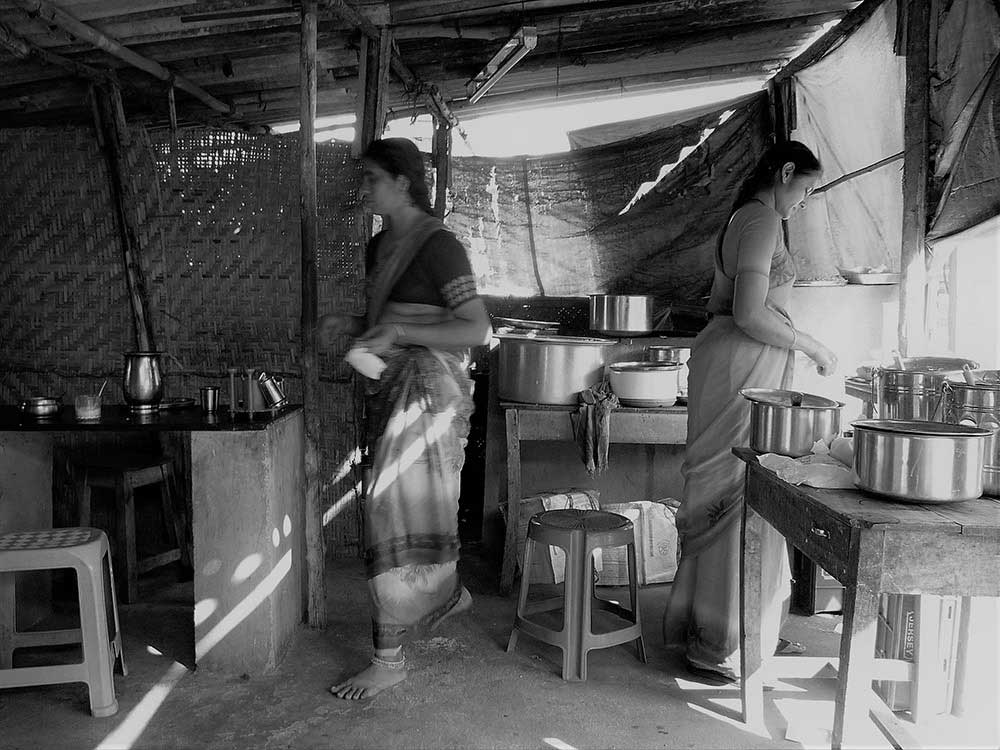 What is a habit? It is an acquired behavioral pattern regularly adhered to, till it becomes involuntary. Habits have a deep bio- psychological impact, to the extent that they become hereditary gene memories. What is conditioning? Well, there are two perspectives: first, Instrumental conditioning, a process of changing behavior by rewarding or punishing a subject each time an action is performed, until the subject associates the action with pleasure or distress. Second, the classical or Pavlovian conditioning, a process in which a stimulus that was previously neutral, like the crowing of a rooster, comes to evoke a specific response, as the time to get up. This is paired with another symbiotic stimulus that evokes the aroma of coffee.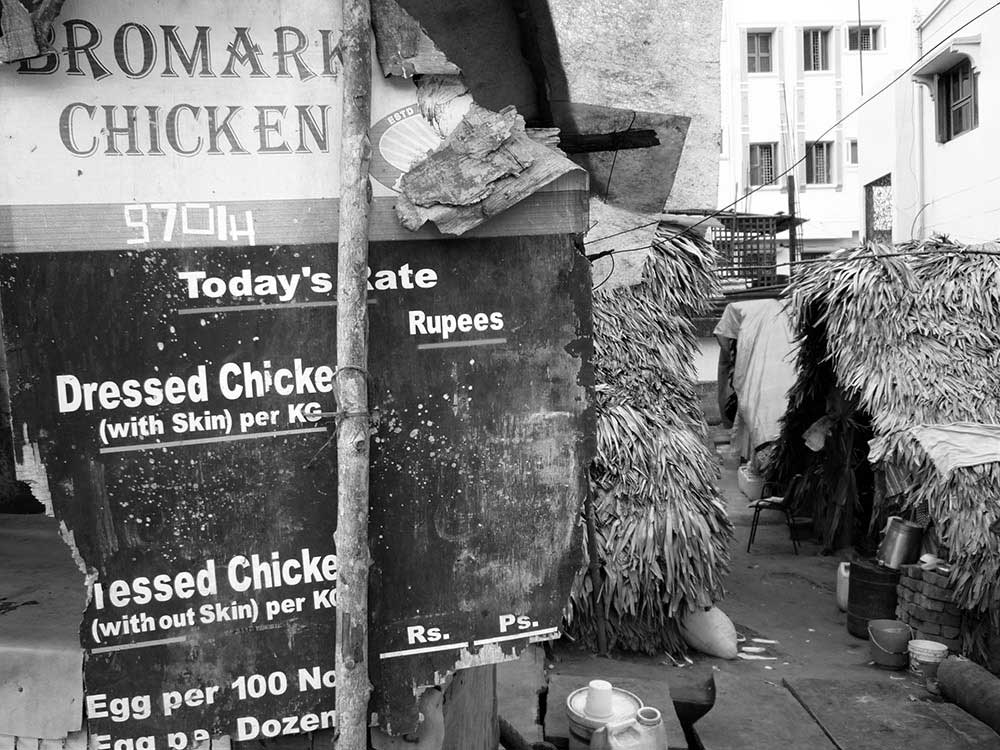 How does it impact photography? In the context of a specific people, habits and conditioning provide a profound texture and tapestry of experiences for photography. It's an infinite optical quarry to mine from! People are creatures of habit and conditioning everywhere. And, despite the technological conveniences and conveyances, people resist change, rendering themselves either obdurate or obtuse enough to provide us, with some of the most ironic and iconic images of themselves. Nowhere is this phenomenon of habitual primitivism more ubiquitous than in India, especially, when it is one of the most technologically advanced states in the world.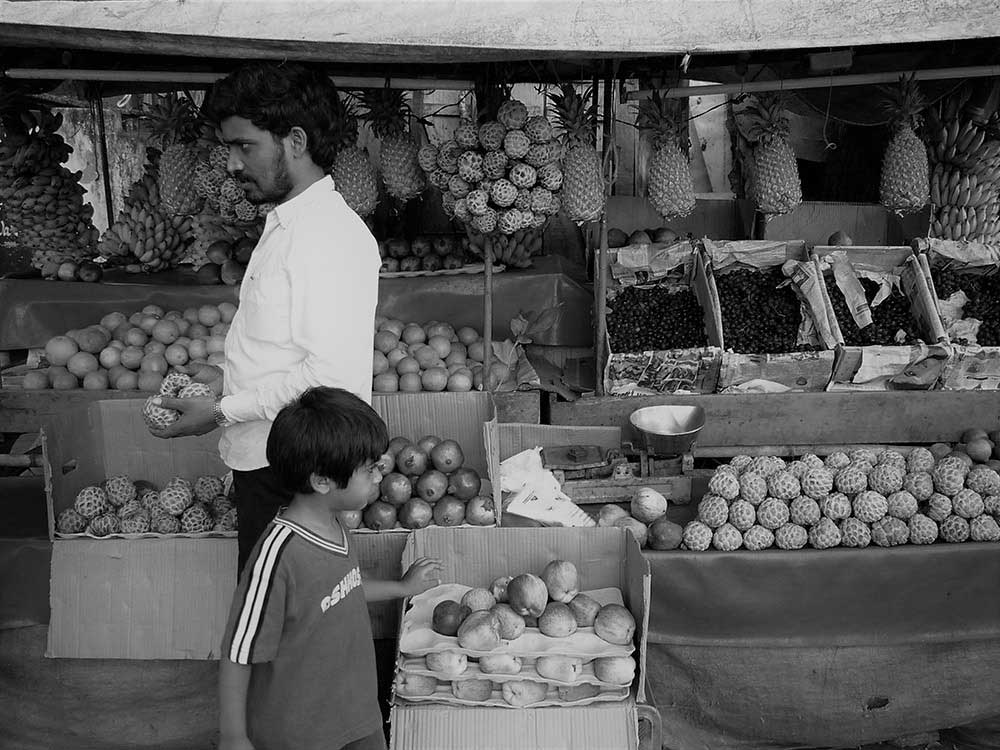 This small collection of photographs I present are the visual testaments to such tangible and intangible incongruity as I had explained. Images include the boys at play even in the most convoluted conditions. People build their small homes imitating the ruins to avoid being noticed by the tax collectors. A food shack on the road was a transparent affair, compared to the rodents I saw rummaging on the floor at a posh amber lit restaurant. Intentions versus innocence is another photograph that shows the lustful eyes of an adult, contrasting with the boy's innocent peering in the opposite direction. Then, there are the loungers, who congregate at the train station, not to travel, but to socialize! Shacks butt up to concrete Shangrilas in an upscale locality in the city of Visakhapatnam — unexpected symbiosis, interdependence being the key. The guys on the SUV: their mode of travel may be modern, but it's still a hayride on the highway from the 19th century – comfort and risk forsaken for habit!
One of my favorites is an accidental shot of three men in the booth collecting tolls – interestingly, none of their actions were manifest, there was no transparency in what they were doing, it telegraphed the way all government business was conducted. On a farm near Mangalore, as I went behind the storage looking for textures, I heard this sinister scaly rubbing, what I thought was a hiss – I whirl around. There they were hiding in plain chilling sight, barely two meters away, a tree stump perch for two huge pythons, they were set against a mildewed wall! Progress is relative, it's a selective condition there, while the development of infrastructure is rudimentary, there's another infrastructure that is not visible. It's their incredible WiFi network. A water carrier, leaning against the well, uses his satellite phone to call his son in Oregon. He doesn't allow me to photograph him, but he shared an amazingly humorous story.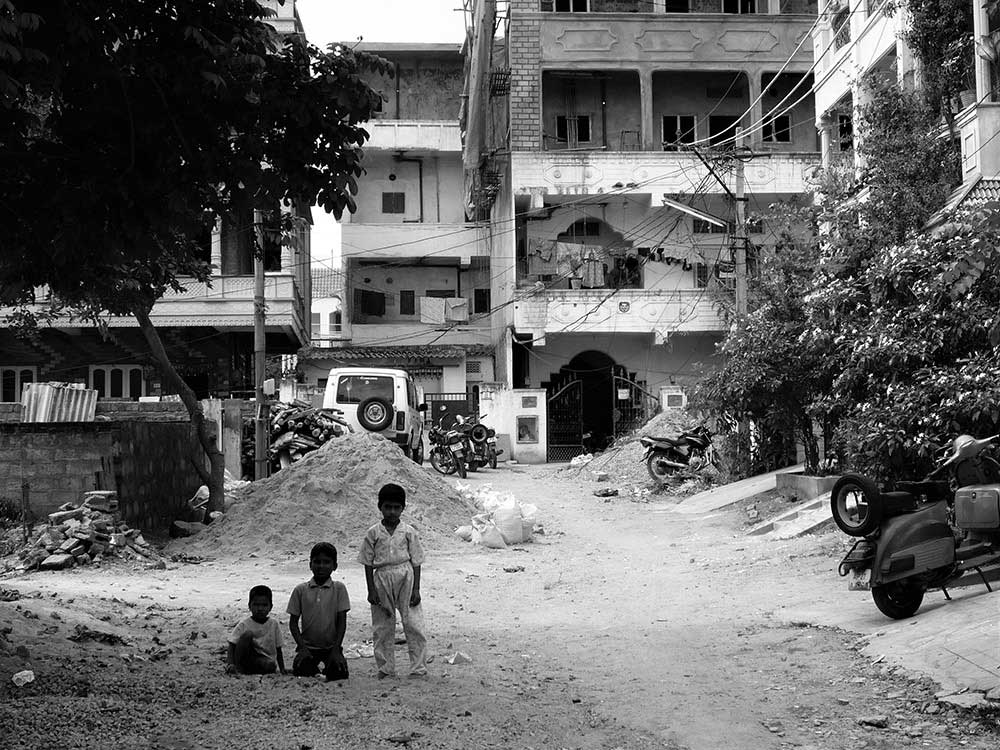 How about all the women, incarcerated within their patrician environments? The Hookah smoking mother-in-law sitting above the one she controls; the metaphor of mother and daughter behind the bars, though on a train; and the illiterate midwives at a rural hospital in their cheery disposition, still delivering babies in the 21st century. How about that fierce beauty of the vegetable seller, with the attitude of a princess? The washer woman by the Godavari river, is kept busy by all her affluent clients, who possess branded washing machines in their homes? She revealed something unexpected and heartwarming, when I had a few words with her.
Women are the best hagglers, whether it's buying or selling. Then, there are the men, who wait in a resigned state at the government ration outlet in Velangi. The most intriguing aspect of my travels in India is the mind bending incongruity I stumbled into at the preponderance of women in this "male dominant" society. While the men ply their lives mostly in lethargic resignation and equanimity, the women are the spirit, the vigor, and the spice of society in almost every transaction. They preside over everything, from reason to treason, and from traditions to transacting the tomorrows! It's a mysterious psychopathology, but, makes for great photographic renditions.
Finally, more than anything, it's the image of the Pipal sapling, that rooted itself behind the WiFi box in soil that wouldn't fill a thimble. If not uprooted, it could within a decade, dismantle the concrete structure on its way to finding more soil and moisture. Seen what Pipal trees have done at Ankor Wat? It's a powerful metaphor, a terse and assertive claim that life is unstoppable, in the alchemy of illusion and brutal reality — that we somehow manage, with the help of humor, irony and counter-intuitive capacity, by recognizing that elusive beauty in incongruity!