An image only makes sense if it "sees the light" and if it is seen by someone. Otherwise it would be just a visual thought. In my opinion, the best way to bring an image to life is through a book.
The book is a messenger who enters the personal sphere with discretion and prudence, inviting the reader to find a physical and mental space before opening up and giving him his treasures. This article is about the history of a book made up of poems and images that I self-edited and created in collaboration with Juan Pablo de Miguel and Dani Rodríguez. The book whispers my being in an open way and seeks the reader's empathy in sharing a vision of life.
Parallel stories and a friend
In 1975 Steve Sasson, a Kodak researcher was able to create the first prototype of a digital camera; It was a camera that weighed 3.6Kilos, which took only black and white images with a resolution of 0.01 Mpx and took 23 seconds to record a photo. In 1981 the first digital video device came out on the market; it was the Sony Mavica which recorded the images on a floppy-disk. In 1987, Brothers Thomas and John Knoll developed a software for viewing computer images, called Display; in the following years the two brothers perfected it, added image editing functionality, until Adobe bought it. Photoshop saw the light in 1990. Photoshop boasts the record of being the most pirated software in the world but also of being one of those with the highest number of installations; it is certainly the key software in the digital revolution of Photography.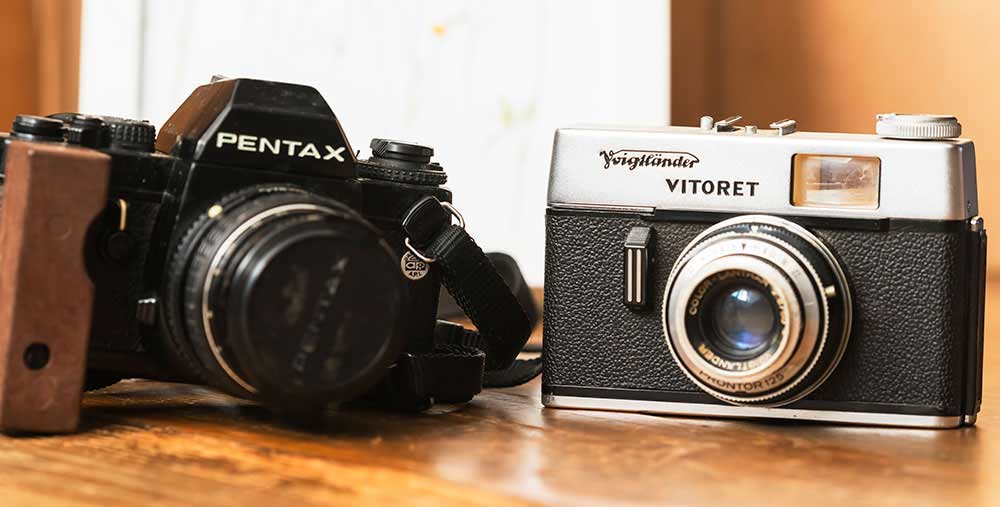 In those same years I began to photograph with a Voigtlander Vitoret given to me by my friend Lello, and then moved on to a fabulous, versatile and resistant Pentax ME Super. Those were the times of photographic emulsion, of slides, of films such as Ektachrome, Provia and Velvia, of development processes such as Cibachrome with which I have been practicing for some time thanks to and together with Lello.
Women and roller coasters
In parallel with my passion for photography and information technology (these were the times when I worked in Olivetti in Ivrea), girls occupied most of my thoughts (and not only). Encounters, misunderstandings, loves, dislikes, correspondences, discrepancies, all with a high level of parallelism. A swing of emotions that overlapped, intertwined, knotted, tangled. In short … a real mess! A very fertile ground for a sensitive and fragile person to feel (and sometimes suffer) strong emotions, both positively and negatively. So, I began to write poetry and I must say that I shouldn't have done it very badly, since I won the Cittá di Torino competition in the "silloge" category (with Paradigmi dell'anima in 1994).
Then came the big step in work: I moved to Bilbao to the European Software Institute, there I met the one who is now my wife and I began to maintain a dangerous parallelism between traditional and digital photography. This happen thanks to the Casio QV-10, the first digital camera with built-in LCD screen, which allowed us to see the images just made! It is known that the moments of transition, the changes are also sources of great emotional imbalances, so even in those years I continued to write poetry.
The emotional roller coaster slowly smoothed out and slowly took the form of a serene landscape, in which the shadows were only the necessary contrast to enhance the brightest lights. Marriage, travels, children, economic consolidation, consultancy work, all this was accompanied by a decisive growth in photographic passion, supported by the absolute power that digital photography now exercised over me; first through the Lumix DMC G2, then by the Fuji X Pro1 and finally the Sony Alpha-II 7R. 

Photoshop and a master
All these technical and digital tools would never have allowed me to give space to my intuitions and creative fantasies if they had not been accompanied by software as powerful and versatile as Photoshop. For my concept of photographic art, the fact of being able to mix, overlap, cut out, illuminate, juxtapose, ultimately create what I have in mind or what I feel constitutes an absolute power that has allowed me to overcome the enormous limitation I suffered since childhood from not being able to draw and paint.
When I met Juan Pablo de Miguel, my photographic world changed radically. He took me under "his protection" by first dismantling my false certainties; reconstructing in myself the bases and technical pillars of photography; transferring his ability to see and compose to me; opening me the infinity that exists in Photoshop; educating me not to overdo it; teaching me to understand what to enhance and what to tone down in an image. His generosity and his 360-degree visual skills helped me to enter in a new dimension and thanks to him I am here today to tell you about this book Fotopoesie.
Fotopoesie
Fotopoesie is a book that materializes in images and words the story that I have just finished telling you, with the nostalgic perspective of a past time, seen with the gaze and the emotions of a person who relives that period through a blue distance. The book combines fragments of poetry with photographic fragments created from when I was using Voigtlander Vitoret, until digital photography entered my life; from when I started writing poetry until the roller coaster turned into a serene landscape, passing through all the emotional and personal experience of those years.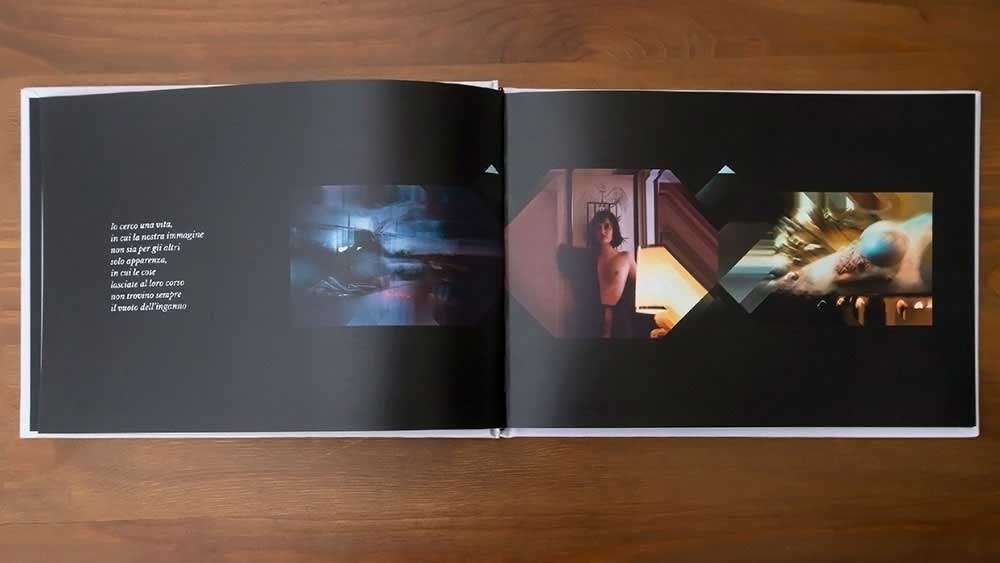 The book format (23.5cmx16.5cm) is deliberately intimate because I would like readers to prepare themselves for reading and viewing, comfortably seated in a welcoming and personal environment in order to create the empathy necessary to relate poetry with images and therefore emotions. with evocation.
As I said at the beginning of this story, the images I included in the book are the ones I took with the Pentax ME Super and the slide films. I present them as a strip of three slides that I scanned together. In this scanning process, due to an optical effect derived from the same mechanics of the scanner, the slides seem to want to merge together through random strips of color, thus overcoming the black frame of the support that separated them. This effect found by chance during the exploration phase of the project, I incorporated it as a primary element of the visual part of the book because it somehow represents the fluidity of time that passes and how this mixes memories and nostalgic evocations.
The "literary" part accompanies the photographic and integrates with it. From my poems I have extracted those fragments that I consider poetically more appealing and that best evoke images. According to what each fragment caused in me, I chose the triad of images that for me created the best complicity with the text. 
Once scanned and digitally processed all the visual trio, I reviewed one by one the couplings with the fragments of poems chosen, to understand if text and image interpenetrated in the way I wanted, to allow a reader extraneous to my personal experiences, to generate that evocation that I have always tried to provide.
The result is 20 evocative paintings with a black background; each of them is a double page in which the left part is normally dedicated to the poem fragment and the right part to the visual triptych (even if there are certain "overruns" on the part of both). These evocative frames are structured in four sections separated by a double white page on the left side of which I have placed a small solitary image: a kind of silent pause before a new emotional immersion. The book begins and ends with two poems that are not accompanied by any images. At the beginning, a poem dedicated to Leire (my wife) followed by a fragment of a poem in which at the time I highlighted the urgent need I had to "paint" the blank sheet with a poem. In the end, the double page is half in black and the other half in white. In the black half, I put a poem I wrote dedicated to photography; in the white half, a poem I wrote dedicated to poetry. 
Fotopoesie is a part of myself and of my story materialized in a book, but I hope it can also be a personal journey for whoever reads it. In my web page, you can find out how to get a copy of Fotopoesie or how to use it to make a nice gift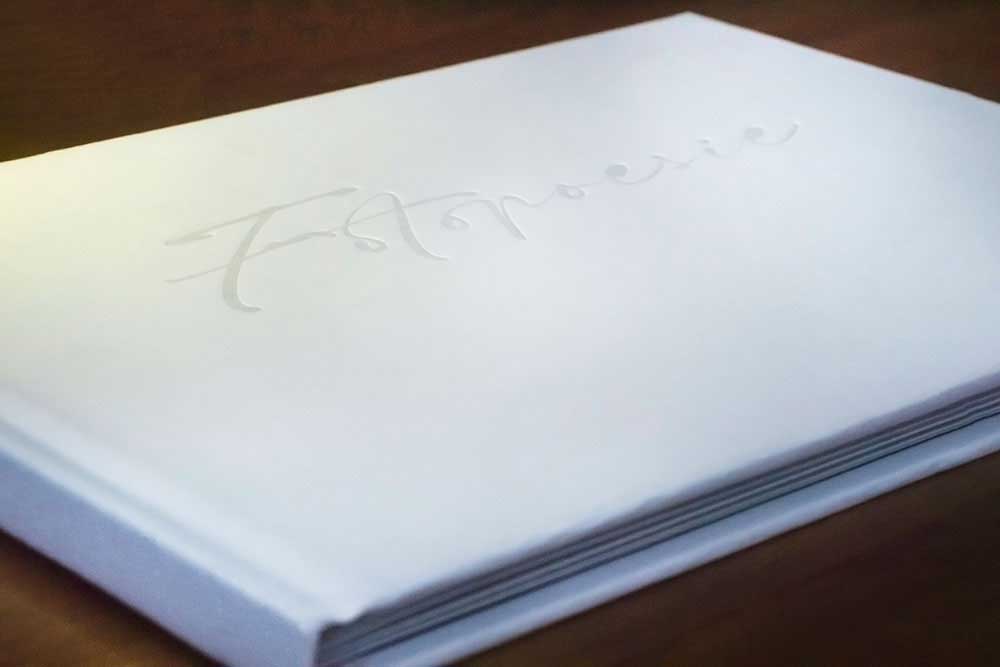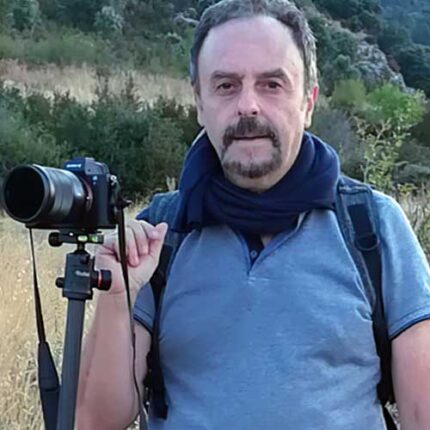 I am a curious of life with idealistic tendencies and a fighter. I believe that shadows are the necessary contrast to enhance the light. I am a lover of nature, of silence and of the inner beauty. My photographic history is quite silent publicly but very rich personally, studded with some great satisfactions such as: gold and silver winner in MUSE Awards 2023 Special Category; Highly Commended in IGPOTY 2022 Wildflowers Landscapes and Breathing Spaces, published photographer in 1X; honorable mention in Pollux Award 2019; commended in IGPOTY 2019 B&W section; highly commended in IGPOTY 2018 Abstract section; selected in 2014 for Descubrimientos PhotoEspaña and in VIPHOTO. Group exhibitions in: Atlántica Colectivas FotoNoviembre 2015 and 2013; selected for the Popular Participation section GetxoPhoto 2020 and 2015; "PhotoVernissage (San Petersburgo) 2012; DeARTE 2012 y 2013. A set of my images belongs to the funds of Tecnalia company in Bilbao, to the collection of the "Isla de Tenerife" Photography Center and to the Medicos sin Fronteras collection in Madrid. [Website]