FOTOFESTIWAL is already 14 years old… and it is growing up like a teenager! Many things have changed from our first edition in 2001, but not the important ones: the variety of our exhibitions and activities and the presence of remarkable photographers from around the world. We open up in Łódź (Poland) on May 28th and we will be watching, celebrating, listening and discussing until 7th of June.
ART_INKUBATOR, main festival center in Tyminieckiego 3, will be holding a total of eighteen exhibitions. Our rooms will be filled with projects of Fotofestiwal's 2015 Grand Prix finalists and with works of award winning photographers such as Mateusz Sarełło (with Swell), Anna Grzelewska (with Julia wannabe – about her daughter's growing up process); Cyrill Costilhe, with a dark, lynchian work on Diego Suarez in Madagascar; Patrick Willocqa, in a colorful project on tribal rituals in Republic of Congo; or Sarker Protick, depicting Dhallywood film sets in Bangladesh.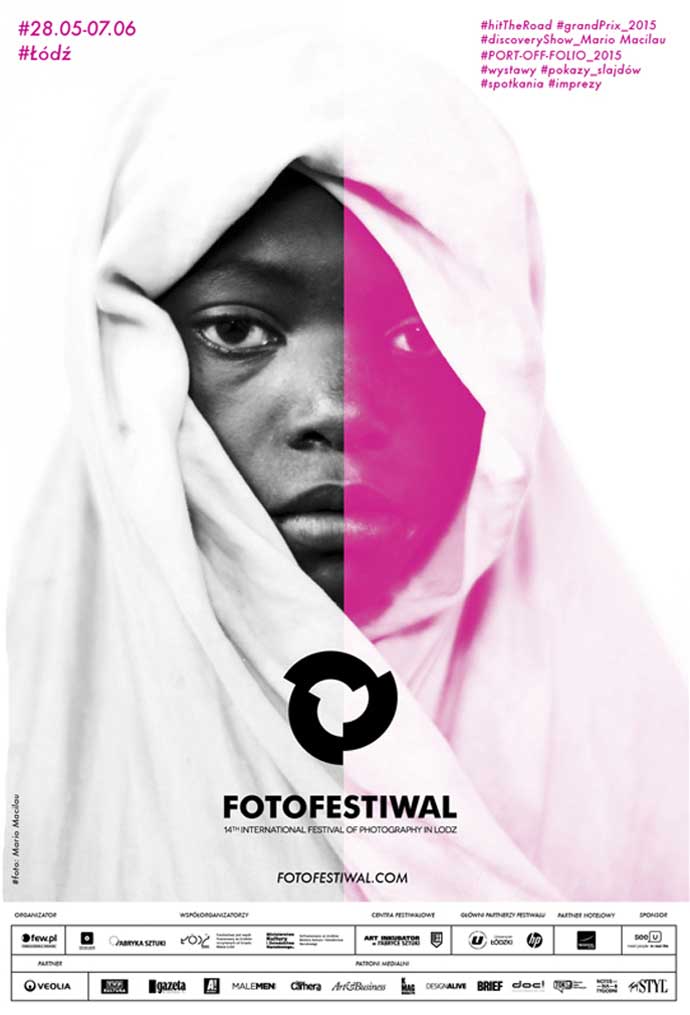 Young, noteworthy artists will be presented from now on in the section called DISCOVERY SHOW. This year, we will be starting with a huge, monographic exhibition of the Mozanbican photographer Mario Macilau. Almost thirty year-old, Macilau has already exhibited his work around the globe and has got his catalogues introduced by the master Roger Ballen.
The main hall of Art_Inkubator will be showing View. The Landscape in the Polish Photography, a collective exhibition that will conclude in one of our new traditions, COLLECTOR'S PHOTOGRAPHY AUCTION. Next door, a two-day series of meetings about travel photography will introduce the theme for Fotofestiwal 2016, HIT THE ROAD. Arranged by Alison Nordström – Artistic director of the festival – the discussions will give the opportunity to hear renowned international panelists such as Simon Norfolk, Carl de Keyzer, Christopher Rauschenberg, W.M. Hunt, Celina Lunsford or Christina Capetillo.
There's also more to see on the main center: an exhibition summarizing the 25 years of photography in "Twój Styl" (Polish fashion magazine); the collective show of Łódź Film School students; and, thanks to Leica Gallery in Warsaw, the work of Martin Kollar and Alejando Cegarra – winners of Leica-Oscar Barnack Award.
OFF-PIOTRKOWSKA, our second festival center in Piotrkowska 138-140, will be also a must-see: the former industrial complex will be hosting three projects of Fabrica –Benetton communication research center in Italy – and the pictures of Dougie Wallace on English nightlife. On the top floor, an new concept of portfolio review – PORT-OFF-FOLIO – will bring together more than thirty international well know names in the photographic field (artists, curators, historians) with selected applicants, in order to discuss and get feedback about personal projects. The call to participate is open until April 24th and you can find in our webpage, www.fotofestiwal.com
Not just our centers but also the entire city gets involved in Fotofestiwal, and several galleries partner together to bring top exhibitions to their spaces. To note just one of them, Atlas Sztuki will be showing the images of Karl de Keyzer, one of our panelists and member of Magnum Agency. All of this, in addition to workshops, parties and contests as Polish Photographic Publication of the Year is waiting for you… it's just the beginning.
FOTOFESTIWAL
International Festival of Photography in Łódź
28.05.2015 – 07.06.2015
Łódź, Poland
More information at www.fotofestiwal.com