Sweat and labour in intense daily training to get ready for what may be the last chance of a professional career.Leonard Bundu is an Italian boxer born, from a Sierra Leonese father and an Italian mother in Freetown, Sierra Leone, in 1974.
He lived his childhood in the African country and then at the age of sixteen he left the country to flee from civil war. Reached his mother in Florence he began practice boxing. Thanks to his speed and his unpredictable southpaw stance soon became one of the best Italian amateur boxers. In 2000 he was selected to be part of the national team for the Olympic games in Sydney. In Australia he suffered a heavy defeat in the second round of the tournament and decided to stop fighting.
After a period of reflection about his sport career, in 2005 he decided to try to become a pro.Despite his age he began an intense training to collect the number of victories necessary
to compete for an international title. Undefeated in all the fights borne like a professional boxer, in 2011 he challenged Daniele Petrucci to get the vacant EBU (European Boxing Union) welterweight crown,
after a first match suspended for the consequences of an accidental head butt. The victory in the event, attributed by unanimous decision of the judges, opened to him a number of interesting prospects to continue to compete. Nowadays Leonard Bundu still detains and defends the title of EBU welterweight champion won during the fight that changed the course of his boxing career.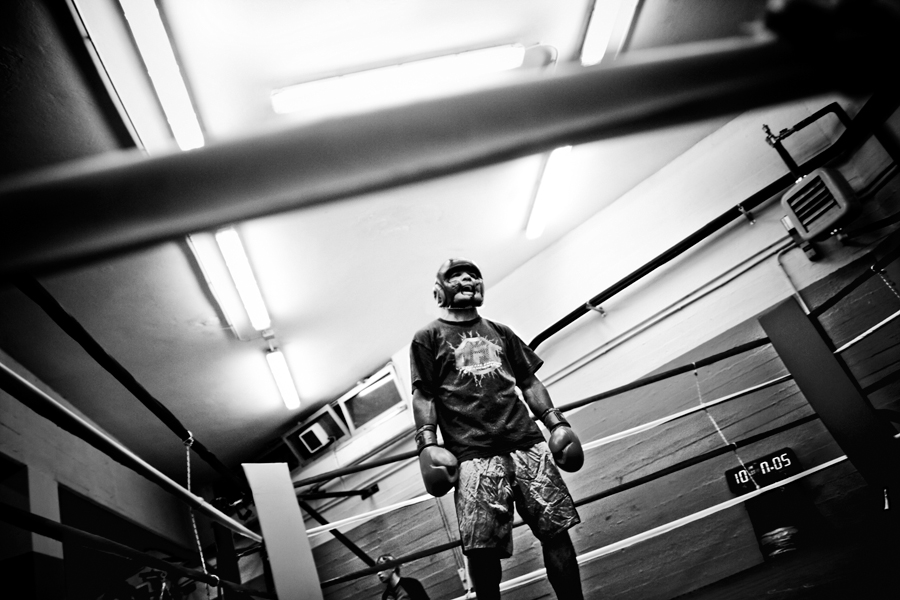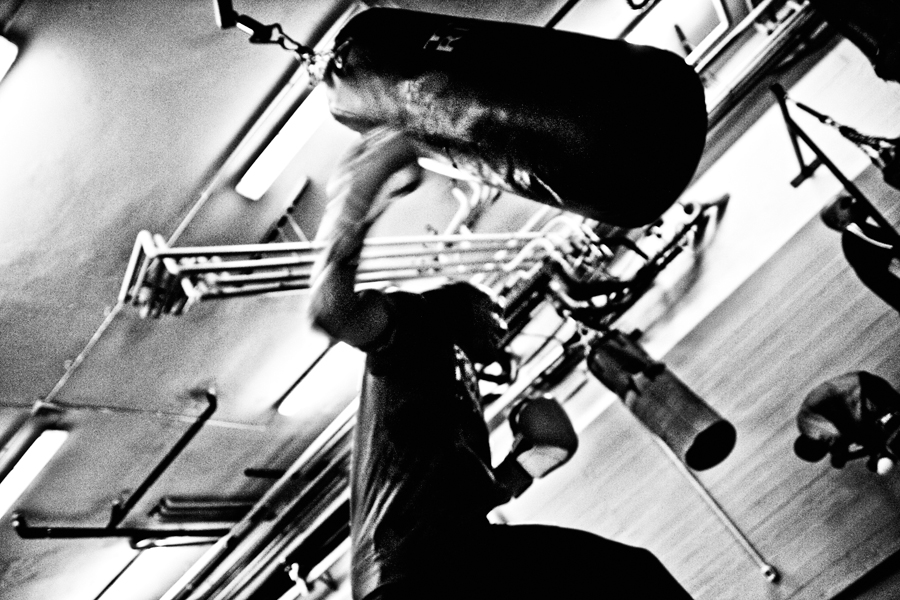 About Lorenzo Masi
Documentary photographer born in Italy in 1980. He started to take pictures for the first time at the beginning of 2008 after he had obtained a degree in Philosophy at the University of Florence. During the last month of 2008, documenting the student protests that were taking place in Italy against the new educational reform, he started to collaborate with the Milan based agency Fotogramma. Become a freelance in 2009, he began to focus his attention on contemporary social issues. Interested in the people who live far from their country of origin and in all the dynamics connected to the necessity of integration with the new country, to the desire of preserving home countries' culture and traditions, to the will of maintaining old relationships juxtaposed to the creation of new ones, he started a long-term project about immigration "Struggle for a normal life", the first ongoing chapter of this project, documented the life of Somali refugees in Italy and Europe. A new long term chapter of the project, started in 2014, will document the lives of Chinese people in Italy.
His work has been published in The Cut/New York Magazine, Vanity Fair (Italy), His Life (China), La Repubblica, Corriere della Sera, La Stampa, Il Fatto Quotidiano, Gioia, L'oeil de la Photographie , Gente di Fotografia among others. He was awarded with two honorable mentions in IPA Awards 2012 (Non-professional: Political, Photo Essay) and with a honorable mention in IPA Awards 2013 (Professional: Other, People), with a honorable mention in Photo Annual Awards 2013 and in Kontinent Awards 2014. He was a finalist of Kolga Tblisi Photo Awards 2014 and one of the five winners of Cortona on the Move 2014 OFF Circuit prize with his work about daily life in China "At first glance". He's project "Struggle for a normal life" was one of the Photography Grant Top 24 Finalist of The Manuel Rivera-Ortiz Foundation for Documentary Photography & Film 2013. He has exhibited in group and single shows in Italy and Europe. [Official Website]
Legal Note: The photographer attest that have full authorization to give consent to the publication of these photos or project and have the authorization and permissions of third parties. Guarantees that you have all the necessary communications of property and you have obtained all the necessary authorizations for any property, buildings, architecture, structures or sculptures appearing in your photographs.