M97 cordially invites you to the opening of CONTINUUM, an exhibition of Dong Wensheng's newest photographic works. The CONTINUUM exhibition includes works from two separate bodies:Continuum (2015) and Unbridled Waves (2010-2011). This is Dong Wensheng's first solo exhibition at M97.
"Continuum", Dong Wensheng's latest series, is comprised of 12 new unique black and white works that have been hand-colored to create this new chapter of experimental works. "Continuum" is an exploration the artist conducted using experimental darkroom techniques. Returning to the chemical and material roots of photography, the artist's newest camera-less works become alchemic creations of time and space.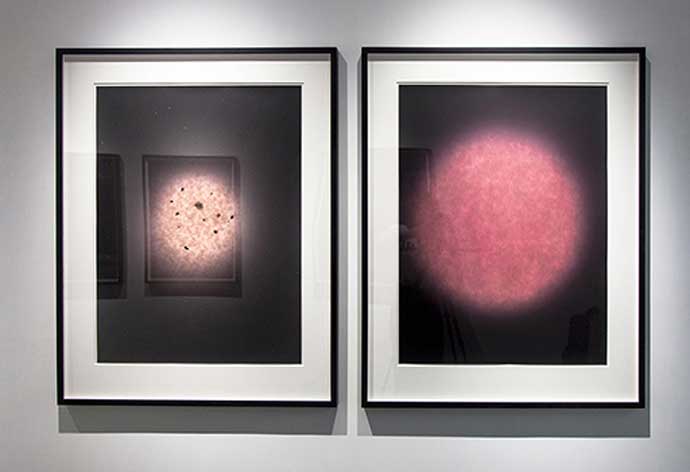 Playing with the viewer's perspective, the resulting images resemble on the one hand the abstract and infinite depths of universal space and, on the other, microscopic structures of cellular biology. Like unexplored corners of the universe or the uncharted intricacies of microbiology, the possibilities of the artist's creative ouvre even within the constraints of the medium of photography are also boundless. Deviating from other camera-less techniques like photograms, Dong Wensheng's darkroom approach incorporates painting and writing with light as well as chemical treatment of the photographic paper.
Alongside "Continuum", the exhibition also features works from Dong's Unbridled Waves series. In each of the sixteen silver gelatin photographs that comprise "Unbridled Waves" the artist draws on the water with a light pen bold waves representing his emotions and then transfers this brief interaction between man and nature onto a thin layer of negative film. Using water as the traditional conduit between spirit and matter, this is the artist's poetic attempt to leave his mark in a sliver of time and space, connecting himself with the cosmos and with the rich history of Asian and Western philosophy.
DONG Wensheng was born in Ganyu, Jiangsu in 1970. A protégé of Zhou Xiaohu, Dong Wensheng works primarily in photography and video art. His works are known to have a strong signature style that originates from traditional Chinese aesthetics, and are rich in implicit poetic languages. His representative series, "Backyard", "Flesh and Stone" and "Unbridled Waves", are permeated with a unique oriental mystique, solitude, and even a kind of absurdity, leading the viewer into a distinctive aesthetic dimension where tradition and reality overlap, existence and void co-exist.
Dong's photographs have been extensively exhibited around the world and are featured in prominent private and public collections such as the White Rabbit collection, the Uli Sigg collection, and the Art Museum of Nanjing University of the Arts, among others.
M97 Gallery
JUNE 13-JULY 31, 2015
97 Moganshan road, 2nd floor
200060 Shanghai
www.m97gallery.com