Photographic Emotion is a festival of photography which takes place in Angouleme and the extensive surrounding area of the Charente, from March 25th to April 30th, 2017.
This year the festival hosts three guest photographers, each chosen to illustrate a facet of the theme, 'History and Short Stories', alongside 21 photographers who have been chosen from a call for applications to take part. Almost half of these have never exhibited before. Four African photographers are also exhibiting, continuing our welcome to participants from outside Europe.
We asked our first guest, Warren SARE, to share with us his work on the Senegalese infantrymen of Burkina Faso and Benin. It is a way for us to travel full circle between what these men took part in by leaving the French colonies to fight for the freedom of the metropolis and their current situations.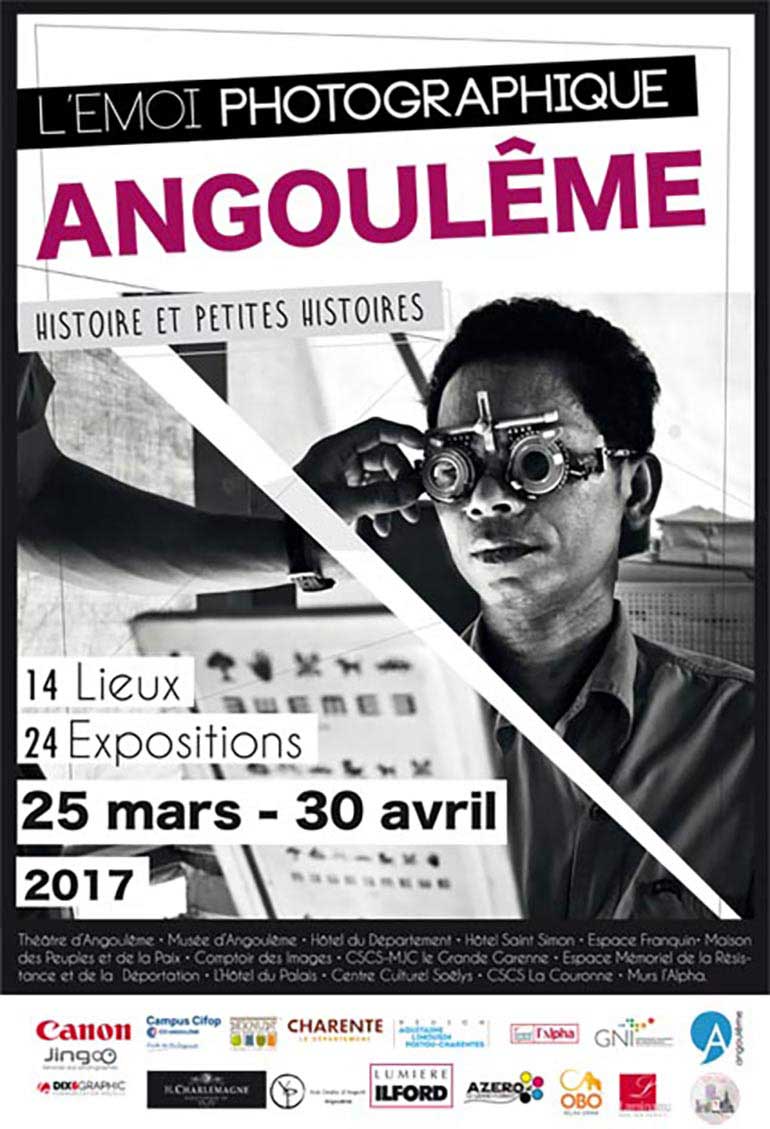 Jean-Daniel GUILLOU will share with us a story of solidarity through the life an association "Pour les yeux du monde" created by doctor Phat-Eam Lim. Doctor Lim fled Cambodia to avoid the Khmer Rouges, to become an ophthalmologist in France. Back in his country of origin, years later, he noticed the lack of ophthalmological doctors. So he gathered together a team of French ophthalmologists to assess the situation and to perform operations. The team of eye specialists travels around on a typical Khmer boat.
Our third guest, Jean-Michel LELIGNY plunges us into the secrets lives of women in their forties. From his own experience and invited by the women in his circle of acquaintances he has captured this important stage in women's lives. To complete the work he has invited every model to write her own personal account of life at forty. This makes for an interesting and sometimes challenging duet where the subjects are allowed to express their own views.
"Personally I want, as a woman, who took part in this process to thank the photographer for the quality of his work and for having agreed to exhibit in our festival." Peggy Calvez-Allaire.
History, the individual story, stories, reports, truths, confessions, lies, tales, legends….. We chose these photographers because they offer us a wide range of aspects that come from world history or story.
Each offers us a hidden facet of that wider history as it plunges us into more personal family links, human values or through imaginative characterisation presents us with a view of the human race.
It seems to us important to make links and to support those commitments to an underlying truth through photography by handing over its expression to those people who have lived it. During the festival some of the photographers will be here to develop their own points of view during meetings with the public and to share their experiences. Some of the debates will take place alongside other participants who bring their own complementary experiments.
Behind Warren SARE you will find history with a big 'H', when he moves between the history in books and reality. Thanks also to Bruno MERCIER "14-18 the Great War", Michel CLAVERIE, "Tracks", to Paul-Emile OBJAR, "he disappeared, who disappeared?" To Brigitte MANOUKIAN with "Maritsa".
Jean-Daniel GUILLOU and Jean—Michel LELIGNY in their illustrations of human relations inspired us to make links with Christophe HARGOUES, "Extraordinary", Jean-Charles DEHIDEN, "Let us speak it", Anne-Lore MESNAGES, "Dream catching. Dream", Arnaud HUBAS, "A history(story) A life", Louis OKE AGBO, "Madness", Arnaud MASKALOU, "Be Labor to Brazza", Baudouin MOUANDA, " manage to become big".
And then behind history there is poetry and imagination that inevitably invites us in, so we have pleasure in inviting the works of CUSHMOK, "US Hous'", MNIHA, "Memory of the movement", Nicolas AUVRAY, "Bella Rosa", AMARAL and BARTHES, "Please draw me an egg", Irina SOVKINE, "Natural history", JL AUBERT, "In uncertain woods", Anna BAMBOU, "Toxic Soul mates", Emilie MASSON, "Bourriquet" and Sebastien PAGEOT, "The Emperors".
L'Emoi Photographique
March 25th -April 30th 2017
Angouleme (France)
www.emoiphotographique.fr