Vivid blue or brown, pyramid-shaped and wrapped in bamboo leaves, these traditional dumplings, Nyonya Chang and Bak Chang, are the cornerstone of Baba Nyonya food culture in Melaka. They are attractive. They are mouth-watering. They are addictive.
East & West Rendezvous Cafe, a small nondescript local cafe, happened to be on the way to my routine visits for a coffee and kaya toast. But the western fare, judging by the name of the cafe, didn't sound appealing to me. Similar to the crowds of enthusiastic tourists from Kuala Lumpur, I was in Melaka in search of its centuries-old culture, the Peranakan, also called Baba Nyonya, culture. It mostly resumed to looking for the famous Nyonya food, which is a mixture of Chinese and Malay flavours but with distinctly unique character.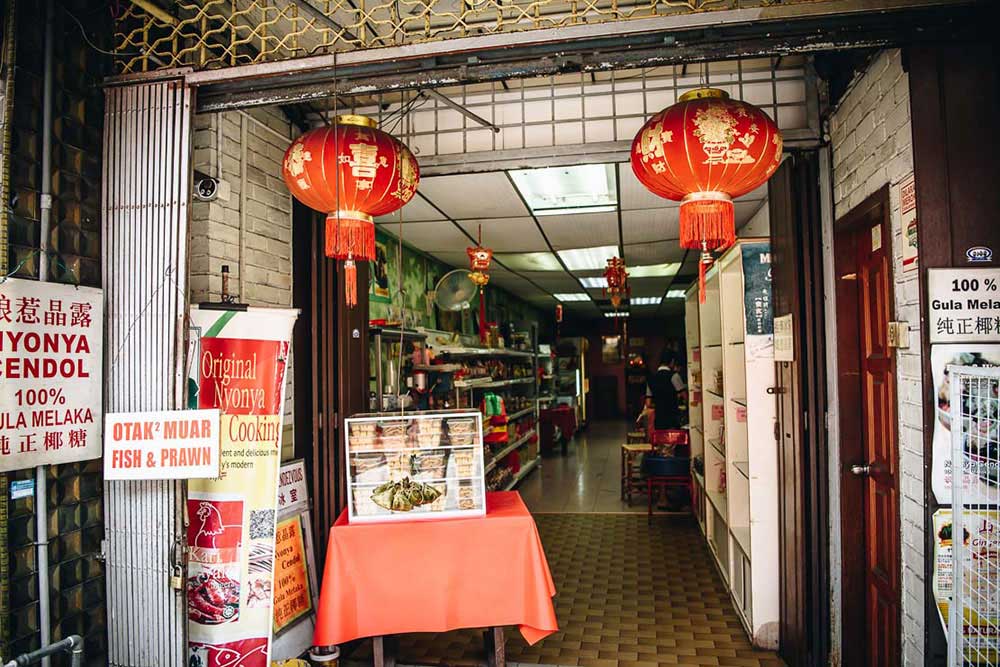 Peranakan is a very unique culture in South-East Asia, a mixture of Malay and Chinese cultures. The term "Peranakan" refers to the descendants of Chinese immigrants, mainly wealthy traders, who settled in Malaysia but also in Indonesia and Singapore. They intermarried with the local Malay women, and their Chinese culture assimilated into Malay customs and traditions to become Baba Nyonya, with "Baba" referring to men and "Nyonya" referring to women. Similar to the way they retained some Chinese customs but adapted local Malay traditions, Nyonya dishes are an interesting combination of Chinese and Malay food.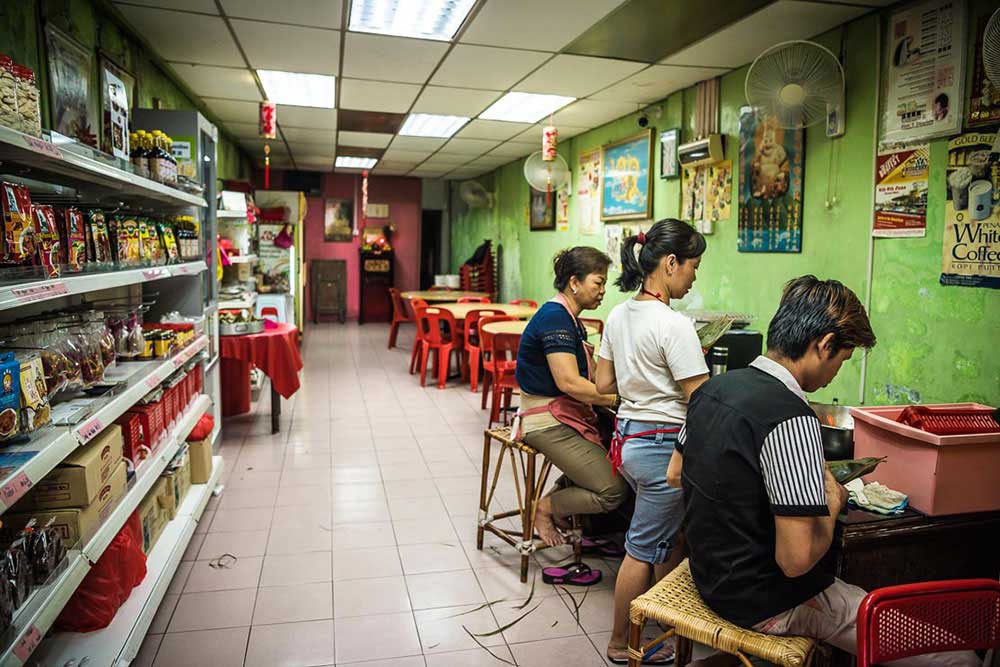 While ignoring East & West Rendezvous Cafe for a while, I didn't turn a blind eye to the constant flow of people coming in and out of the cafe. It finally piqued my curiosity. 
Names can be misleading. I know that. Koala bear, this iconic Australian sleepy marsupial, isn't a bear, and flying lemur, despite its name, cannot fly. East & West Rendezvous Cafe has no western fare on offer. Instead, this small quaint cafe nestled amongst a row of heritage shophouses, is a well-known place in town for the most authentic Nyonya Chang, or blue Nyonya dumplings.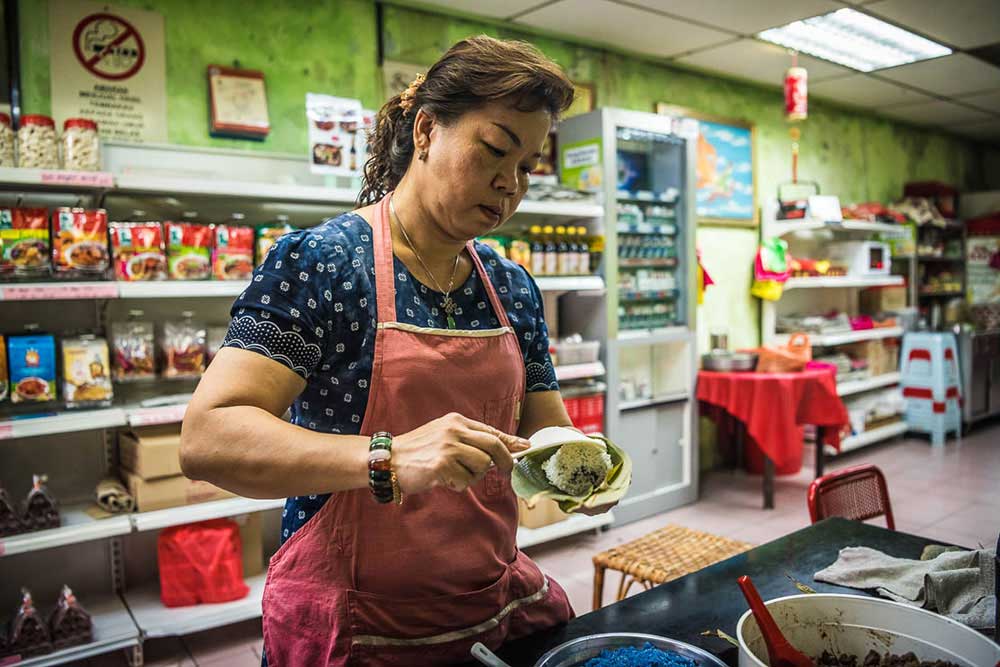 Nyonya Chang is the Peranakan variety of Hokkien Bak Chang, sticky rice and meat dumplings. If Bak Chang are traditionally eaten during the Duanwu Festival, known as the Dragon Boat Festival, nowadays Nyonya Chang are eaten all year-round. 
I love dumplings. It's tasty and comfortable food. But Nyonya Changs aren't just tasty. Vivid blue, pyramid-shaped and wrapped in bamboo leaves, they look just beautiful.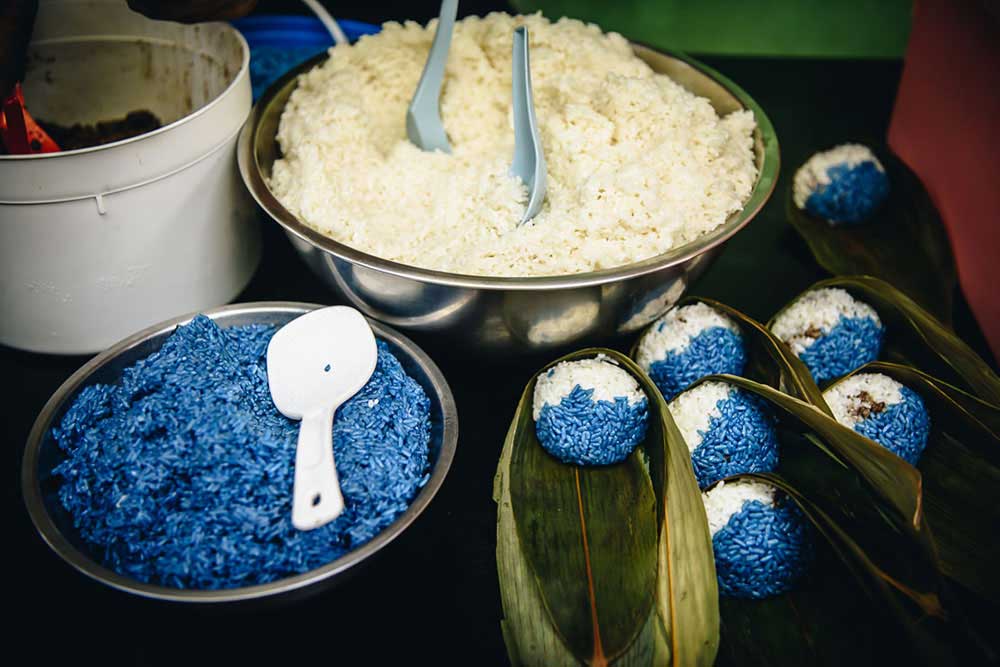 I immediately wanted to try. "How many?" I tried to figure it out. "Uhm… maybe three?" I told to the cafe owner. "They are quite fulfilling", she warned me. "Maybe two then?" I reluctantly agreed and ordered my first famous Nyonya Chang. 
The first bite revealed the balanced blend of sweet and salty, the delicious taste of some strong and distinctive spices that elevate the overall fragrance. It's interesting. It's rich. It's tasty. It's much more than usual dumplings. There is something else, maybe something homey. Now I understood what all this fuss is about.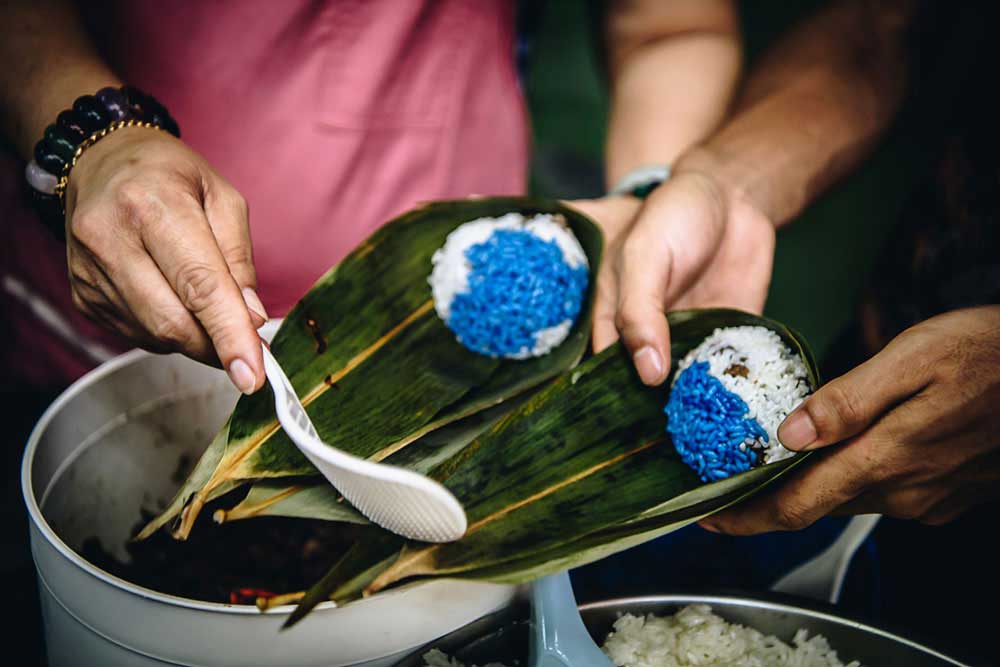 But not only its taste is interesting but the legend too. The tradition of eating Chang started after the death of Qu Yuan, a celebrated poet in ancient China. Following the invasion of his kingdom, the poet drowned himself. The people started throwing packets of rice, our today's dumplings, into the river, so that the fish eat dumplings rather than the poet's corpse.
Now that I tasted Chang I wanted to know more. "Come in a few days, I will be making again Nyonya Chang," said Grace Tan, the lady owner and the cook behind East & West Rendezvous Cafe.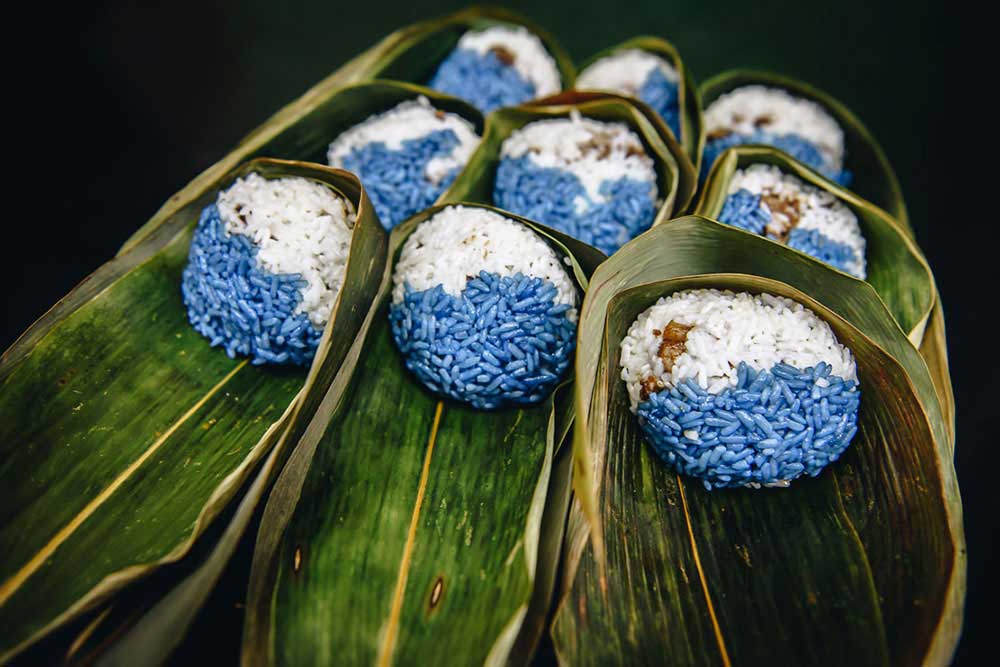 Now in her fifties, she learnt to make dumplings from her grandma when she was a kid. In 2003 she started her own dumpling business, and soon her authentic Chang became well known in Melaka and even in Singapore. Making on average 2'000 dumplings per week, she couldn't cope by herself and hired a few assistants to meet the ever-increasing demand.
Although her Nyonya Chang are selling like hotcakes, she doesn't make them every day. Making Nyonya Chang a long process requiring skills and patience. Nyonya Chang filling is made with minced pork belly, pork fat, shiitake mushrooms, candied winter melon, apparently, the must-have ingredient that imparts the hints of sweetness, and some special spices, each family's own secret, but always coriander seeds and pepper.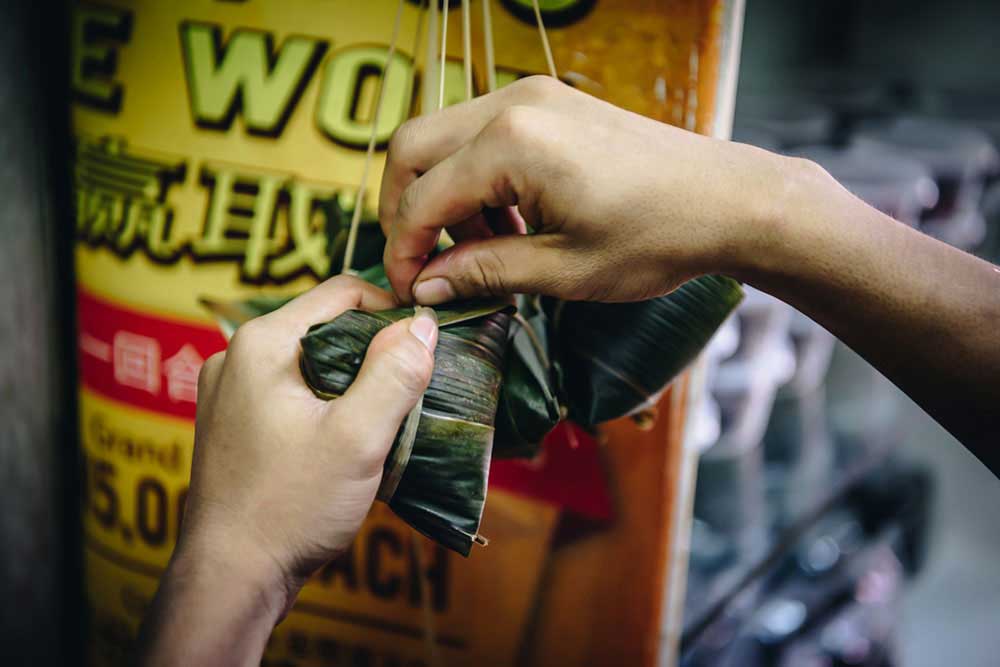 As for the colour, the vibrant blue colour of Nyonya Chang doesn't come from artificial colours but from the glutinous rice being soaked with the blue pea, or butterfly pea flowers. Once the rice is ready, Grace and her assistants spend a few hours wrapping Nyonya dumplings in large pre-soaked bamboo leaves. They skilfully fold the leaves into a cone before spooning in a mixture of white and blue rice, and meat stuffing. As a final touch, they tie up the cone-shaped parcels with bamboo strings. 
But the dumplings aren't ready to be eaten. Not yet. They need to be steamed first, which takes a few hours. "I will be steaming tomorrow morning," Grace invited me to come and see.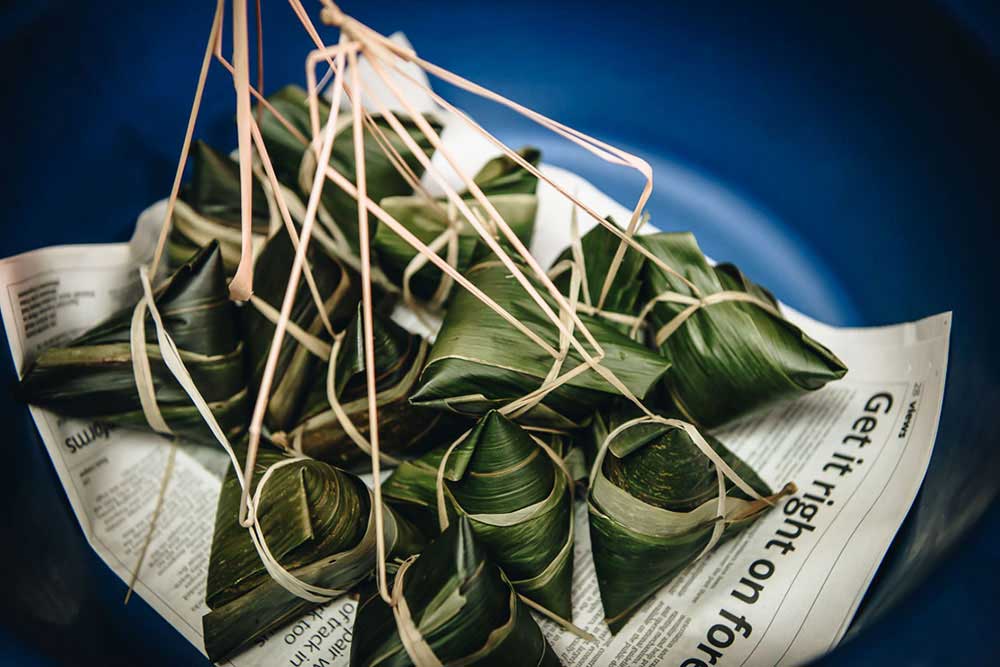 Grace's small restaurant is well known in town, and she often receives massive orders of Nyonya dumplings for special events. But she isn't only famous for her Nyonya Chang but also for Bak Chang traditional dumplings. Although they don't look as sexy as bright blue Nyonya Chang, Bak Chang are rather a bland shade of brown. But the flavour is everything but bland. It's even more rich and interesting than the flavour of the blue dumplings. To say it's tasty would be a mild understatement. It's addictive.
These savoury Bak Chang are made from sticky rice filled with diced pork marinated for two weeks, chopped shiitake mushrooms, dried shrimps, chestnuts, a mixture of spices, and bright orange salted duck egg yolks put in the middle of the bamboo cone. Marinated pork and chestnuts add texture and a bit of sweetness and give the rice a dark brown appearance. Made by soaking duck eggs in brine or packing them in damp, salted charcoal paste, rich and fatty salted duck eggs yolks add a touch of colour and particular flavour. Similar to Nyonya Chang, they are wrapped in bamboo leaves and steamed.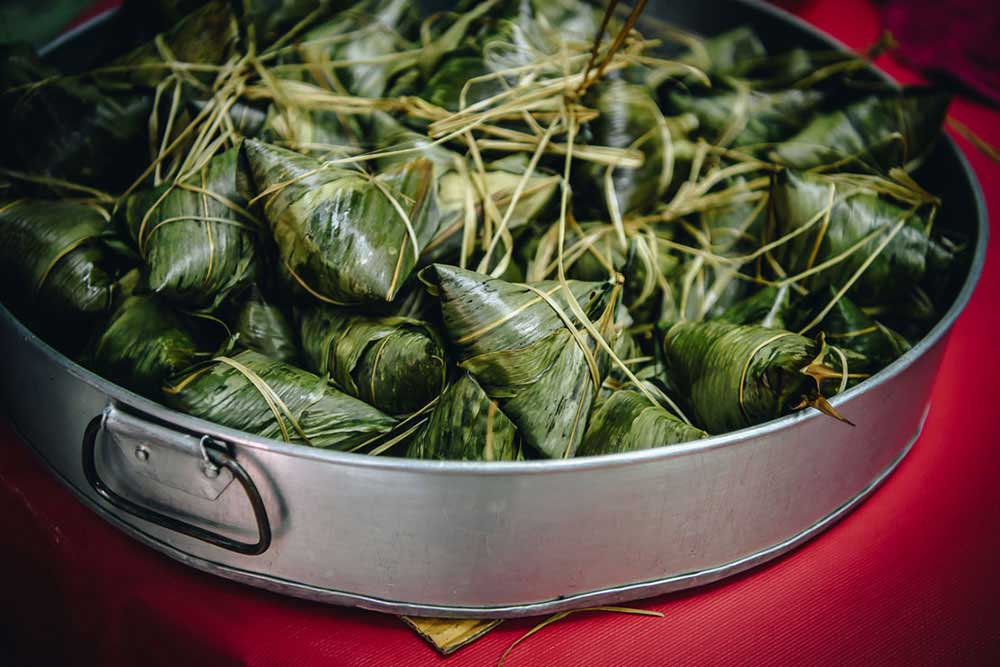 I returned to East & West Rendezvous Café several times craving for more Chang. Places like this are becoming rare nowadays replaced by modern fancy-looking cafes selling design rather than authentic food substituting it with quicker-to-make copies. 
Grace's dumplings are delicious. But East & West Rendezvous has another signature dish – Nyonya Cendol. Nyonya Cendol, this finely shaved ice dessert with coconut milk, green jelly noodles, and kidney beans is made according to the traditional recipe using only 100% pure black Gula Melaka, the famous traditional palm sugar.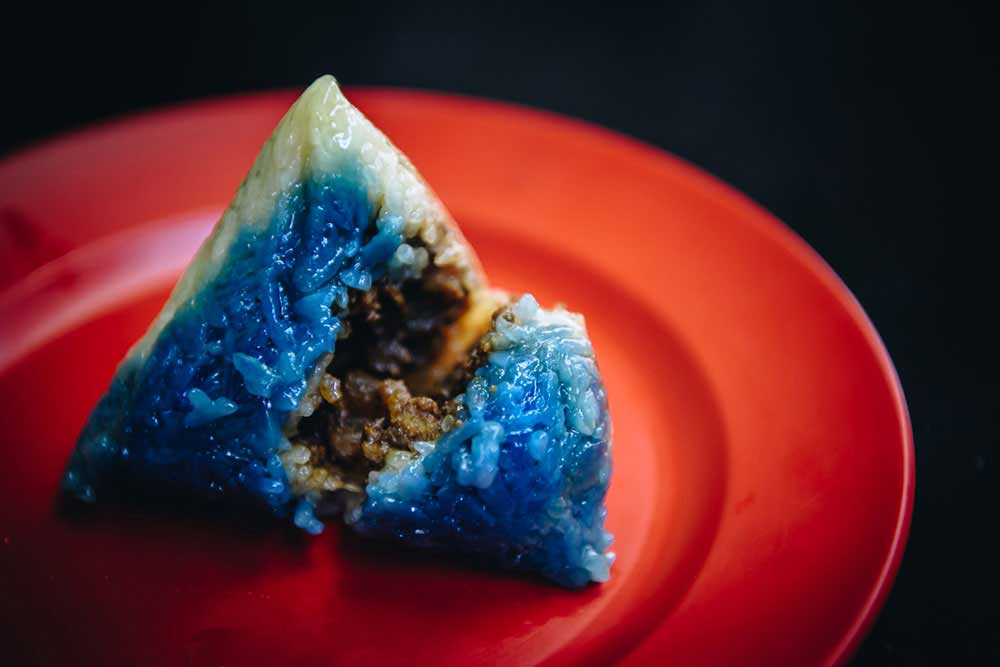 As much as my tastes are eclectic and I love all Asian food, their desserts are an acquired taste. I still prefer the old-school "milk-cream-butter" confections. But this Nyonya Cendol kept me coming for more. It's far from being cloyingly sweet, with a touch of salty taste and an interesting structure. It's light and refreshing, ideal for the hot Melaka weather. For the funs of durian, they also make Durian Cendol topped with real durian fresh pulp.
"Why this name?" I almost forgot to ask Grace now remembering the reason for my reticence towards the place. "I just kept the name of the previous place, East & West Rendezvous Cafe. Administrative formalities to change the name in Malaysia are cumbersome, you know". Indeed, people come here from different corners in search of authentic food. After all, it became my Rendez-vous place with one of the best dumplings I have ever tasted. [Official Website]