Throughout the course of 2014, I've visited David frequently, documenting his daily routines, listening to his memories, fears, dreams and frustrations as he has navigated a year filled with challenges as a result of his being blinded in a freak accident, and the loss of his beloved Mother, Eugene.
Eugene's passing has left a wound, for David, every part as brutal as the loss of his sight. Days, weeks alone, isolation and enforced solitude permeate every waking day and night.
Fear of the outside world has taken centre stage, fear of bullying, verbal abuse from unseen strangers, as he makes his way through the crowded streets and roads into market town for food.
"It's no good pretending things have got better, they haven't, they've got worse, much worse since Mother died. This year has been the worst of them all. It doesn't improve, it all just seems to get worse and worse."
"I can manage all right in the house, I don't have any problems managing things indoors, strangely enough, I know where I put all my things and if you're there on your own, as I am, they don't move, do they, like, I'll put a box of cup a soup in my cupboard, and I know where I put them, so they'll be there, and I can go straight to them. So, things have been relatively ok inside the house, it's just a pity the rest of it, going outside, is not as easy."
"I get very lonely. Sometimes when I go out and have an unpleasant experience, people saying things to me in the street, having a go and saying nasty things, then I'm thankful to get back home and I think to myself, perhaps it's not such a bad deal after all, staying here, alone, if all I find is trouble when I venture outside. It's a catch 22, there's no one having a go at me if I stay here, but if I stay here, I'm always on my own, so then I have to deal with the constant loneliness."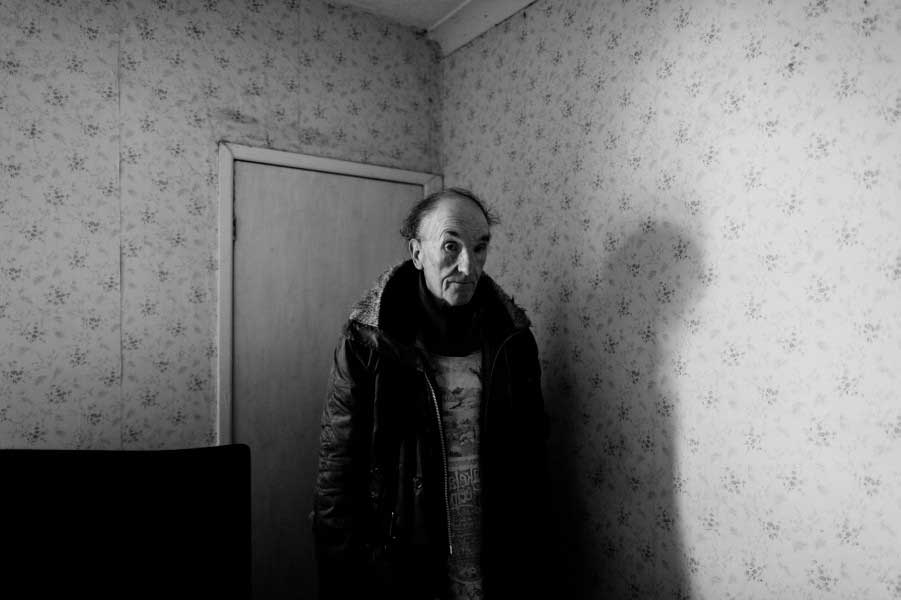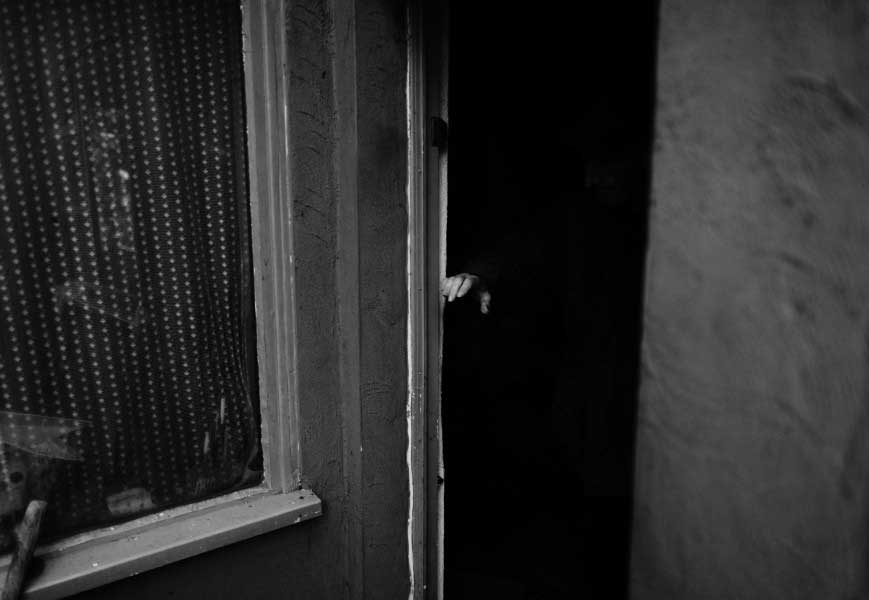 "Sometimes it goes well, going outside, but, I'd say half the time, more than half the time it's been very difficult, to say the least. There are days every single week where things do not go well, when I leave the house to go into town. People keep saying that I must be 85 or 105 and they don't want me about. They say I must be using my white stick because I'm old and decrepit, they say some terrible things."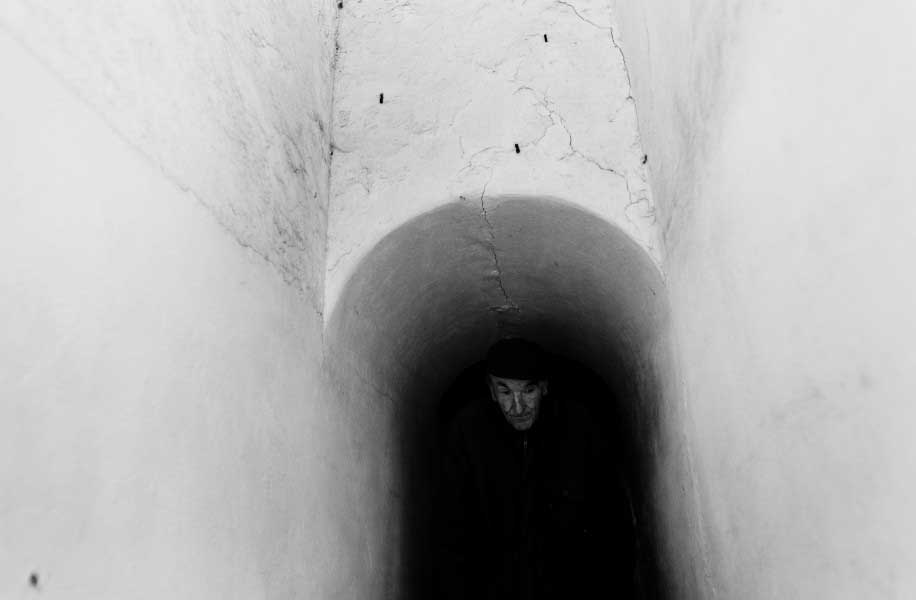 "I used to go into town early, but the trouble was, there is always such of a crowd by the bus stop in the centre of town, and sometimes that can be a lot of trouble."
"I'll always try to get out before I run low on things, bread, milk but of course, not being able to see, you can't tell what the skies look like, you can leave and half way to town, it can pour down but you wouldn't know it was coming as you can't see the clouds. It was bad last week, a lot of rain, I can't use an umbrella, use my cane and carry a bag of shopping, so I stayed in for three, four days and I was down to one slice of stale bread left, so I had to go into town, I had no choice. I was all out of milk and everything, so I had to go. What choice did I have?."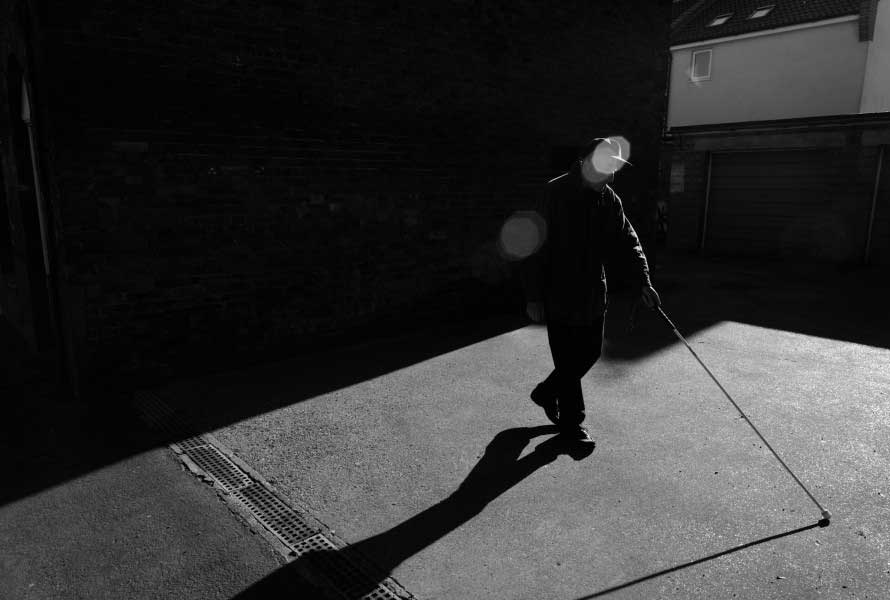 "Women follow me, sometimes it's children, too, insulting me as I go, especially if I walk through the new precinct, saying they don't want me blocking the street, and I'm old and shouldn't be out and about, that no one wants me about, that I'm horrible looking."
"A few people that have known me since I was a teenager go on like this too, and of course, I don't know what I look like any more, as I can't see, they act like they don't know me at all and say awful things and go on and on in a weird, intimidating, insulting way and it frightens me, terrifies me. That's my life, now, that's my reality."
"Sometimes, I'll have things said to me and I'll get all fiery and stand my ground, other times, nasty things will be said to me, and I'll get really down in the dumps. Other days, I'll just wake up feeling down, or I'll go to bed and I'll seem chirpy but wake up and feel so depressed I won't want to head out of the front door, so if I have some food in the house, I'll just not bother and I'll stay here, alone."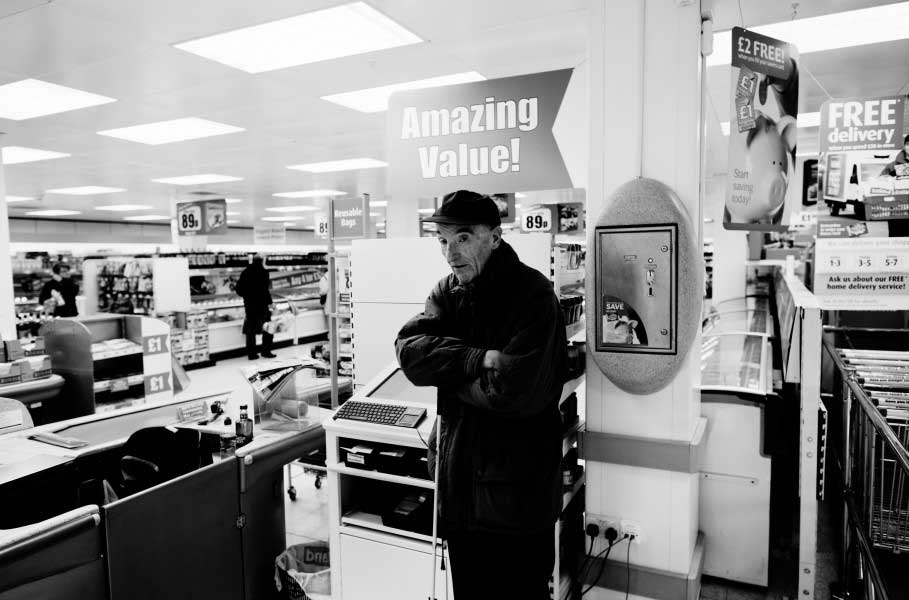 "One thing, that's been very good, is the way they look after me in Iceland (Supermarket). I'd be in a terrible muddle without their help as I'd never be able to find the things I needed on their shelves. I walk from home, into town, and to Iceland and I go up to where the tills are and I'll stand there and wait until they spot me."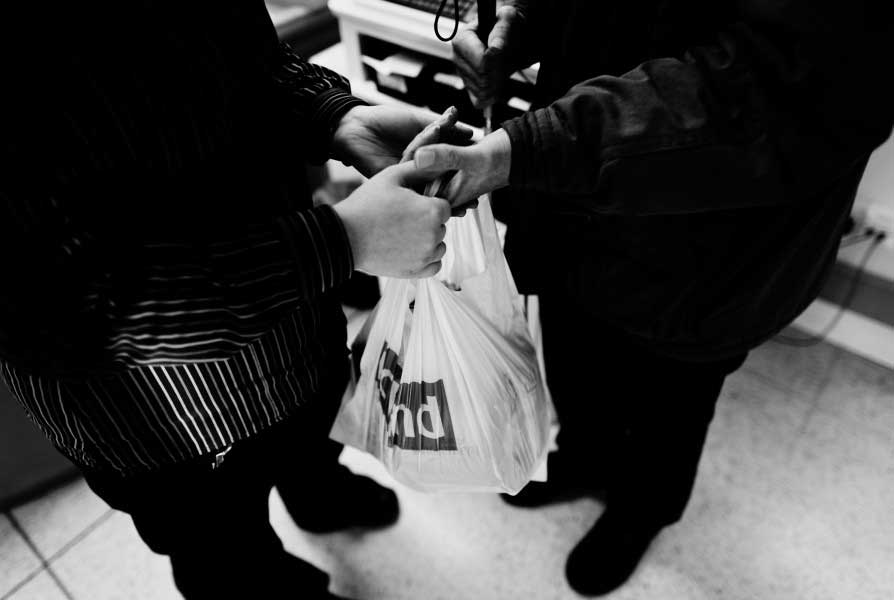 "When they see me they will ring the bell or if one of their staff is free they will come up to me and ask me what I want. So, I tell them what I need and they go off and get the things, then put them all through the till, come back, and tell me what the total price will be and I'll hand over a five pound note, or whatever it comes too, then they pass me the change and my shopping and help me back out of the shop and up the steps so I can make my way home again. It's very kind of them, a huge help."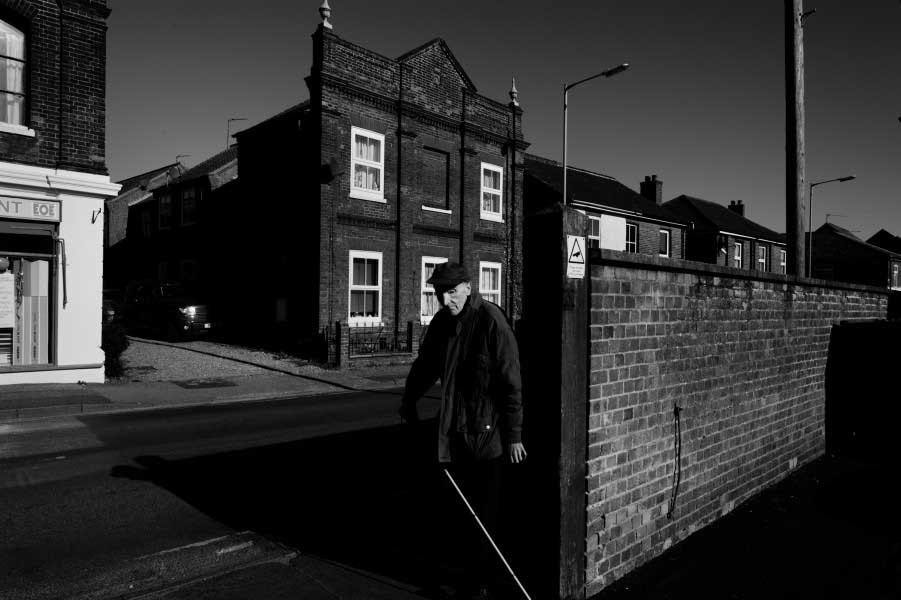 "When I was a boy, a little boy, after the Cuban missile crisis, they really thought there was going to be a nuclear war, and a lot of people were going to be killed, I'd still be in primary school, they blind trained us, put us in blindfolds and taught us how to find our way out of the school, as though a bomb had been dropped and we'd all been blinded."
"Norfolk and Suffolk you see, they were going to be the front line of a Nuclear war with Russia, because America had so many tactical sites here. So, we were told, "If you're not killed by the atomic bombs, you'll be blinded, or burned and have radiation sickness and die of cancer, as a result."
"They blindfolded us and there we all were, all us children, feeling our way around in the dark, trying to find our way out of the school. They blindfolded us, but we were never given a stick, to aid us, so that's how now I know how much better it is to use a cane, to feel your way around."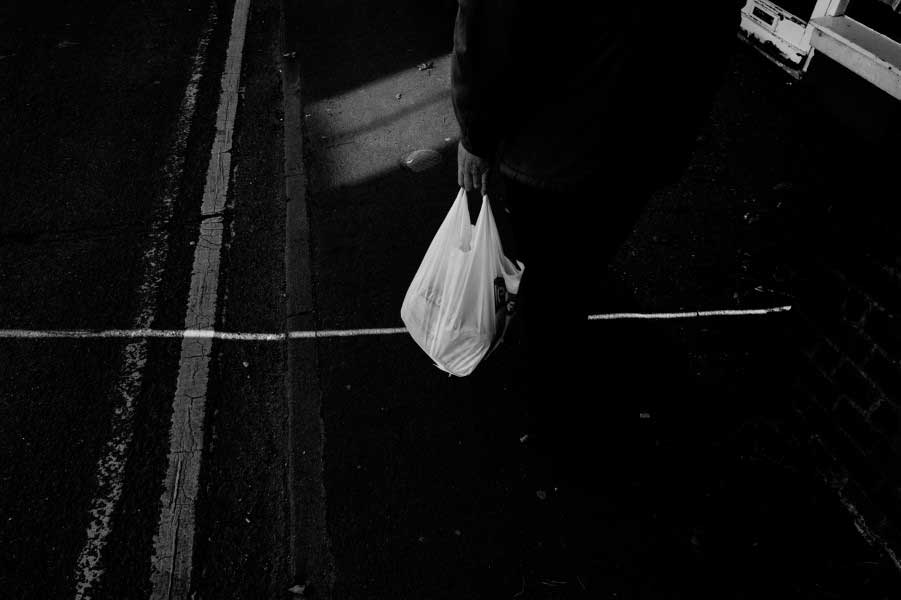 "I felt my way, by hand, out of the assembly hall and along the corridor, found my way to the cloakroom and when I reached there I followed the wall to the door to outsides and made my way out to the playground."
"We were all put through that because the thought was we were all soon to be blown up, they, the teachers and adults were talking about it as though it was really going to happen."
"When I was first blinded, in the hospital, I was begging them for a stick as I'd remembered this experience of being made to understand blindness, without a stick, when I was a child and when you have a stick, you can hold it out in front of you and tap away, feeling for obstructions in front and around you as you go."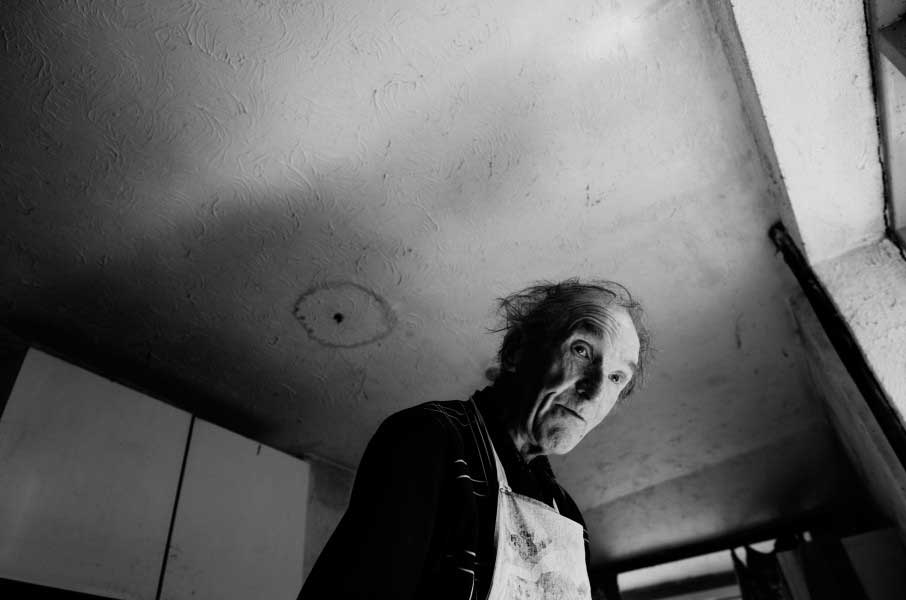 "I'm holed up here, like an outlaw, if I venture out, I have unseen enemies after me, the weather can be an enemy too. I'm outside of everything, because I'm blind, I can't be a part of things, so I'm apart from them, I can't go in anywhere and have a look, I can't really mix with other blind people, as they may have gone blind in another ways to me, so, I'm outside every group, an outlaw."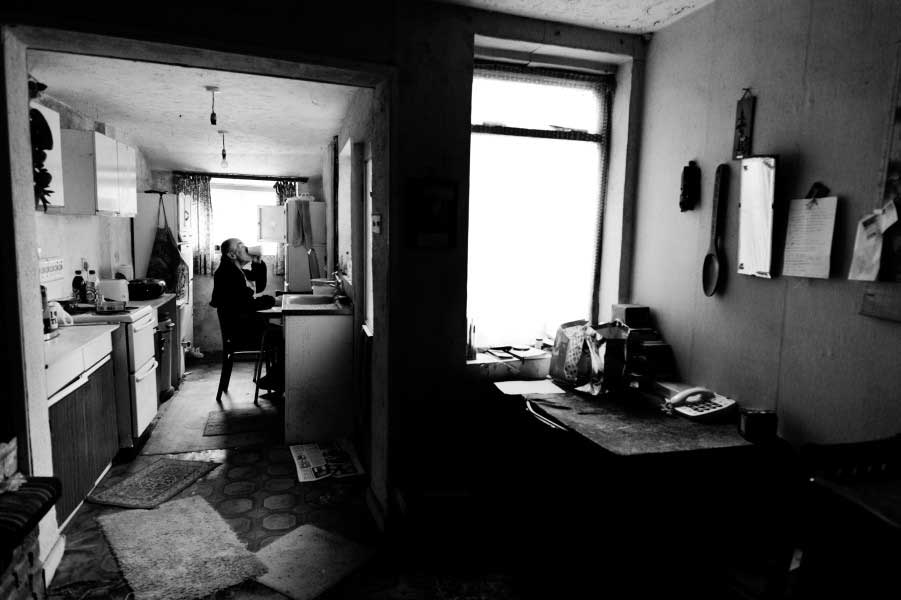 "What caused the collapse in this country, was banks. Greed. It wasn't anything to do with anyone in a wheelchair. According to David Cameron, he presents it as a handful of people in wheelchairs and disabled are responsible for draining the finances of the country, when the truth of it is, too many people borrowed money and never paid it back and the banks ran out of money. There's no connection at all to the state of the country and someone that's lost their legs, or is blind, or in a wheelchair."
"They want to cover it up, blame people that have nothing at all to do with the countries financial collapse, and that's exactly what politicians do, blame people that have nothing to do with this collapse."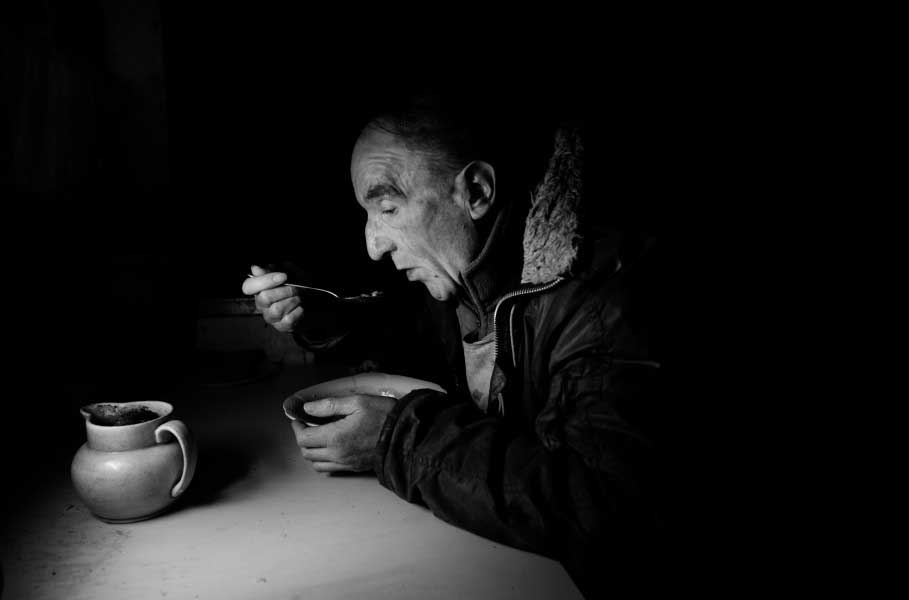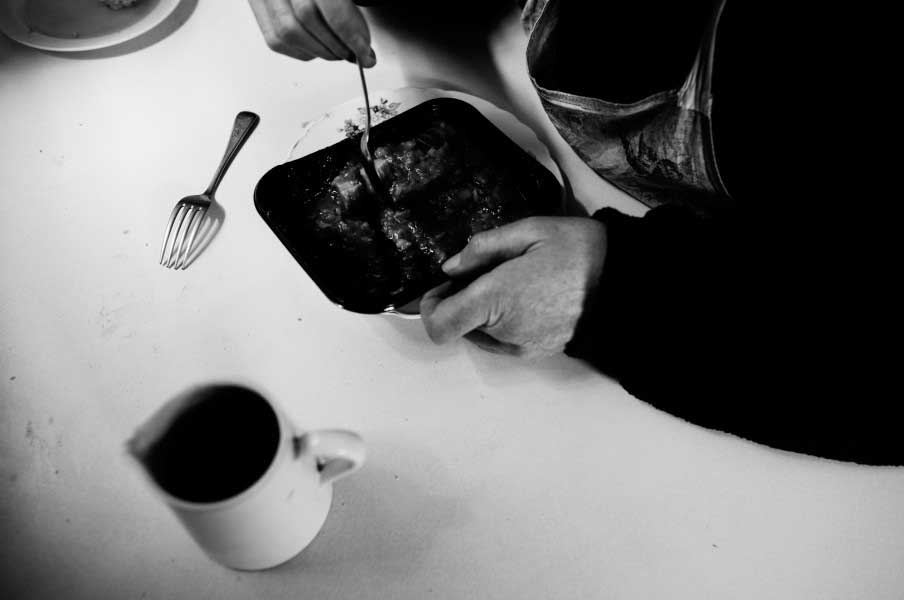 "I've only been blind under this current government and I feel like the current regime, really, has not helped my situation, by the way they talk about disabled people, and with their policies. If anything, the way the government talks about the disabled within society, it makes it easier for people to be nasty to us."
"When you hear on the news, and they are having a go, at disabled people, then usually, there's a lot more trouble, a lot more hostility, when I go out into town the following morning. It's not a one time event, every time anything unfavourable is said on the news, the next day, you feel it, hear it, in the words people say and in the way that they say them, that hostility, resentment."
"Like when Lord Freud made that statement that disabled people should work for two pounds an hour, he really should not have said that because, we have a minimum wage, right?, and once we have a law in place, you should not break it, so if anything he's suggesting businesses break the law. He makes a clear division between us, the disabled community, and them. Really, they all do that, everyone seems to do that, making us something 'other', outside and apart from everyone else."
"It's difficult to explain, when you're so pushed away from other people, it just all adds up to this feeling that you don't and shouldn't exist. It makes you feel other, other than a human being and that's partly what makes you feel so down in the dumps."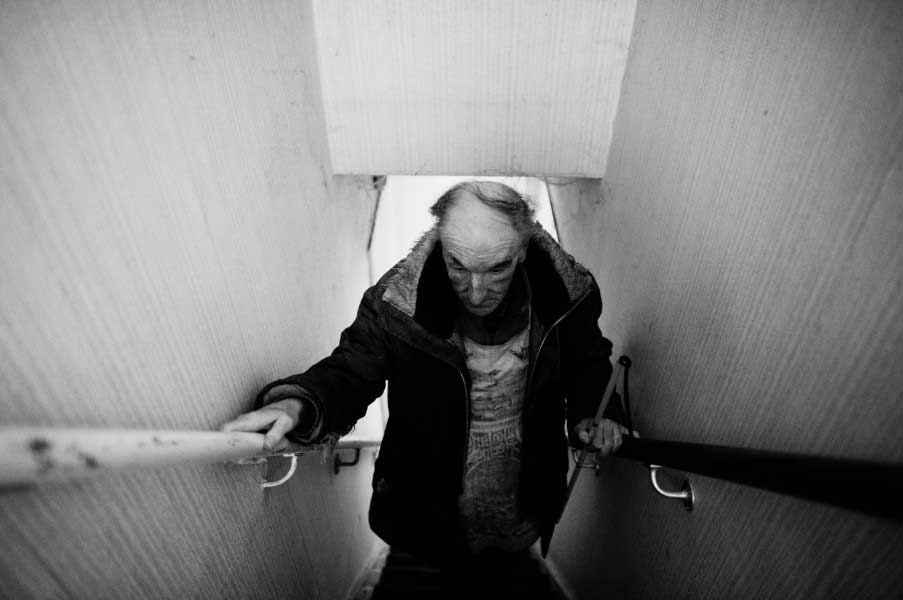 "I haven't got a future, so I don't think about one. I don't expect to be around too much longer, so I just don't think on a future, my future at all, that's a strange thing to say, I know, but it's how I feel. When Mother died, that was as bad a blow as losing my sight, if not worse."
"Now, even though I can manage around the house, there's no emotional back up, now she's gone. When I'm down in the dumps about no longer being able to see, or from things said to me in town, Mother would listen and help me through those times, but now, I'm all alone. When you go downhill, emotionally, and there is no one there to help pick you up, you just stay down, you understand?. It's very difficult."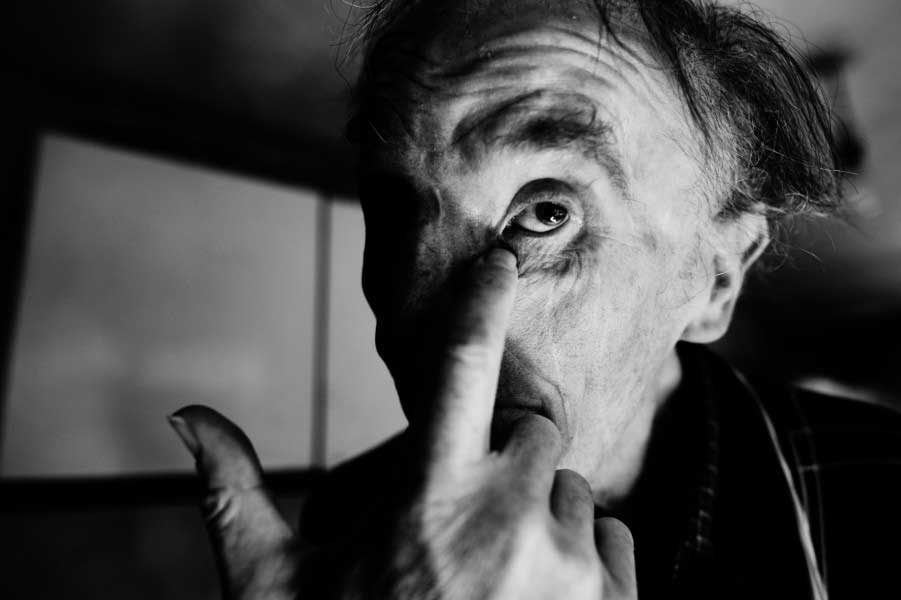 "When I was a boy, I had some chickens and sometimes you'll get some and they'll start pecking at one bird, and it seems like once one gets a bit of blood, a feather or two gone from a hen and they get to the blood of the bird, they all jump in, pecking at it, attacking this one hen and the only way to stop them was by putting some tar on the hens feathers and then when this gang of birds would attack, then they would get this tar in their beaks and not be able to spit it out, and they don't like the taste, so they stop."
"That blood lust, that mentality, that seems to me to be the way people can be. I think of that a lot, especially when I get trouble in town, we are like chickens in a run and when one has a go, the rest join in, jumping on the same one. It's exactly the same thing, isn't it?, except instead of birds doing it to one, it's people doing it, we really are no different. We are no better, are we?."
"The thing is, you can stop the birds doing it, but people, I don't know if there is a way to stop people behaving in this way. You'd think the deterrent would be guilt and shame, for acting in such a fashion, but no, people don't seem to have those feelings any more, they just do as they want, well, some people have feelings of guilt but, they are never the ones that have a go or become a bully."
"That's how I honestly feel about it. When the poor blame the poor, it's the gang of chickens, singling out the weak ones, and trying to peck them to death, when they should all be against the farmer, for it's him that'll be cutting their heads off."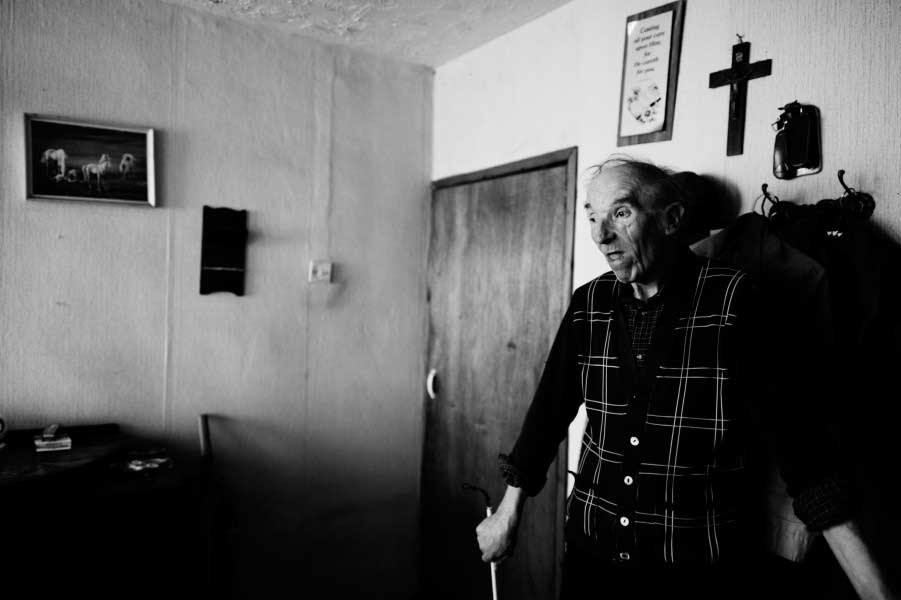 "When my Father died, people would have a go at me, they used to have a go at me before he died when I was eight, because he was working on the land and in those days working on the land was looked at as bad as working on a chain gang."
"People always had a low opinion of anyone that worked on the land. People never had much respect for me because my Father worked on the land."
"Then, when my Father died, they had less respect for me, because he was dead, now, being blind, I feel that same absence of respect from people, I've gone back to how it was when I was a boy, only lower down now as I can't see anything, so it's worse now. Full circle, only worse. Back where I started, like I'm an outlaw."
"I remember going to the big school, and there were six or seven hundred boys there and only one other boy and myself had Father's that had died, so we were outcasts, outlaws then."
"People prey on other people as the know they can get away with it, they seem to look for a situation someone is in, and if they feel no one cares about that situation and the person, they are the ones they go after, as no one will give a damn, like, it's socially acceptable to hunt down the weak."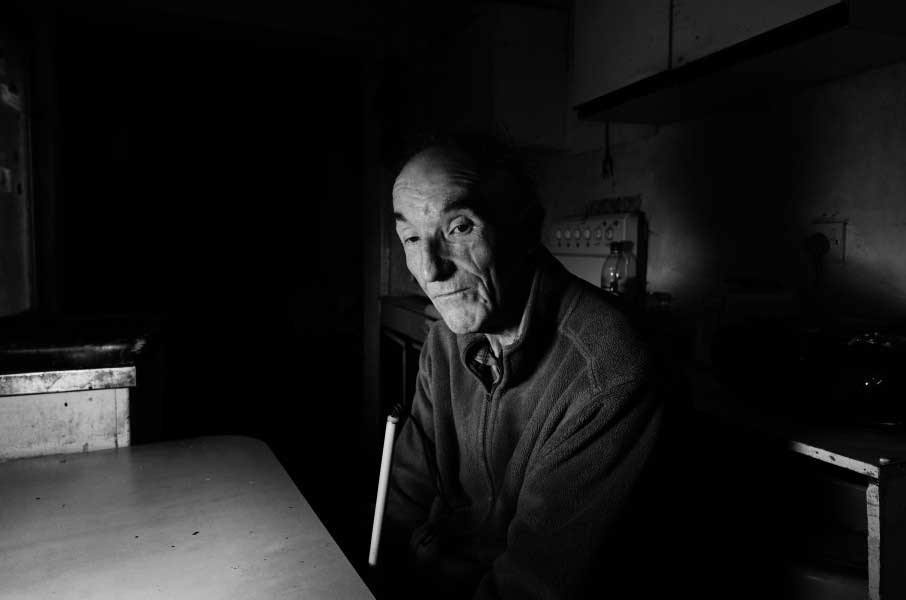 "I dream, I dream just as much as I ever did. Now, my Mother is in them. When she was still alive, I'd seldom dream of her, but since she died, I do. When you wake up, it's even worse, as in my dreams I can still see, I can see Mother and she's there and then I wake up and I'm returned to this reality where my Mother, and my sight, are gone, so that makes everything so much worse."
"Whenever I dream, it's never here, never dreams of this house, street, this town, it's always when we lived in another village, in the countryside proper. In some dreams, I'm looking out of what would have my bedroom window as a boy and my Mother is there. I remember what her shoes looked like, from when I could still see, these small shoes, and in this one dream there were her shoes, standing on a mat all alone, because she's gone. I remember that dream very vividly, and waking up from it, waking up every morning and she's gone. She's gone."
"Some nights I don't dream at all, and perhaps the morning after I'll fare better, I mean, when I dream, it's sort of like it's real and I can still see, it might be daytime in my dreams whereas my reality, my every day is, it's always black, blackness. So dreams, they make it harder to cope with blindness, as you can be dreaming, seeing, in daylight and when you wake, again, returned to blackness. Every morning, it's like being blinded, all over again."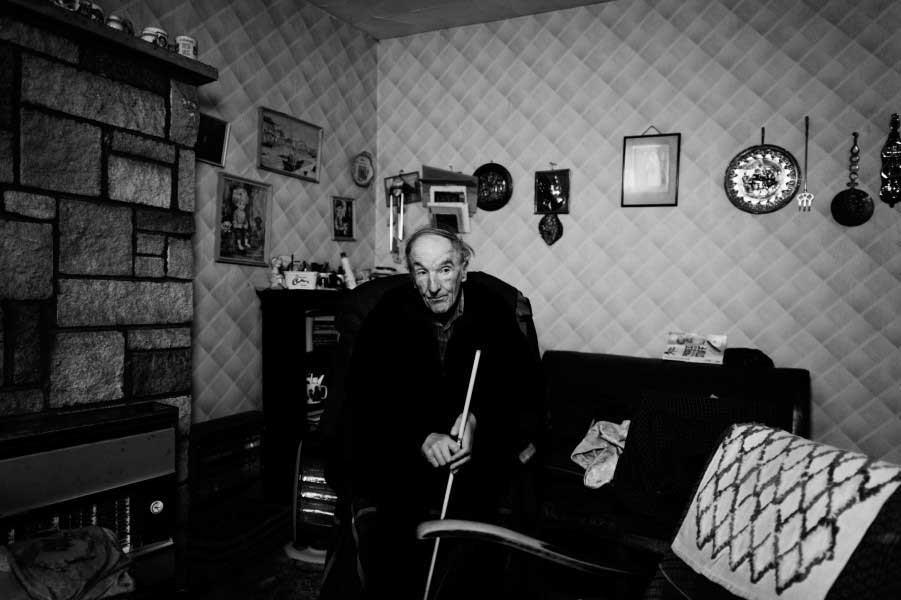 "The main thing about Christmas is, how many days the shops will be shut, and if I can get enough food in, to last me over when they are all closed. Christmas, I usually get in a bigger muddle than any other time of the year."
"When you're looked on like I am, you know there will be no people running around after you, as you're not wanted any more, you're of no use to anyone, so, I'll be on my own. All I think about Christmas is, I hope I can get enough food in, that's all I have to say about Christmas."
"I am going to end it, only, I don't have a good means to do it. I want to get out of it. I've thought about going to Switzerland and getting it done there, I'll see what happens next year. I'll see how I feel then."