Photographs taken on the beach of Albisola, Liguria, Italy. Starting from the concept of "Objet trouveè" – therefore without modifying the naturally found scene – I dedicated myself to recording the figures and shadows formed by the grazing light of the setting sun.
Figures formed by depressions in the sand but also by abandoned objects. Discovering its suggestive symbolicity, I then merged into a single panel the elements that were similar to each other.
The shadows that dance on the sand are ephemeral because they depend on light and wind, they are a metaphor for life, and perhaps death, but it can also be fun to play in turn to discover what certain shapes represent and what they want to communicate to us they come to meet.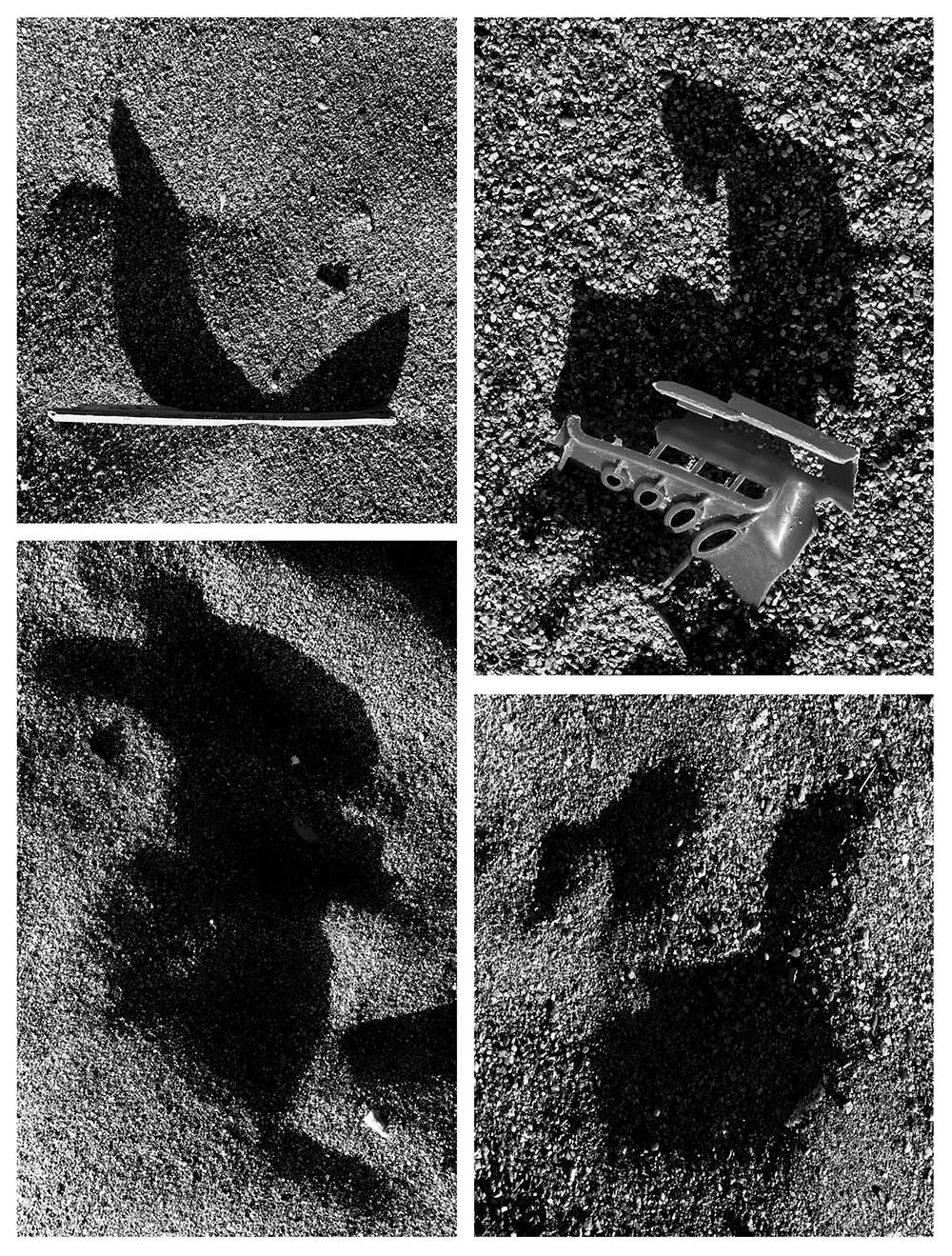 About GiBi Peluffo
GiBi Peluffo was born in Savona in 1950. He worked for almost 25 years in the photographic factory in Ferrania as a researcher of organic chemicals. For almost twenty years he printed his own images from color negative, becoming famous for his very personal interpretation of the Ligurian landscape ("Varigotti" and "Muri di Mare"). He alternated this local search for images with trips that took him to various countries of the world: China, Peru, Nepal, India, Tibet, Greenland, Africa (Mali, Sierra Leone, Sahara Desert, Sudan and Central African Republic.), Vietnam, Belarus, the Republic of Moldova. Since 1997 he has collaborated with the magazine "MAGAZINE" providing texts and photographs and in 2001 with the "DOGMA" where he directed a monthly photographic column in the national magazine "Professional Optometry" distributed to 11,000 opticians throughout Italy.
Since 2003 he has collaborated with "EMERGENCY" for which he produced a reportage in Sierra Leone on the Goderich hospital and in 2004 in Cambodia where he produced another work on the country and on the "Ilaria Alpi" surgical center where the victims of mines are hospitalized. In 2005 he traveled to Belarus and Moldova as a photojournalist and ambassador of peace for Unicef ​​and for the "Forum for the rights of children in Chernobyl". In 2009, Emergency again sent him to Sudan and Central African Republic for a report on pediatric cardiac surgery. In 2010, 2011 and 2013 he returned to Central Africa as a photojournalist for the Discalced Carmelites of the Infant Jesus of Prague. In 2005 he founded "a & g reporters" and began the collaboration with the prestigious Italian photo journalistic agency LaPresse for which he follows the football soccer of Serie A teams (Sampdoria and Genoa), news and crime reports, when interested national, and the news on commission or autonomous proposal of the services.
Since 2006 he has been working for the stock agency Tips Images and starting from 2014 with AGF-Foto which to date distributes and sells over 1,500 of his images. From 2007 to 2011 he was a photojournalist registered in the register of journalists of Liguria and at the USSI (Italian Sports Press Union). He is also the teacher of a complete photographic course, one of a kind and inimitable, as it contains his thirty years of personal experience in the most diverse photographic themes. The course, based on education in vision, was carried out at the University of the Third Age, at the State Middle School, at numerous photographic circles and at numerous high schools including the Arturo Martini Art School of Savona and at the Faculty of Architecture of the University of Genoa, in the landscape architecture degree course. He is currently "free-lance" and performs studio portraits, art reproductions, still-life set with the production of brochures, wedding services, ballet in the theater and shows in general, reportage of various types of events, sports and industrial photographs , architectural, advertising and tourism promotion for companies and municipalities. It takes valuable photos of different genres dedicated to the production of websites for companies. He has to his credit the volumes "Savona: photographic impressions", "Da Fotoamatore a Fotoreporter" and "Be Afrika".